Five fun, fall field trips in Wisconsin for homeschoolers.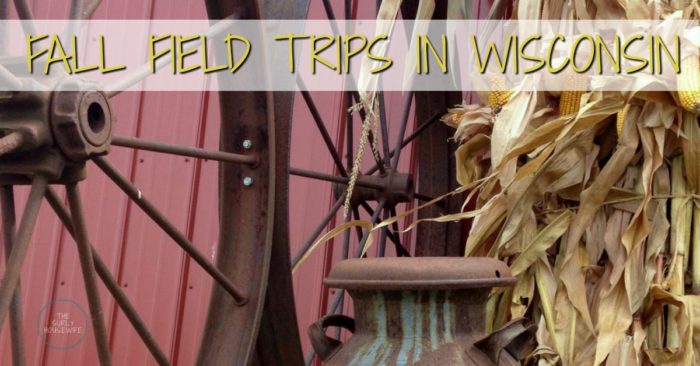 Fall in Wisconsin is totally gorgeous. The air cools down, the leave change, and best of all, the kids go back to school!! I can not tell you how much homeschoolers rejoice when the kids are back in school. Museums, parks, and stores all to ourselves. It's glorious. Par of our homeschool curriculum include going on field trips. Today I am going to share with you five fall field trips in Wisconsin.
Fall Field Trips in Wisconsin
Even though we missed a couple of activities we more than made up for it with our park days and open gyms with our local homeschooling group. The girls are one of the youngest ones but they have so much fun and all the kids and moms are so super nice. And totally normal!! I met a fellow homeschooling mom on Instagram this week, and it really is amazing how normal homeschooling families are. And Fofo's gymnastics class was an awesome experience too, but I am posting enough photos today so all her gymnastics info is for another day.
Busy Barns Adventure Farm
Probably our favorite fall outing is to our local pumpkin farm, Busy Barns Adventure farm. Located near Fort Atkinsn, WI, it is the perfect homeschool outing. It is great for new homeschool families to meet new people. It had been my experience that most homeschool families ARE NOT the stereotypical strange, unsocialized, ultra-religious, anti-modern weirdos. But that is a topic for another time 😉 It shows your kids you aren't alone in this homeschool thing.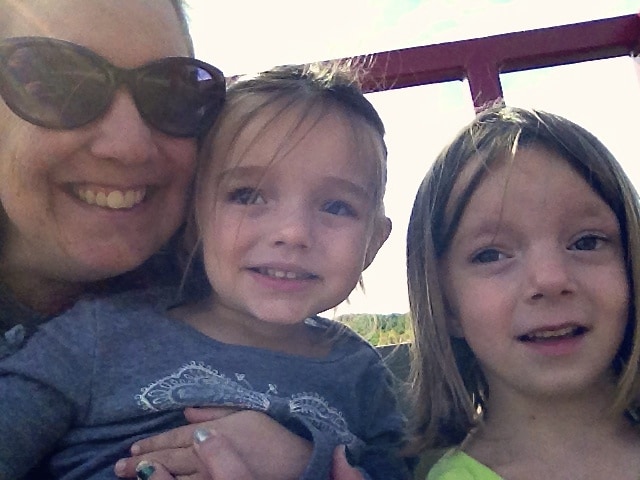 Here we are on the tractor ride to the pumpkin patch. Busy Barns has all the usual pumpkin farm amenities: petting zoo, corn box, corn maze, and much, much more 🙂 The runaway favorite with the girls was the big wooden cow they could pretend to milk.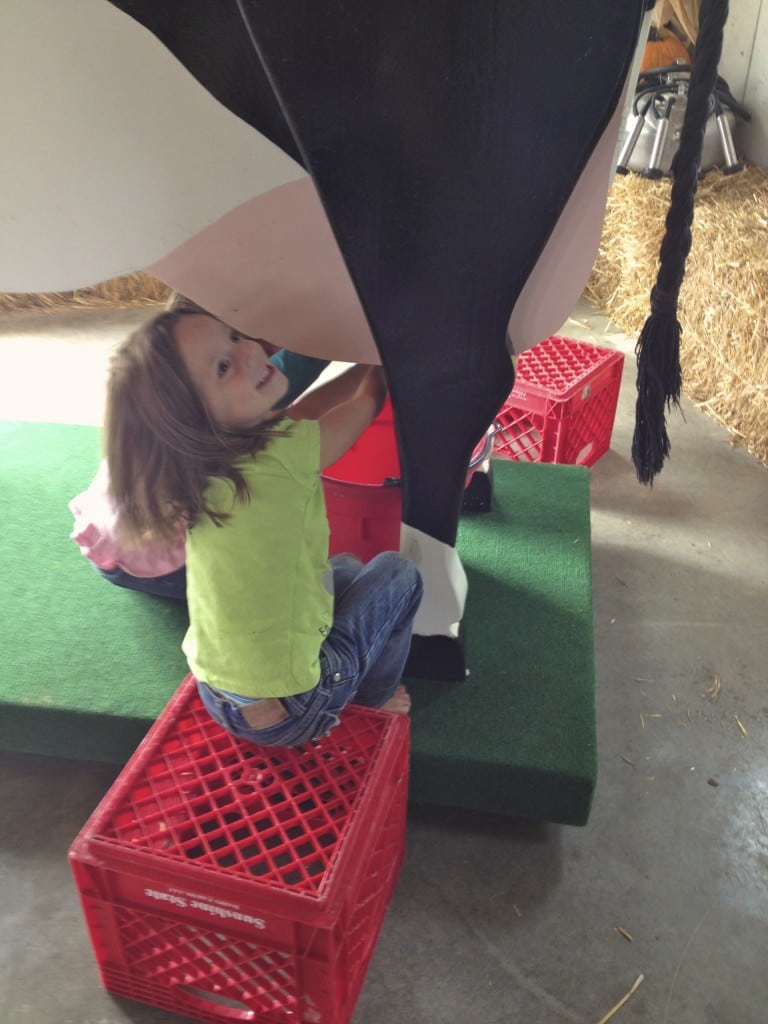 The girls kept coming back to this all day!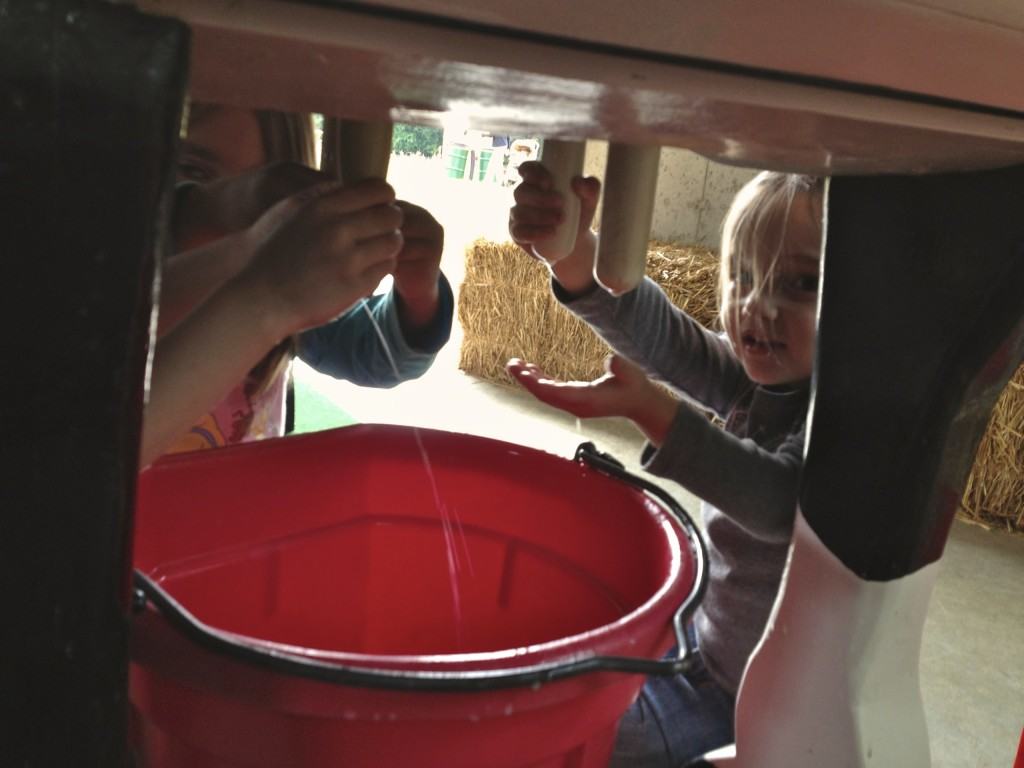 I personally loved all the animals! The farm animals and the kittens and rabbits they have to adopt. Who doesn't love a little kitten?!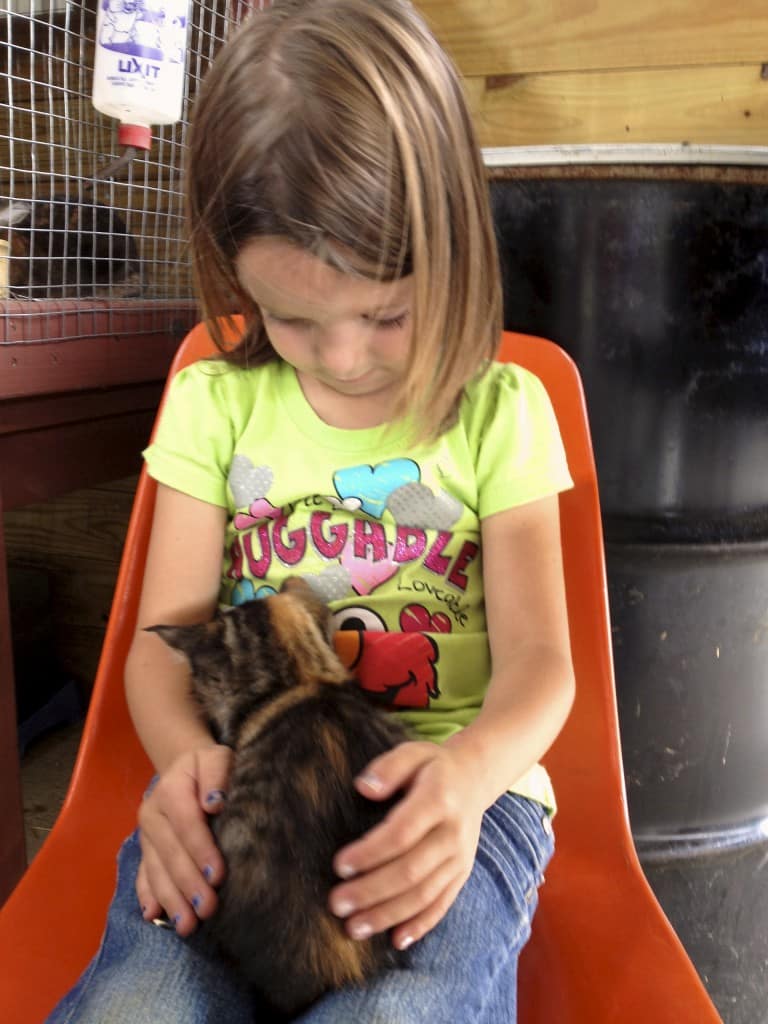 The farm added a couple of attractions since the last time we were there. A music farm and an awesome slide in the barn hay loft. All the kids visiting really loved the slide.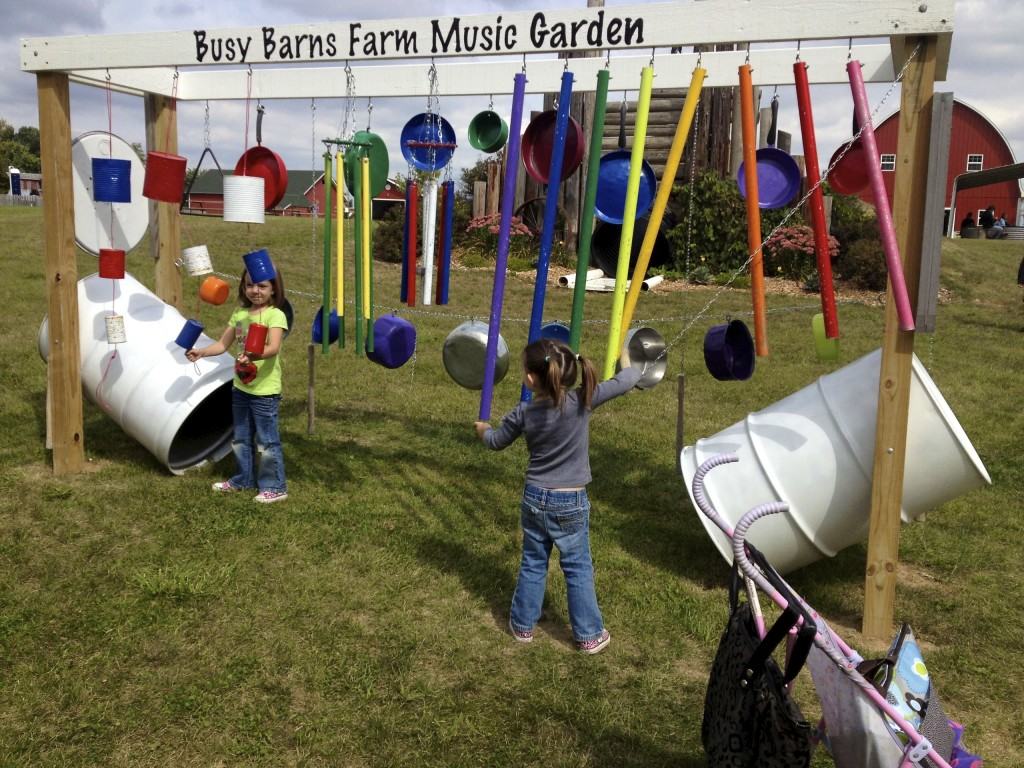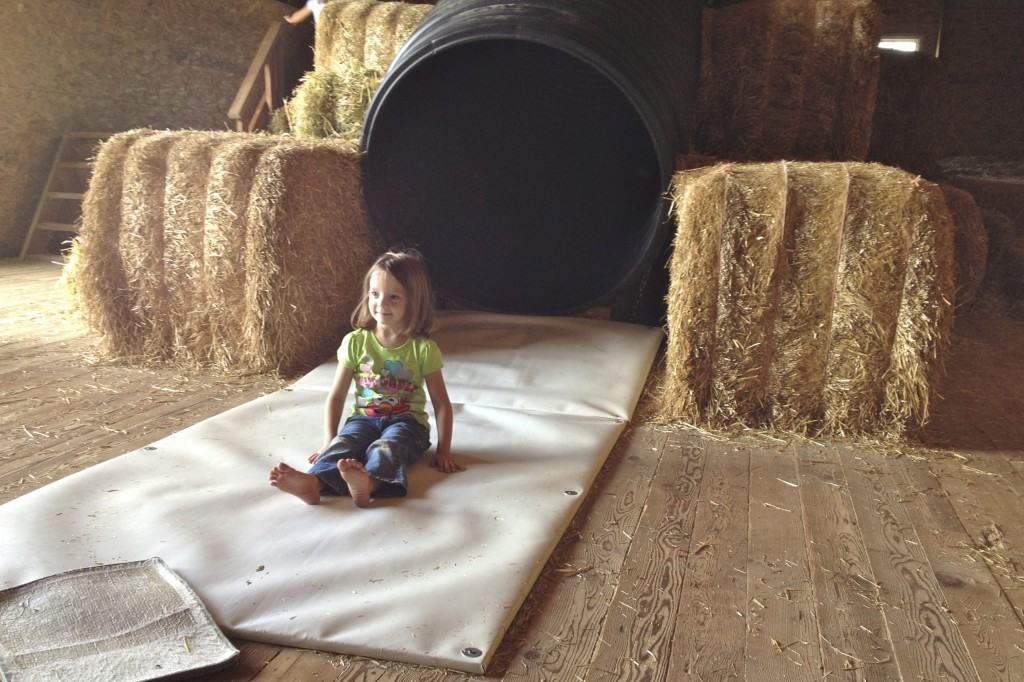 We love visiting Busy Barns! The staff is so nice. The farm is always adding new attractions, and it is kept so clean and well manicured. You can tell they all take pride in their work. I love that they set aside a day for homeschoolers. Not only did we get a discounted price, but they don't schedule any other tours or field trips that day so it isn't insanely busy.
UW Badger Volleyball Game
Sporting events aren't your typical field trips, but they are so much fun! And homeschooling is about exposing your kids to all sorts of things and seeing what sticks. My husband and I don't watch a lot of sports at home, but we thought it would be fun to go to see one of our favorite sports!
I am a HUGE volleyball fan. I played in high school and if any game is on tv I will watch. I don't care who the teams are, I'm watching. The Badger athletic department offered a 6 tickets for 6 bucks for UW Bagder Volleyball game so I checked to see if my parents wanted to go with us and they said yes! My dad was my volleyball couch, and I have great memories spending time watching volleyball matches and learning about the sport with him. I wanted the girls to experience that too. Plus cheer on the Badgers! It was a rainy October afternoon when we saw Wisconsin take on Michigan State. Lilly was very excited!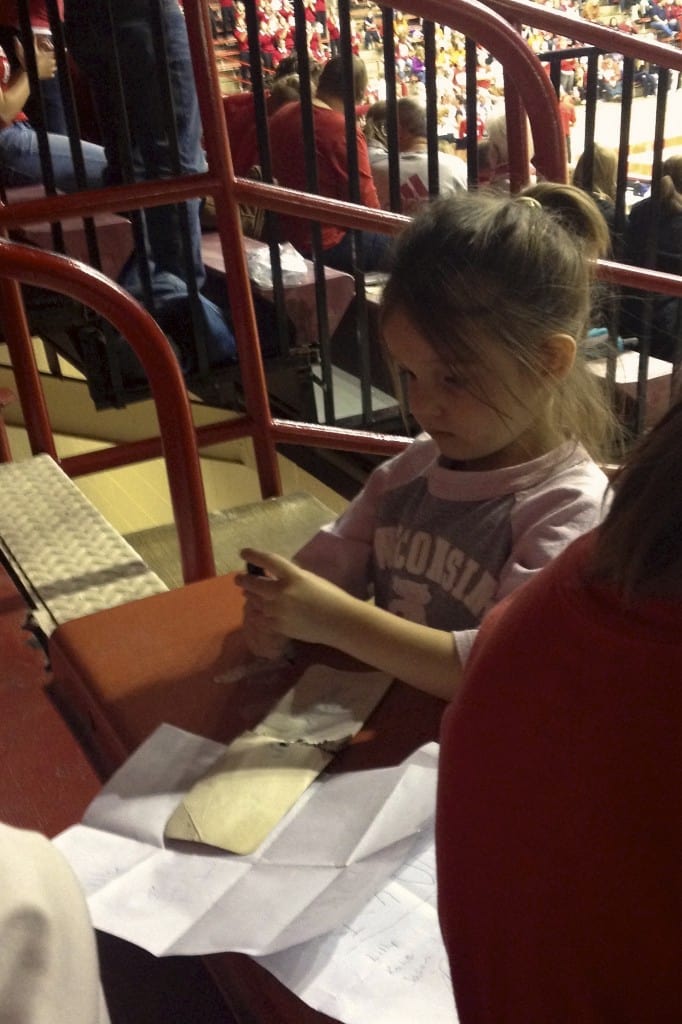 Maybe not 😉 The girls had a good time but didn't really watch the game despite my dad's best attempts to get Fofo into the game. She was more interested in stealing his hat. It's important to remember that not every field trip will be a smashing hit. You just need to go with the flow and make the best of it. One of the main reasons we homeschool is to spend more time together as a family so even if an outing isn't perfect we still were together.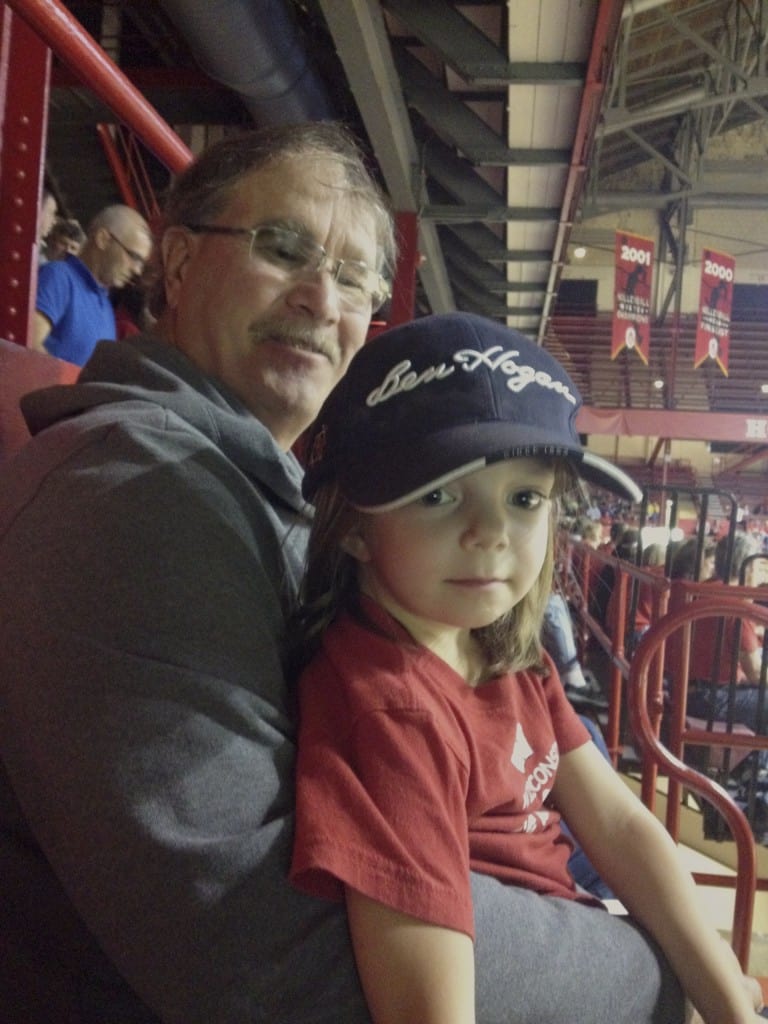 Old World Wisconsin
Old World Wisconsin, located near Eagle, WI, is like an open-air museum, "a vivid re-creation of the working farmsteads and settlements established by European immigrants in America's heartland." And the best part is they set aside a homeschool day for a discounted price. Score!! Here we are on the tram getting ready to start the day. It was little cold, can't you tell?!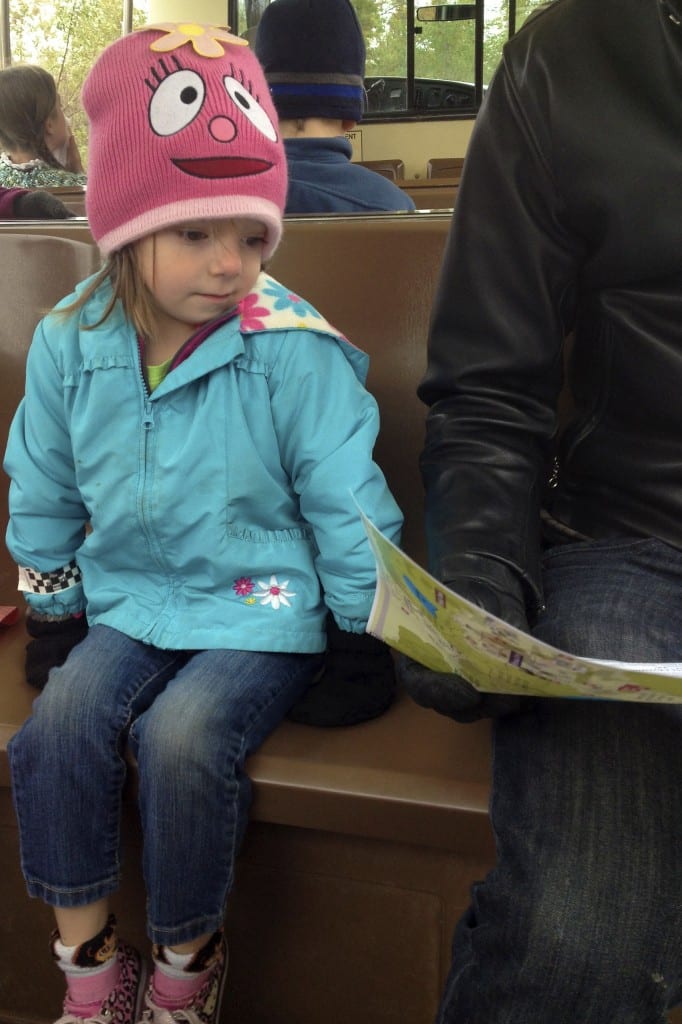 Jason was super excited to check out the blacksmith shop but it didn't really hold the girls' interest.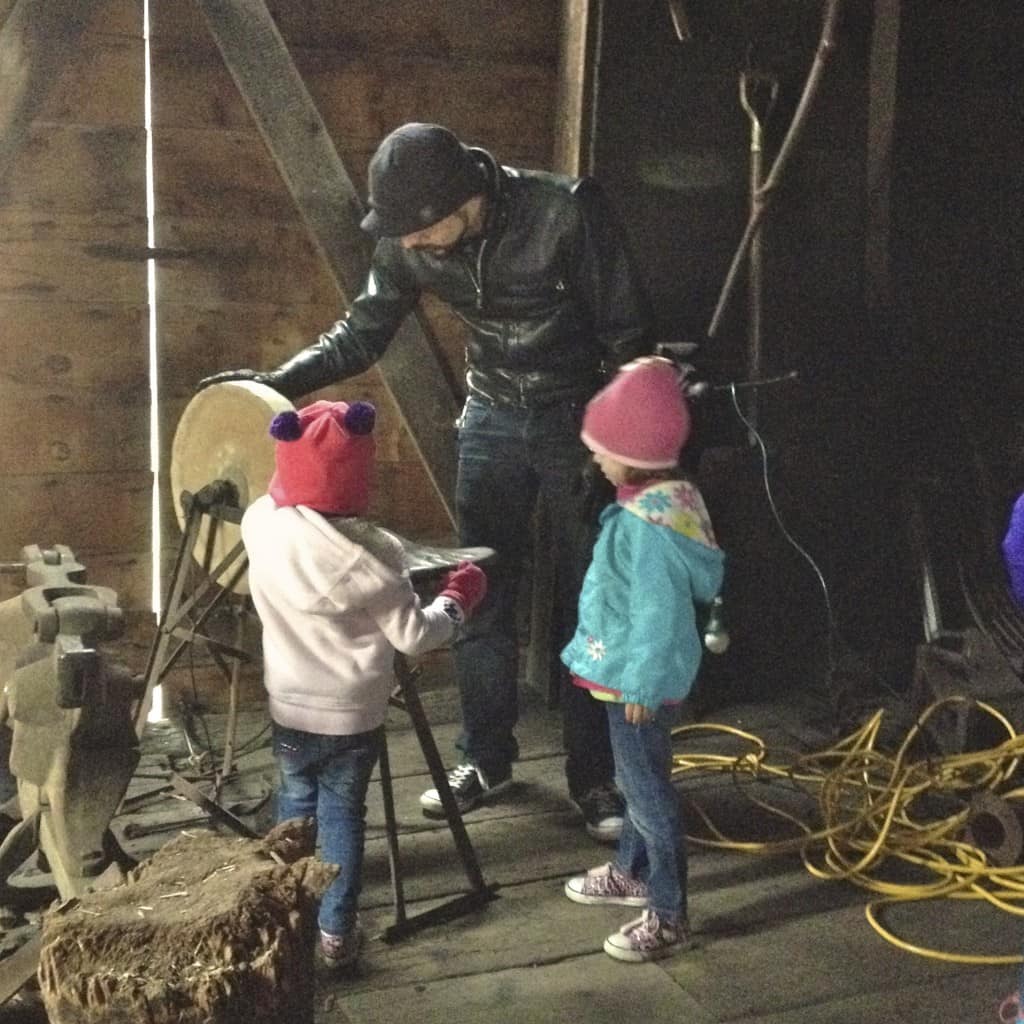 One of my favorite moments from the day was Fofo wanting to see the tracks the horses made after they walked down the street pulling a wagon. So adorable.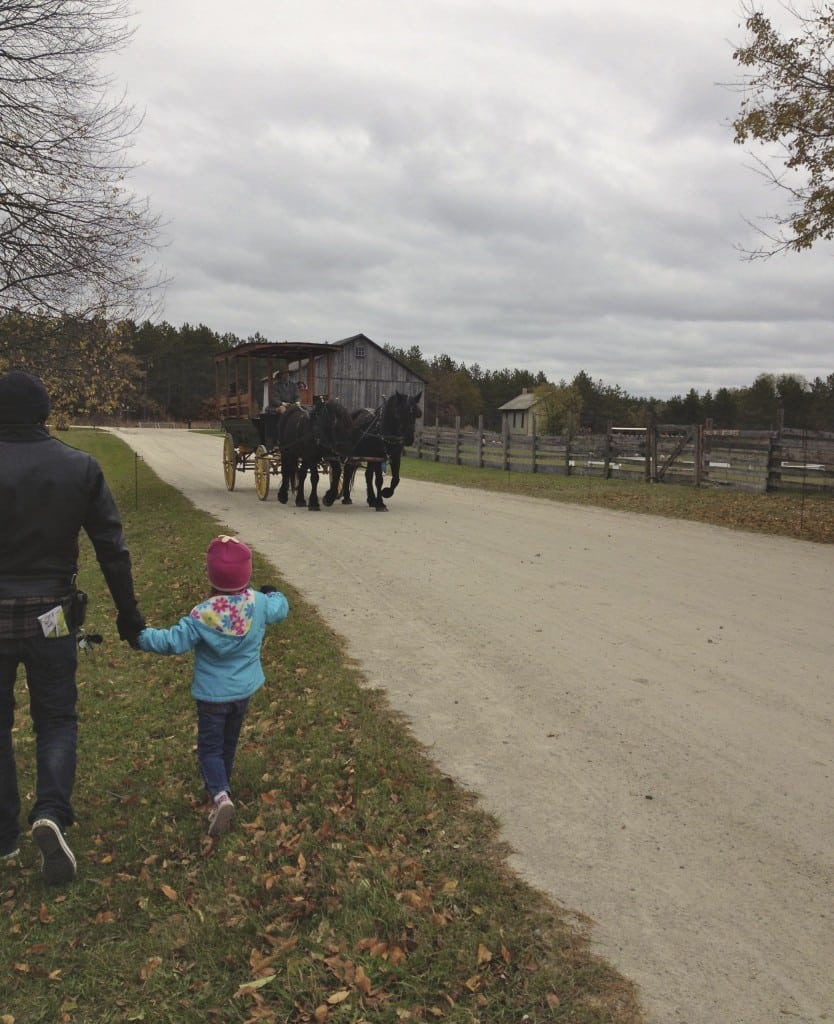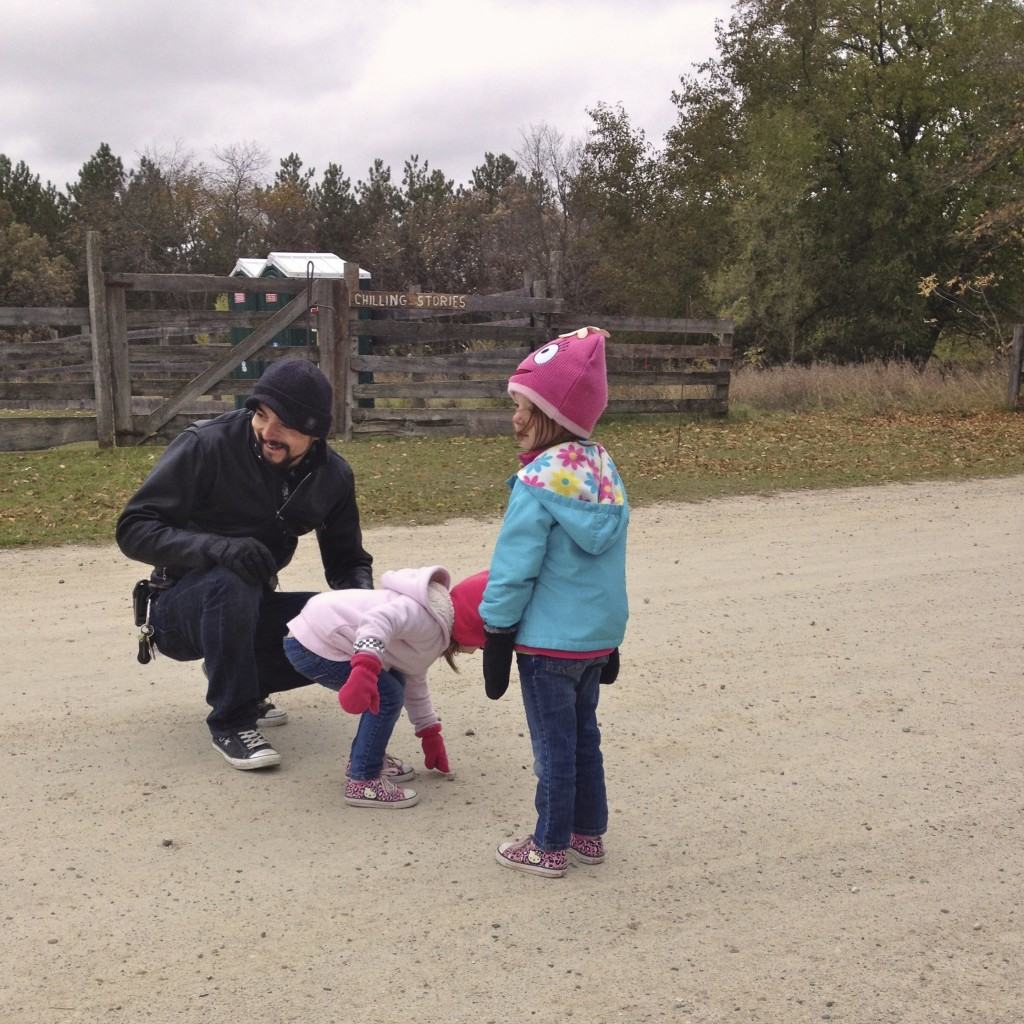 We rolled out pie dough and checked out the wood burning oven at the Four Mile Inn.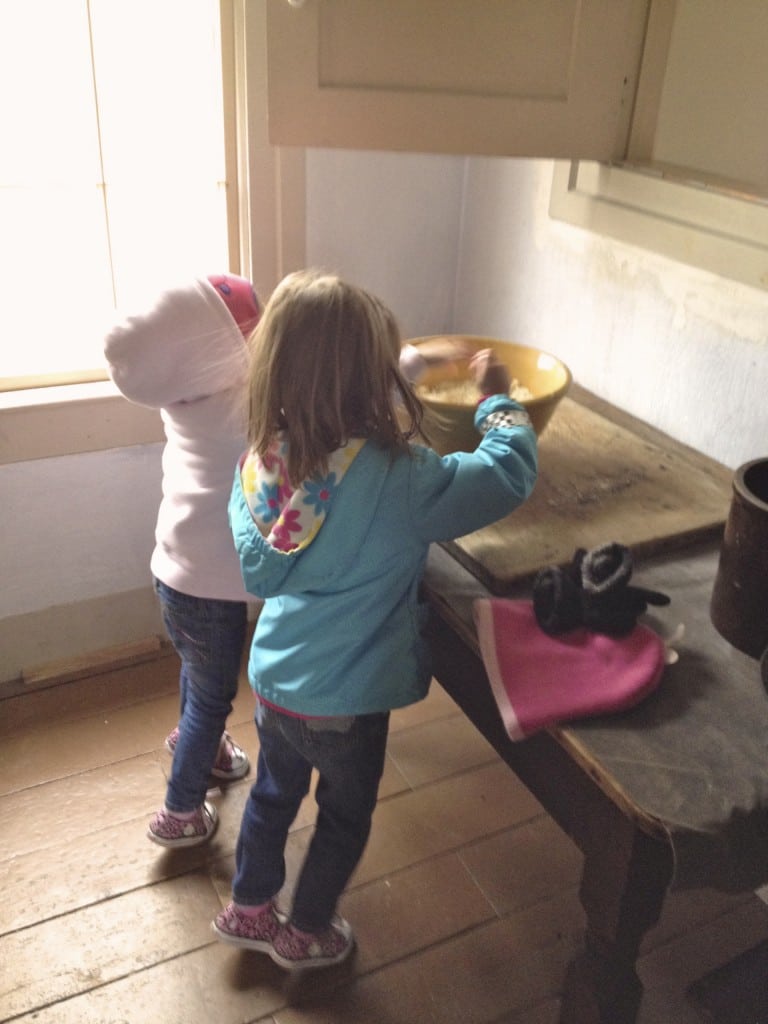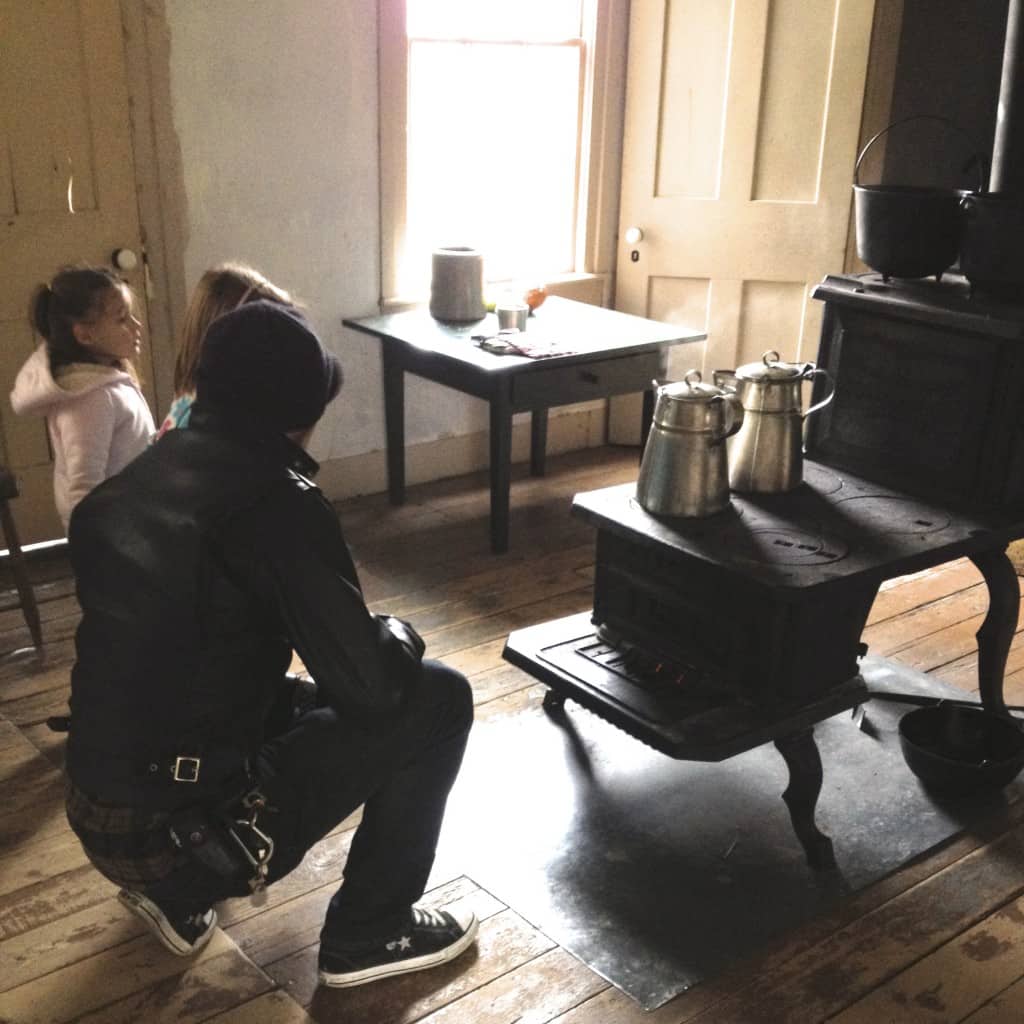 Fofo loves to be DOING something and being involved so one of her favorite moments was making a rope at the Sanford Barn.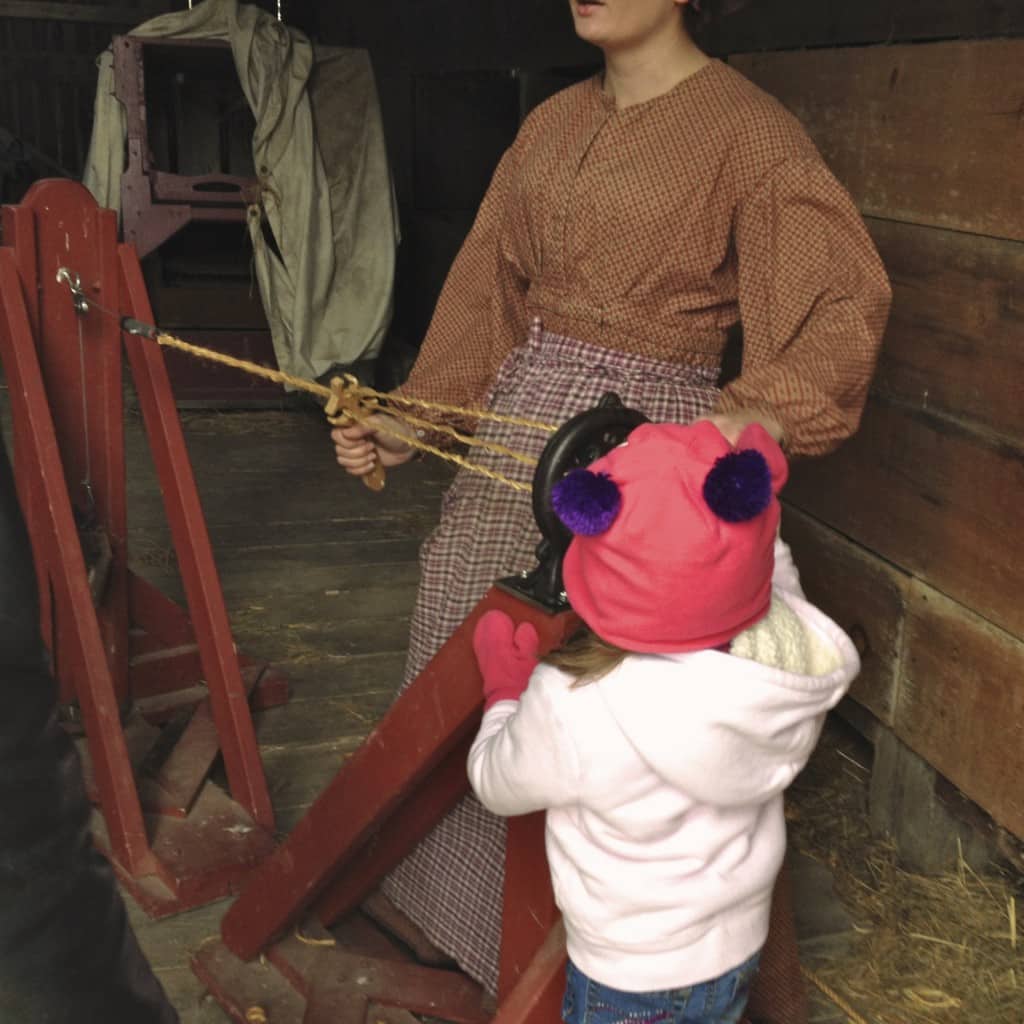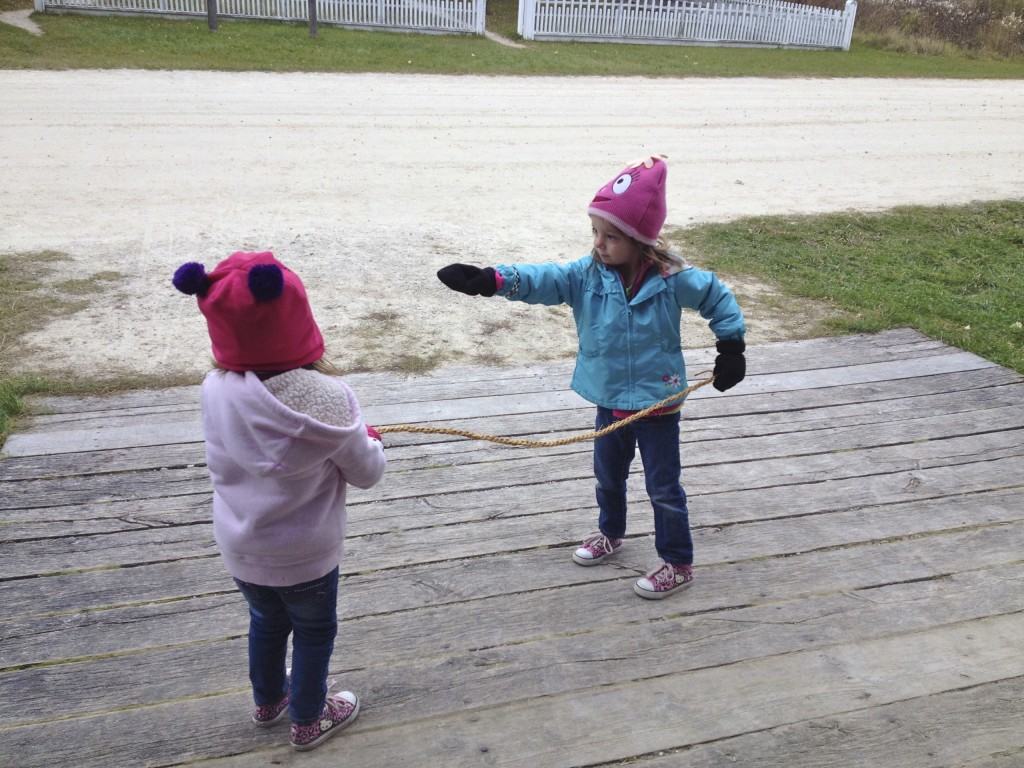 We took a little hike to the Norwegian Area of the site to visit the Raspberry Schoolhouse. Who doesn't love a one room school house. It was chilly day and Fofo didn't want to leave the cozy, warm school.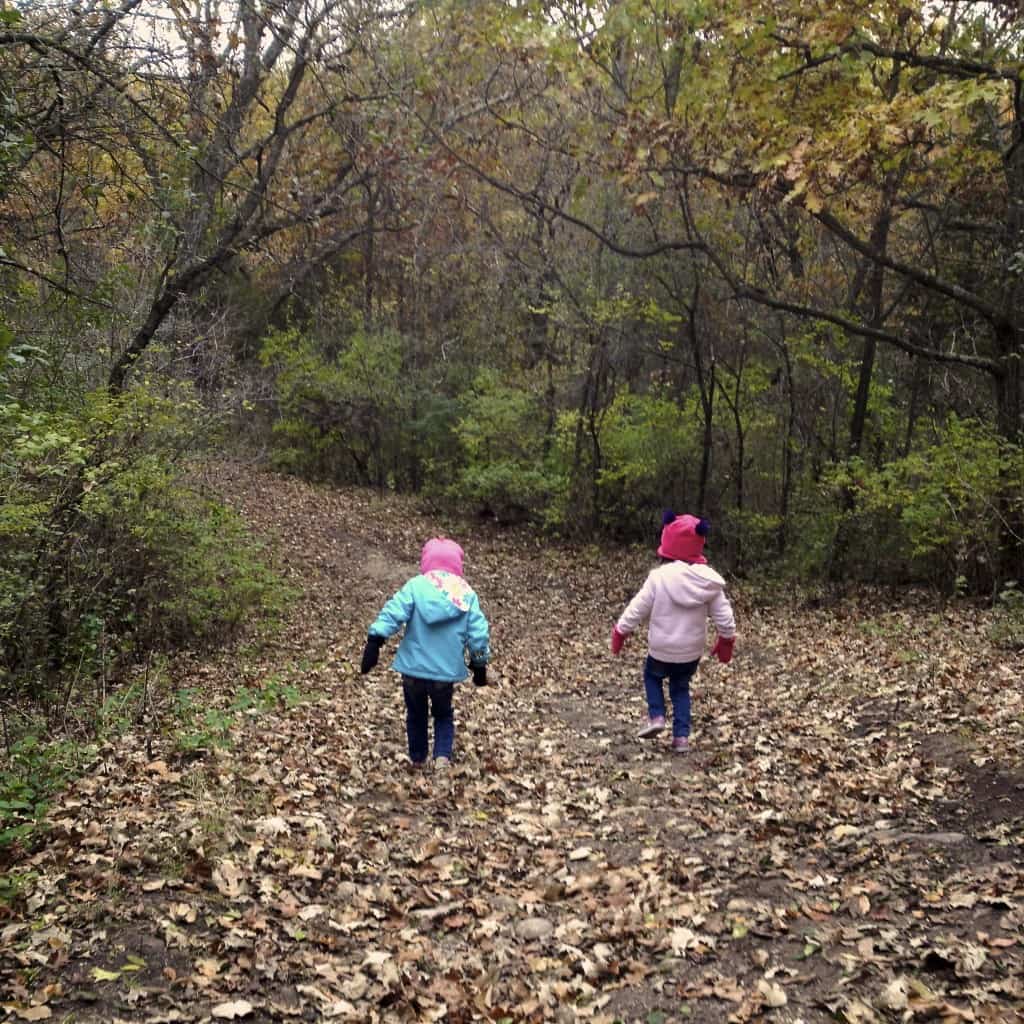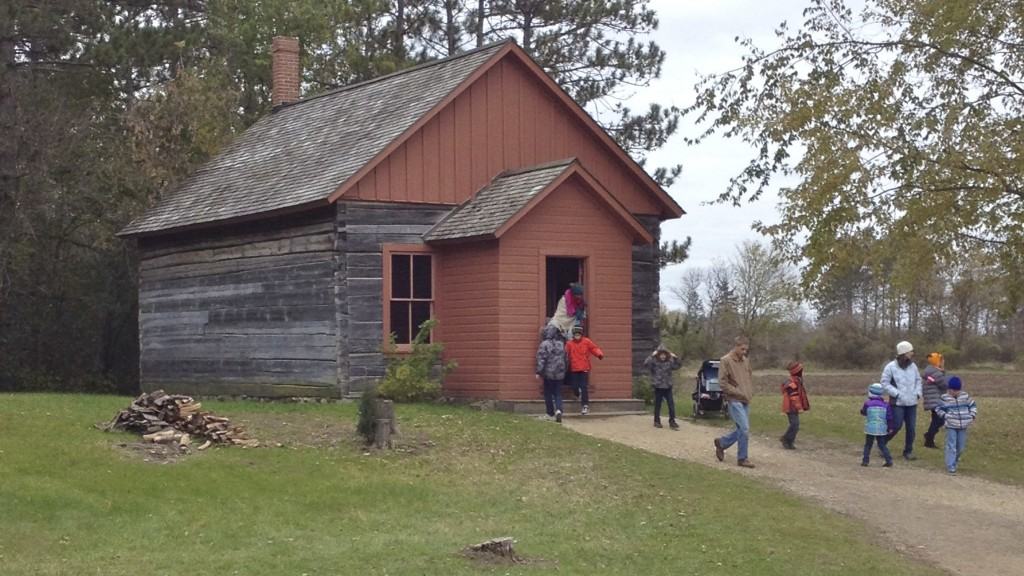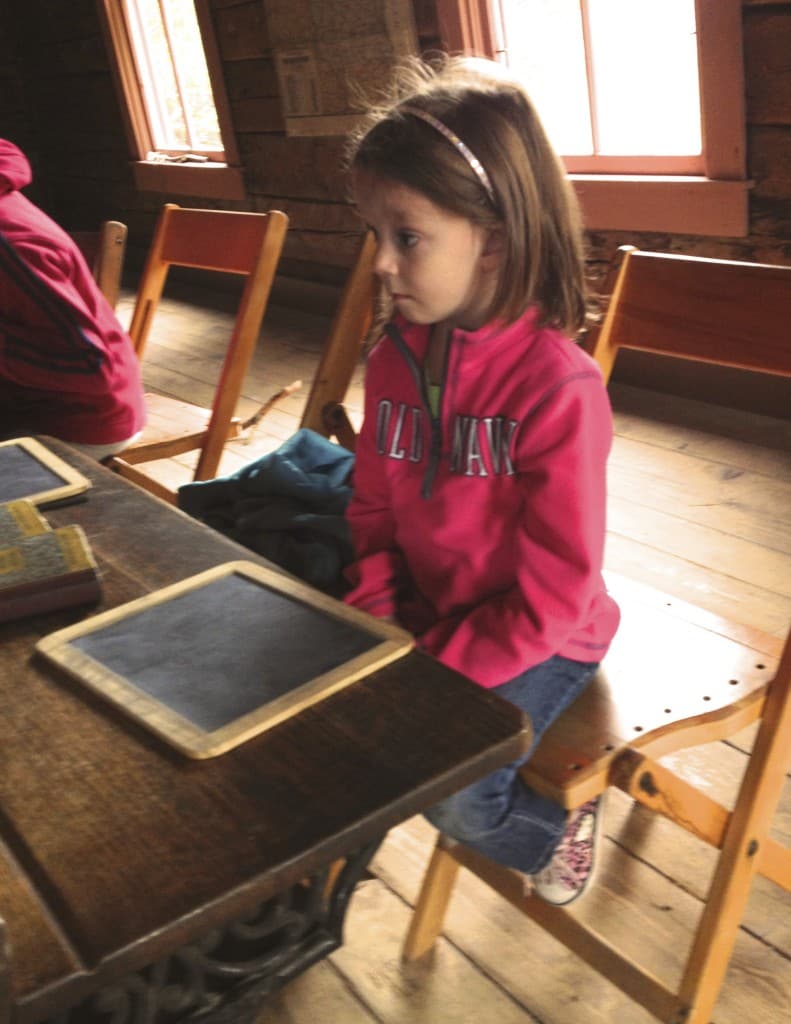 Being over 50% German, I felt right at home on the German farm. I didn't want to leave. The park has gorgeous heirloom gardens. Every area had their own garden and they were all beautiful. I would have loved to see them at their peak!


Jason and I absolutely loved it. There is so much to see and learn. The site is spread out, but they have trams to get around or you can several short cuts through the woods. However, it didn't really keep the girls engaged since they are only 5 and 3. They simply wanted to run around and play. Not listen about life in the 1800's. Maybe next time they will get more out of it. We had a great day as a family.
Cave of the Mounds
Cave of the Mounds was probably on of my kids favorite field trips. They still ask when we are going again. We went with a local homeschool co-op, and although we didn't know anyone, it was nice to have a big group to go with. We had a special tour rate called SpeleoQUEST which "takes your group on a journey through sinkholes, caves and the interesting nature of Wisconsin's driftless area and surrounding karst landscape."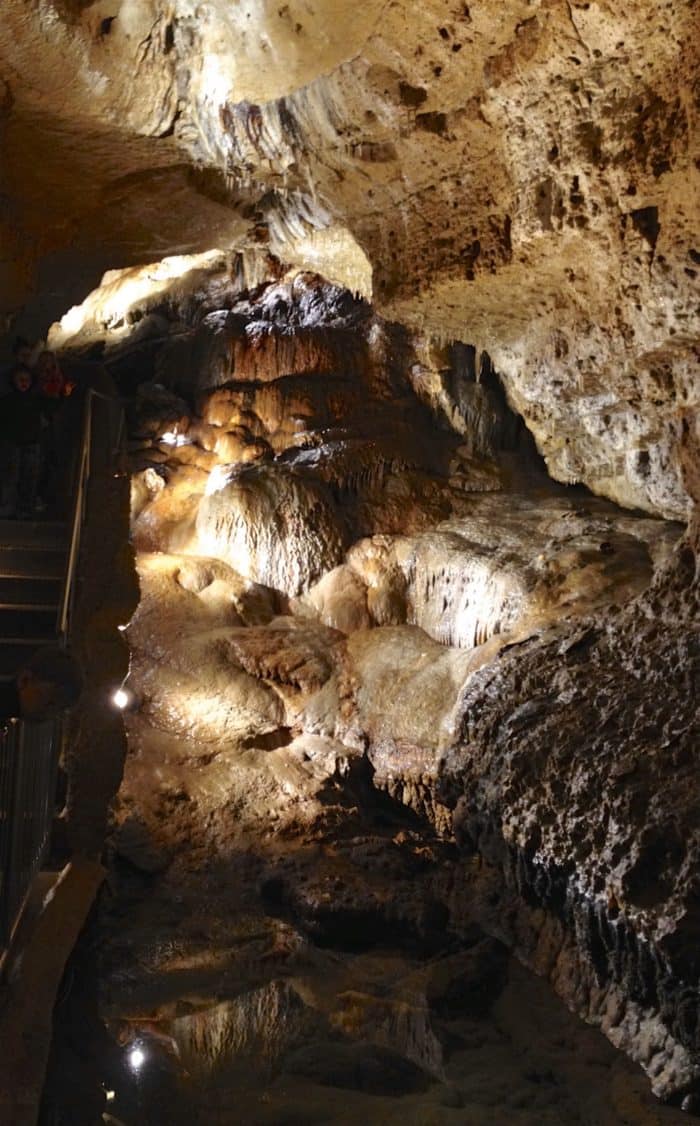 Located in Blue Mounds, WI I recommend you get a group together so you can get a discounted rate on admission. It is well worth the price and a gorgeous place to visit anytime of year but especially in the fall.
Horicon Marsh
One of our other favorite places to visit is Horicon Marsh. This wetlands and education center is perfect for those beautiful fall days we get in Wisconsin. Hike around the miles of trails around the marsh. Check out the education center for more information about this important and fascinating area. There is no entry fee to the Education & Visitor Center; there is a fee for the Explorium.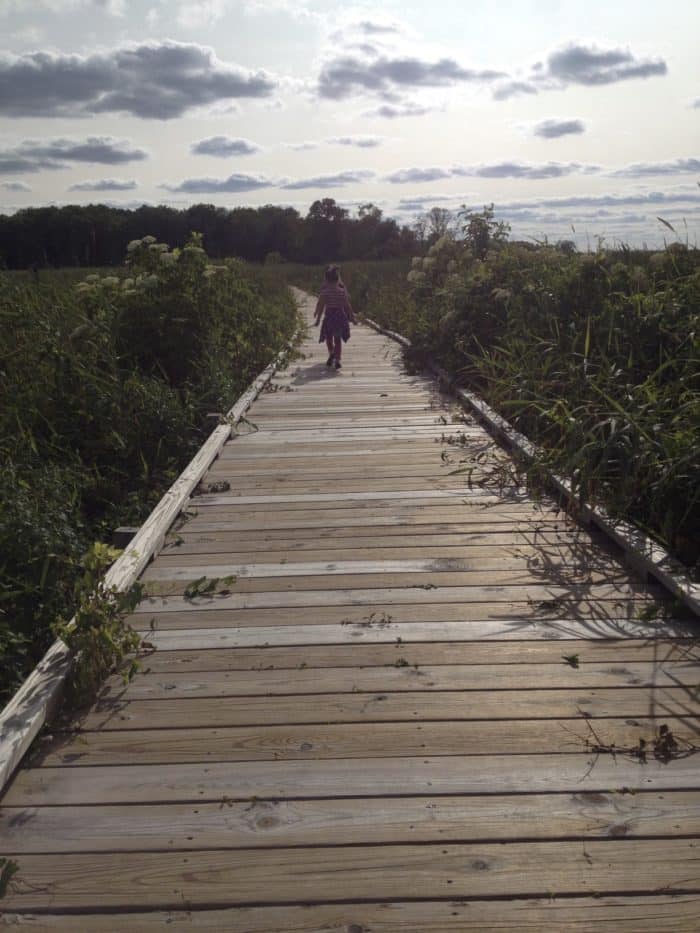 There you have it! Five fall field trips in Wisconsin, specifically southern Wisconsin. I hope you have found place you would like to explore! Where is your favorite place in Wisconsin? What is your favorite fall field trip?