20 fun and entertaining movies to watch with your kids!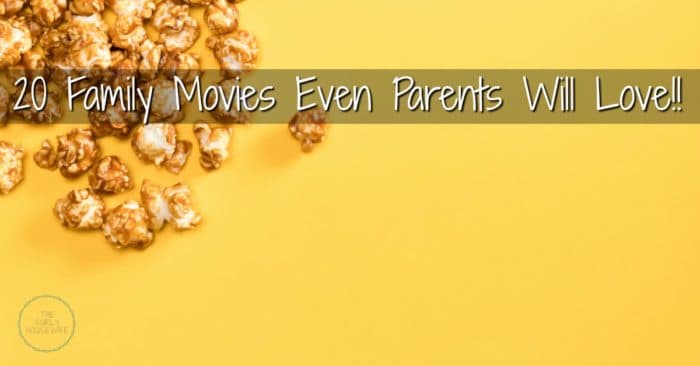 My husband and I have a love for movies. And it is one we want to pass on to our kids. Appreciation and knowledge of film. I can't wait til they are older and we can watch all the oldies like "The Godfather" and "Cuckoo's Nest," but for now I will have to settle for some other classics that aren't too scary and age appropriate.
Since animated movies get old after a while, our family movie night features a "grown-up" movie we can watch together.
Click here for more tips on choosing a film for family movie night!
I should note here that I don't mind if my kids hear some swearing, or immodesty in film. I based my picks on movies I know my kids can handle and align with our values and tastes. They may not be for everyone, but that's ok 🙂
Click on the movie title or image to go to Amazon and rent or purchase the move!
This post contains affiliate links. If you click and make a purchase, we earn a commission at NO extra cost to you. For more information, please read my full disclosure policy.
20 Fun Movies to Watch With Your Kids
"When a group of ordinary kids discover a secret treasure map, their sleepy seaport lives are suddenly transformed into a fun-filled, roller-coaster ride."
This movie never gets old. Probably because my brother and I watched once a day for like 3 years. Check out this post on for Goonies movie night!

"During a summer of friendship and adventure, one boy becomes a part of the gang, nine boys become a team, and their leader becomes a legend by confronting the terrifying mystery beyond the right field wall."
One of the most quotable movies ever! "You're killing me Smalls!"
"Chihiro's family is moving to a new house, but when they stop on the way to explore an abandoned village, her parents undergo a mysterious transformation and Chihiro is whisked into a world of fantastic spirits ruled over by the sorceress"
My kids LOVE this really strange movie 😉 It exposes kids to a different kind of animation and expands their imagination.
"Go back in time with this animated classic as a group of young dinosaurs – Littlefoot, Cera, Spike, Ducky and Petrie – find themselves depending on one another to reach the Great Valley."
How cute is this movie?! And often forgot in the slew of Disney films.
"Carl and Russell set off for the adventure of their lives!"
Speaking of Disney. Up is one of my favs. Excellent story telling. And who doesn't want to spend the first five minutes of a film bawling their eyes out. Oops (spoiler alert)
"In this true-life story, Julie Andrews lights up the screen as Maria, a spirited young Austrian woman who leaves the convent to become a governess for Captain von Trapp's (Christopher Plummer) seven unruly children."
Singing, dancing, Nazi's. What more do you need!!
"Young farm boy Luke Skywalker is thrust into a galaxy of adventure when he intercepts a distress call from the captive Princess Leia"
My kids refer to it as "the outer space movie." This is a great film even if you aren't a Star Wars geek like myself.
"The Wizard of Oz follows Dorothy and her dog Toto when they are caught in a tornado's path and somehow end up in the land of Oz."
I, personally, am scared of this movie, but we decided to give it a try. The kids loved it! The kids even went as Dorothy and Glinda for Halloween. It just goes to show, you never know what your kids might love.
"A girls adopts a puppy that turns out to be a mischieveous alien."
A great non-Pixar, non-Princess Disney moive. Who doesn't love a movie with great one liners, a weird little girl, and destructive alien/dog who loves Elvis.
"Journey back to the magic and adventure of this beloved tale of a lost alien and the 10-year-old boy who helps him find a way home."
Let's be honest here. I picked this one because of the song and flying bicycles.
"Woody is toynapped by Al, a greedy collector. Together with Jessie, Bullseye, and the Prospector, Woody is on his way to a museum where he'll spend his life behind glass. It's up to his friends to rescue them."
What better way to introduce a kid to one of the best actors of a generation, Tom Hanks, in the best (in my opinion) of the Toy Story Trilogy. My oldest has watched this about a thousand times, and I will gladly watch it with her every time.
"When little Kevin McCallister is accidentally left behind when his family dashes off on a Christmas trip, he is left to defend his family's home from two bumbling burglars until the relatives return."
This is a fantasy for both kids and parents alike. The house to yourself. No interruptions, no one following you to the bathroom, you can watch whatever you want on TV, eat whatever you want, sleep whenever you want for however long you want. I suddenly remember life before children. Why did I give that up again 😉
"The LEGO movie follows Emmet, who is on an epic quest to stop an evil tyrant from gluing the universe together, a journey for which he is hopelessly and hilariously underprepared."
Everything is awesome!
"A wannabe rock star in need of cash poses as a substitute teacher at a prep school, and turns his class into a rock band."
It would be "inconceivable" to a list without this film. See what I did there?

"Marty McFly is blasted to 1955 in the time machine created by Doc Brown and finds himself in a time-shattering situation that jeopardizes his future."
This is one of my childhood favorite movies, although may be more appropriate for older kids. But hey, it has history, the "Future," and a western all rolled into one trilogy.
"Shrek goes on a daring quest to rescue the feisty Princess Fiona with the help of his lovable loudmouthed Donkey and win back the deed to his beloved swamp."
This movie has a lot of adult humor spread throughout that goes right over the kids' head. It's funny for kids and parents alike.
"Lovable Sulley and Mike Wazowski are the top scare team at MONSTERS, INC., the scream-processing factory in Monstropolis. When a little girl named Boo wanders into their world, monsters are scared silly, and it's up to Sulley and Mike to get her back home."
This movie will either cure your childrens' fear of the dark or make it worse. Damn you Bushemi!
Take you pick of the trilogy (unless you count the 4th so-so movie). If you think about it, kids are really learning about science. Dr. Jones is an archeologist after all. There may be some salty language and sexual situations (AKA kissing) but kids learn about Christ, Indians (from India), Nazis, science, and history. It has it all!
20. Cop out
No not the Kevin Smith movie but I am copping out on this one. Insert your favorite family movie. Every family should have that one movie they can all watch together over and over and over again. Ours is Rango 🙂 It makes for some great memories. When your kids watch the movie as a grown-ups, it will bring them right back to the time they spend with their family all those years before.
There is my list! Any ones I missed? Which ones would you include?