Keep reading for 10 wonderful books all 12 year olds will love!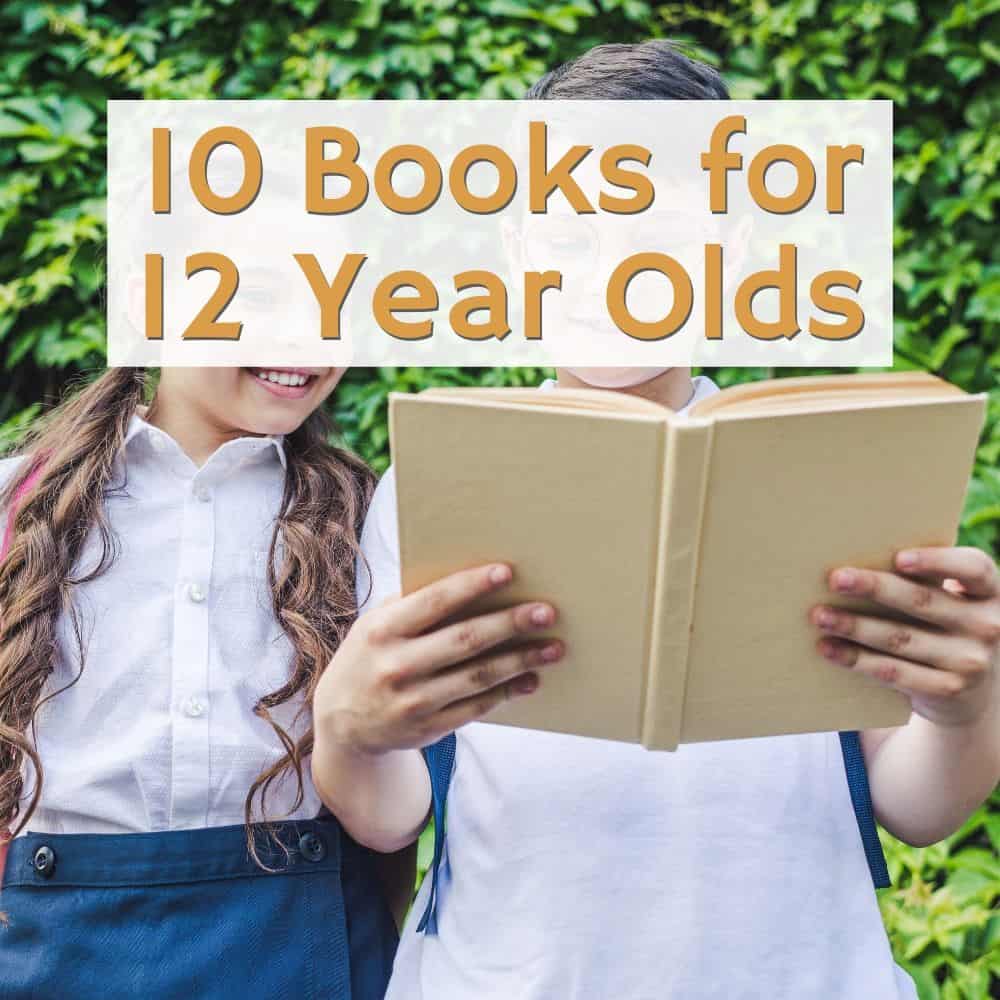 Looking for books for your kids isn't always easy. Perhaps they enjoy a different type of genre from you or maybe they don't enjoy reading at all.
Whether they devour books or perhaps shy away from them a bit, this list has a little bit of something for everyone. Admired classics, commercial favorites, and historical fiction are just some of the books on this list.
If you are looking for books for your 12 year old boy or girl, you are in the right place! Let's get started!
Need books for other ages?
This post contains affiliate links. If you click and make a purchase, we earn a commission at NO extra cost to you. For more information, please read my full disclosure policy.
Descriptions come from Amazon; some are edited for length
Books for 12 Year Olds
Where the Red Fern Grows by Wilson Rawls
"Billy has long dreamt of owning not one, but two dogs. So when he's finally able to save up enough money for two pups to call his own, Old Dan and Little Ann, he's ecstatic. It's true that times are tough, but together they'll roam the hills of the Ozarks. Soon Billy and his hounds become the finest hunting team in the valley. Stories of their great achievements spread throughout the region, and the combination of Old Dan's brawn, Little Ann's brains, and Billy's sheer will seems unbeatable. But tragedy awaits these determined hunters and Billy learns that hope can grow out of despair."
Island of the Blue Dolphins by Scott O'Dell
"This is the story of Karan, the Indian girl who lived alone for years on the Island of the Blue Dolphins. Year after year she watched one season pass into another and waited for a ship to take her away. But while she waited, she kept herself alive by building shelter, making weapons, finding food, and fighting her enemies, the wild dogs. Hers is not only an unusual adventures of survival, but also a tale of natural beauty and personal discovery."
The Bad Beginning by Lemony Snicket
"'If you are interested in stories with happy endings, you would be better off reading some other book.' Violet, Klaus and Sunny Baudelaire are most unfortunate children. Orphaned after the sudden death of their parents in a house fire, they are left in the hands of their guardian, Count Olaf, who has diabolical plans for them."
The Boys in the Boat (Young Readers Adaptation): The True Story of an American Team's Epic Journey to Win Gold at the 1936 Olympics by Daniel James Brown
"For readers of Unbroken, out of the depths of the Great Depression comes the astonishing tale of nine working-class boys from the American West who at the 1936 Olympics showed the world what true grit really meant. With rowers who were the sons of loggers, shipyard workers, and farmers, the University of Washington's eight-oar crew was never expected to defeat the elite East Coast teams, yet they did, going on to shock the world by challenging the German boat rowing for Adolf Hitler. This deeply emotional yet easily accessible young readers adaptation of the award-winning #1 New York Times bestseller features never-before-seen photographs, highly visual back matter, and an exclusive new introduction."
The Crossover by Kwame Alexander
"'With a bolt of lightning on my kicks . . . The court is SIZZLING. My sweat is DRIZZLING. Stop all that quivering. 'Cuz tonight I'm delivering,' raps twelve-year-old Josh Bell. Thanks to their dad, he and his twin brother, Jordan, are kings on the court. But Josh has more than basketball in his blood—he's got mad beats, too, which help him find his rhythm when it's all on the line. As their winning season unfolds, things begin to change. When Jordan meets a girl, the twins' bond unravels."
A Long Walk to Water by Linda Sue Park
"The New York Times bestseller A Long Walk to Water begins as two stories, told in alternating sections, about two eleven-year-olds in Sudan, a girl in 2008 and a boy in 1985. The girl, Nya, is fetching water from a pond that is two hours' walk from her home: she makes two trips to the pond every day. The boy, Salva, becomes one of the 'lost boys' of Sudan, refugees who cover the African continent on foot as they search for their families and for a safe place to stay. Enduring every hardship, Salva is a survivor, and his story goes on to intersect with Nya's in an astonishing and moving way."
"Pax, a fox, and Peter have been inseparable ever since Peter rescued him as a kit. But one day, the unimaginable happens: Peter's dad enlists in the military and makes him return the fox to the wild. At his grandfather's house, three hundred miles away from home, Peter knows he isn't where he should be, with Pax. He strikes out on his own despite the encroaching war, spurred by love, loyalty, and grief, to be reunited with his fox. Meanwhile Pax, steadfastly waiting for his boy, embarks on adventures and discoveries of his own."
Peter Nimble and His Fantastic Eyes by Jonathan Auxier
"Peter Nimble and His Fantastic Eyes is the utterly beguiling tale of a ten-year-old blind orphan who has been schooled in a life of thievery. One fateful afternoon, he steals a box from a mysterious traveling haberdasher, a box that contains three pairs of magical eyes. When he tries the first pair, he is instantly transported to a hidden island where he is presented with a special quest: to travel to the dangerous Vanished Kingdom and rescue a people in need. Along with his loyal sidekick (a knight who has been turned into an unfortunate combination of horse and cat) and the magic eyes, he embarks on an unforgettable, swashbuckling adventure to discover his true destiny."
The View from Saturday by E. L. Konigsburg
"Did Mrs. Olinsky choose the four members of the sixth grade Academic Bowl Team, or did they choose her–and one another? Four stories-within-in-a-story, interspersed with the ongoing narrative of the team's triumphant march to the state championship, introduce each member of the team in his own her own voice, and bring the dynamics of the group into focus. This is a tale about a team, a class, a school, and a series of contests that ask questions and demonstrate surprising answers."
Merci Suárez Changes Gears by Meg Medina
"Merci Suarez knew that sixth grade would be different, but she had no idea just how different. For starters, Merci has never been like the other kids at her private school in Florida, because she and her older brother, Roli, are scholarship students. So when bossy Edna Santos sets her sights on the new boy who happens to be Merci's school-assigned Sunshine Buddy, Merci becomes the target of Edna's jealousy. Things aren't going well at home, either: Merci's grandfather and most trusted ally, Lolo, has been acting strangely lately. No one in her family will tell Merci what's going on, so she's left to her own worries, while also feeling all alone at school. In a coming-of-age tale full of humor and wisdom, award-winning author Meg Medina gets to the heart of the confusion and constant change that defines middle school and the steadfast connection that defines family."
I don't think I ever cried as much as I did reading Where the Red Fern Grows, and my kids are giant Lemony Snicket fans. No matter which book you choose on this list, I hope you enjoy.
Happy reading!