Keep reading for 25 outstanding books for the 6th graders!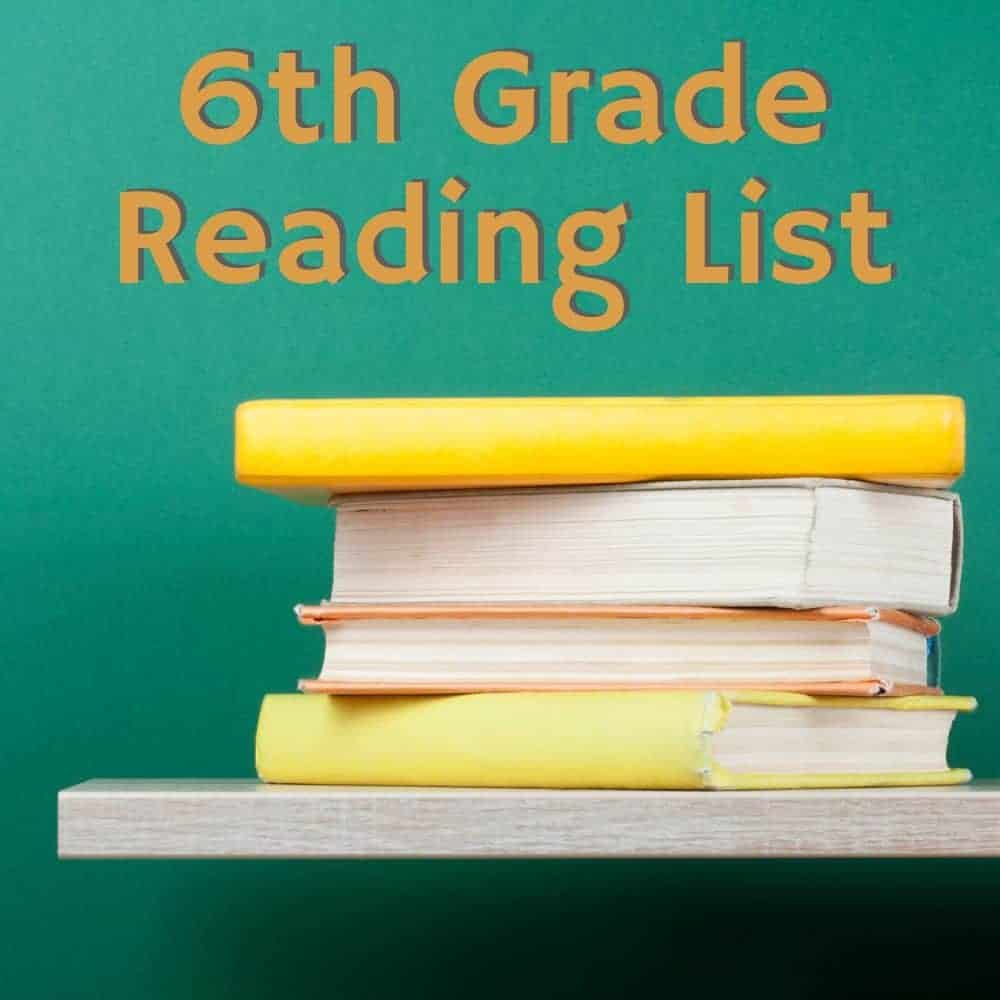 In our homeschool, we recently finished up our 50 states study. Over the course of about 2 years, we read a chapter book that took place in each of the 50 states. It was one of the coolest things we have done to date!
First of all, we read 50 chapter books together. I mean, how awesome is that! But we also read books that I had never heard of before AND books I probably WOULDN'T have read.
Book numbers six on this list for example. I don't dislike poetry, but I don't have the patience for poetry so I would never have thought to read a book in verse. But when looking for books set in Alabama, I came across Inside Out and Back Again, the story about a Vietnamese refugee who immigrates to Alabama after the war.
Since I am not the best at reading poetry, we opted for the audio version which is phenomenal. Such an amazing experience for all of us.
Whether you are reading books together as a family, or searching for books for your 6th grader to read independently, this book list is for you! It contains 25 books from various genres: classics, realistic fiction, poetry, biography, fantasy, and more! I really thing you are gonna dig this list. Let's get started!
Searching for reading lists that a little bit easier?
6th Grade Reading List
This post contains affiliate links. If you click and make a purchase, we earn a commission at NO extra cost to you. For more information, please read my full disclosure policy.
Descriptions come from Amazon; some are edited for length
by Sterling North (1963) 189 pages
"Nothing's surprising in the North household, not even Sterling's new pet raccoon. Rascal is only a baby when Sterling brings him home, but soon the two are best friends, doing everything together until the spring day when everything suddenly changes. Rascal is a heartwarming boyhood memoir that continues to find its way into the hearts of readers fifty years later."
By Wilson Rawls (1961) 229 pages
"Billy has long dreamt of owning not one, but two dogs. So when he's finally able to save up enough money for two pups to call his own, Old Dan and Little Ann, he's ecstatic. It's true that times are tough, but together they'll roam the hills of the Ozarks. Soon Billy and his hounds become the finest hunting team in the valley. Stories of their great achievements spread throughout the region, and the combination of Old Dan's brawn, Little Ann's brains, and Billy's sheer will seems unbeatable. But tragedy awaits these determined hunters and Billy learns that hope can grow out of despair."
by Louise Fitzhugh (1964) 298 pages
"Harriet M. Welsch is a spy. In her notebook, she writes down everything she knows about everyone, even her classmates and her best friends. Then Harriet loses track of her notebook, and it ends up in the wrong hands. Before she can stop them, her friends have read the always truthful, sometimes awful things she's written about each of them. Will Harriet find a way to put her life and her friendships back together?"
The Vanderbeekers of 141st Street
by Karina Yan Glaser (2017) 320 pages
"The Vanderbeekers have always lived in the brownstone on 141st Street. It's practically another member of the family. So when their reclusive, curmudgeonly landlord decides not to renew their lease, the five siblings have eleven days to do whatever it takes to stay in their beloved home and convince the dreaded Beiderman just how wonderful they are. And all is fair in love and war when it comes to keeping their home."
By Linda Sue Park (2010) 128 pages
"The New York Times bestseller A Long Walk to Water begins as two stories, told in alternating sections, about two eleven-year-olds in Sudan, a girl in 2008 and a boy in 1985. The girl, Nya, is fetching water from a pond that is two hours' walk from her home: she makes two trips to the pond every day. The boy, Salva, becomes one of the 'lost boys' of Sudan, refugees who cover the African continent on foot as they search for their families and for a safe place to stay. Enduring every hardship, Salva is a survivor, and his story goes on to intersect with Nya's in an astonishing and moving way."
By Thanhha Lai (2011) 272 pages
"This coming-of-age tale, told in verse, was inspired by the author's childhood experience as a refugee fleeing from Vietnam after the fall of Saigon and immigrating to Alabama. Hà has only ever known Saigon: the thrills of its markets, the joy of its traditions, and the warmth of her friends close by. But now the Vietnam War has reached her home. Hà and her family are forced to flee as Saigon falls, and they board a ship headed toward hope—toward America."
I highly recommend the audio version of this book if you are not well versed in reading poetry. My girls and I don't really care for poetry but all of us LOVED this book!
The Boys in the Boat (Young Readers Adaptation): The True Story of an American Team's Epic Journey to Win Gold at the 1936 Olympics
by Daniel James Brown (2013) 256 pages
"For readers of Unbroken, out of the depths of the Great Depression comes the astonishing tale of nine working-class boys from the American West who at the 1936 Olympics showed the world what true grit really meant. With rowers who were the sons of loggers, shipyard workers, and farmers, the University of Washington's eight-oar crew was never expected to defeat the elite East Coast teams, yet they did, going on to shock the world by challenging the German boat rowing for Adolf Hitler. This deeply emotional yet easily accessible young readers adaptation of the award-winning #1 New York Times bestseller features never-before-seen photographs, highly visual back matter, and an exclusive new introduction."
The Bad Beginning (A Series of Unfortunate Events, Book 1)
by Lemony Snicket (1999) 142 pages
"'If you are interested in stories with happy endings, you would be better off reading some other book.' Violet, Klaus and Sunny Baudelaire are most unfortunate children. Orphaned after the sudden death of their parents in a house fire, they are left in the hands of their guardian, Count Olaf, who has diabolical plans for them."
by Elizabeth George Speare (1983) 135 pages
"Although he faces responsibility bravely, thirteen-year-old Matt is more than a little apprehensive when his father leaves him alone to guard their new cabin in the wilderness. When a renegade white stranger steals his gun, Matt realizes he has no way to shoot game or to protect himself. When Matt meets Attean, a boy in the Beaver clan, he begins to better understand their way of life and their growing problem in adapting to the white man and the changing frontier."
by Pam Muñoz Ryan (1998) 144 pages
"Charlotte Parkhurst was raised in the mid-1800s and was expected to live her life without the freedoms she dreamed of. But Charlotte was smart and determined, and she figured out a way to live her life the way she wanted. She became an expert horse rider, a legendary stagecoach driver, and the first woman ever to vote – at a time when such things were outlawed for women."
by Natalie Babbitt (1975) 160 pages
"What if you could live forever? Is eternal life a blessing or a curse? That is what young Winnie Foster must decide when she discovers a spring on her family's property whose waters grant immortality. Members of the Tuck family, having drunk from the spring, tell Winnie of their experiences watching life go by and never growing older. But then Winnie must decide whether or not to keep the Tucks' secret, and whether or not to join them on their never-ending journey."
by Madeleine L'Engle (1962) 203 pages
"Meg Murry, her little brother Charles Wallace, and their mother are having a midnight snack on a dark and stormy night when an unearthly stranger appears at their door. He claims to have been blown off course and goes on to tell them that there is such a thing as a "tesseract", which, if you didn't know, is a wrinkle in time. Meg's father had been experimenting with time travel when he suddenly disappeared. Will Meg, Charles Wallace, and their friend Calvin outwit the forces of evil as they search through space for their father?"
by J.M. Barrie (1904) 192 pages
"With a magic and emotional appeal unmatched by any other story, Barrie's Peter Pan speaks directly to childhood's dreams and desires with an imaginative genius that evokes both laughter and tears. Peter, the boy would wouldn't grow up; Nana, the Darling children's nurse and pet Newfoundland; deliciously dreadful Captain Hook, who is stalked by a crocodile with a clock in his stomach; and Tinker Bell, "quite a common fairy," who swears like a sailor and is murderously jealous. These characters of startling originality are rich, funny, mischievously insightful, and a joy to read about again and again. The result is a masterpiece of literature that has been working its timeless wonderment on us since it first appeared."
by William Golding (1954) 202 pages
"At the dawn of the next world war, a plane crashes on an uncharted island, stranding a group of schoolboys. At first, with no adult supervision, their freedom is something to celebrate. This far from civilization they can do anything they want. Anything. But as order collapses, as strange howls echo in the night, as terror begins its reign, the hope of adventure seems as far removed from reality as the hope of being rescued."
by Brian Selznick (2007) 533 pages
"Orphan, clock keeper, and thief, Hugo lives in the walls of a busy Paris train station, where his survival depends on secrets and anonymity. But when his world suddenly interlocks with an eccentric, bookish girl and a bitter old man, Hugo's undercover life is put in jeopardy. A cryptic drawing, a treasured notebook, a stolen key, a mechanical man, and a hidden message from Hugo's dead father form the backbone of this intricate, tender, and spellbinding mystery."
by Pam Munoz Ryan (2015) 592 pages
Lost and alone in a forbidden forest, Otto meets three mysterious sisters and suddenly finds himself entwined in a puzzling quest involving a prophecy, a promise, and a harmonica. Decades later, Friedrich in Germany, Mike in Pennsylvania, and Ivy in California each become interwoven when the very same harmonica lands in their lives. All the children face daunting challenges and ultimately, their suspenseful solo stories converge in an orchestral crescendo."
by Clare Vanderpool (2019) 346 pages
"Abilene Tucker feels abandoned. Her father has put her on a train, sending her off to live with an old friend for the summer while he works a railroad job. Armed only with a few possessions and her list of universals, Abilene jumps off the train in Manifest, Kansas, aiming to learn about the boy her father once was. It seems that Manifest's history is full of colorful and shadowy characters and long-held secrets. The more Abilene hears, the more determined she is to learn just what role her father played in that history. And as Manifest's secrets are laid bare one by one, Abilene begins to weave her own story into the fabric of the town."
by Sara Pennypacker (2016) 304 pages
Pax, a fox, and Peter have been inseparable ever since Peter rescued him as a kit. But one day, the unimaginable happens: Peter's dad enlists in the military and makes him return the fox to the wild. At his grandfather's house, three hundred miles away from home, Peter knows he isn't where he should be, with Pax. He strikes out on his own despite the encroaching war, spurred by love, loyalty, and grief, to be reunited with his fox. Meanwhile Pax, steadfastly waiting for his boy, embarks on adventures and discoveries of his own."
by Ellen Raskin (1978) 192 pages
"A bizarre chain of events begins when sixteen unlikely people gather for the reading of Samuel W. Westing's will. And though no one knows why the eccentric, game-loving millionaire has chosen a virtual stranger (and possible murderer) to inherit his vast fortune, one things for sure: Sam Westing may be dead, but that won't stop him from playing one last game!"
by Mildred D. Taylor (1976) 276 pages
"Set in Mississippi at the height of the Depression, this is the story of one family's struggle to maintain their integrity, pride, and independence in the face of racism and social injustice. And it is also Cassie's story, an independent girl who discovers over the course of an important year why having land of their own is so crucial to her family, even as she learns to draw strength from her own sense of dignity and self-respect."
by Jean Craighead George (1972) 208 pages
"To her small Eskimo village, she is known as Miyax; to her friend in San Francisco, she is Julie. When her life in the village becomes dangerous, Miyax runs away, only to find herself lost in the Alaskan wilderness. Miyax tries to survive by copying the ways of a pack of wolves and soon grows to love her new wolf family. Life in the wilderness is a struggle, but when she finds her way back to civilization, Miyax is torn between her old and new lives. Is she Miyax of the Eskimos, or Julie of the wolves?"
by Meg Medina (2018) 355 pages
"Merci Suarez knew that sixth grade would be different, but she had no idea just how different. For starters, Merci has never been like the other kids at her private school in Florida, because she and her older brother, Roli, are scholarship students. So when bossy Edna Santos sets her sights on the new boy who happens to be Merci's school-assigned Sunshine Buddy, Merci becomes the target of Edna's jealousy. Things aren't going well at home, either: Merci's grandfather and most trusted ally, Lolo, has been acting strangely lately. No one in her family will tell Merci what's going on, so she's left to her own worries, while also feeling all alone at school. In a coming-of-age tale full of humor and wisdom, award-winning author Meg Medina gets to the heart of the confusion and constant change that defines middle school and the steadfast connection that defines family."
by Barbara O'Connor (2016) 256 pages
Eleven-year-old Charlie Reese has been making the same secret wish every day since fourth grade. She even has a list of all the ways there are to make the wish. But when she is sent to the Blue Ridge Mountains of North Carolina to live with family she barely knows, it seems unlikely that her wish will ever come true. That is, until she meets Wishbone, a skinny stray dog who captures her heart, and Howard, a neighbor boy who proves surprising in lots of ways. Suddenly Charlie is in serious danger of discovering that what she thought she wanted may not be what she needs at all."
Peter Nimble and His Fantastic Eyes
by Jonathan Auxier (2011) 381 pages
Peter Nimble and His Fantastic Eyes is the utterly beguiling tale of a ten-year-old blind orphan who has been schooled in a life of thievery. One fateful afternoon, he steals a box from a mysterious traveling haberdasher, a box that contains three pairs of magical eyes. When he tries the first pair, he is instantly transported to a hidden island where he is presented with a special quest: to travel to the dangerous Vanished Kingdom and rescue a people in need. Along with his loyal sidekick (a knight who has been turned into an unfortunate combination of horse and cat) and the magic eyes, he embarks on an unforgettable, swashbuckling adventure to discover his true destiny."
by Rebecca Stead (2009) 199 pages
Shortly after a fall-out with her best friend, sixth grader Miranda starts receiving mysterious notes, and she doesn't know what to do. The notes tell her that she must write a letter and that she can't share her mission with anyone. It would be easy to ignore the strange messages, except that whoever is leaving them has an uncanny ability to predict the future. If that is the case, then Miranda has a big problem because the notes tell her that someone is going to die, and she might be too late to stop it."
Happy reading!
Rascal
Where the Red Fern Grows
Harriet the Spy
The Vanderbeekers of 141st Street
A Long Walk to Water
Inside Out and Back Again
The Boys in the Boat (Young Readers Adaptation): The True Story of an American Team's Epic Journey to Win Gold at the 1936 Olympics
The Bad Beginning
The Sign of the Beaver
Riding Freedom
Tuck Everlasting
A Wrinkle in Time
Peter Pan
Lord of the Flies
The Invention of Hugo Cabret
Echo
Moon over Manifest
Pax
The Westing Game
Roll of Thunder, Hear My Cry
Julie of the Wolves
Merci Suárez Changes Gears
Wish
Peter Nimble and His Fantastic Eyes
When You Reach Me