Looking for suggestions for fourth grade read alouds? Keep reading for 10 of the best read alouds for kids 8-10 years old!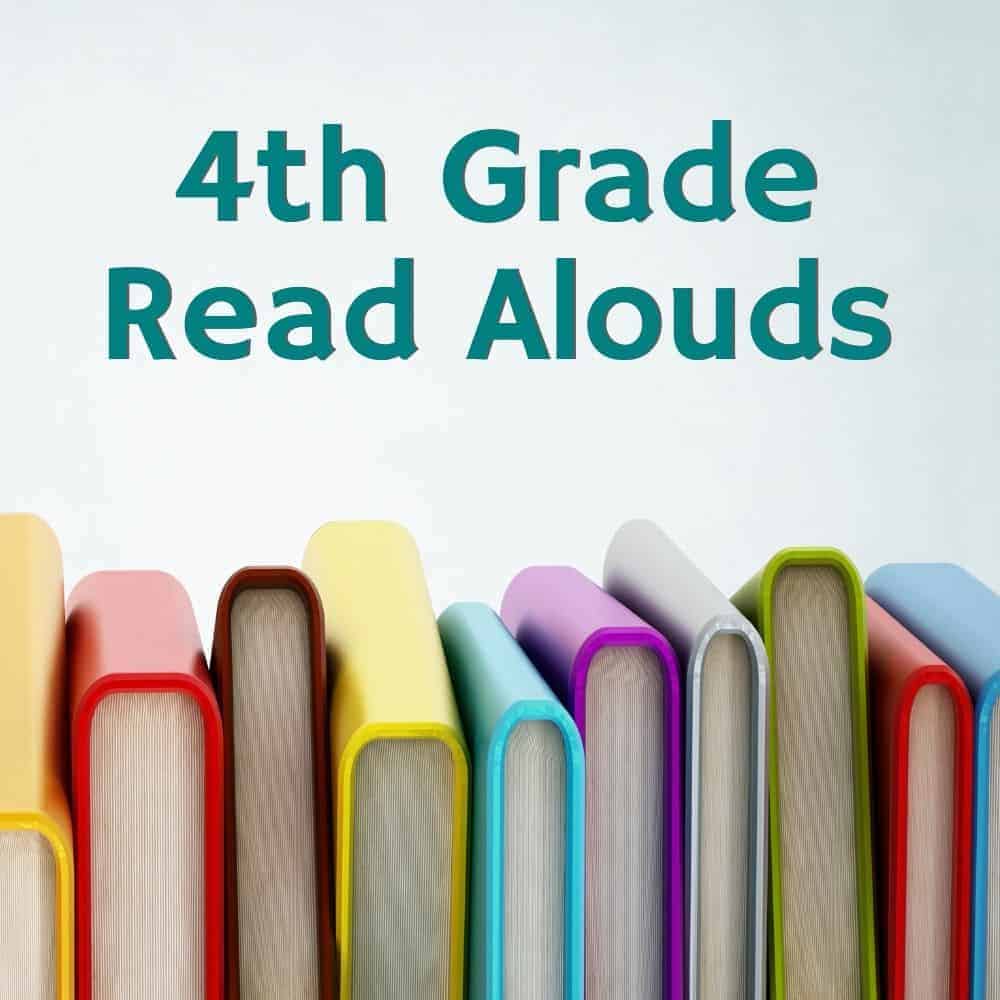 The upper elementary/middle level grades have always been my jam. I love babies, but they rarely are impressed by me (including my own children). Toddlers tend to like me but I really only ever had the patience for my own.
But middle of the road, that's my groove. They are interesting, passionate, and are starting to develop their own little personalities. Sure, you have to remind them to shower and the smallest thing can set them off, but I can make them laugh at the drop of a hat as well as embarrass the heck out of them!
8-10 year olds are at an amazing age for reading as well! They can handle more complex stories but they might not want to read them on their own. My kids are notorious for this!
Related Reads:
This is what makes read alouds perfect!! You can enjoy a book as a family by reading during breakfast, snack time, or in the car via audiobook! These read alouds aren't super long books so it won't be hard for your kids to sit sill. And if you are schooling multiple ages these books will hold the attention of all your kids.
Whether you are looking for a chapter book to read aloud as a family or a read aloud book to read or listen to (audiobooks aren't cheating!) during your morning routine, I have 10 books you are sure to love!
I have personally read each of these books with my family so I know for certain your kids will love them too!
4th Grade Read Alouds
This post contains affiliate links. If you click and make a purchase, we earn a commission at NO extra cost to you. For more information, please read my full disclosure policy.
By Kate DiCamillo (2000) 208 pages
"One summer's day, ten-year-old India Opal Buloni goes down to the local supermarket for some groceries – and comes home with a dog. But Winn-Dixie is no ordinary dog. It's because of Winn-Dixie that Opal begins to make friends. And it's because of Winn-Dixie that she finally dares to ask her father about her mother, who left when Opal was three. In fact, as Opal admits, just about everything that happens that summer is because of Winn-Dixie."
This book is relatively short and easy to read yourself so you don't need to rely on an audiobook. It's a sweet story with important messages of belonging.
By E.B. White (1952) 184 pages
"Some Pig. Humble. Radiant. These are the words in Charlotte's Web, high up in Zuckerman's barn. Charlotte's spiderweb tells of her feelings for a little pig named Wilbur, who simply wants a friend. They also express the love of a girl named Fern, who saved Wilbur's life when he was born the runt of his litter. E. B. White's Newbery Honor Book is a tender novel of friendship, love, life, and death that will continue to be enjoyed by generations to come."
EB White's narration is to die for, but this classic book is easy enough for the entire family to read aloud.
---
Flora and Ulysses: The Illuminated Adventures
By Kate DiCamillo (2013) 233 pages
"It begins, as the best superhero stories do, with a tragic accident that has unexpected consequences. The squirrel never saw the vacuum cleaner coming, but self-described cynic Flora Belle Buckman, who has read every issue of the comic book Terrible Things Can Happen to You!, is the just the right person to step in and save him. What neither can predict is that Ulysses (the squirrel) has been born anew, with powers of strength, flight, and misspelled poetry—and that Flora will be changed too, as she discovers the possibility of hope and the promise of a capacious heart. "
Harry Potter and the Sorcerer's Stone
By J.K. Rowling (1998) 309 pages
"Harry Potter has no idea how famous he is. That's because he's being raised by his miserable aunt and uncle who are terrified Harry will learn that he's really a wizard, just as his parents were. But everything changes when Harry is summoned to attend an infamous school for wizards, and he begins to discover some clues about his illustrious birthright. From the surprising way he is greeted by a lovable giant, to the unique curriculum and colorful faculty at his unusual school, Harry finds himself drawn deep inside a mystical world he never knew existed and closer to his own noble destiny."
This is the age that my kids went all in with Harry Potter. I had tried the audiobooks previously and they were not interested. But around age 8-9 the switch flipped and they LOVED them.
By Robert McCloskey (1943) 160 pages
"Welcome to Centerburg! Where you can win a hundred dollars by eating all the doughnuts you want; where houses are built in a day; and where a boy named Homer Price can foil four slick bandits using nothing but his wits and pet skunk. The comic genius of Robert McCloskey and his wry look at small-town America has kept readers in stitches for generations!"
Six short stories that are so fun and nostalgic.
By Beverly Cleary (1965) 176 pages
"A young mouse named Ralph is thrown into a world of excitement when a boy and his shiny toy motorcycle check in to the Mountain View Inn. When the ever-curious Ralph spots Keith's red toy motorcycle, he vows to ride it. So when Keith leaves the bike unattended in his room one day, Ralph makes his move. But with all this freedom (and speed!) come a lot of obstacles. Whether dodging a rowdy terrier or keeping his nosy cousins away from his new wheels, Ralph has a lot going on! And with a pal like Keith always looking out for him, there's nothing this little mouse can't handle."
The Mouse and the Motorcycle is totally short enough to read on your own but B.D. Wong's narration is on point if you are looking for a great book to listen to on walks or in the car!
By Katherine Applegate (2012) 336 pages
"Inspired by the true story of a captive gorilla known as Ivan, this illustrated book is told from the point of view of Ivan himself. Having spent twenty-seven years behind the glass walls of his enclosure in a shopping mall, Ivan has grown accustomed to humans watching him. He hardly ever thinks about his life in the jungle. Instead, Ivan occupies himself with television, his friends Stella and Bob, and painting. But when he meets Ruby, a baby elephant taken from the wild, he is forced to see their home, and his art, through new eyes."
The average number of pages per chapter in The One and Only Ivan is around 5 pages. Making it an easy book to read a few chapters at breakfast or bedtime.
By Avi (1995) 163 pages
"At the very edge of Dimwood Forest stood an old charred oak where, silhouetted by the moon, a great horned owl sat waiting. The owl's name was Mr. Ocax, and he looked like death himself. With his piercing gaze, he surveyed the lands he called his own, watching for the creatures he considered his subjects. Not one of them ever dared to cross his path . . . until the terrible night when two little mice went dancing in the moonlight . . ."
By Phyllis Reynolds Naylor (1991) 137 pages
"When Marty Preston comes across a young beagle in the hills behind his home, it's love at first sight—and also big trouble. It turns out the dog, which Marty names Shiloh, belongs to Judd Travers who drinks too much and has a gun—and abuses his dogs. So when Shiloh runs away from Judd to Marty, Marty just has to hide him and protect him from Judd. But Marty's secret becomes too big for him to keep to himself, and it exposes his entire family to Judd's anger. How far will Marty have to go to make Shiloh his?"
---
By Peter Brown (2016) 279 pages
"When robot Roz opens her eyes for the first time, she discovers that she is alone on a remote, wild island. Why is she there? Where did she come from? And, most important, how will she survive in her harsh surroundings? Roz's only hope is to learn from the island's hostile animal inhabitants. When she tries to care for an orphaned gosling, the other animals finally decide to help, and the island starts to feel like home. Until one day, the robot's mysterious past comes back to haunt her."
Again, short chapters (2-5 pages) make this book a great read aloud. Except, your voice will probably get sore because this book is so hard to put down!
Sarah Mackenzie said, "Even more important than teaching our kids the actual skill of reading is to cultivate a deep love of stories." And these read alouds will put you well on the way to a lifelong love of reading and stories!
Fourth Grade Read Aloud Suggestions
Because of Winn-Dixie
Charlotte's Web
Flora and Ulysses
Harry Potter and the Sorcerer's Stone
Homer Price
The Mouse and the Motorcycle
The One and Only Ivan
Poppy
Shiloh
The Wild Robot