Keep reading for Letter Z activities and books for home preschool.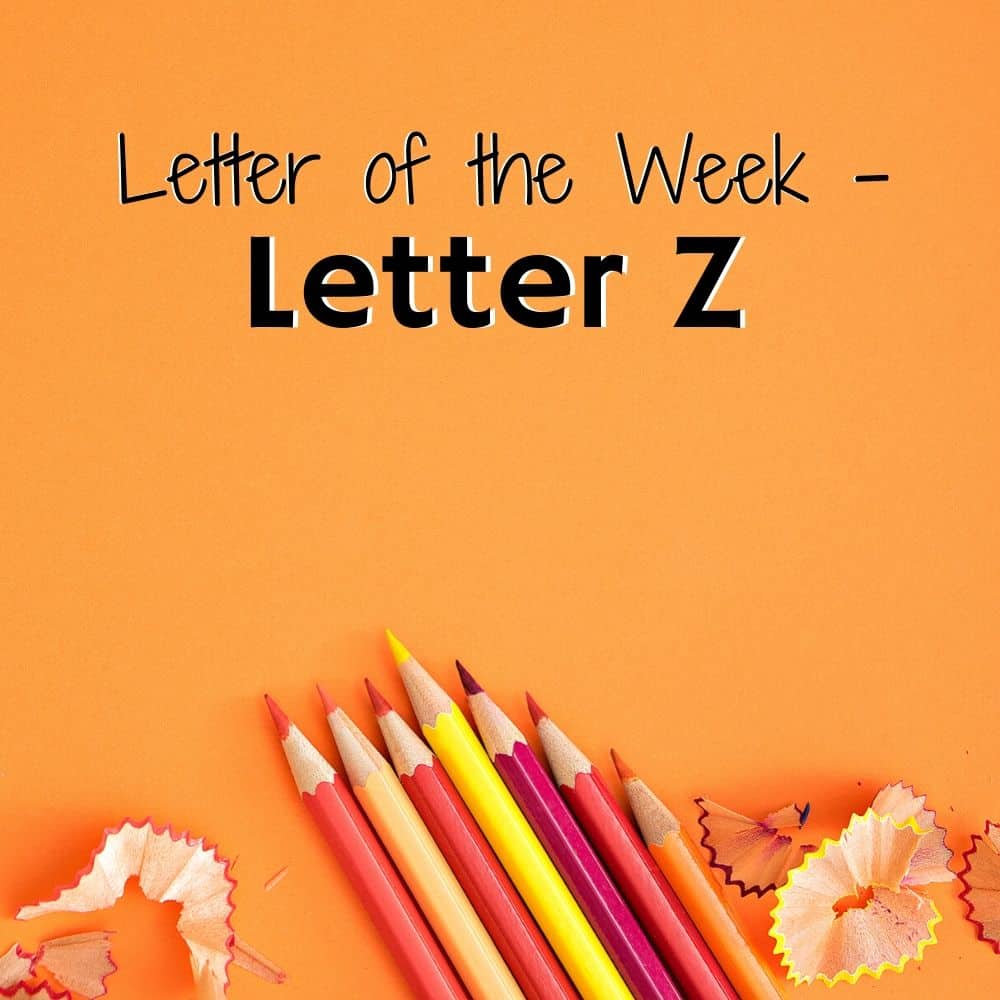 Here we are. We made it to the Letter Z! Now, I know I have used Sesame Street videos in my last two posts but I thought I would close out the Letter Z with my all-time favorite, favoritiest, most amazing version of The Alphabet Aong with India Arie and Elmo.
---
Oh my heart. I love this version not only because Elmo wigs out at 0:14, but because it is a wonderful reminder of the preschool years. I was, and continue to be, so blessed to my children's teacher. It has had its challenges, but it has been worth every tear, doubt, and tantrum.
My homeschool philosophy and methods have changed since then but one thing I know for sure is that homeschool preschool doesn't have to be difficult. Lots of books and lots of play is really all you need.
But, if you enjoy doing sit-down activities and crafts with your kids, it can be super simple without being overwhelming. Our homeschool preschool "curriculum" followed the Letter of the Week format, and we did our activities 30 minutes to an hour per day a few days a week.
Remember, don't feel like you have to do ALL THE THINGS! My kids loved doing sit down work so I approached it as way to spend time with my kids. Family time combined with learning time, win-win!
Recommended Reads:
Today I am going to show you a basic lesson plan. It's a three days per week plan. Each day has a book to read as well as some follow-up activities. I don't like to call them extension activities because sometimes the book and the activities aren't the exact same topic. Let's check it out!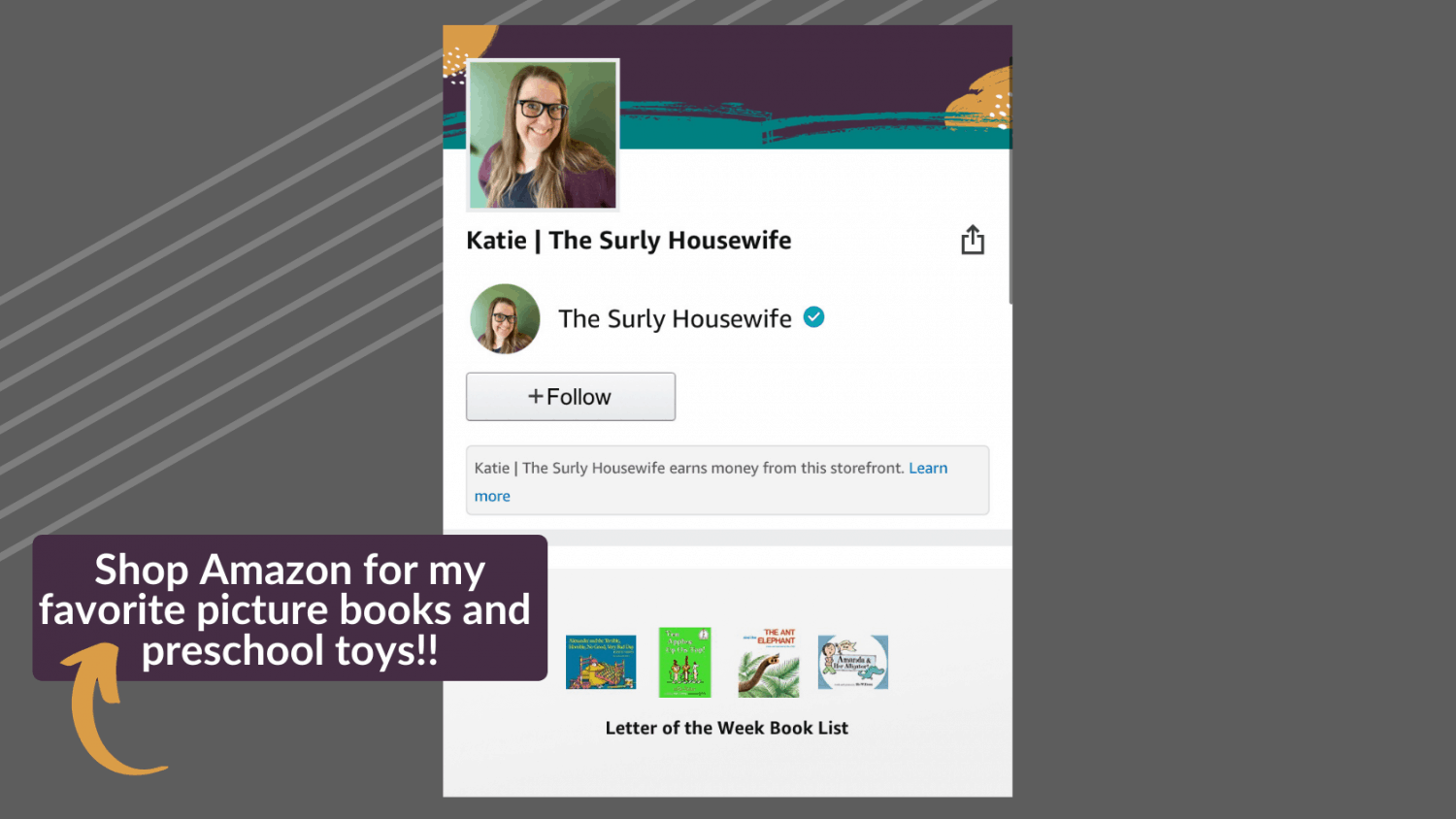 This post contains affiliate links. If you click and make a purchase, we earn a commission at NO extra cost to you. For more information, please read my full disclosure policy.
Letter Z Activities
Day One – Printables and How the Zebra Got It's Stripes
"A group of African animals hang out at the local watering hole, and they share funny stories about how the zebra got its stripes. At the end of the book, fun facts explain why zebras really have stripes. For any child intrigued by zebras, this colorful, informative book is a must!"
---
For each letter, I had the girls work on letter recognition and letter writing. The thing to remember is that home preschool is about introducing the letters to our kids. There isn't an expectation that they will be able to read by the time you get to the end of the alphabet. But they should be able to tell us all the letters!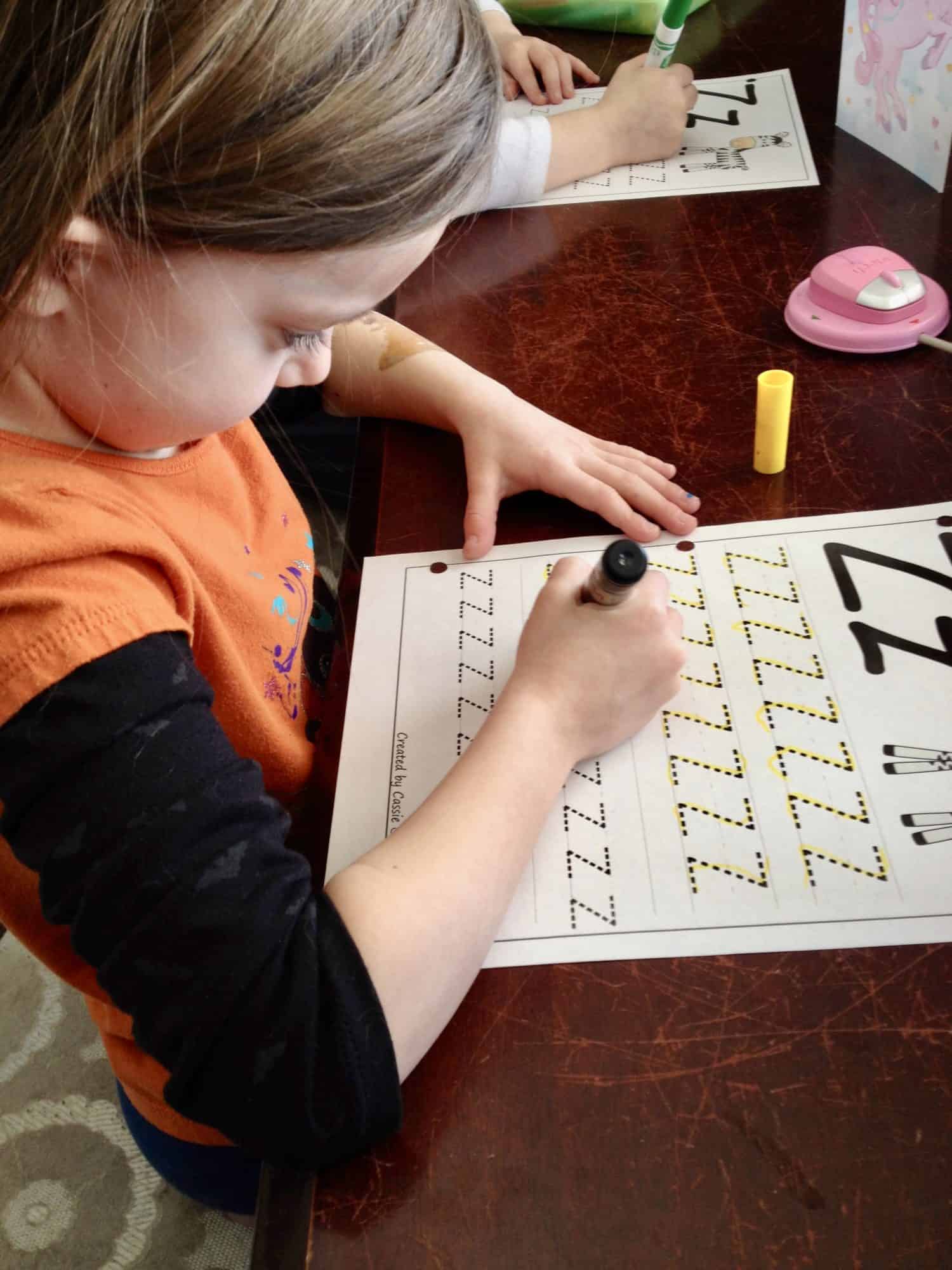 Day Two – Crafts and Zoom Zoom Zoom, I'm off to the Moon
"With suitcase in hand, a little boy races out his front door toward his red rocket ship. After carefully suiting up, it's time to head to the moon! And once all of his adventures are over, it's time to head home again and go to bed."
If you have a kid who loves all things that go, Z is a great letter because Z is for ZOOM!!! Whether it's a car or a spaceship, kids love things that zoom!
Day Three – Sensory Bins and Zoo
"Before the zoo opens to the public each day a small army of keepers, vendors, and maintenance workers files through the gates early in the morning to perform the daily tasks of cleaning and setting up. Then the crowds flock in to enjoy the animals and to play in the special Children's Zoo. The busy pictures are filled with details and action. The writing is crisp, clear, and informative."
For each letter we also had some form of sensory play. Z is for zoo!! Which makes the possibilities pretty much endless. For some ideas, check out the links below!
Letter Z Books
Some additional letter Z books you can read with your kiddos!
Z Is for Zookeeper: A Zoo Alphabet by Marie Smith
"The zoo is a great place to see animals from all over the world in one place. But who takes care of them and their home the zoo? The zookeeper. In Z is for Zookeeper: A Zoo Alphabet children will learn that he's probably the busiest person there. And if you don't see the zookeepers, rest assured they're doing their job and doing it well. After all, someone has to feed, clean, nurse and clean up after this diverse adopted family. Who better to write an exploration into this trade than a zookeeper and his wife? Z is for Zookeeper is a true original, exploring a rarely seen side of one of America's favorite family attractions."
"After work the letter Z goes home, passing an alien in the shape of the letter A, a bridge in the shape of the letter B, and so on, until he runs into a Viper by a Woodpile, some Xeroxes, and a Yoga master, before reaching his destination."
Put Me in the Zoo by Robert Lopshire
"Spot believes he deserves to be in the zoo with the other amazing animals. In this Beginner Book edited by Dr. Seuss, Spot shows two young friends all the exciting things he can do with his spots. From changing their color and juggling them to moving them onto everything around him, you won't believe what Spot can do. Beginning readers will be delighted by Robert Lopshire's lively tale that proves there is a special spot for everyone."
And there we have it! We made it to the end of the alphabet! I hope you found some ideas for what you can use in your home preschool. Thank you so much for reading. I really, truly appreciate it!
Additional Recourses