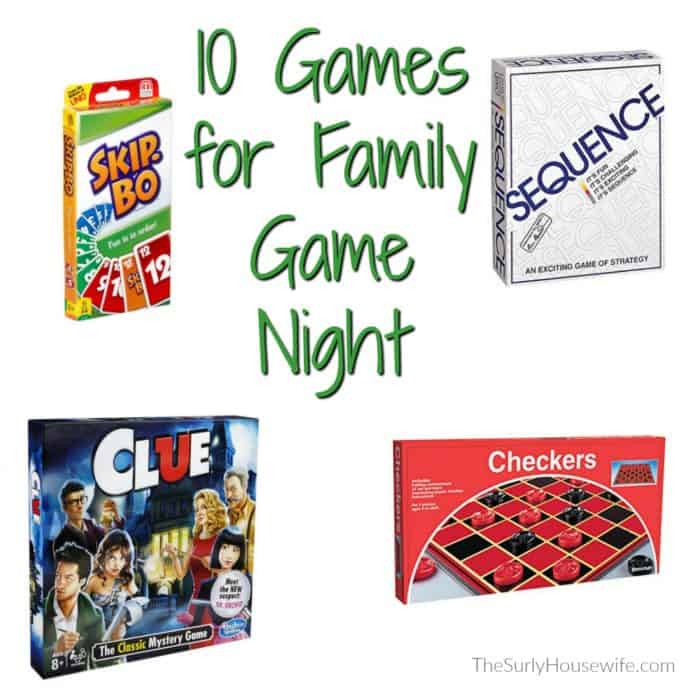 One of my goals here at the Surly Housewife is to encourage families to spend time together. Family time does not have to be as elaborate as a family vacation. It can be as simple as a family movie night or a night at the drive-in. Simple, inexpensive, and fun!
That's why I love family game night. Playing games together as a family is as simple as it gets. Plus it's a great way to bond, learn, and have fun.
If you have a super competitive child, game night can be down right awful. Which is why I suggest classic board and card games. One, because they are usually quick. Even if a child loses there is plenty of time to play another round and give others a chance to win. And two, parents more than likely know how to play the game so explaining the rules is a breeze.
But if you are anything like me, you have a hard time remembering the games you grew up with. Or maybe you didn't play a lot of board games as a child, but would love to start with your own family. Don't fret. I have listed 10 games that our family loves to play together AND we haven't had a thrown game board so even the most competitive child will have fun 😉
As an extra note, at the time of this post our daughters are 7 and 9. The perfect ages for all the games listed below.
This post contains affiliate links. If you click and make a purchase, we earn a commission at NO extra cost to you. For more information, please read my full disclosure policy.
Games for Family Game Night
Board Games
Sorry
For an added bonus, watch the classic Sorry sketch from the Carol Burnett show. It's guaranteed to have your family in stitches!
Clue
Don't forget to watch the hilarious movie Clue staring Tim Curry.

Sequence
My cousins and I spent hours playing this growing up.

Dominoes
What I love most about playing dominoes is there are tons of different versions of this game to play.
Card Games
Go Fish
Go Fish is a quick and easy game all kids love. Plus they usually come in a pack with some other card games like Old Maid and Crazy 8s.
Uno
My kids love Uno Attack!
Skip-Bo
I recommend buying two decks so you don't run out of cards.
Two-Player Games
2 player games are a great way for you and your spouse to spend one-on-one time with your kids. Set up several 2 person games and rotate through spending time with each member of your family.
Guess Who
We have the new version of Guess Who, but I have to say, I think I like the old one better!

Checkers
The best part about checkers is you can usually get a combo set like the one I have linked to below.

Any games I left off? What games does your family love to play?