Keep reading for 10 of the best historical fiction books for 4th grade.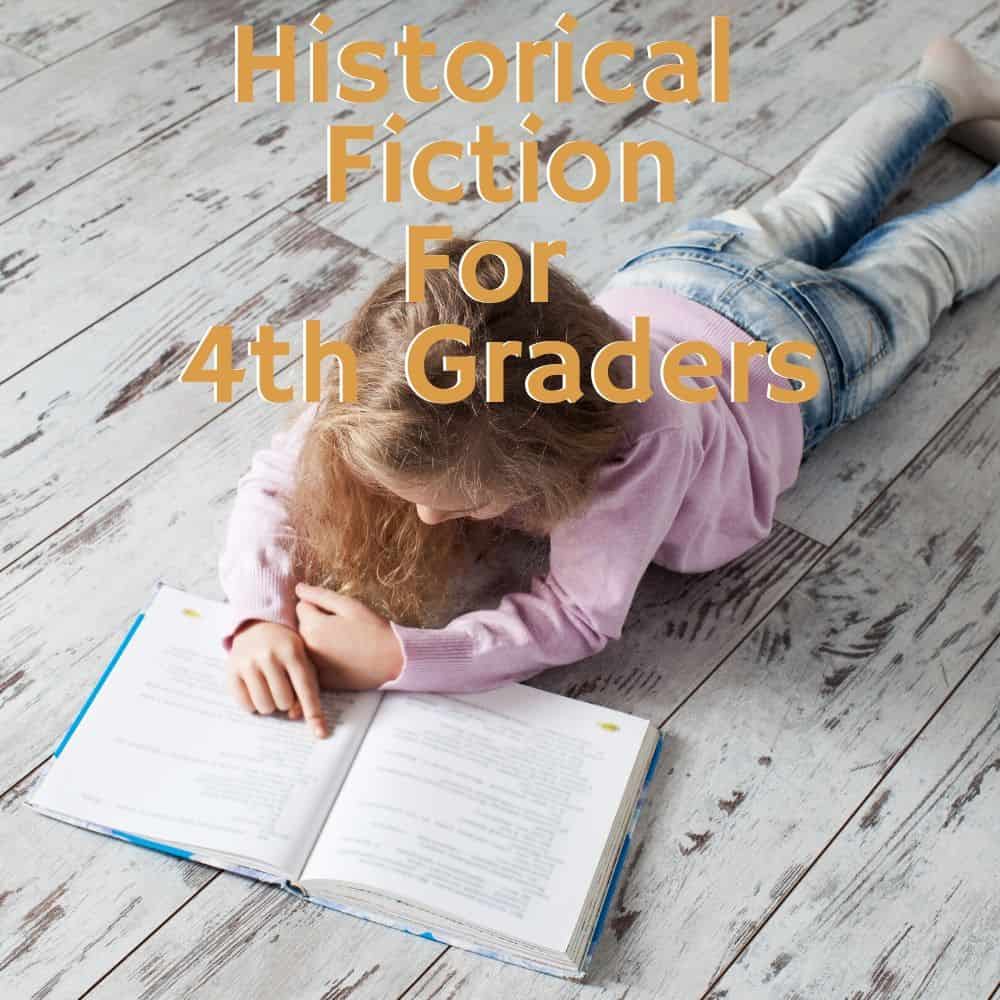 I'm going to be 100% honest with you and say that historical fiction isn't my favorite genre of book. And let me tell you why.
It's not that I don't like history or that historical fiction books are bad in their own right, I just don't think historical fiction should be a replacement for ACTUAL history lessons.
Historical fiction is defined as "a work of writing that reconstructs the past. Often inspired by history, writers of this genre will incorporate past events or people into their fictitious stories."
That being said, historical fiction are wonderful stories and have the potential to branch out into other areas but they should be used ALONGSIDE learning about historical events rather than a standalone history lesson.
I'll climb down off my soapbox now and talk about this list of historical fiction books for 4th graders. They cover a range from pioneer times to WWII up to the civil rights movement. And despite what the previous paragraphs may have sounded like, I actually do love the books on this list.
I follow the philosophy of George Bernard: "Make it a rule never to give a child a book you would not read yourself." Let's get started!
Need books for older readers?
This post contains affiliate links. If you click and make a purchase, we earn a commission at NO extra cost to you. For more information, please read my full disclosure policy.
Descriptions come from Amazon; some are edited for length
Historical Fiction Books for 4th Graders
Little House in the Big Woods by Laura Ingalls Wilder
"Wolves and panthers and bears roamed the deep Wisconsin woods in the 1870's. In those same woods, Laura Ingalls lived with her Pa and MA, and her sisters, Mary and Baby Carrie, in a snug little house built of logs. Pa hunted and trapped. Ma made her own cheese and maple sugar. All night long, the wind howled lonesomely, but Pa played his fiddle and sang, keeping the family safe and cozy."
Number the Stars by Lois Lowry
"As the German troops begin their campaign to 'relocate' all the Jews of Denmark, Annemarie Johansen's family takes in Annemarie's best friend, Ellen Rosen, and conceals her as part of the family. Through the eyes of ten-year-old Annemarie, we watch as the Danish Resistance smuggles almost the entire Jewish population of Denmark, nearly seven thousand people, across the sea to Sweden. The heroism of an entire nation reminds us that there was pride and human decency in the world even during a time of terror and war."
Sarah, Plain and Tall by Patricia MacLachlan
"Set in the late nineteenth century and told from young Anna's point of view, Sarah, Plain and Tall tells the story of how Sarah Elisabeth Wheaton comes from Maine to the prairie to answer Papa's advertisement for a wife and mother. Before Sarah arrives, Anna and her younger brother Caleb wait and wonder. Will Sarah be nice? Will she sing? Will she stay?"
The Watsons Go to Birmingham by Christopher Paul Curtis
"Enter the hilarious world of ten-year-old Kenny and his family, the Weird Watsons of Flint, Michigan. There's Momma, Dad, little sister Joetta, and brother Byron, who's thirteen and an 'official juvenile delinquent.' When Byron gets to be too much trouble, they head South to Birmingham to visit Grandma, the one person who can shape him up. And they'll be in Birmingham during one of the darkest moments in America's history."
The Cabin Faced West by Jean Fritz
"Ann Hamilton's family has moved to the western frontier of Pennsylvania, and she misses her old home in Gettysburg. There are no girls her age on Hamilton Hill, and life is hard. But when the Hamiltons survive a terrible storm and receive a surprise visit from George Washington, Ann realizes that pioneer life is exciting and special."
"Did you ever wonder where inventors get their ideas? Benjamin Franklin was one of the most famous inventors in American history, and according to this amusing book, he got most of his ideas (the good ones at any rate) from a mouse! Funny, interesting and wise, Ben and Me is a classic American story that has been read by generations of young people. Once you've met Amos the mouse, you'll always remember Benjamin Franklin a little differently than the history books do."
Turtle in Paradise by Jennifer L. Holm
"11-year-old Turtle is no Shirley Temple. She's smart and tough and has seen enough of the world not to expect a Hollywood ending. After all, it's 1935 and jobs and money and sometimes even dreams are scarce. So when Turtle's mama gets a job housekeeping for a lady who doesn't like kids, Turtle says goodbye and heads off to Key West, Florida to live with relatives she's never met. Florida's like nothing Turtle's ever seen before though. It's hot and strange, full of rag tag boy cousins, family secrets, scams, and even buried pirate treasure! Filled with adventure, humor and heart, Turtle in Paradise is an instant classic both boys and girls with love."
By the Great Horn Spoon by Sid Fleischman
"When Jack's aunt is forced to sell her beloved mansion but is still unable to raise enough money to pay her debts, the twelve-year-old goes to California in search of gold to help her. Joined by his trusty butler, Praiseworthy, Jack finds adventure and trouble at every turn. Will Jack strike gold in San Francisco or come home empty-handed? Perfect for fans of the I Survived series!"
"Ten-year-old Manami did not realize how peaceful her family's life on Bainbridge Island was until the day it all changed. After the attack on Pearl Harbor in 1942, and Manami and her Japanese American family are ordered by the government to leave their home by the sea and join other Japanese Americans at a prison camp in the desert. Manami is sad to go, but even worse is that they are going to have to give her dog, Yujiin, to a neighbor to take care of. Manami decides to sneak Yujiin under her coat and gets as far as the mainland before she is caught and forced to abandon Yujiin. She is devastated, but clings to the hope that somehow Yujiin will find his way to the camp and make her family whole again. It isn't until she finds a way to let go of her guilt that Manami can reclaim the piece of herself that she left behind and accept all that has happened to her family."
Bicycle Spy by Yona Zeldis McDonough
"Marcel loves riding his bicycle, whether he's racing through the streets of his small town in France or making bread deliveries for his parents' bakery. He dreams of someday competing in the Tour de France, the greatest bicycle race. But ever since Germany's occupation of France began two years ago, in 1940, the race has been canceled. Now there are soldiers everywhere, interrupting Marcel's rides with checkpoints and questioning. When he later discovers that his friend's entire family is in imminent danger, Marcel knows he can help, but it will involve taking a risky bicycle ride to pass along covert information. It's up to him to keep pedaling and think quickly because his friend, her family, and his own future hang in the balance."
I love recommending books to parents and homeschoolers but I prefer to keep my lists short and sweet to avoid overwhelm. Take it from the lady with over 50 books within arms reach of my desk. I hope you found this list helpful and happy reading. Click the links below for even more books!