Keep reading for 10 of the best historical fiction books for 6th graders!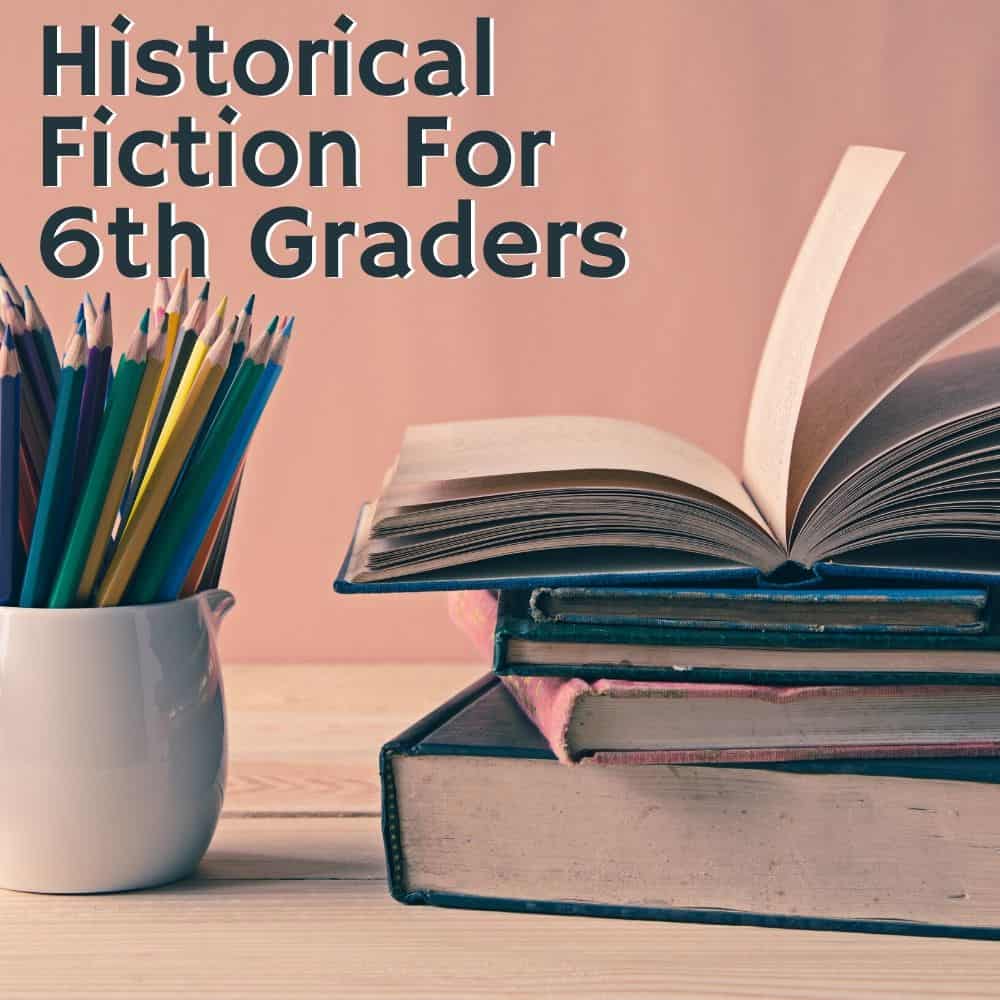 "Historical fiction for children attempts, as a genre, to blend the true events of recorded history with fictionalized characters and plot lines in an effort to create a narrative voice that will captivate young readers."
The first book on this list, Rascal, is an excellent example of this. The best part is it is based on Sterling North's real life making it extra historical! Can history be extra?! I mean, to me it can because I love history but – – Sorry. I can rant sometimes.
Historical fiction is an awesome way to supplement history lessons, documentaries, or nonfiction history books. For example, when we were learning about WWII we watched a documentary series on Netflix that taught us historically what happened during that time, and we also read the book Echo, which is book number 10 on this list.
Reading Echo alongside history lessons allowed my kids to see what it might have been like during that time from a child's perspective. This builds a strong sense of empathy in children as they are able to relate to characters in situations that they themselves have never been in. Historical fiction is fantastic at this.
This book list features 10 historical fiction books for 6th graders. Containing books that spanning from the 1910s to 2008, I hope you find what you are looking for. Need younger ages? Check out the links below.
This post contains affiliate links. If you click and make a purchase, we earn a commission at NO extra cost to you. For more information, please read my full disclosure policy.
Descriptions come from Amazon; some are edited for length
Historical Fiction for 6th Graders
"Nothing's surprising in the North household, not even Sterling's new pet raccoon. Rascal is only a baby when Sterling brings him home, but soon the two are best friends, doing everything together until the spring day when everything suddenly changes. Rascal is a heartwarming boyhood memoir that continues to find its way into the hearts of readers fifty years later."
A Long Walk to Water by Linda Sue Park
"The New York Times bestseller A Long Walk to Water begins as two stories, told in alternating sections, about two eleven-year-olds in Sudan, a girl in 2008 and a boy in 1985. The girl, Nya, is fetching water from a pond that is two hours' walk from her home: she makes two trips to the pond every day. The boy, Salva, becomes one of the 'lost boys' of Sudan, refugees who cover the African continent on foot as they search for their families and for a safe place to stay. Enduring every hardship, Salva is a survivor, and his story goes on to intersect with Nya's in an astonishing and moving way."
Riding Freedom by Pam Munoz Ryan
"Charlotte Parkhurst was raised in the mid-1800s and was expected to live her life without the freedoms she dreamed of. But Charlotte was smart and determined, and she figured out a way to live her life the way she wanted. She became an expert horse rider, a legendary stagecoach driver, and the first woman ever to vote – at a time when such things were outlawed for women."
The Witch of Blackbird Pond by Elizabeth George Speare
"Sixteen-year-old Kit Tyler is marked by suspicion and disapproval from the moment she arrives on the unfamiliar shores of colonial Connecticut in 1687. Alone and desperate, she has been forced to leave her beloved home on the island of Barbados and join a family she has never met. Torn between her quest for belonging and her desire to be true to herself, Kit struggles to survive in a hostile place. Just when it seems she must give up, she finds a kindred spirit. But Kit's friendship with Hannah Tupper, believed by the colonists to be a witch, proves more taboo than she could have imagined and ultimately forces Kit to choose between her heart and her duty."
Hattie Big Sky by Kirby Larson
"For most of her life, sixteen-year-old Hattie Brooks has been shuttled from one distant relative to another. Tired of being Hattie Here-and-There, she summons the courage to leave Iowa and move all by herself to Vida, Montana, to prove up on her late uncle's homestead claim. Under the big sky, Hattie braves hard weather, hard times, a cantankerous cow, and her own hopeless hand at the cookstove. Despite daily trials, Hattie continues to work her uncle's claim until an unforeseen tragedy causes her to search her soul for the real meaning of home."
The Wednesday Wars by Gary D. Schmidt
"A wonderfully witty and compelling story about a teenage boy's mishaps and adventures over the course of the 1967-68 school year in Long Island, New York. Holling Hoodhood, a seventh-grader at Camillo Junior Highm must spend Wednesday afternoons with his teacher, Mrs. Baker, while the rest of the class has religious instruction. But everyone has bigger things to worry about, like Vietnam. His father wants Holling and his sister to be on their best behavior: The success of his business depends on it. But how can Holling stay out of trouble when he has so much with which to contend? As fate sneaks up on him again and again, Holling finds Motivation, the Big M, in the most unexpected places and musters up the courage to embrace his destiny, in spite of himself."
Johnny Tremain by Esther Forbes
"Fourteen-year-old Johnny Tremain, an apprentice silversmith with a bright future ahead of him. When he injures his hand in a tragic accident it forces him to look for other work. In his new job for the patriotic newspaper, The Boston Observer, and as a messenger for the Sons of Liberty, he encounters John Hancock, Samuel Adams, and Dr. Joseph Warren. Soon Johnny is involved in the pivotal events shaping the American Revolution from the Boston Tea Party to the first shots fired at Lexington."
Chains by Laurie Halse Anderson
"As the Revolutionary War begins, thirteen-year-old Isabel wages her own fight…for freedom. Promised freedom upon the death of their owner, she and her sister, Ruth, become the property of a malicious New York City couple, the Locktons, who have no sympathy for the American Revolution and even less for Ruth and Isabel. When Isabel meets Curzon, a slave with ties to the Patriots, he encourages her to spy on her owners, who know details of British plans for invasion. She is reluctant at first, but when the unthinkable happens to Ruth, Isabel realizes her loyalty is available to the bidder who can provide her with freedom."
Heart of a Samurai by Margi Preus
"In 1841 a Japanese fishing vessel sinks. Its crew is forced to swim to a small, unknown island, where they are rescued by a passing American ship. Japan's borders remain closed to all Western nations, so the crew sets off to America, learning English on the way. Manjiro, a 14-year-old boy, is curious and eager to learn everything he can about this new culture. Eventually the captain adopts Manjiro and takes him to his home in New England. The boy lives there for some time and then heads to San Francisco to pan for gold. After many years, he makes it back to Japan, only to be imprisoned as an outsider. With his hard-won knowledge of the West, Manjiro is in a unique position to persuade the emperor to ease open the boundaries around Japan; he may even achieve his unlikely dream of becoming a samurai."
"Lost and alone in a forbidden forest, Otto meets three mysterious sisters and suddenly finds himself entwined in a puzzling quest involving a prophecy, a promise, and a harmonica. Decades later, Friedrich in Germany, Mike in Pennsylvania, and Ivy in California each become interwoven when the very same harmonica lands in their lives. All the children face daunting challenges and ultimately, their suspenseful solo stories converge in an orchestral crescendo."
Can I just say, again, how much I love the last book on this list, Echo. Oh my word it is just delightful and should be a must-listen on your audiobook rotation. I promise it's that good!
I hope you found some books to add to your reading rotation. Click below for even more books and happy reading!