Keep reading for 10 historical fiction books that fifth graders will love!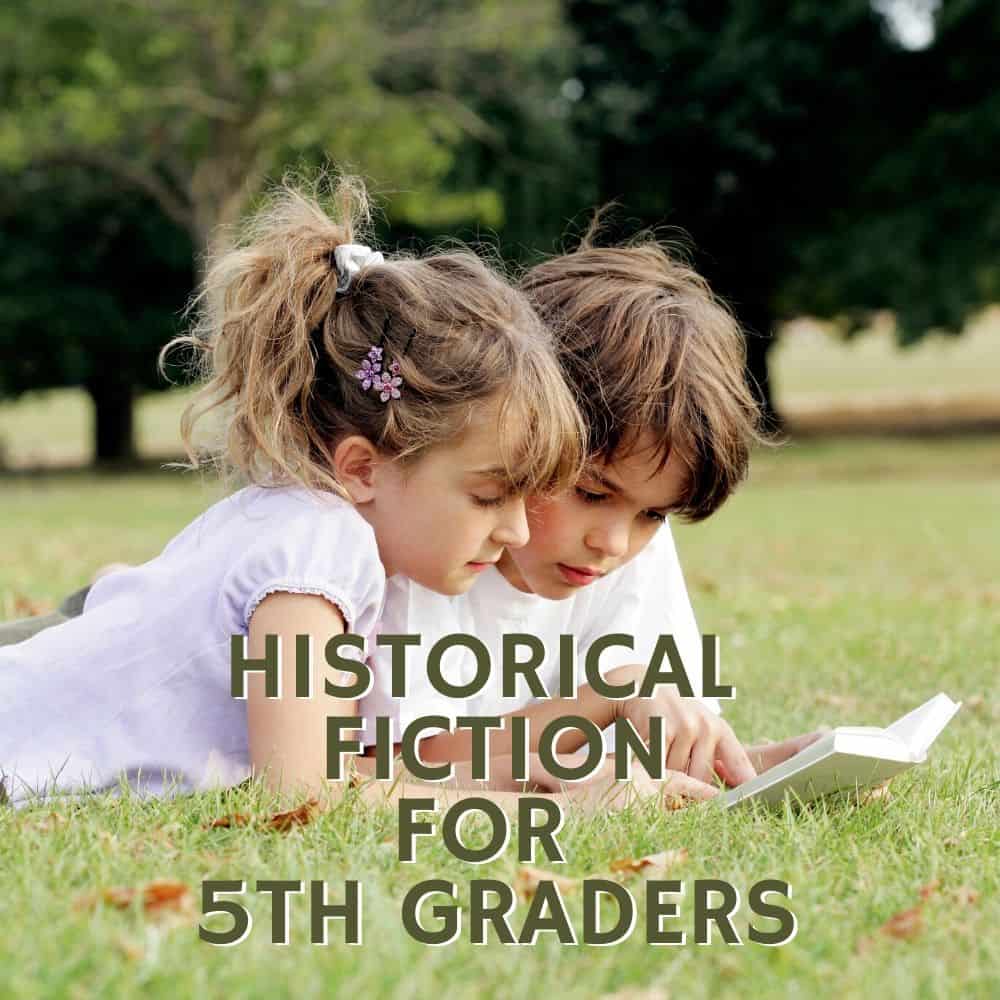 One of my all-time favorite quotes about books comes from book number one on this book list, Bud, Not Buddy.
"As soon as I got into the library I closed my eyes and took a deep breath. I got a whiff of the leather on all the old books, a smell that got real strong if you picked one of them up and stuck your nose real close to it when you turned the pages. Then there was the the smell of the cloth that covered the brand-new books, books that made a splitting sound when you opened them. Then I could sniff the the paper, that soft, powdery, drowsy smell that comes off the page in little puffs when you're reading something or looking at some pictures, kind of hypnotizing smell. I think it's the smell that makes so many folks fall asleep in the library."
Not only do I love this passage from Bud, Not Buddy, but I think it might be the perfect historical fiction book for kids.
Historical fiction is defined as "a literary genre where the story takes place in the past. Historical novels capture the details of the time period as accurately as possible for authenticity, including social norms, manners, customs, and traditions."
The second part of this definition is so important. Capturing the smallest details about a time period including how they spoke or what they ate or what traditions they had make history come alive for the reader.
But it's important to note that just because a story takes place in the past doesn't make it historically accurate. But that is a rant for another day.
If you are looking for a short list of historical fiction books for 5th grade then keep on reading! It contains books from WWII as well as early American history. If you need books from 4th or 6th grade, click the links below!
This post contains affiliate links. If you click and make a purchase, we earn a commission at NO extra cost to you. For more information, please read my full disclosure policy.
Descriptions come from Amazon; some are edited for length
Historical Fiction for 5th Grade
Bud, Not Buddy by Christopher Paul Curtis
"It's 1936, in Flint, Michigan. Times are hard, and 10-year-old Bud is a motherless boy on the run. His momma never told him who his father was, but she left a clue: flyers of Herman E. Calloway and his famous band, the Dusky Devastators of the Depression! Bud's got an idea that those flyers will lead him to his father. Once he decides to hit the road and find this mystery man, nothing can stop him; not hunger, not fear, not vampires, not even Herman E. Calloway himself."
Esperanza Rising by Pam Muñoz Ryan
"Esperanza thought she'd always live a privileged life on her family's ranch in Mexico. But a sudden tragedy forces Esperanza and Mama to flee to California and settle in a Mexican farm labor camp. Esperanza isn't ready for the hard work, financial struggles brought on by the Great Depression, or lack of acceptance she now faces. When Mama gets sick and a strike for better working conditions threatens to uproot their new life, Esperanza must find a way to rise above her difficult circumstances because Mama's life, and her own, depend on it."
The War That Saved My Life by Kimberly Brubaker Bradley
"Ten-year-old Ada has never left her one-room apartment. Her mother is too humiliated by Ada's twisted foot to let her outside. So when her little brother Jamie is shipped out of London to escape the war, Ada doesn't waste a minute and sneaks out to join him. So begins a new adventure for Ada, and for Susan Smith, the woman who is forced to take the two kids in. As Ada teaches herself to ride a pony, learns to read, and watches for German spies, she begins to trust Susan and Susan begins to love Ada and Jamie. But in the end, will their bond be enough to hold them together through wartime? Or will Ada and her brother fall back into the cruel hands of their mother?"
The Great Brain by John D. Fitzgerald
"J. D. idolizes his older brother Tom, a.k.a. The Great Brain: a silver-tongued con artist with a genius for making a profit. No matter what the situation, The Great Brain will always find a way to turn it to his advantage–usually, his financial advantage. As boys growing up at the beginning of the 1900s, J. D. and Tom have plenty of scope for their adventures. And while J. D.'s ingenuity may not equal his conniving brother's, as a narrator he is endearingly sympathetic and wildly entertaining."
A Single Shard by Linda Sue Park
"Tree-ear is fascinated by the celedon ware created in the village of Ch'ulp'o. He is determined to prove himself to the master potter, Min. Even if it means making a solitary journey to present Min's work in the hope of a royal commission or arriving at the royal court with nothing but a single celadon shard."
Under the Blood Red Sun by Graham Salisbury
"Tomi was born in Hawaii. His grandfather and parents were born in Japan, and came to America to escape poverty. World War II seems far away from Tomi and his friends, who are too busy playing baseball on their eighth-grade team, the Rats. But then Pearl Harbor is attacked by the Japanese, and the United States declares war on Japan. Japanese men are rounded up, and Tomi's father and grandfather are arrested. It's a terrifying time to be Japanese in America. But one thing doesn't change: the loyalty of Tomi's buddies, the Rats."
Out of the Dust by Karen Hesse
"A terrible accident has transformed Billie Jo's life, scarring her inside and out. Her mother is gone. Her father can't talk about it. And the one thing that might make her feel better, playing the piano, is impossible with her wounded hands. To make matters worse, dust storms are devastating the family farm and all the farms nearby. While others flee from the dust bowl, Billie Jo is left to find peace in the bleak landscape of Oklahoma, and in the surprising landscape of her own heart."
Our Only May Amelia by Jennifer L. Holm
"It isn't easy being a pioneer in the state of Washington in 1899. It's particularly hard when you are the only girl ever born in the new settlement. With seven older brothers and a love of adventure, May Amelia Jackson just can't seem to abide her family's insistence that she behave like a proper young lady. She's sure she could do better if only there were at least one other girl living along the banks of the Nasel River. And now that Mama's going to have a baby, maybe there's hope. Inspired by the diaries of her great-aunt, the real May Amelia, three-time Newberry Honor-winning author Jennifer Holm gives a beautifully crafted tale of one young girl whose unique spirit captures the courage, humor, passion and depth of the American pioneer experience."
True Confessions of Charlotte Doyle by Avi
"In the summer of 1832, Thirteen-year-old Charlotte Doyle is excited to return home from her school in England to her family in Rhode Island. But when the two families she was supposed to travel with mysteriously cancel their trips, Charlotte finds herself the lone passenger on a long sea voyage with a cruel captain and a mutinous crew. Worse yet, soon after stepping aboard the ship, she becomes enmeshed in a conflict between them! What begins as an eagerly anticipated ocean crossing turns into a harrowing journey, where Charlotte gains a villainous enemy, and is put on trial for murder!"
The Keeping Room by Anna Myers
"When Colonel Joseph Kershaw leaves Camden, South Carolina, to lead the American rebels in their struggle against the British, he leaves his son Joey behind as the man of the house. But what can a 13-year-old do when General Cornwallis comes into town and makes the Kershaws' home his headquarters, and begins hanging American prisoners in the family garden? Joey is determined to get revenge, even if he has to risk everything."
In his book 1000 Books to Read Before you Die, James Mustich said, "The only advice, indeed, that one person can give another about reading is to take no advice, to follow your own instincts, to use your own reason to come to your own conclusions." And I hope these books live up to the standards you have for picking books for your kids. Happy reading!
Click below for even more books!