Keep reading for 10 of the best realistic fiction books for 6th graders!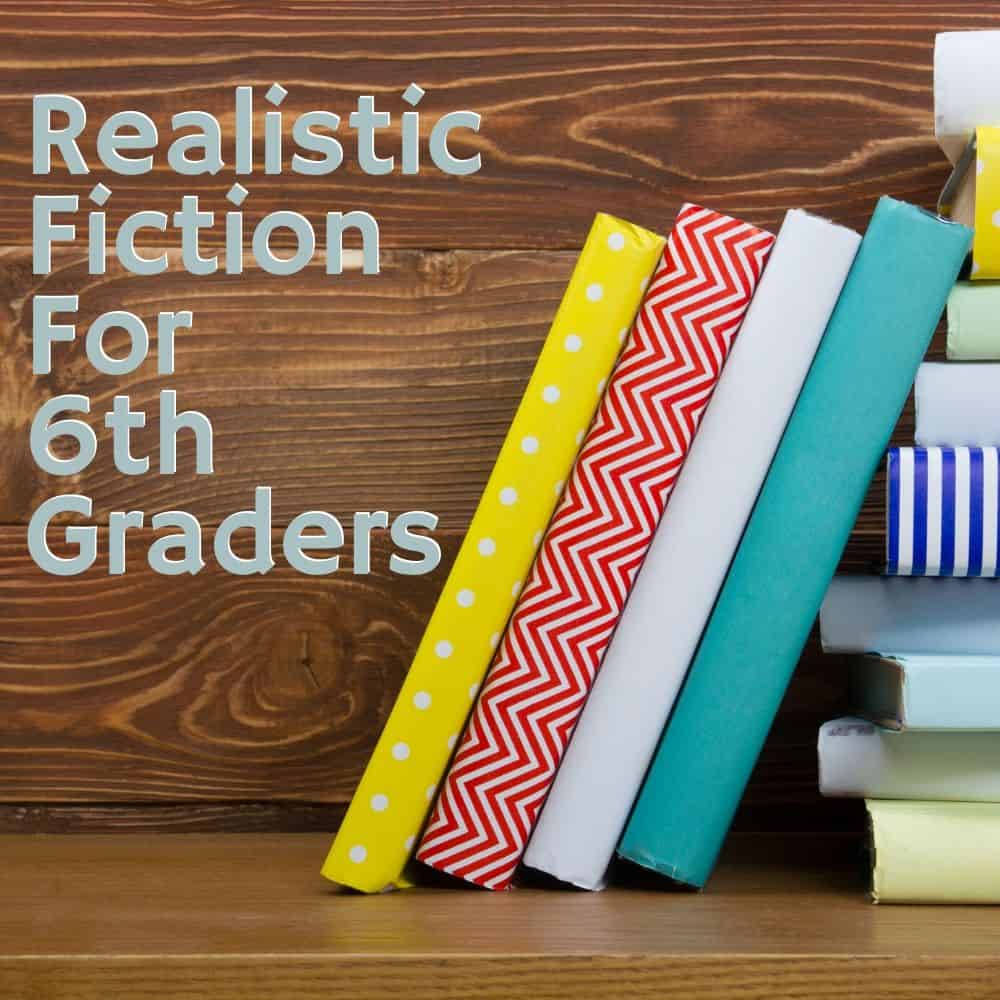 What exactly is realistic fiction? Realistic fiction is a sub-genre of fiction. It's a type of writing that aims to portray the world as it. "It contains no fantasy, no supernatural elements, and it usually depicts ordinary people going about the business of daily living, with all its joys, sorrow, successes, and failures."
The characters seem like real people (not wizards or princesses) and the events taking place in their lives are relatable events that could happen in your own life. The setting where the story takes place in a real place, not outer space or a made up kingdom. The name of the city can be fictional, but it would still seem like a real place.
This blog post contains 10 realistic fiction books for 6th graders. It features kids dealing with real life problems and how they go about dealing with them or solving them. Let's get started!
Interested in books for younger readers?
This post contains affiliate links. If you click and make a purchase, we earn a commission at NO extra cost to you. For more information, please read my full disclosure policy.
Descriptions come from Amazon; some are edited for length
Realistic Fiction for 6th Graders
Merci Suárez Changes Gears by Meg Medina
"Sixth grader Merci Suarez doesn't have a big house or take fancy vacations like the other kids at Seaward Pines Academy. She's a scholarship student who lives with her extended family in three little houses they call Las Casitas. But everything feels different this year. And not just at school where queen bee Edna Santos sets her sights on Merci's school-assigned Sunshine Buddy, Michale Clark. At home, Merci's beloved grandfather, Lolo, has been acting strangely: falling from his bike, calling people by the wrong names, and getting angry over nothing. Merci is worried about Lolo, but no one in her family will tell her what's going on. Just when it seems like things couldn't get any worse, something happens tha puts everything into perspective and forces Merci's family to finally face the issue they've been avoiding."
Walk Two Moons by Sharon Creech
"Thirteen-year-old Salamanca Tree Hiddle, proud of her country roots and the 'Indian-ness in her blood,' travels from Ohio to Idaho with her eccentric grandparents. Along the way, she tells them of the story of Phoebe Winterbottom, who received mysterious messages, who met a 'potential lunatic,' and whose mother disappeared. As Sal entertains her grandparents with Phoebe's outrageous story, her own story begins to unfold: the story of a thirteen-year-old girl whose only wish is to be reunited with her missing mother."
Counting by 7's by Holly Goldberg Sloan
"Willow Chance is a twelve-year-old genius, obsessed with nature and diagnosing medical conditions, who finds it comforting to count by 7s. It has never been easy for her to connect with anyone other than her adoptive parents, but that hasn't kept her from leading a quietly happy life . . . until now. Suddenly Willow's world is tragically changed when her parents both die in a car crash, leaving her alone in a baffling world. Her journey to find a fascinatingly diverse and fully believable surrogate family is a joy and a revelation to read."
The Vanderbeekers of 141st Street by Karina Glaser
"The Vanderbeekers have always lived in the brownstone on 141st Street. It's practically another member of the family. So when their reclusive, curmudgeonly landlord decides not to renew their lease, the five siblings have eleven days to do whatever it takes to stay in their beloved home and convince the dreaded Beiderman just how wonderful they are. And all is fair in love and war when it comes to keeping their home."
The View from Saturday by E.L. Konigsburg

"It was a surprise to a lot of people when Mrs. Olinski's team won the sixth-grade Academic Bowl contest at Epiphany Middle School. It was an even bigger surprise when they beat the seventh grade and the eighth grade, too. And when they went on to even greater victories, everyone began to ask: How did it happen? This is a tale about a team, a class, a school, a series of contests and, set in the midst of this, four jewel-like short stories (one for each of the team members) that ask questions and demonstrate surprising answers."
"From the day she arrives at quiet Mica High in a burst of color and sound, the hallways hum with the murmur of 'Stargirl, Stargirl.' She captures Leo Borlock' s heart with just one smile. She sparks a school-spirit revolution with just one cheer. The students of Mica High are enchanted. At first. Then they turn on her. Stargirl is suddenly shunned for everything that makes her different, and Leo, panicked and desperate with love, urges her to become the very thing that can destroy her: normal.
"Chase doesn't remember falling off the roof. He doesn't remember hitting his head. He doesn't, in fact, remember anything. He wakes up in a hospital room and suddenly has to learn his whole life all over again, starting with his own name. He knows he's Chase. But who is Chase? When he gets back to school, he sees that different kids have very different reactions to his return. Some kids treat him like a hero. Some kids are clearly afraid of him. Pretty soon, it's not only a question of who Chase is, it's a question of who he was and who he's going to be."
The Epic Fail of Arturo Zamora by Pablo Cartaya
"For Arturo, summertime in Miami means playing basketball until dark, sipping mango smoothies, and keeping cool under banyan trees. And maybe a few shifts as junior lunchtime dishwasher at Abuela's restaurant. Maybe. But this summer also includes Carmen, a poetry enthusiast who moves into Arturo's apartment complex and turns his stomach into a deep fryer. He almost doesn't notice the smarmy land developer who rolls into town and threatens to change it. Arturo refuses to let his family and community go down without a fight, and as he schemes with Carmen, Arturo discovers the power of poetry and protest through untold family stories and the work of José Martí."
The Loser's Club by Andrew Clements
"Sixth grader Alec can't put a good book down. So when Principal Vance lays down the law (pay attention in class, or else) Alec takes action. He can't lose all his reading time, so he starts a club. A club he intends to be the only member of. After all, reading isn't a team sport, and no one would want to join something called the Losers Club, right? But as more and more kids find their way to Alec's club, Alec notices something. Real life might be messier than his favorite books, but it's just as interesting."
Pictures of Hollis Woods by Patricia Reilly Giff
"When Hollis is sent to Josie, an elderly artist who is quirky and affectionate, she wants to stay. But Josie is growing more forgetful every day. If Social Services finds out, they'll take Hollis away and move Josie into a home. Well, Hollis Woods won't let anyone separate them. She's escaped the system before; this time, she's taking Josie with her. Still, even as she plans her future with Josie, Hollis dreams of the past summer with the Regans, fixing each special moment of her days with them in pictures she'll never forget."
And there you have it! 10 realistic fiction books for 6th graders. I love picking out books for my kids and I hope you found this post helpful. If you are searching for even more book lists, check out the links below!