Keep reading for Letter Y activities and books preschoolers!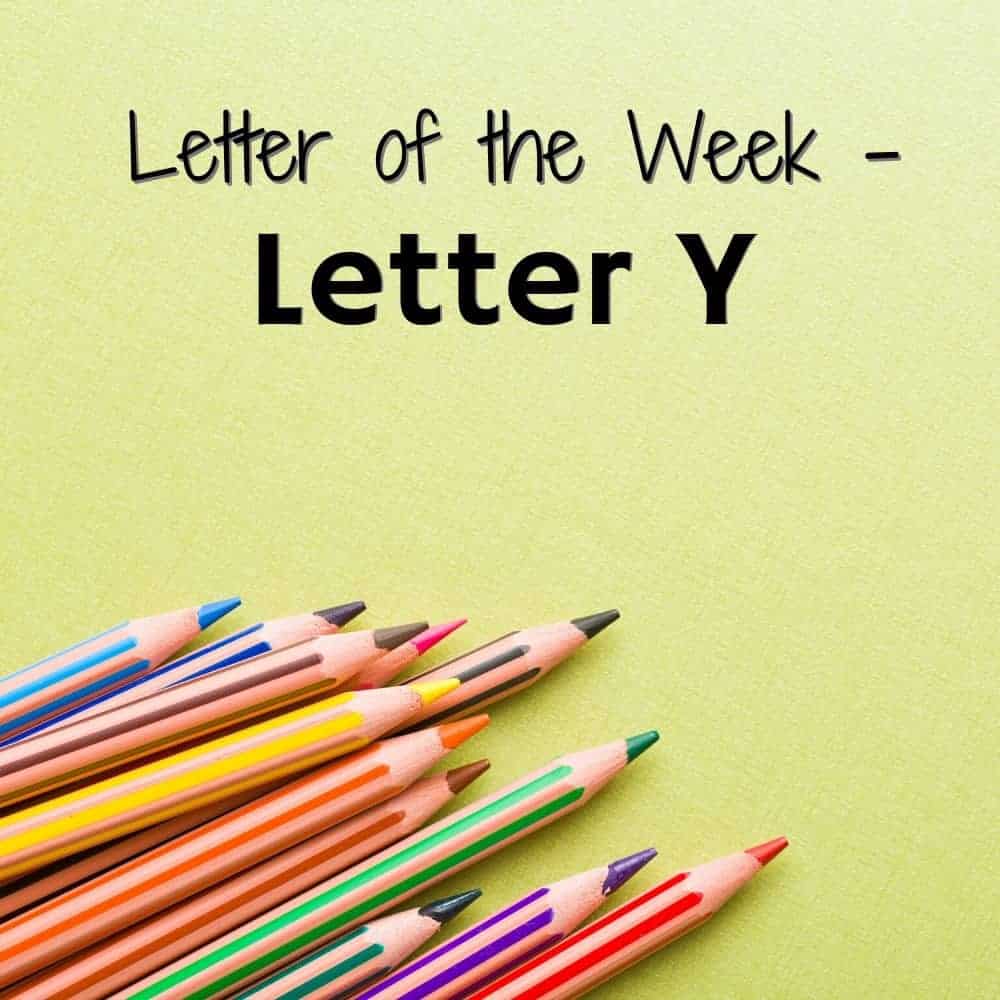 My oldest daughter was born in 2008, and throughout her toddler years I did what every parent does: introduced her to Sesame Street. She was a giant Elmo fanatic for a solid 6 months.
I adore Sesame Street and one thing they do that I just love is create songs around popular songs. And since this post is about the Letter Y, I'm talking about Norah Jones singing "Don't Know Y" a take on her song "Don't know Why." Such an adorable and fun take on the Letter Y!
---
Y is also a practical letter in our house because both my kids have Y's in their first and last name so it is a pretty easy letter to recognize around here.
Working on writing names is an easy and practical way to begin home preschool with your kids. Home preschool doesn't have to be super formal and overly planned. When we did our "schoolwork," it was only for about 30 minutes to an hour per day a few days a week. We followed the Letter of the Week format, and I always had a basic theme.
But mostly, my kids played. A LOT. So much so that five years later, my kids would rather plan that do any form of school work. My homeschool motto is lots of books and lots of play, and that is the basis of the lesson plan I am sharing with you today.
Recommended Reads:
Three simple and rich ways to spend time with your toddler or preschooler. And all it takes is three days a week! One book to read aloud and some activities to go along with it. Let's get started!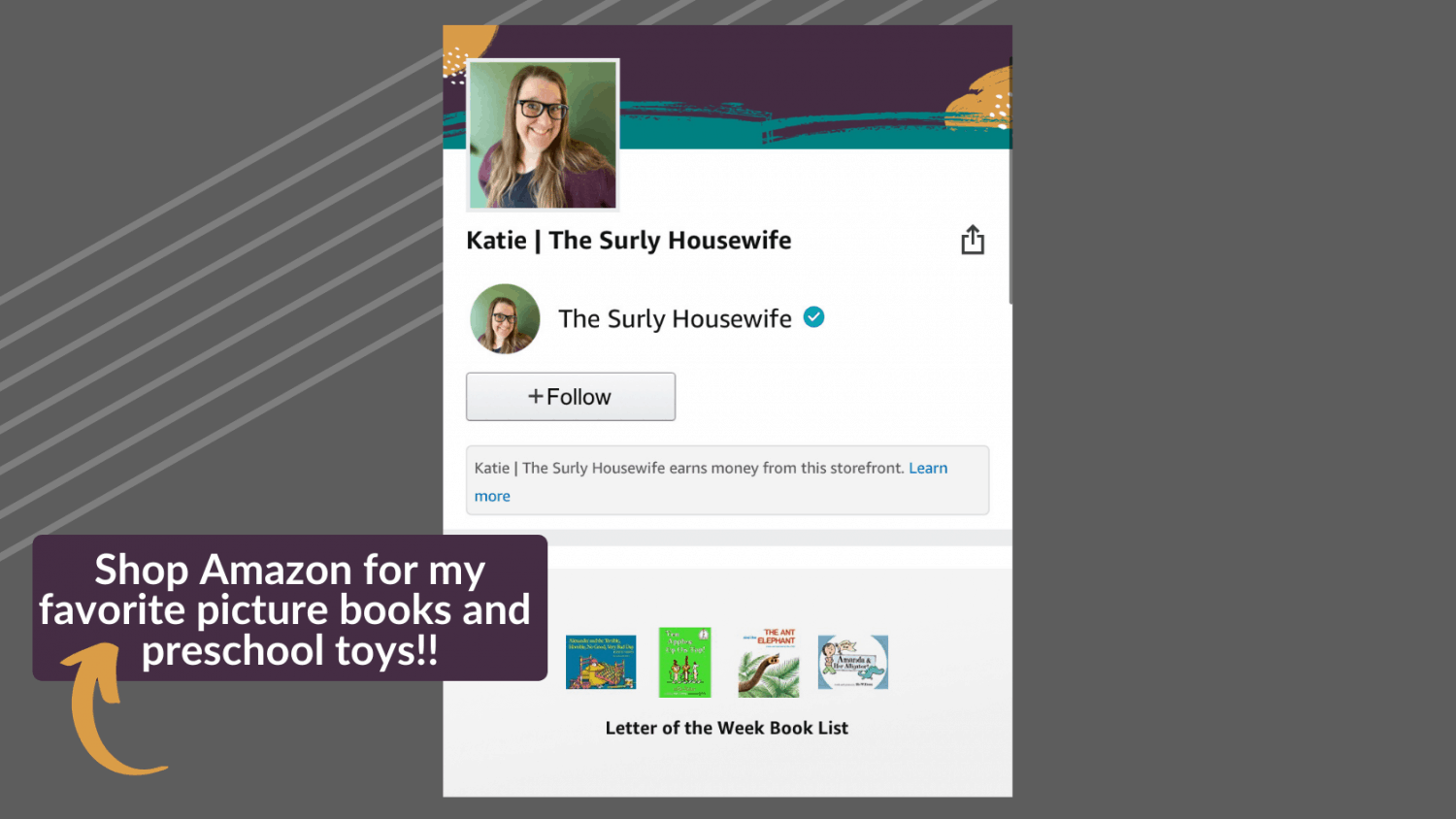 This post contains affiliate links. If you click and make a purchase, we earn a commission at NO extra cost to you. For more information, please read my full disclosure policy.
Letter Y Activities
Day One – Printables and Yes Day
"Everybody needs at least one day a year when the answer to every question is a great big happy YES! Today is that day for this kid-and he can't wait to jump out of bed. He asks his mom if he can have pizza for breakfast. He has pizza for breakfast. He asks his sister if he can use her hair gel. He uses her hair gel. Would it be at all possible for him to clean his room tomorrow instead of today? Absolutely. Can he be the one to pick out the food at the supermarket? Pile on those cereal boxes.How about a food fight and a piggyback ride and an ice-cream cone? Yes! Yes! Yes! Can this day last forever?"
---
For each letter, my kids worked on letter writing and letter recognition. It wasn't anything super rigid or overly enforced. Just a fun worksheet for my kids to work on! Luckily, my kids loved worksheets!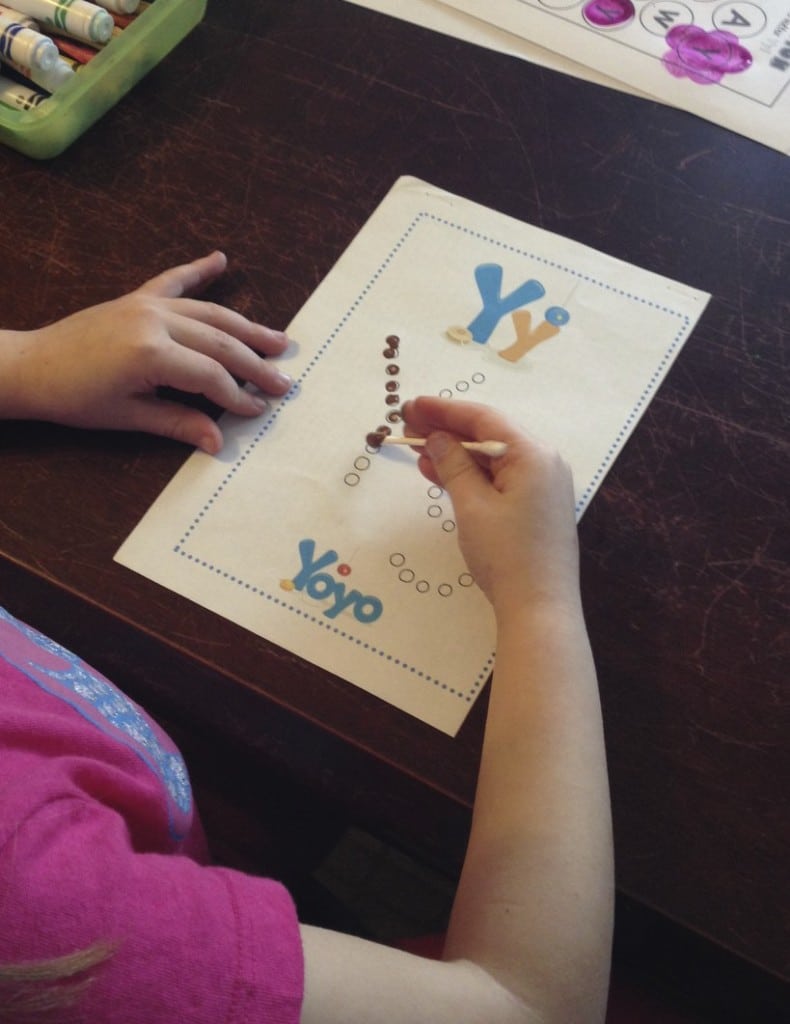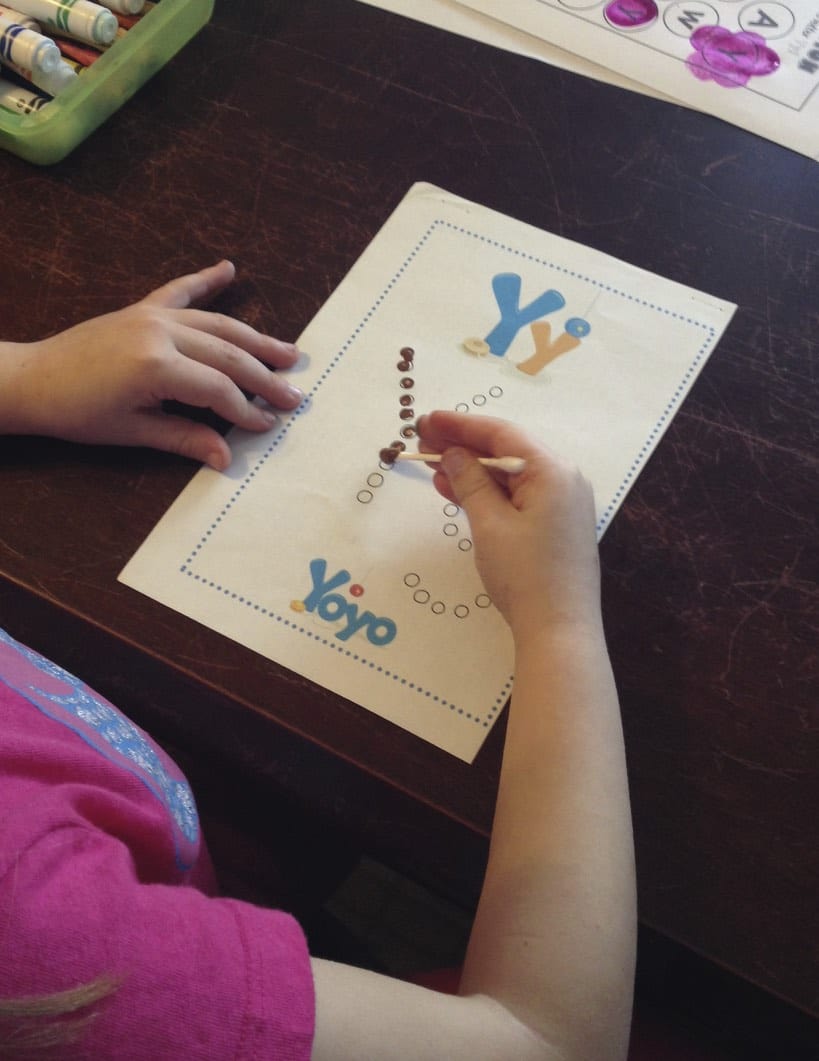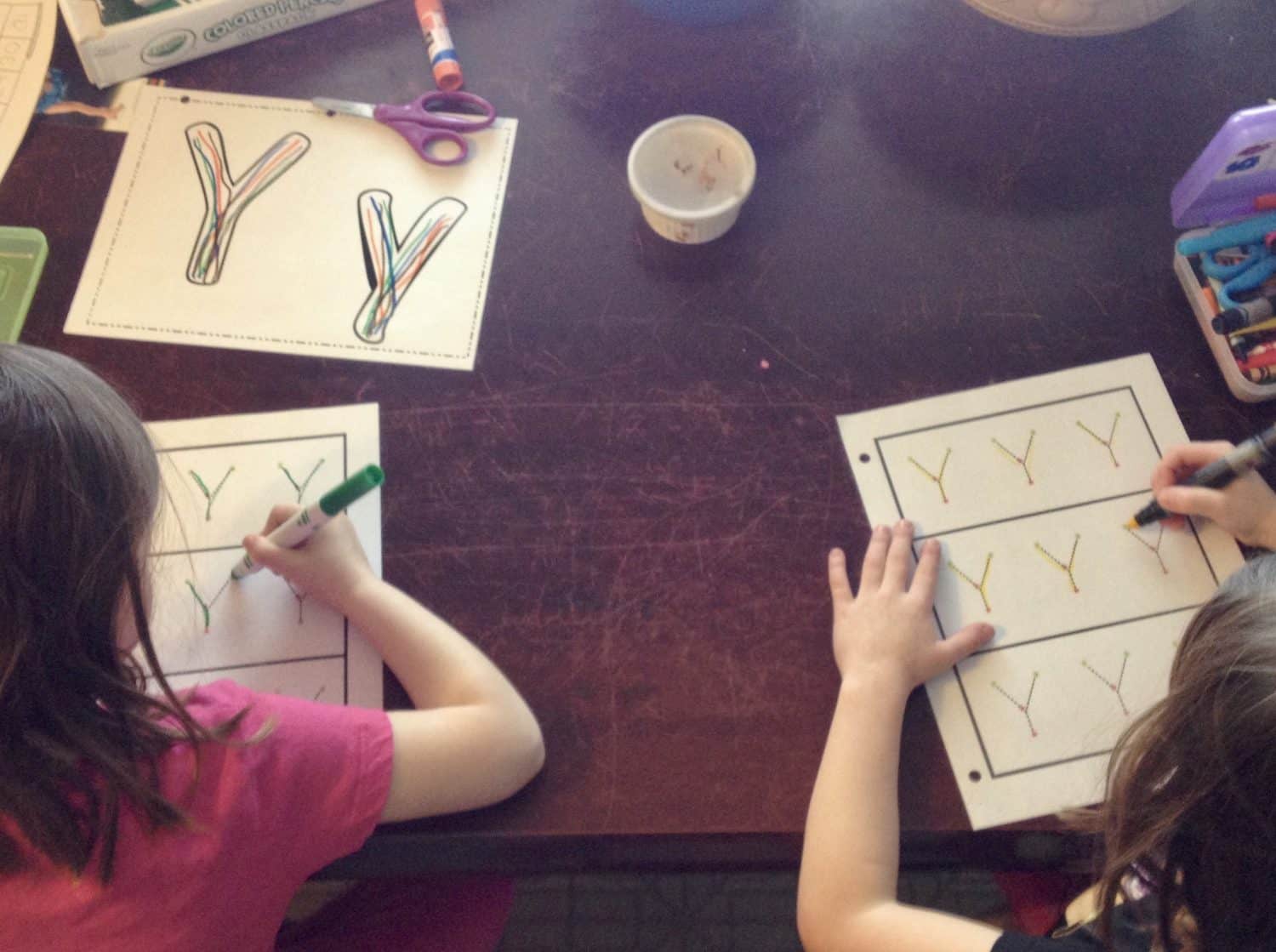 Day Two – Crafts and Yuk Said the Yak
"Alfie does not seem too worried when a yak appears at his house on a bicycle, but when the yak says 'Yuck!' to everything that Alfie offers him, Alfie thinks he's very rude! This charmingly illustrated story about a picky Yak helps young children learn to read with carefully leveled text."
Holy lord do I love yaks. Again, it's from a Sesame Street bit, but that's another story for another day. Below I have linked up three ADORABLE yak crafts, and a yo-yo one because, well, it was freaking adorable too.
Day Three – Sensory Bins and Extra Yarn
"A young girl and her box of magical yarn transform a community in this stunning picture book. With spare, gently humorous illustrations and a palette that moves from black-and-white to a range of color, this modern fairy tale has the feel of a new classic."
---
For each letter, I tried to incorporate some sort of sensory play because my kids just loved it! I didn't get any pictures of it, but I believe I did something similar to the yellow sensory bin linked below. Check 'em out!
Letter Y Books
Some additional letter Y books you can read with your kiddos!
Little Blue and Little Yellow by Leo Lionni
"Little Blue and Little Yellow are best friends, but one day they can't find each other. When they finally do, they give each other such a big hug that they turn green! This classic tale of friendship also offers a playful introduction to color concepts."
I Dare You Not to Yawn by Helene Boudreau
"A yawn can land you in your pj's and under the covers before you can blink and say 'Baa baa black sheep.' So clamp your mouth shut and look away from your sleepy dog, stay away from your cuddly blanket, and whatever you do, don't think of baby orangutans stretching their long arms out for a snuggly hug. Otherwise, you might find your mouth opening wide and letting out a great big yawny yaaaaaawn — hey, you were supposed hold it in! A hilarious read-aloud that is so much fun, kids will beg for it again and again, whatever the consequences."
"You'll need to turn the page to find out who is next to be overcome with a yawn in this fun and ingenious board book, although the rhyming text will offer some clues! One creature is purring, another pecking, one drifting around its bowl, another resting from a dig in the dirt. And there are others, too—all of whom can't wait to put on their pajamas and head off to bed!"
I loved using the Letter of the Week format for our homeschool because it kept everything consistent and structured. But it also was fairly flexible and wasn't overwhelming. I hope you found something to us in your homeschool!
Additional Recourses
Thanks for reading!