20 picture books about strong women for either Women's History Month or all year long!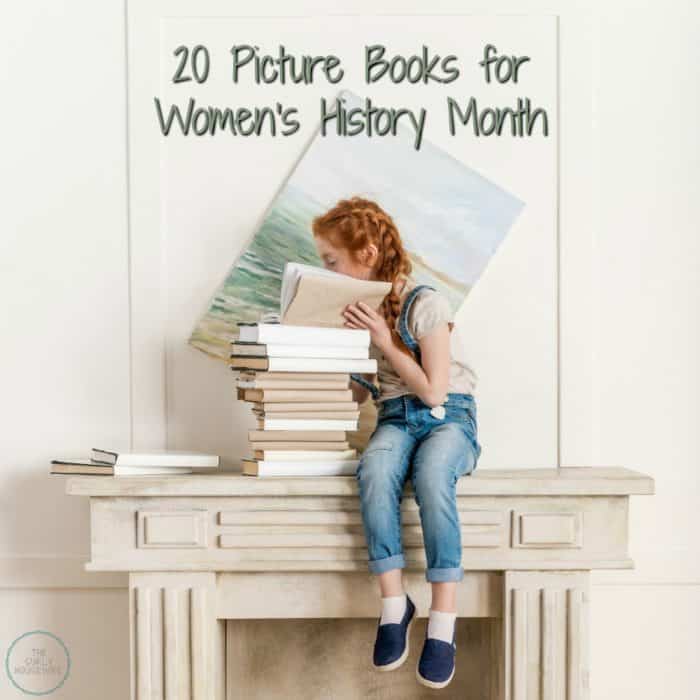 Marge Piercy said, "A strong woman is a woman determined to do something others are determined not be done." As a girl mom, a history lover, and a homeschool teacher, I love teaching my girls about extraordinary women. But they don't always have to be women that everyone knows.
I am a lover of ordinary people doing extraordinary things. I love reading a story or a book that makes me say, "who knew?!" March is Women's History Month and it's a perfect time to read about new historical "who knew?!" figures. I think these stories lend themselves best to picture books so here is a list of 20 pictures books for Women's History Month.
This post contains affiliate links. If you click and make a purchase, we earn a commission at NO extra cost to you. For more information, please read my full disclosure policy.
20 Picture Books About Strong Women
Bertha Takes a Drive: How the Benz Automobile Changed the World by Jan Adkins
Based on the true story, Bertha Benz and her sons drive across Germany and become the first people to drive an automobile over a long distance. Bertha was the wife and business partner of Mercedes-Benz cofounder Karl Benz and her trip helped popularize the automobile!
Fearless Flyer: Ruth Law and Her Flying Machine by Heather Lang
Fly along with Ruth Law as she attempts to fly non-stop from Chicago to New York City.
Ballots for Belva: The True Story of a Woman's Race for the Presidency by Sudipta Bardhan-Quallen
Did you know in 1884, years before women won the right to vote, Belva Lockwood ran for president, and even received thousands of votes? Ballots for Belva describes this and much more about this fascinating woman!
Stone Girl Bone Girl: The Story of Mary Anning by Laurence Anholt
Mary Anning discovered the remains of a dinosaur near her home in England. Did I mention she was only 12 at the time?!
Mary Walker Wears the Pants: The True Story of the Doctor, Reformer, and Civil War Hero by Cheryl Harness
The story of Mary Edwards Walker, the doctor and women's rights activist who served in the Civil War and received the Medal of Honor.
Brave Girl: Clara and the Shirtwaist Makers' Strike of 1909 by Michelle Markel
The true story of the young immigrant who led the largest strike of women workers in U.S. history. I love the mixed-media collage illustrations as well as Clara's never-give-up attitude.
Mae Among the Stars by Roda Ahmed
A beautiful and heart-warming picture book inspired by the life of the first African American woman to travel in space, Mae Jemison.
The Bravest Woman in America by Marissa Moss
Ida Lewis is the daughter of a light house keeper, which is perfect because she loves the ocean! She grew up learning to tend to the lighthouse as well as rowing. She became known as the bravest woman in America after her many rescue attempts at sea.
Maya Lin: Artist-Architect of Light and Lines by Jeanne Walker Harvey
The bold story of Maya Lin, the artist-architect who designed the Vietnam War Memorial.
Grace Hopper: Queen of Computer Code by Laurie Wallmark
The inspiring story of Grace Hopper, the woman who revolutionized computer science. Dubbed "Amazing Grace," this book's vivid illustrations do an excellent job of highlighting her many achievements.
Molly, by Golly!: The Legend of Molly Williams, America's First Female Firefighter by Dianne Ochiltree
Molly Williams, the first known female firefighter, was an African American cook for New York City's Fire Company 11. One winter day in 1818 with many volunteers sick with influenza she jumped into action to stop a house fire.
Malala's Magic Pencil by Malala Yousafzai
Malala's first picture book will inspire young readers everywhere to find the magic all around them.
Wilma Unlimited: How Wilma Rudolph Became the World's Fastest Woman Paperback by Kathleen Krull
A biography of Wilma Rudolph who overcame crippling polio as a child to become the first woman to win three gold medals in track and field at a single Olympic Games.
The Daring Nellie Bly: America's Star Reporter by Bonnie Christensen
Nellie Bly, a "stunt reporter" for the New York World newspaper in the late 1800s, championed women's rights and traveled around the world faster than anyone ever had. A great book to read alongside "Around the World in 80 Days."
Fearless Mary: Mary Fields, American Stagecoach Driver by Tami Charles
The women of the wild west are some of the most interesting stories in American history. The Story of Stagecoach Mary recounts the life of the first African American woman to carry the United States mail and so much more!
Nurse, Soldier, Spy: The Story of Sarah Edmonds, a Civil War Hero by Marissa Moss
A story of a nineteen-year-old woman who disguised herself as a man to fight in the Civil War. She worked as a nurse in the battlefield and later as a spy for the Union Army.
Fly High!: The Story of Bessie Coleman Perfect by Louise Borden
Discusses the life of Bessie Coleman. A determined African American woman who went all the way to France in order to earn her pilot's license in 1921.
Who Says Women Can't Be Doctors?: The Story of Elizabeth Blackwell by Tanya Lee Stone
The story of Elizabeth Blackwell, the first female doctor in America.
For the Love of Music: The Remarkable Story of Maria Anna Mozart by Elizabeth Rusch
Most people know Wolfgang Mozart, but did you know he had an equally talented sister named Maria? Subtle musical references and the friendship between brother and sister will warm your heart.
Sybil Ludington's Midnight Ride by Marsha Amstel
The story of Sybil Ludington's ride on horseback to rouse American soldiers to fight against the British during the American Revolution.
From archeology to the wild west and from aviation to architecture, this list is sure to spark an interest in your kids!