Keep reading for 10 high fantasy books for tweens and teens.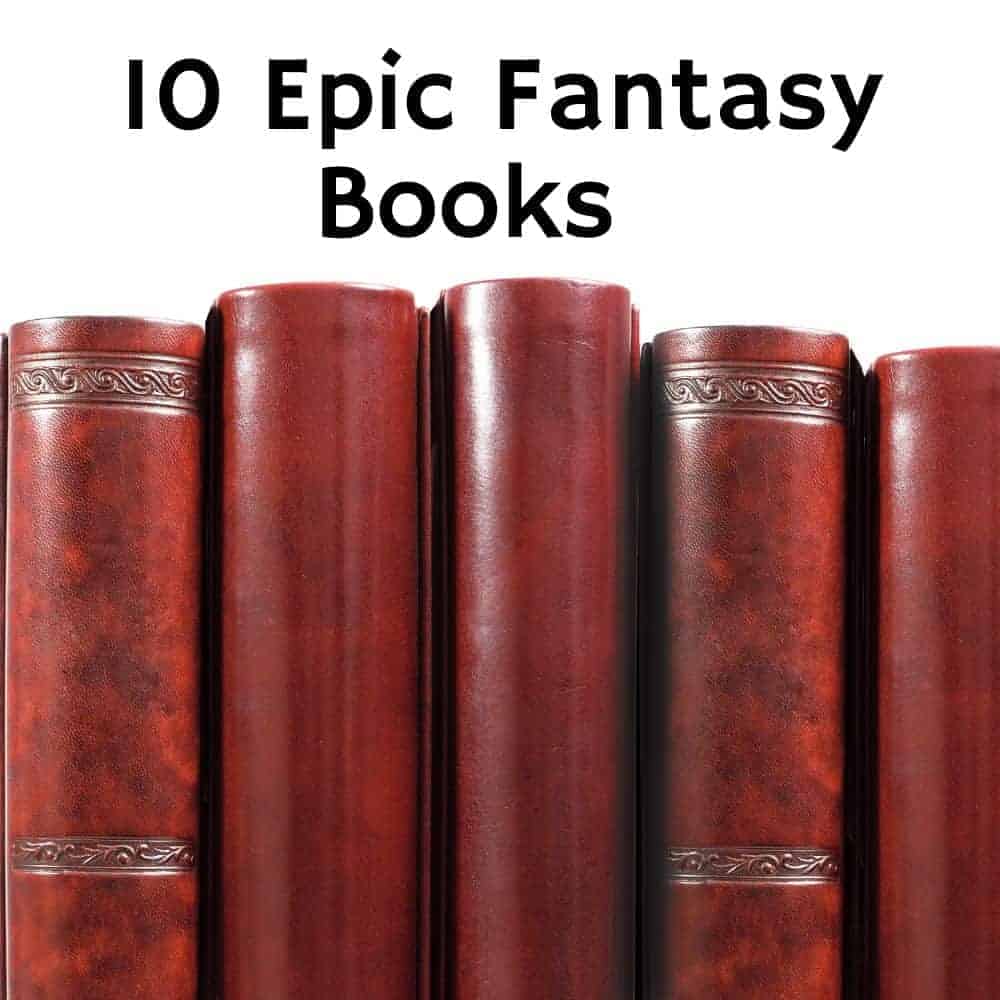 When most people think of the fantasy genre, they think of the big guns: Lord of the Rings, Game of Thrones, Chronicles of Narnia, etc. But what they might not know is that genre of fantasy can be further broken down into many, many other subgenres: epic fantasy, portal fantasy, science fiction, and so on. The big gun being high fantasy.
High fantasy books are books that take place in an entirely fictional world from our own: fictional countries, fictional languages, and fictional creatures. High fantasy can be used interchangeably with epic fantasy as a main character is usually going on some epic journey within this world.
Being a homeschool blogger, I am interested in high fantasy books that are appropriate, in subject matter and reading level, for younger readers. Whether they are an 8th grader reading at and 8th grade level or a 4th grader reading an 8th grade level, I love to share books that I know kids will love.
The high fantasy genre can get pretty dicey (looking at you Game of Thrones) but there are plenty of books that ARE appropriate for kids. I have 10 high fantasy books and series to share with you today.
This post contains affiliate links. If you click and make a purchase, we earn a commission at NO extra cost to you. For more information, please read my full disclosure policy.
Descriptions come from Amazon; some are edited for length
High Fantasy Books
Quest Fantasy Books
"Say it, reader. Say the word 'quest' out loud. It is an extraordinary word, isn't it? So small and yet so full of wonder, so full of hope." – Kate DiCamillo, The Tale of Desperaux.
Quest fantasy is a journey where the main character is seeking to defeat someone or accomplish a specific goal. Think of it like epic poetry: a long narrative poem about a hero. Now while quest fantasy might not be in poetry form, but the rest of the parameters fit.
The Hobbit and The Lord of the Rings Trilogy by J.R.R. Tolkien
"The Fellowship of the Ring, the first volume in The Lord of the Rings trilogy, tells of the fateful power of the One Ring. It begins a magnificent tale of adventure that will plunge the members of the Fellowship of the Ring into a perilous quest and set the stage for the ultimate clash between the powers of good and evil."
"Fifteen-year-old Eragon believes that he is merely a poor farm boy, until his destiny as a Dragon Rider is revealed. Gifted with only an ancient sword, a loyal dragon, and sage advice from an old storyteller, Eragon is soon swept into a dangerous tapestry of magic, glory, and power. Now his choices could save, or destroy, the Empire."
The Chronicles of Narnia by C.S. Lewis
"Epic battles between good and evil, fantastic creatures, betrayals, heroic deeds, and friendships won and lost all come together in this unforgettable world, which has been enchanting readers of all ages for over sixty years."
"In Mossflower Woods, the food chain works a little differently. Instead of being prey, mice work together with cats and owls to defeat their ultimate enemies: snakes and rats. Our hero in Redwall is Matthias the mouse, whose courage and cunning help him in his quest to find the legendary sword of Martin the Warrior (also a mouse) and defeat Cluny the Scourge, a diabolical rat who wishes to take the land of Redwall for himself."
High Fantasy Series
These books, along with the four previous recommendations, are all series of books making them extra enticing for young readers.
His Dark Materials by Philip Pullman
"Taking place across multiple universes and containing some pretty complex religious references (not to mention criticisms), His Dark Materials grounds itself in the journey of Lyra Belacqua, a 12-year-old girl with a knack for lying. Lyra and her dæmon (the external, animal manifestation of her "inner self") travel in search of kidnapped children, and a mysterious elemental matter called 'Dust.' These quests reveal mind-bending twists and turns that Pullman masterfully narrates over the course of this epic trilogy."
The Earthsea Cycle by Ursula K. Le Guin
"A young boy goes to a school of magic, where he learns to harness the powers inside him and fight creatures bent on destroying him. Based on this description of his character arc, you'll recognize Ged as one of Harry Potter's literary ancestors. But his homeland isn't the United Kingdom, it's the fictional archipelago of Earthsea. On this dense cluster of islands, inhabited by dragons and raised out of the water by a god, master fantasist Ursula K. Le Guin spins out elegant, character-driven tales, enriched by her knowledge of world mythology. A magical coming-of-age story that treats hefty themes like death, the environment, and cosmic balance."
How to Train Your Dragon by Cressida Cowell
"On the Viking island of Berk, a boy named Hiccup must follow an ancient tradition: to capture and tame a dragon, or face exile. When he happens upon a small creature (whom he names Toothless), the two strike up an unlikely bond and become the heroes his clan never expected. Inspiring 11 sequels, How to Train Your Dragon is a perfect blend of adventure, friendship, and silly humor."
Chronicles of Prydain by Lloyd Alexander
"The Chronicles of Prydain is a bildungsroman for young Taran, who goes from assistant pig-keeper to heroic fighter over the course of five books. He and his friends must band together to defeat various evils, most notably the Death Lord Arawn, who wishes to conquer Prydain with his bloodthirsty army of the undead."
High Fantasy Books
The Girl Who Drank the Moon by Kelly Barnhill
"A witch lives in the forest near the village of Protectorate where, each year, the villagers leave an infant sacrifice to keep her at bay. Little do they know that the witch is actually benevolent, and that she feeds the babies starlight and delivers them to new families on the other side of the forest. That is, until she accidentally nurses one of them with moonlight, and must keep the girl (whom she christens Luna) in order to control the power within her — if she can."
The Princess Bride by William Goldman
"This adventure story has everything you could want: the good guy, some bad guys, the girl, sword fighting, revenge, romance, of course a happy ending, and rodents of unusual size. Join Westley the plucky farm boy, Buttercup the beautiful young maiden, Inigo Montoya the driven, embittered swordsman, and many other strange and unusual characters in this swashbuckling tale of good-natured silliness."
There you have it! 10 fantasy books and series that are appropriate and challenging for your kids. Happy reading!!