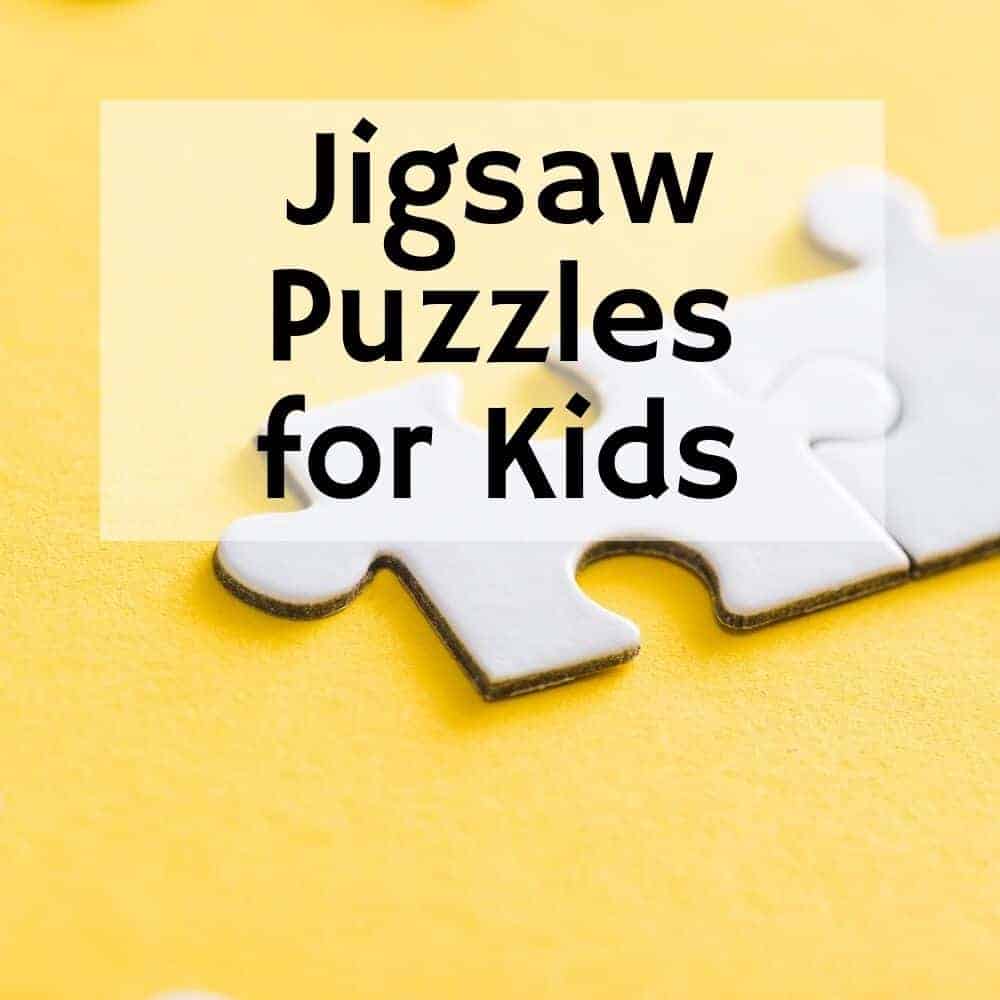 Read alouds and listening to audiobooks are a key component of our homeschool. But let's face it, sometimes you get tired of doing coloring sheets, playing Uno, or you just need something new to do with your hands while you listen.
Enter one of my favorite things on earth: jigsaw puzzles!! Jigsaw puzzles are a great way to pass the time as you listen to an audiobook because it exercises our brain.
Jigsaw Puzzles for Kids
Think of puzzles as the "get along shirt" of the brain world. The left or analytical side sees all of the separate pieces and organizes them. The right or creative side sees the puzzle as a whole picture and puts it together based on that.
By exercising both sides of the brain at the same time, connections are built between the two opposite sides of our brain as well as between individual brain cells. This leads to increased brain function which helps our ability to learn, to comprehend, and to remember.
Related Reads:
Enough about how awesome puzzles are. Here is a list of 10 puzzles you can complete with your family while you listen to your favorite audiobook!
This post contains affiliate links. If you click and make a purchase, we earn a commission at NO extra cost to you. For more information, please read my full disclosure policy.
300-550 Piece Puzzles
This 300 piece puzzle of the united States on a flag background isn't the actual shape of America but America on top of the American flag!
"The 500-piece melting popsicles rainbow puzzle is a fun challenge for children and adults. The mesmerizing finished puzzle measures 20" x 20" so doesn't require much room to complete."
"The sun set is creating an orange and yellow sky over Manarola, a small town in the province of la Spezia, Liguria, Northern Italy. It is the second-smallest of the famous Cinque Terre towns. This town is a centuries-old seaside village on the rugged Italian Riviera coastline. Colorful houses and vineyards cling to steep terraces and harbors are filled with fishing boats."
We have a 1000 pc version of this puzzle and the kids had a great time helping me finish it.
Kids LOVE puppies and they will love this collage puzzle of 12 pairs of puppies.
The only thing kids love more than puppies is candy. This puzzle is the candy-lovers dream as you put together a variety of candy packaging.
1000 Piece Puzzles
All of the following 1000 piece puzzles my kids have helped me with. They didn't do them on their own but the happily puzzled and sorted along side me as we listened to our book.
EuroGraphics The Solar System Panoramic Puzzle
This panoramic puzzle is beautifully done. It has 10 illustrated panels of our solar system consisting of the 8 planets with moons, the sun and 4 dwarf planets. This would be a wonderful puzzle to glue and display in a homeschool room!
A yummy assortment of donuts without the calories! This puzzle my kids helped out with a lot! The variety of colors and designs made it pretty easy for us to split into sections and work on it together. Plus, a recipe included on the back of the box!
Best Sellers, a Vintage Book Covers Collage
Another awesome collage puzzle with a collection of vintage book covers. It features some of the greatest best sellers of all times, and the puzzle is even more fun because you have probably read or heard of some of the books! Again, the variety of cover art makes it easy for multiple people to work on this puzzle.
World War I & II Vintage Posters
Celebrate the American spirit with vintage WWI and WWII posters, iconic symbols of the era. It's art and history all in one! We had a Rosie the Riveter lesson when we put ours together.
Dodge Charger Challenger Evolution
Put together the history of the Dodge Charger and the Challenger. My kids are giant gear heads so the LOVED this puzzle. If your kid loves transportation, there is probably a puzzle of it: trains, cars, Jeeps, planes, you name it!
Here a few tips for completing these larger sized puzzles. First, is to help them put it together. It seems simple but kids are more likely to stick with it if you work together. Second, put the puzzle in a central location. That way it will be worked on even when you aren't reading aloud. Three, start small. If your kids aren't used to a 1000 piece puzzle, I would start with a 300 and work your way up. And lastly, from my experience collage puzzles are the best to start with because you can break it into sections and the puzzle doesn't seem so overwhelming.
Whether you are doing the reading and the kids are doing the puzzling, or your entire family is listening to an audiobook and you are puzzling together, this list of 10 puzzles has something for everyone to enjoy! How does your family like to pass the time while listening to audiobooks? Drop a comment below and let me know!