Keep reading for 10 realistic fiction books 4th graders will love!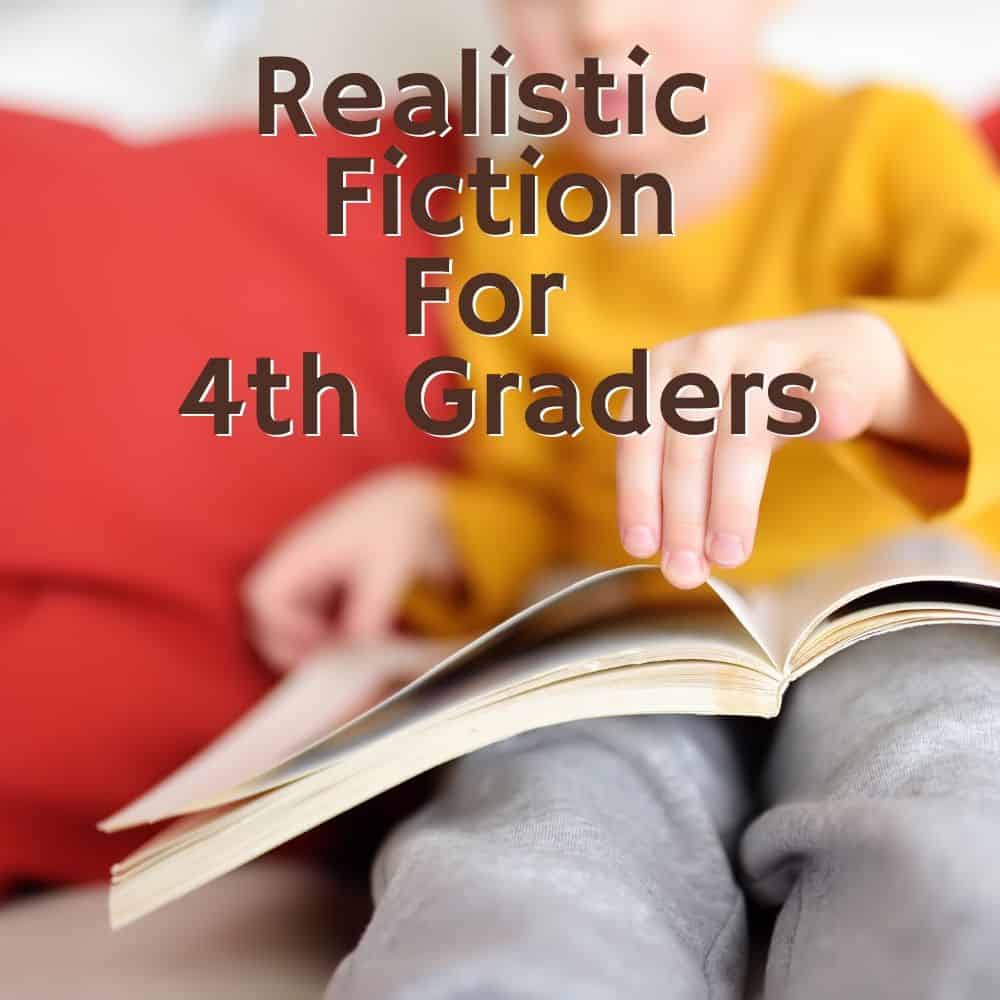 At some point in school we learned the difference between fiction books and nonfiction books. Fiction being a something that is made up from the author's imagination, while nonfiction is writing that is based on facts and real events.
Under the umbrella of fiction are many different types of fiction, also know as sub-genres. Some of those sub-genres are romance, fantasy, action, science fiction, and more!
Today I am going to talk about a specific sub-genre of fiction that is called realistic fiction. Realistic fiction "can be defined as a genre of writing in which the characters, setting, and events are made up but could be real." Stories that resemble real life because they could have actually happened in real life! No dragons, no talking pets, or no magic.
A character that could remind you of yourself dealing with real problems that drive the story that take place in the real world. The time in which the story takes place is either recent or recent to when the story was written. For example, Ramona the Brave (book number three on this list) was published in 1975. Even though it may not feel contemporary, it was at the time the book was written.
This post includes 10 realistic fiction books for 4th graders. The include classic realistic fiction as well as some current realistic fiction books. The list only contains 10 books because I like to keep my lists short and simple. Let's get started!
Interested in books for older readers?
This post contains affiliate links. If you click and make a purchase, we earn a commission at NO extra cost to you. For more information, please read my full disclosure policy.
Descriptions come from Amazon; some are edited for length
Realistic Fiction for 4th Graders
Because of Winn-Dixie by Kate DiCamillo
"Making friends in a new town is never easy, but when Opal adopts a stray dog she names after the grocery store she found him, she learns that friendship – and forgiveness – can sneak up on you like a sudden storm."
Shiloh by Phyllis Reynolds Naylor
"When Marty Preston comes across a young beagle in the hills behind his home, it's love at first sight, and also big trouble. It turns out the dog, which Marty names Shiloh, belongs to Judd Travers, who drinks too much and has a gun, and abuses his dogs. So when Shiloh runs away from Judd to Marty, Marty just has to hide him and protect him from Judd. But Marty's secret becomes too big for him to keep to himself, and it exposes his entire family to Judd's anger. How far will Marty have to go to make Shiloh his?"
---
Ramona the Brave by Beverly Cleary
"For a girl as enthusiastic about life as Ramona, starting the first grade should be easy! But with a teacher who doesn't understand her, a tattletale classmate, and a scary dog who follows her on the walk home from school, Ramona has a hard time acting like the big girl everyone expects her to be. But when she shows up to school with a missing shoe, Ramona gets a fresh grip on her courage in order to make it through a mortifying situation."
Love, Ruby Lavender by Deborah Wiles
"Ruby Lavender and Miss Eula are a pretty good team, for a couple of chicken thieves. What other granddaughter-grandmother duo could successfully drive the getaway car for chickens rescued from a journey to the slaughterhouse, paint a whole house shocking pink, and operate their own personal secret-letter post office? So, when Miss Eula leaves for Hawaii to visit her new grandbaby, Ruby is sure that she will have a lonely, empty, horrible summer in boring old Halleluia, Mississippi. What happens instead?"
"Is Nick Allen a troublemaker? He really just likes to liven things up at school, and he's always had plenty of great ideas. When Nick learns some interesting information about how words are created, suddenly he's got the inspiration for his best plan ever…the frindle. Who says a pen has to be called a pen? Why not call it a frindle? Things begin innocently enough as Nick gets his friends to use the new word. Then other people in town start saying frindle. Soon the school is in an uproar, and Nick has become a local hero. His teacher wants Nick to put an end to all this nonsense, but the funny thing is frindle doesn't belong to Nick anymore. The new word is spreading across the country, and there's nothing Nick can do to stop it."
The Small Adventures of Popeye and Elvis by Barbara O'Connor
"Nothing ever happens in Fayette, South Carolina. That's what Popeye thinks, anyway. His whole life, everything has just been boring, boring, boring. But things start to look up when the Jewells' Holiday Rambler makes a wrong turn and gets stuck in the mud, trapping Elvis and his five rowdy siblings in Fayette for who knows how long. Then things get even better when something curious comes floating down the creek (a series of boats with secret messages) and Popeye and Elvis set out on a small adventure. Who could possibly be sending the notes and what do they mean?"
"Farley Drexel Hatcher, otherwise known as Fudge, thinks he's a superhero, but his older brother, Peter, knows Fudge is nothing but a big pain! Dealing with Fudge is hard enough, but now Peter's parents have decided to move to New Jersey for an entire year! Even worse, Peter's mom is going to have a new baby. And if this baby is anything like Fudge—help! How will Peter ever survive?"
The Lemonade War by Jacqueline Davies
"Fourth-grader Evan Treski is people-smart. He's good at talking with people, even grownups. His younger sister, Jessie, on the other hand, is math-smart, but not especially good with people. So when the siblings' lemonade stand war begins, there really is no telling who will win—or even if their fight will ever end. Brimming with savvy marketing tips for making money at any business, definitions of business terms, charts, diagrams, and even math problems, this fresh, funny, emotionally charged novel subtly explores how arguments can escalate beyond anyone's intent."
The Hundred Dresses by Eleanor Estes
"Wanda Petronski is a Polish girl in a Connecticut school who is ridiculed by her classmates for wearing the same faded blue dress every day. Wanda claims she has one hundred dresses at home, but everyone knows she doesn't and bullies her mercilessly. The class feels terrible when Wanda is pulled out of the school, but by that time it's too late for apologies. Maddie, one of Wanda's classmates, ultimately decides that she is 'never going to stand by and say nothing again.'"
Ida B: . . . and Her Plans to Maximize Fun, Avoid Disaster, and (Possibly) Save the World by Katherine Hannigan
"Who is Ida B. Applewood? She is a fourth grader like no other, living a life like no other, with a voice like no other, and her story will resonate long after you have put this book down. How does Ida B cope when outside forces—life, really—attempt to derail her and her family and her future? She enters her Black Period, and it is not pretty. But then, with the help of a patient teacher, a loyal cat and dog, her beloved apple trees, and parents who believe in the same things she does (even if they sometimes act as though they don't), the resilience that is the very essence of Ida B triumphs."
I love picking out books for my kids and I hope you found this list helpful. If you are looking for more books for your kids, check out the links below!