Keep reading for 10 inspiring realistic fiction books for 5th graders!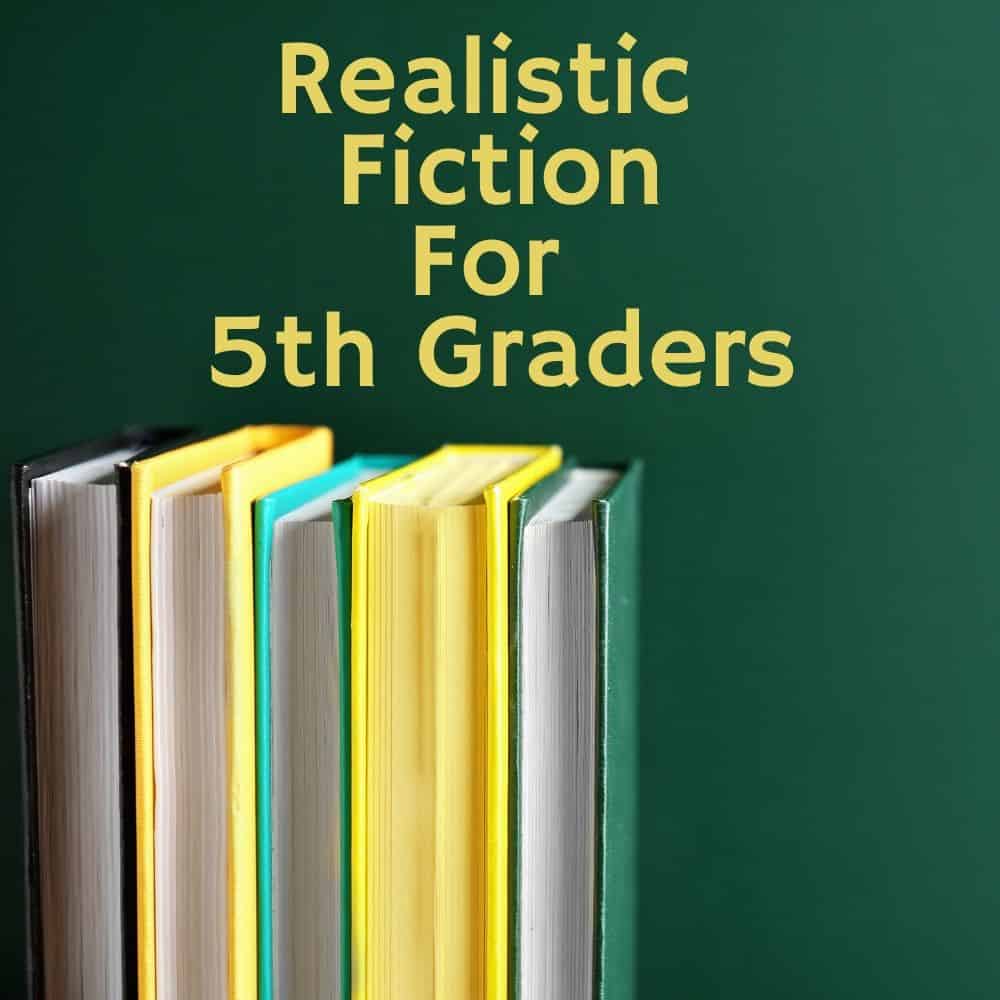 Who doesn't love a story where you feel like you know the main characters as well as you know your own friends?! A story where you follow believable characters along a realistic journey?!
These types of books are known as realistic fiction. Realistic fiction is defined as a story "that could have actually occurred to people or animals in a believable setting. These stories resemble real life, and fictional characters within these stories react similarly to real people."
Stories about real people dealing with real problems in the real world. No magic or mystical creatures in these stories! The characters are fictional but they COULD be real.
Take book number 3 on this list, Wonder. August Pullman isn't a real life person, but he, and his family, are written in a way that make them FEEL real to you. The story takes place in New York city, a real place, in recent times, and they face real-life problems. That's realistic fiction.
This blog post features 9 other realistic fiction books for 5th graders. Let's get started!
Need books for different grade levels?
This post contains affiliate links. If you click and make a purchase, we earn a commission at NO extra cost to you. For more information, please read my full disclosure policy.
Descriptions come from Amazon; some are edited for length
Realistic Fiction for 5th Graders
Surviving the Applewhites by Stephanie S. Tolan
"Jake Semple is notorious. Rumor has it he managed to get kicked out of every school in Rhode Island, and actually burned the last one down to the ground. Only one place will take him now, and that's a home school run by the Applewhites, a chaotic and hilarious family of artists, The only one who doesn't fit the Applewhite mold is E.D., a smart, sensible girl who immediately clashes with the defiant Jake. Jake thinks surviving this new school will be a breeze . . . but is he really as tough or as bad as he seems?"
The Way of the Warrior Kid by Jocko Willink
"Fifth grade was the worst year of Marc's life. He stunk at gym class, he can't swim, and he can't do his times tables. And the most awful thing about fifth grade? Kenny Williamson, the class bully, who calls himself the King of the Jungle Gym. When Marc's mother tells him that his uncle Jake is coming to stay for the whole summer, Marc can't wait. Uncle Jake is a for-real, super-cool Navy SEAL. And Uncle Jake has a plan. He's going to turn Marc into a warrior. Becoming a warrior isn't easy. It involves a lot of pull-ups, sit-ups, push-ups, squats, swimming, eating right, and studying harder than ever before! Can Marc transform himself into a warrior before school starts in the fall and finally stand up to the King of the Jungle Gym?"
"August Pullman was born with a facial difference that, up until now, has prevented him from going to a mainstream school. Starting 5th grade at Beecher Prep, he wants nothing more than to be treated as an ordinary kid, but his new classmates can't get past Auggie's extraordinary face. WONDER, begins from Auggie's point of view, but soon switches to include his classmates, his sister, her boyfriend, and others. These perspectives converge in a portrait of one community's struggle with empathy, compassion, and acceptance."
The Penderwicks by Jeanne Birdsall
"When the four Penderwick sisters find themselves staying on a beautiful estate called Arundel for their summer holidays, they can't wait to explore the wonderful, sprawling grounds. And even more wonderful is Jeffry, son of Arundel's owner, the perfect companion for their summer adventures. But Jeffery's mother is less than thrilled with the Penderwick sisters and warns the new friends to stay out of trouble. Which, of course, they will. Won't they?"
Out of My Mind by Sharon M. Draper
"Eleven-year-old Melody is not like most people. She can't walk. She can't talk. She can't write. All because she has cerebral palsy. But she also has a photographic memory; she can remember every detail of everything she has ever experienced. She's the smartest kid in her whole school, but NO ONE knows it. Most people—her teachers, her doctors, her classmates—dismiss her as mentally challenged because she can't tell them otherwise. But Melody refuses to be defined by her disability. And she's determined to let everyone know it…somehow."
Maniac Magee by Jerry Spinelli
"Jeffrey Lionel 'Maniac' Magee might have lived a normal life if a freak accident hadn't made him an orphan. After living with his unhappy and uptight aunt and uncle for eight years, he decides to run. And not just run away, but run. This is where the myth of Maniac Magee begins, as he changes the lives of a racially divided small town with his amazing and legendary feats."
Dead End in Norvelt by Jack Gantos
"Melding the entirely true and the wildly fictional, Dead End in Norvelt is a novel about an incredible two months for a kid named Jack Gantos, whose plans for vacation excitement are shot down when he is 'grounded for life' by his feuding parents, and whose nose spews bad blood at every little shock he gets. But plenty of excitement (and shocks) are coming Jack's way once his mom loans him out to help a feisty old neighbor with a most unusual chore: typewriting obituaries filled with stories about the people who founded his utopian town. As one obituary leads to another, Jack is launched on a strange adventure involving molten wax, Eleanor Roosevelt, twisted promises, a homemade airplane, Girl Scout cookies, a man on a trike, a dancing plague, voices from the past, Hells Angels . . . and possibly murder."
"'Blubber is a good name for her,' the note from Caroline said about Linda. Jill crumpled it up and left it on the corner of her school desk. She didn't want to think about Linda or her dumb report on whales just then. Jill wanted to think about Halloween. But Robby grabbed the note and before Linda stopped talking it had gone halfway around the room. That's where it all starts. There's something about Linda that made a lot of kids in her fifth-grade class want to see how far they could go – but nobody, Jill least of all, expected the fun to end where it did."
Fish in a Tree by Lynda Mullaly Hunt
"Ally has been smart enough to fool a lot of smart people. Every time she lands in a new school, she is able to hide her inability to read by creating clever yet disruptive distractions. She is afraid to ask for help; after all, how can you cure dumb? However, her newest teacher Mr. Daniels sees the bright, creative kid underneath the trouble maker. With his help, Ally learns not to be so hard on herself and that dyslexia is nothing to be ashamed of. As her confidence grows, Ally feels free to be herself and the world starts opening up with possibilities. She discovers that there's a lot more to her, and to everyone, than a label, and that great minds don't always think alike."
"Twelve-year-old Catherine just wants a normal life. Which is near impossible when you have a brother with autism and a family that revolves around his disability. She's spent years trying to teach David the rules from 'a peach is not a funny-looking apple' to 'keep your pants on in public,' in order to head off David's embarrassing behaviors. But the summer Catherine meets Jason and Kristi, it's her own shocking behavior that turns everything upside down and forces her to ask: What is normal?"
And there you have it! 10 realistic fiction books for 5th graders. I hope you found your child's next favorite book. Click the links below for more books!