Keep reading for 10 wonderful fantasy books for 6th graders!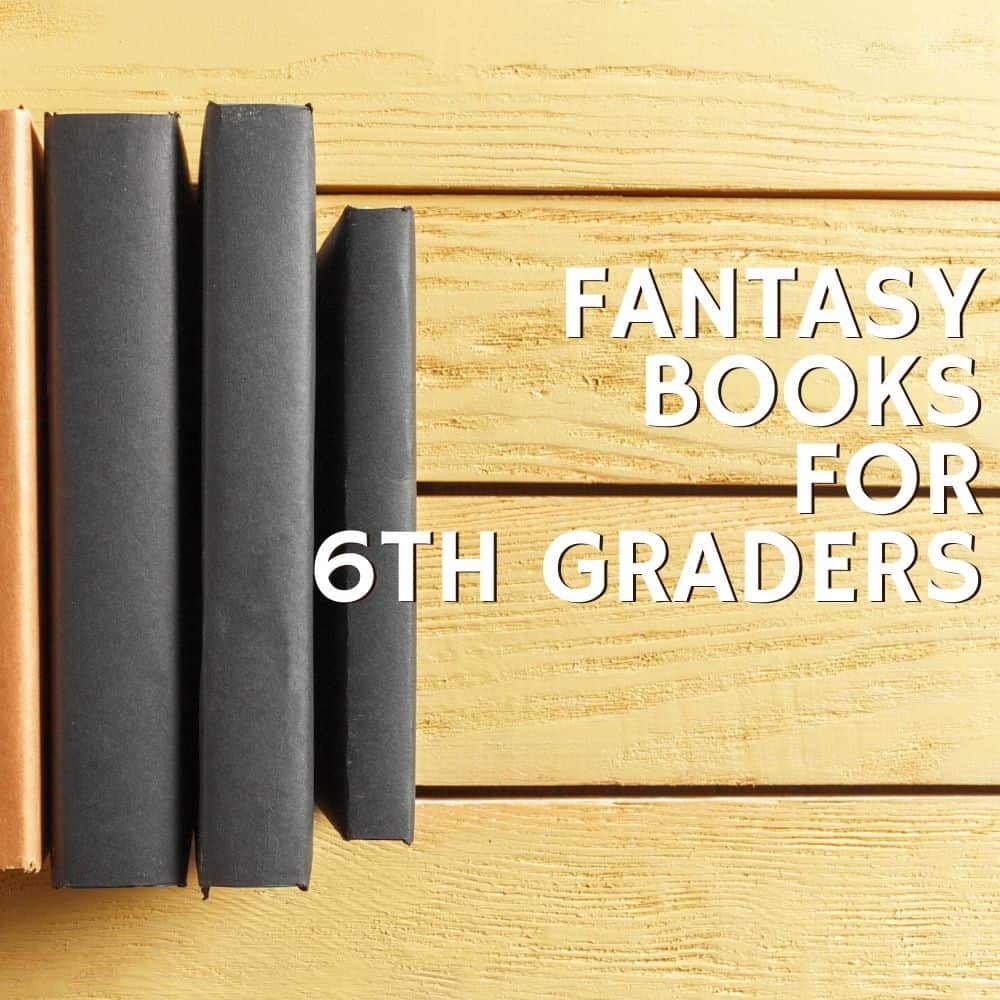 I sometimes feel sorry for my kids because they got to read Harry Potter so early in their lives. I didn't read it until I was in my 20s, and while I freaking love it, I'm glad I didn't read it as a kid.
It's like what the best tv show ever the first time you experience tv. Everything after that is kind of hard to live up to. Can you imagine The Sopranos or Cheers is the first thing you ever watched on television and then you have to try and find something new to watch?! That's how I feel about my kids reading Harry Potter.
But I shouldn't worry. There are plenty of other wonderful fantasy fiction books out there for them to read! This post will walk you through the various subgenres of fantasy fiction (Reader's Digest version) and provide 10 fantasy book suggestions for 6th graders. Let's get started!
Looking for books for younger readers?!
This post contains affiliate links. If you click and make a purchase, we earn a commission at NO extra cost to you. For more information, please read my full disclosure policy.
Descriptions come from Amazon; some are edited for length
Fantasy Books for 6th Grade
High Fantasy
High fantasy books are set in a place and time that is completely fictional. Think Lord of the Rings, Game of Thrones, or Eragon. Stories that take place in made-up places with made-up names and, sometimes, made-up languages. The first book suggestion is a perfect example.
"Bilbo Baggins is a hobbit who enjoys a comfortable, unambitious life and rarely travels any farther than his pantry or cellar. But his contentment is disturbed when the wizard Gandalf and a company of dwarves arrive on his doorstep one day to whisk him away on an adventure. They have launched a plot to raid the treasure hoard guarded by Smaug the Magnificent, a large and very dangerous dragon. Bilbo reluctantly joins their quest, unaware that on his journey to the Lonely Mountain he will encounter both a magic ring and a frightening creature known as Gollum."
More high fantasy books at the post below!
Low Fantasy
Low fantasy stories are those that take place in the real world but they have fantastical elements to them: magic, superheroes, and immortality are just some the things that can make up a low fantasy book.
Tuck Everlasting by Natalie Babbitt
"What if you could live forever? Is eternal life a blessing or a curse? That is what young Winnie Foster must decide when she discovers a spring on her family's property whose waters grant immortality. Members of the Tuck family, having drunk from the spring, tell Winnie of their experiences watching life go by and never growing older. But then Winnie must decide whether or not to keep the Tucks' secret. And whether or not to join them on their never-ending journey."
Click below for more low fantasy recommendations.
Portal Fantasy
Portal fantasy is where a "person is transported from one world to another by some sort of magic, usually (but not always!) through a specific place or object such as a wardrobe, rabbit hole, or mirror."
"Peter Pan, the mischievous boy who refuses to grow up, lands in the Darling's proper middle-class home to look for his shadow. He befriends Wendy, John and Michael and teaches them to fly (with a little help from fairy dust). He and Tinker Bell whisk them off to Never-land where they encounter the Red Indians, the Little Lost Boys, pirates and the dastardly Captain Hook."
Click below for more portal fantasy books!
Fairy Tales, Folktales, and Myths
Fairy tales, folktales, and myths are each their own subgenre of fantasy fiction, but in general they deal with the classic stories that have stood the test of time. They are often retold in fun and exciting ways. Like the next two book suggestions.
Ella Enchanted by Gail Carson Levine
"At her birth, Ella of Frell receives a foolish fairy's gift—the "gift" of obedience. Ella must obey any order, whether it's to hop on one foot for a day and a half, or to chop off her own head! But strong-willed Ella does not accept her fate. Against a bold backdrop of princes, ogres, giants, wicked stepsisters, and fairy godmothers, Ella goes on a quest to break the curse forever."
"Cinder, a gifted mechanic, is a cyborg. She's a second-class citizen with a mysterious past, reviled by her stepmother and blamed for her stepsister's illness. But when her life becomes intertwined with the handsome Prince Kai's, she suddenly finds herself at the center of an intergalactic struggle, and a forbidden attraction. Caught between duty and freedom, loyalty and betrayal, she must uncover secrets about her past in order to protect her world's future."
Learn more about fairy tales, folktales, and myth at the post below!
Science Fiction
Science fiction deals with events that take places outside our world's scientific possibilities. Dystopian fiction, dealing the down fall of the world or collapse of society, is a subgenre within science fiction
"The haunting story centers on twelve-year-old Jonas, who lives in a seemingly ideal, if colorless, world of conformity and contentment. Not until he is given his life assignment as the Receiver of Memory does he begin to understand the dark, complex secrets behind his fragile community."
"Twelve-year-old criminal mastermind Artemis Fowl has discovered a world below ground of armed and dangerous (and extremely high-tech) fairies. He kidnaps one of them, Holly Short, and holds her for ransom in an effort to restore his family's fortune. But he may have underestimated the fairies' powers. Is he about to trigger a cross-species war?"
Click below for more science fiction suggestions!
Xenofiction
Xenofiction are stories told from the point of view of a non-human. It could be monsters, aliens, or in the case of our next suggestion, animals!
Watership Down by Richard Adams
"Set in the Hampshire Downs in Southern England, an idyllic rural landscape, this stirring tale of 'suspense, hot pursuit, and derring-do' follows a band of rabbits in flight from the incursion of man and the destruction of their home. Led by a stouthearted pair of brothers, they travel forth from their native Sandleford warren through harrowing trials to a mysterious promised land and a more perfect society."
Fantasy Fiction Series
The fantastical stories of fantasy fiction lend themselves to series of books where we get to see our favorite characters again and again as they go on new and exciting adventures!
His Dark Materials: The Golden Compass by Philip Pullman
"Taking place across multiple universes and containing some pretty complex religious references (not to mention criticisms), His Dark Materials grounds itself in the journey of Lyra Belacqua, a 12-year-old girl with a knack for lying. Lyra and her dæmon (the external, animal manifestation of her "inner self") travel in search of kidnapped children, and a mysterious elemental matter called 'Dust.' These quests reveal mind-bending twists and turns that Pullman masterfully narrates over the course of this epic trilogy."
Click below for more fantasy fiction series recommendations.
Some fantasy books are just a mish-mash of everything: science fiction, portal, fantasy series. The last book suggestion is a perfect example of this!
A Wrinkle in Time by Madeleine L'Engle
"Meg Murry, her little brother Charles Wallace, and their mother are having a midnight snack on a dark and stormy night when an unearthly stranger appears at their door. He claims to have been blown off course and goes on to tell them that there is such a thing as a "tesseract", which, if you didn't know, is a wrinkle in time. Meg's father had been experimenting with time travel when he suddenly disappeared. Will Meg, Charles Wallace, and their friend Calvin outwit the forces of evil as they search through space for their father?"
I hope you enjoyed our (quick) journey through the various subgenres of fantasy fiction as well as the book suggestions for each one respectively. I hope you found what you were looking for!
Happy reading!