Keep reading for 10 mystery books that will keep your kids turning the pages!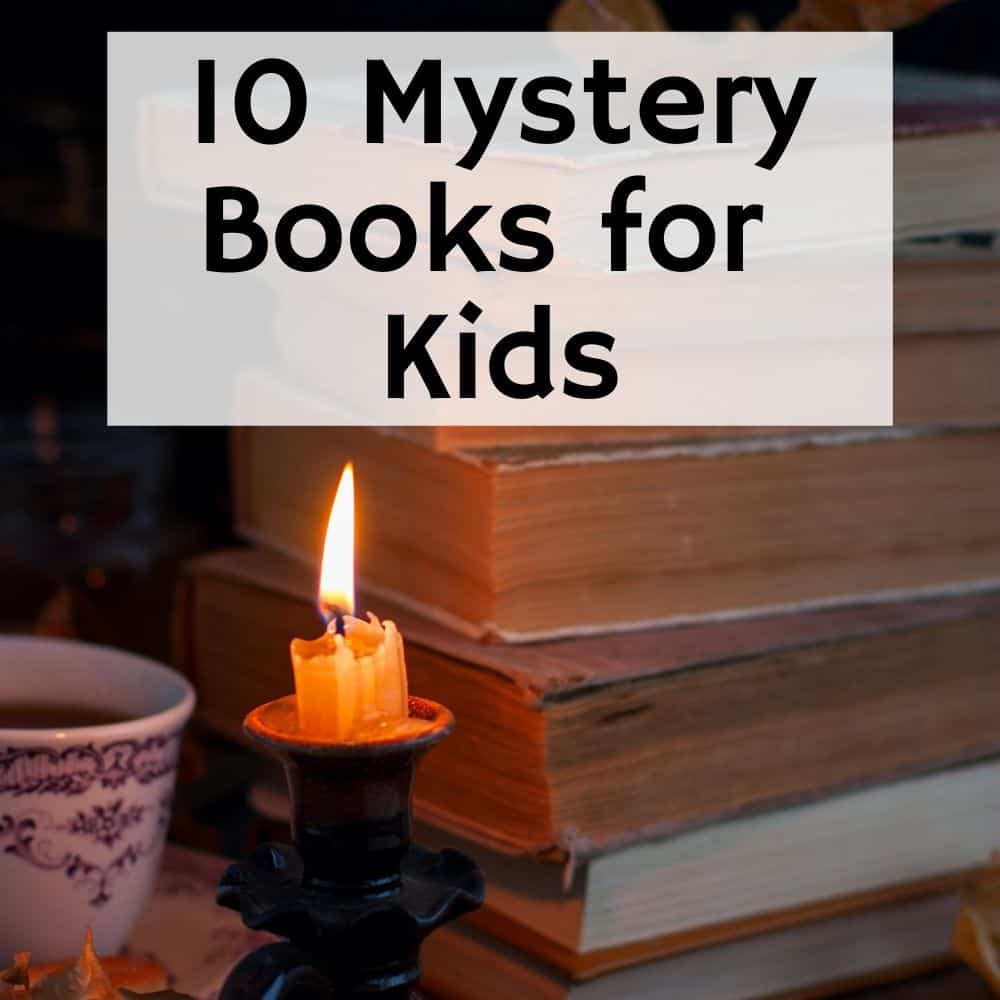 Mystery books are a great way to get even the most of reluctant readers to start diving into books. Something about a plot line that keeps you wanting to know what happens next keeps a child glued to a book.
I think that is why so many kids get hooked on Harry Potter. The allure and fascination with wanting to know what is gonna happen next! What is the next adventure and challenge Harry and his friends going to encounter?!
Maybe your child LOVES Harry Potter, perhaps they have no interest in that particular series, either way I have 10 exciting and thrilling mystery books your child won't be able to put down!
Need age specific books?
This post contains affiliate links. If you click and make a purchase, we earn a commission at NO extra cost to you. For more information, please read my full disclosure policy.
Descriptions come from Amazon; some are edited for length
Mystery Books for Young Readers
The Westing Game by Ellen Raskin
"A bizarre chain of events begins when sixteen unlikely people gather for the reading of Samuel W. Westing's will. And though no one knows why the eccentric, game-loving millionaire has chosen a virtual stranger—and a possible murderer—to inherit his vast fortune, on things for sure: Sam Westing may be dead…but that won't stop him from playing one last game!"
"When Coraline steps through a door to find another house strangely similar to her own (only better), things seem marvelous. But there's another mother there, and another father, and they want her to stay and be their little girl. They want to change her and never let her go. Coraline will have to fight with all her wit and courage if she is to save herself and return to her ordinary life."
From the Mixed Up Files of Mrs. Basil E. Frankweiler by E.L. Konigsburg
"When suburban Claudia Kincaid decides to run away, she knows she doesn't just want to run from somewhere, she wants to run to somewhere—to a place that is comfortable, beautiful, and, preferably, elegant. Claudia knew that she could never pull off the old-fashioned kind of running away so, after some careful planning, she and her younger brother, Jamie, escaped — right into a mystery that made headlines!"
Mystery Book Series for Kids
The Bad Beginning (A Series of Unfortunate Events, Book 1) by Lemony Snicket
"Violet, Klaus, and Sunny Baudelaire are intelligent children. They are charming, and resourceful, and have pleasant facial features. Unfortunately, they are exceptionally unlucky. In the first two books alone, the three youngsters encounter a greedy and repulsive villain, itchy clothing, a disastrous fire, a plot to steal their fortune, a lumpy bed, a deadly serpent, a large brass reading lamp, a long knife, and a terrible odor."
The Mysterious Benedict Society by Trenton Lee Stewart
"'Are you a gifted child looking for special opportunities?' Dozens of children respond to this peculiar ad in the newspaper and are then put through a series of mind-bending tests, which readers take along with them. Only four children–two boys and two girls–succeed. Their challenge: to go on a secret mission that only the most intelligent and inventive children could complete. To accomplish it they will have to go undercover at the Learning Institute for the Very Enlightened, where the only rule is that there are no rules. But what they'll find in the hidden underground tunnels of the school is more than your average school supplies. So, if you're gifted, creative, or happen to know Morse Code, they could probably use your help."
Treasure Hunters by James Patterson
"The Kidd siblings have grown up diving down to shipwrecks and traveling the world, helping their famous parents recover treasures from the bottom of the ocean. But after their parents disappear on the job, the kids are suddenly thrust into the biggest treasure hunt of their lives. They'll have to work together to defeat dangerous pirates and dodge the hot pursuit of an evil treasure hunting rival, all while following cryptic clues to unravel the mystery of what really happened to their parents-and find out if they're still alive."
The Name of this Book Is Secret (The Secret Series, Book 1) by Pseudonymous Bosch
"Warning: this description has not been authorized by Pseudonymous Bosch. As much as he'd love to sing the praises of his book (he is very vain), he wouldn't want you to hear about his brave 11-year old heroes, Cass and Max-Ernest. Or about how a mysterious box of vials, the Symphony of Smells, sends them on the trail of a magician who has vanished under strange (and stinky) circumstances. And he certainly wouldn't want you to know about the hair-raising adventures that follow and the nefarious villains they face. You see, not only is the name of this book secret, the story inside is, too. For it concerns a secret. A Big Secret."
The Incorrigible Children of Ashton Place: Book I: The Mysterious Howling by Maryrose Wood
"Discovered in the forest of Ashton Place, the Incorrigibles are no ordinary children. Luckily, Miss Penelope Lumley is no ordinary governess. A recent graduate of the Swanburne Academy for Poor Bright Females, Penelope embraces the challenge of her new position. Though she is eager to instruct the children in Latin verbs and the proper use of globes, first she must eliminate their canine tendencies. But mysteries abound at Ashton Place: Why does Old Timothy, the coachman, lurk around every corner? Will Penelope be able to civilize the Incorrigibles in time for Lady Constance's holiday ball?"
Miss Peregrine's Home for Peculiar Children by Ransom Riggs
"A mysterious island. An abandoned orphanage. A strange collection of very curious photographs. It all waits to be discovered in Miss Peregrine's Home for Peculiar Children, an unforgettable novel that mixes fiction and photography in a thrilling reading experience. As our story opens, a horrific family tragedy sets sixteen-year-old Jacob journeying to a remote island off the coast of Wales, where he discovers the crumbling ruins of Miss Peregrine's Home for Peculiar Children. A spine-tingling fantasy illustrated with haunting vintage photography, Miss Peregrine's Home for Peculiar Children will delight adults, teens, and anyone who relishes an adventure in the shadows."
The League of Beastly Dreadfuls Book 1 by Holly Grant
"Anastasia is a completely average almost-eleven-year-old. That is, UNTIL her parents die in a tragic vacuum-cleaner accident. UNTIL she's rescued by two long-lost great-aunties. And UNTIL she's taken to their delightful and, er, 'authentic' Victorian home, St. Agony's Asylum for the Criminally Insane. But something strange is going on at the asylum. Anastasia soon begins to suspect that her aunties are not who they say they are. So when she meets Ollie and Quentin, two mysterious brothers, the three join together to plot their great escape!"
I LOVE mystery books so it was really hard for me to NOT break out my latest read and start reading while I was creating this post. I hope you found a wonderful mystery book for your kids to read. Thanks for stopping by!