Keep reading for 10 book series 4th graders will love!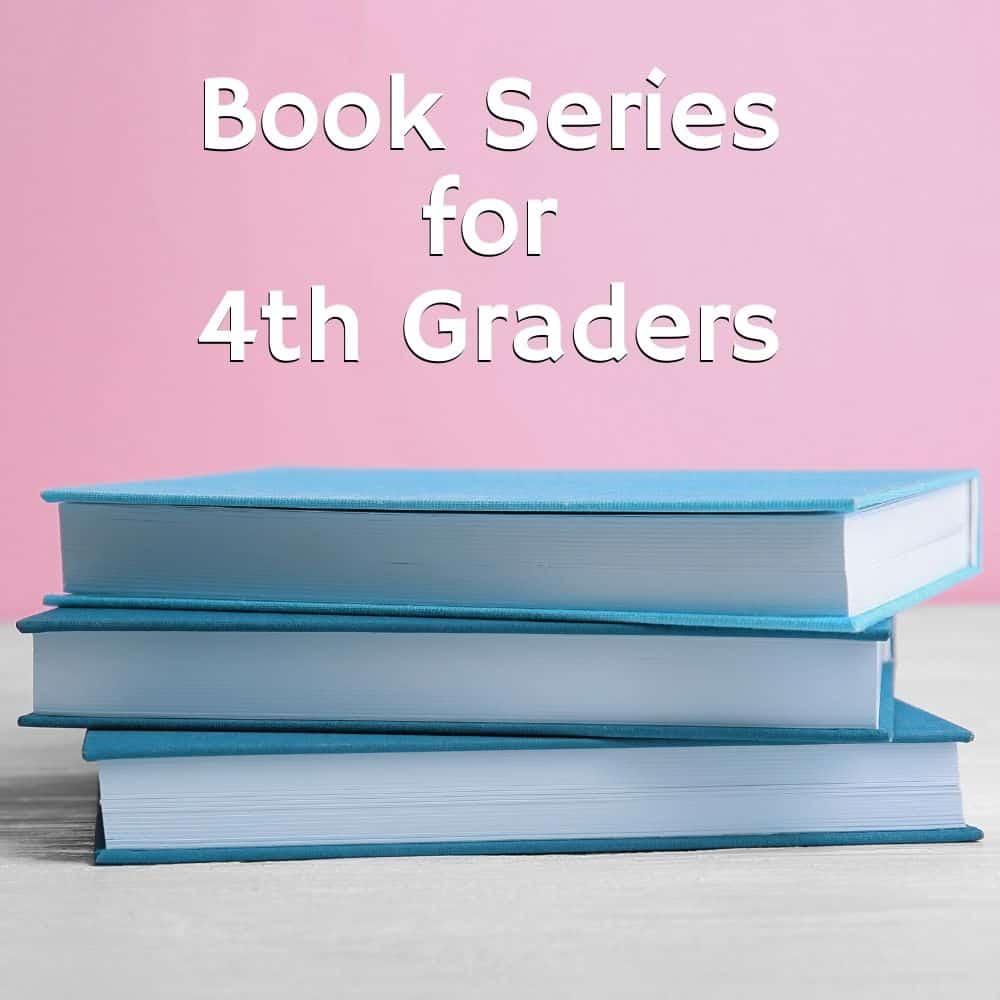 Chapter books, and chapter book series in particular, are often overlooked for their contributions in helping children to read. We often think of picture books and phonics programs as essential tools in our children's reading development. But chapter books are just as crucial.
"Children learning to read (which applies to beginning readers and chapter books both) gravitate toward series," says San Francisco children's librarian Kathleen Keeler. "Reading a new title in a series that they have already succeeded with gives them extra confidence and pleasure in the reading experience. Because of this, I think providing series to children as they learn and solidify their reading skills is even more important than with older children reading longer middle-grade juvenile fiction."
I couldn't agree more! When children are beginning to read and we want to keep them hooked on reading, it's vital that we make those early reading experience positive and entertaining. For some kids it's Little House on the Prairie, for my kids it was Ramona that reeled them into reading and, more importantly, into ENJOYING reading.
And the book series I have today are ones that will help your kids enjoy the reading experience. Series of books that will engage readers and keep then reading from cover to cover.
Looking for more challenging book series?!
Searching for easier chapter book series?
---
This post contains affiliate links. If you click and make a purchase, we earn a commission at NO extra cost to you. For more information, please read my full disclosure policy.
Descriptions come from Amazon; some are edited for length
Book Series for 4th Graders
Little House on the Prairie by Laura Ingalls Wilder
"The nine books in the timeless Little House series tell the story of Laura's real childhood as an American pioneer, and are cherished by readers of all generations. They offer a unique glimpse into life on the American frontier, and tell the heartwarming, unforgettable story of a loving family."
Mr. Lemoncello's Library Book Series by Chris Grabenstein
"When Kyle learns that the world's most famous game maker, Luigi Lemoncello, has designed the town's new library and is having an invitation-only lock-in on opening night, he's determined to be there! But the tricky part isn't getting into the library, it's getting out. Because when morning comes, the doors stay locked. Kyle and the other kids must solve every clue and figure out every secret puzzle to find the hidden escape route!"
Tales from Dimwood Forest by Avi
"A mouse has to do what a mouse has to do. Ragweed is determined to see the world. He leaves his family and cozy country home and sets off by train for the big city. What wonders await him: music, excitement, new friends, and cunning, carnivorous cats! Silversides is the purring president of F.E.A.R. (Felines Enraged About Rodents), a group dedicated to keeping cats on top, people in the middle, and mice on the bottom. Can Ragweed and his motley crew of city mice, Clutch, Dipstick, Lugnut, and Blinker, band together to fight their feline foe?"
Treasure Hunters Series by James Patterson
"The Kidd siblings have grown up diving down to shipwrecks and traveling the world, helping their famous parents recover everything from swords to gold doubloons from the bottom of the ocean. But after their parents disappear on the job, the kids are suddenly thrust into the biggest treasure hunt of their lives. They'll have to work together to defeat dangerous pirates and dodge the hot pursuit of an evil treasure hunting rival, all while following cryptic clues to unravel the mystery of what really happened to their parents and find out if they're still alive."
The Indian in the Cupboard by Lynne Reid Banks
"It's Omri's birthday, but all he gets from his best friend, Patrick, is a little plastic Indian toy. Trying to hide his disappointment, Omri puts the Indian in a metal cupboard and locks the door with a mysterious skeleton key that once belonged to his great-grandmother. Little does Omri know that by turning the key, he will transform his ordinary plastic Indian into a real live man from an altogether different time and place! Omri and the tiny warrior called Little Bear could hardly be more different, yet soon the two forge a very special friendship. Will Omri be able to keep Little Bear without anyone finding out and taking his precious Indian from him?"
The Mysterious Benedict Society by Trenton Lee Stewart
"'Are you a gifted child looking for special opportunities?' Dozens of children respond to this peculiar ad in the newspaper and are then put through a series of mind-bending tests. Only four children (two boys and two girls) succeed. Their challenge: to go on a secret mission that only the most intelligent and inventive children could complete. To accomplish it they will have to go undercover at the Learning Institute for the Very Enlightened, where the only rule is that there are no rules. But what they'll find in the hidden underground tunnels of the school is more than your average school supplies. So, if you're gifted, creative, or happen to know Morse Code, they could probably use your help."
"Two is a crowd when Peter and his little brother, Fudge, are in the same room. Grown-ups think Fudge is absolutely adorable, but Peter and his pet turtle, Dribble, know the truth. From throwing temper tantrums to smearing mashed potatoes on the wall, Fudge causes mischief wherever he goes!"
The Chronicles of Narnia by C.S. Lewis
"On a daring quest to save a life, two friends are hurled into another world, where an evil sorceress seeks to enslave them. But then the lion Aslan's song weaves itself into the fabric of a new land, a land that will be known as Narnia. And in Narnia, all things are possible."
Ramona Quimby Series by Beverly Cleary
"Having a little sister like four-year-old Ramona isn't always easy for Beezus Quimby. With a wild imagination, disregard for order, and an appetite for chaos, Ramona makes it hard for Beezus to be the responsible older sister she knows she ought to be. Newbery Medal winner Beverly Cleary delivers a humorous tale of the ups and downs of sisterhood."
---
Tales of the Frog Princess by E.D. Baker
"Princess Emeralda a.k.a. Emma isn't exactly an ideal princess. Her laugh is more like a donkey's bray than tinkling bells, she trips over her own feet and she does not like Prince Jorge, whom her mother hopes she will marry. But if Emma ever thought to escape her troubles, she never expected it to happen by turning into a frog! When convinced to kiss a frog so he might return to being a prince, somehow the spell is reversed and Emma turns into a frog herself! Thus begins their adventure to return to human form."
Chapter book series a wonderful way to keep your child interested in reading. Whether characters are solving clues to find treasure, escape the library, or return to human form, this book list has a little something for everyone.
Happy reading!