Keep reading for 10 of the finest books for 11 year olds!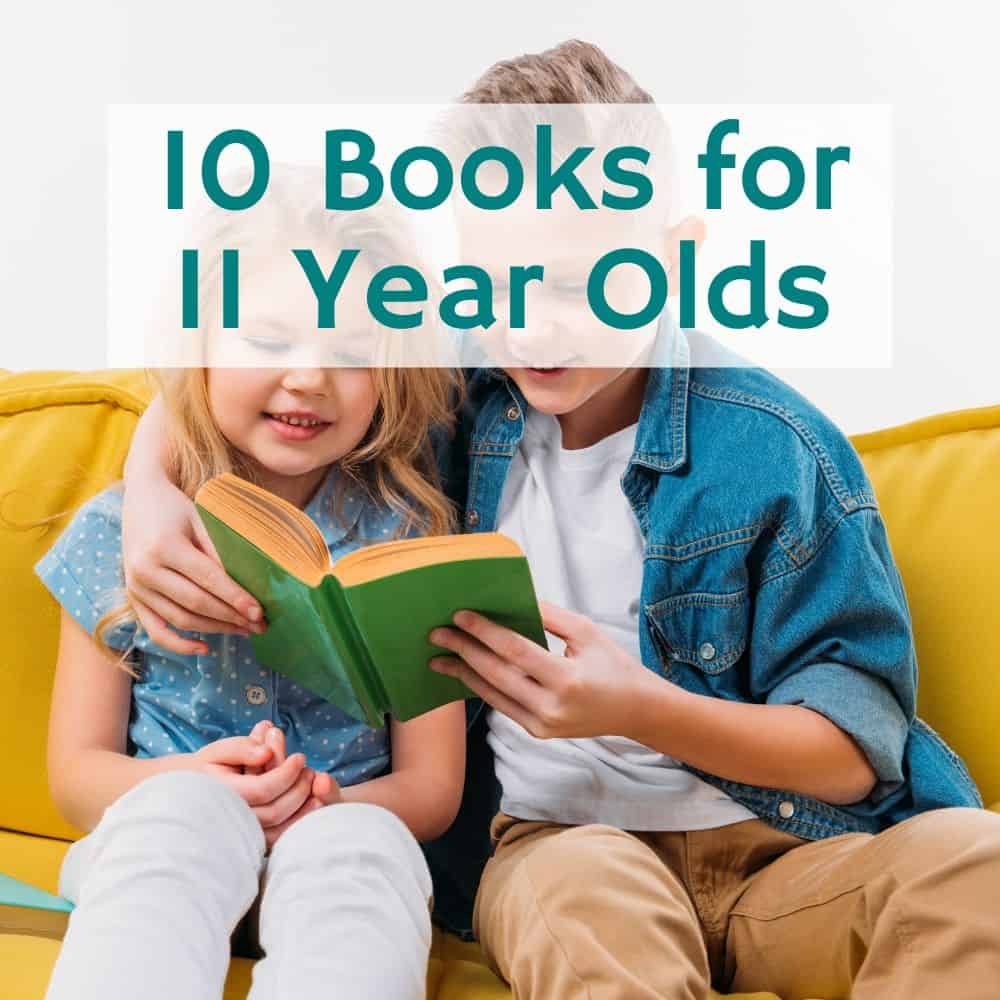 I was today-years-old when I learned that scientists are working on how to create a fuel station on the moon. I was totally geeking out while watching a documentary about space travel with my kids.
And that is probably one of the things I love most about homeschooling. How much I LEARN alongside my kids. Things I didn't learn in school or college. Like, when I was growing up, scientists were speculating what killed the dinosaurs. I don't know where I was, but I missed the day it was announced that they KNOW what killed the dinosaurs. Or at least have a pretty good idea.
Besides learning together with my kids, I also LOVE reading with my kids. I sometimes look more forward to what they are reading than what I am reading. And books geared towards fifth graders or kids around the age of 11 are my absolute fave!
This blog post includes 10 books (I like to keep my lists short for simplicity) and it has realistic fiction, historical fiction, fantasy, and mysteries! Let's get to it.
Searching for books for different ages?
This post contains affiliate links. If you click and make a purchase, we earn a commission at NO extra cost to you. For more information, please read my full disclosure policy.
Descriptions come from Amazon; some are edited for length
Books for 11 Year Olds
"In the town of Spring Haven, four children have been selected to compete in the national candymaking contest of a lifetime. Who will make a candy more delicious than the Oozing Crunchorama or the Neon Yellow Lightning Chew? This sweet, charming, and cleverly crafted story, told from each contestant's perspective, is filled with mystery, friendship, and juicy revelations."
The Incorrigible Children of Ashton Place: Book I: The Mysterious Howling by Maryrose Wood
"Discovered in the forest of Ashton Place, the Incorrigibles are no ordinary children. Luckily, Miss Penelope Lumley is no ordinary governess. A recent graduate of the Swanburne Academy for Poor Bright Females, Penelope embraces the challenge of her new position. Though she is eager to instruct the children in Latin verbs and the proper use of globes, first she must eliminate their canine tendencies. But mysteries abound at Ashton Place: Who are these three wild creatures? Why does Old Timothy, the coachman, lurk around every corner? Will Penelope be able to civilize the Incorrigibles in time for Lady Constance's holiday ball?"
Mrs. Frisby and the Rats of NIMH by Robert O'Brien
"Mrs. Frisby, a widowed mouse with four small children, is faced with a terrible problem. She must move her family to their summer quarters immediately, or face almost certain death. But her youngest son, Timothy, lies ill with pneumonia and must not be moved. Fortunately, she encounters the rats of NIMH, an extraordinary breed of highly intelligent creatures, who come up with a brilliant solution to her dilemma. And Mrs. Frisby in turn renders them a great service."
Bud, Not Buddy by Christopher Paul Curtis
"It's 1936, in Flint, Michigan. Times may be hard, and 10-year-old Bud may be a motherless boy on the run, but Bud's got a few things going for him. One: He has his own suitcase filled with his own important, secret things. Two: He's the author of Bud Caldwell's Rules and Things for Having a Funner Life and Making a Better Liar Out of Yourself. Three: His momma never told him who his father was, but she left a clue: flyers of Herman E. Calloway and his famous band, the Dusky Devastators of the Depression! Bud's got an idea that those flyers will lead him to his father. Once he decides to hit the road and find this mystery man, nothing can stop him: not hunger, not fear, not vampires, not even Herman E. Calloway himself."
How to Train Your Dragon by Cressida Cowell
"On the Viking island of Berk, a boy named Hiccup must follow an ancient tradition: to capture and tame a dragon, or face exile. When he happens upon a small creature (whom he names Toothless), the two strike up an unlikely bond and become the heroes his clan never expected. Inspiring 11 sequels, How to Train Your Dragon is a perfect blend of adventure, friendship, and silly humor."
Single Shard by Linda Sue Park
"Tree-ear is fascinated by the celedon ware created in the village of Ch'ulp'o. He is determined to prove himself to the master potter, Min. Even if it means making a solitary journey to present Min's work in the hope of a royal commission or arriving at the royal court with nothing but a single celadon shard."
Brighty of the Grand Canyon by Marguerite Henry
"Long ago, a lone little burro roamed the high cliffs of the Grand Canyon and touched the hearts of all who knew him: a grizzled old miner, a big-game hunter, even President Teddy Roosevelt. Named Brighty by the prospector who befriended him, he remained a free spirit at heart. But when a ruthless claim-jumper murdered the prospector, loyal Brighty risked everything to bring the killer to justice. Brighty's adventures have delighted generations of readers, and he has become the symbol of a joyous way of life. Some people say that you can even see his spirit roving the canyon on moonlit nights, forever wild and free."
Chasing Vermeer by Blue Balliett
"When a book of unexplainable occurrences brings Petra and Calder together, strange things start to happen. Before they know it, the two find themselves at the center of an international art scandal, where no one is spared from suspicion. As Petra and Calder are drawn clue by clue into a mysterious labyrinth, they must draw on their powers of intuition, their problem solving skills, and their knowledge of Vermeer. Can they decipher a crime that has stumped even the FBI?"
"The Borrowers, the Clock family, are tiny people who live underneath the kitchen floor of an old English country manor. All their minuscule home furnishings, from postage stamp paintings to champagne cork chairs, are "borrowed" from the 'human beans' who tromp around loudly above them. All is well until Pod is spotted upstairs by a human boy! Can the Clocks stay nested safely in their beloved hidden home, or will they be forced to flee?"
Where the Mountain Meets the Moon by Grace Lin
"In the valley of Fruitless mountain, a young girl named Minli lives in a ramshackle hut with her parents. In the evenings, her father regales her with old folktales of the Jade Dragon and the Old Man on the Moon, who knows the answers to all of life's questions. Inspired by these stories, Minli sets off on an extraordinary journey to find the Old Man on the Moon to ask him how she can change her family's fortune. She encounters an assorted cast of characters and magical creatures along the way, including a dragon who accompanies her on her quest for the ultimate answer."
My kids loved Bud's story as well as the adventures of Hiccup. Brighty will always be a favorite in our house as well as the Incorrigibles. I hope you found a book best suited for your child!
Happy reading!