Keep reading for 10 books for fourth graders!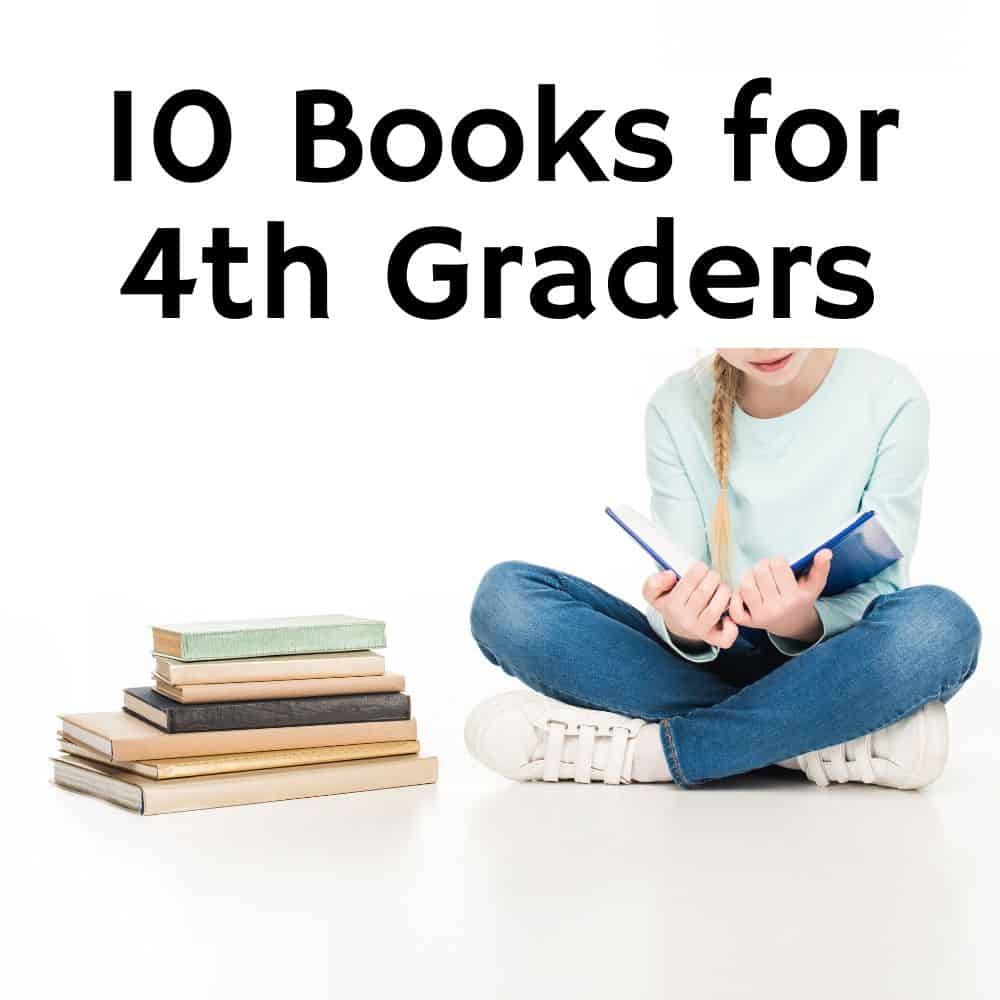 If you had to name something I was passionate about, it would be chapter books for kids or middle grade novels. In fact, right now at my desk and surrounding shelf, I have several stacks of books sorted by age level and interest. 75 total. 75!!! If that isn't passion, I don't know what is!
Finding the right book for your kids isn't always easy but one of the first steps is to start with the classics. They are popular for a reason and if you kids don't like particular ones or only certain aspects of a book, you can branch off and find different books!
This blog post has 10 chapter books for fourth graders or kids from ages 8-10. It's such a fun time for young readers and I hope you like what you find!
Searching for books at a different reading level??
This post contains affiliate links. If you click and make a purchase, we earn a commission at NO extra cost to you. For more information, please read my full disclosure policy.
10 Books for Fourth Graders
Ramona the Pest by Beverly Cleary
"Ramona Quimby is excited to start kindergarten. No longer does she have to watch her older sister, Beezus, ride the bus to school with all the big kids. She's finally old enough to take the bus too! Then she gets into trouble for pulling her classmate's boingy curls during recess. Even worse, her crush rejects her in front of everyone. Beezus says Ramona needs to quit being a pest, but how can she stop if she never was trying to be one in the first place?"
"Some Pig. Humble. Radiant. These are the words in Charlotte's Web, high up in Zuckerman's barn. Charlotte's spiderweb tells of her feelings for a little pig named Wilbur, who simply wants a friend. They also express the love of a girl named Fern, who saved Wilbur's life when he was born the runt of his litter."
---
Little House in the Big Woods by Laura Ingalls Wilder
"Deep in the woods of Wisconsin during the 1870s, wolves and panther and bears roamed. In those same woods, Laura Ingalls lived with her Pa and Ma, and her sisters, Mary and BAby Carrie, in a snug little house built of logs. Pa hunted and trapped. Ma made her own cheese and maple sugar. All night long, the wind howled lonesomely, but Pa played his fiddle and sang, keeping the family safe and cosy."
If you think your child won't like the Little House series, try the book Farmer Boy instead! My kids like the stories of Almanzo's childhood more than Laura's.
Pippi Longstocking by Astrid Lindgren
"Tommy and his sister Annika have a new neighbor, and her name is Pippi Longstocking. She has crazy red pigtails, no parents to tell her what to do, a horse that lives on her porch, and a pet monkey named Mr. Nilsson. Whether Pippi's scrubbing her floors, doing arithmetic, or stirring things up at a fancy tea party, her flair for the outrageous always seems to lead to another adventure."
Tales of a Fourth Grade Nothing by Judy Blume
"Two is a crowd when Peter and his little brother, Fudge, are in the same room. Grown-ups think Fudge is absolutely adorable, but Peter and his pet turtle, Dribble, know the truth. From throwing temper tantrums to smearing mashed potatoes on the wall, Fudge causes mischief wherever he goes!"
Treasure Hunters by James Patterson
"The Kidd siblings have grown up diving down to shipwrecks and traveling the world, helping their famous parents recover everything from swords to gold doubloons from the bottom of the ocean. But after their parents disappear on the job, the kids are suddenly thrust into the biggest treasure hunt of their lives. They'll have to work together to defeat dangerous pirates and dodge the hot pursuit of an evil treasure hunting rival, all while following cryptic clues to unravel the mystery of what really happened to their parents-and find out if they're still alive."
Homer Price by Robert McCloskey
"Welcome to Centerburg! Where you can win a hundred dollars by eating all the doughnuts you want, where houses are built in a day, and where a boy named Homer Price can foil four slick bandits using nothing but his wits and pet skunk." My kids absolutely LOVED this book!!
Shiloh by Phyllis Reynolds Naylor
"When Marty Preston comes across a young beagle in the hills behind his home, it's love at first sight—and also big trouble. It turns out the dog, which Marty names Shiloh, belongs to Judd Travers, who drinks too much and has a gun—and abuses his dogs. So when Shiloh runs away from Judd to Marty, Marty just has to hide him and protect him from Judd. But Marty's secret becomes too big for him to keep to himself, and it exposes his entire family to Judd's anger. How far will Marty have to go to make Shiloh his?"
---
The One and Only Ivan by Katherine Applegate
"Having spent twenty-seven years behind the glass walls of his enclosure in a shopping mall, Ivan has grown accustomed to humans watching him. He hardly ever thinks about his life in the jungle. Instead, Ivan occupies himself with television, his friends Stella and Bob, and painting. But when he meets Ruby, a baby elephant taken from the wild, he is forced to see their home, and his art, through new eyes."
James and the Giant Peach by Roald Dahl
"After James Henry Trotter's parents are tragically eaten by a rhinoceros, he goes to live with his two horrible aunts, Spiker and Sponge. Life there is no fun, until James accidentally drops some magic crystals by the old peach tree and strange things start to happen. The peach at the top of the tree begins to grow, and before long it's as big as a house. Inside, James meets a bunch of oversized friends—Grasshopper, Centipede, Ladybug, and more. With a snip of the stem, the peach starts rolling away, and the great adventure begins!"
From Ramona to Ivan, and from James to Pippi, I hope you found some books for your kids to enjoy. Thanks for reading!!