Keep reading for 10 terrific mystery books for 4th grade!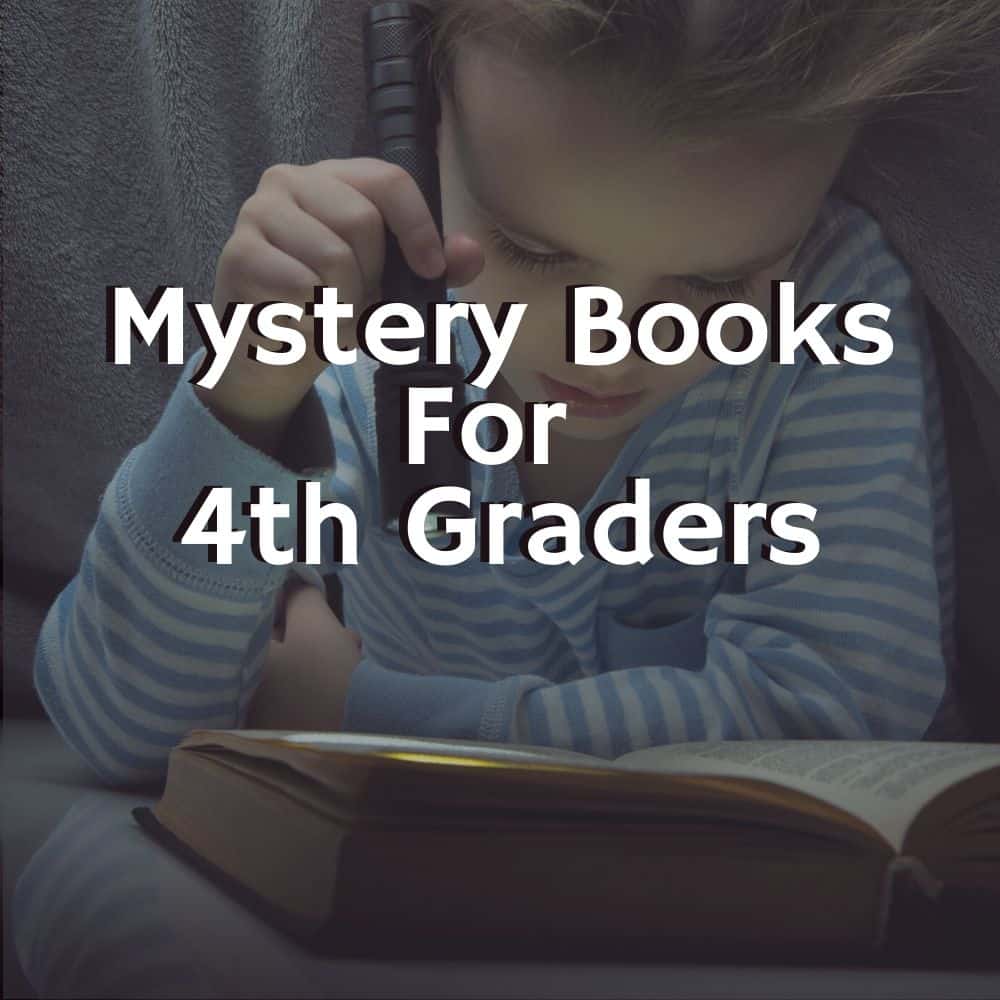 Harry Potter isn't usually considered a mystery book but I think the main reason so many kids are drawn into it is because of the mysterious elements. What is the sorcerer's stone? What's going on with Professor Quirrell? Who opened the Chamber of Secrets?!
Wanting to know the answers to these questions keep kids turning page after page after page! Which is an awesome perk of mystery books! The mystery book genre "focuses on someone solving a puzzle or a crime." This post is targeted at 4th graders or 9-10 year olds. Let's get started!
Need books for older kids?
This post contains affiliate links. If you click and make a purchase, we earn a commission at NO extra cost to you. For more information, please read my full disclosure policy.
Descriptions come from Amazon; some are edited for length
Mystery books for 4th graders
Treasure Hunters by James Patterson
"The Kidd siblings have grown up diving down to shipwrecks and traveling the world, helping their famous parents recover everything from swords to gold doubloons from the bottom of the ocean. But after their parents disappear on the job, the kids are suddenly thrust into the biggest treasure hunt of their lives. They'll have to work together to defeat dangerous pirates and dodge the hot pursuit of an evil treasure hunting rival, all while following cryptic clues to unravel the mystery of what really happened to their parents-and find out if they're still alive."
The Mysterious Benedict Society by Trenton Lee Stewart
"'Are you a gifted child looking for special opportunities?' Dozens of children respond to this peculiar ad in the newspaper and are then put through a series of mind-bending tests, which readers take along with them. Only four children–two boys and two girls–succeed. Their challenge: to go on a secret mission that only the most intelligent and inventive children could complete. To accomplish it they will have to go undercover at the Learning Institute for the Very Enlightened, where the only rule is that there are no rules. But what they'll find in the hidden underground tunnels of the school is more than your average school supplies. So, if you're gifted, creative, or happen to know Morse Code, they could probably use your help."
"Beware the hare! Harold the dog and Chester the cat must find out the truth about the newest pet in the Monroe household, a suspicious-looking bunny with unusual habits…and fangs! Could this innocent-seeming rabbit actually be a vampire?"
Escape from Mr. Lemoncello's Library by Chris Grabenstein
"When Kyle learns that the world's most famous game maker, Luigi Lemoncello, has designed the town's new library and is having an invitation-only lock-in on opening night, he's determined to be there! But the tricky part isn't getting into the library, it's getting out. Because when morning comes, the doors stay locked. Kyle and the other kids must solve every clue and figure out every secret puzzle to find the hidden escape route!"
The Great Shelby Holmes by Elizabeth Eulberg
"Shelby Holmes is not your average sixth grader. She's nine years old, barely four feet tall, and the best detective her Harlem neighborhood has ever seen. Always using logic and a bit of pluck (which yes, some might call 'bossiness') to solve the toughest crimes. When eleven-year-old John Watson moves downstairs, Shelby finds something that's eluded her up till now: a friend. The easy-going John isn't sure of what to make of Shelby, but he soon finds himself her most-trusted (read: only) partner in a dog-napping case that'll take both their talents to crack.
A to Z Mysteries: The Absent Author by Ron Roy
"A famous writer is coming to Green Lawn! Dink rushes to the bookstore to meet his favorite author, Wallis Wallace, and get all his books signed. But the author never shows up! Where is Wallis Wallace? It's up to Dink and his friends Josh and Ruth Rose to track him down. Kids love collecting the entire alphabet and super editions of the A to Z Mysteries!"
The Secret Lake by Karen Inglis
"When Stella and her younger brother, Tom, move to their new London home, they become mystified by the disappearances of Harry, their elderly neighbor's small dog. Where does he go? And why does he keep reappearing wet-through? Their quest to solve the riddle over the summer holidays leads to a boat buried under a grassy mound, and a tunnel that takes them to a secret lake. Stella and Tom soon discover that they have travelled back in time to their home and its gardens almost 100 years earlier. Here they make both friends and enemies, and uncover startling connections between the past and present."
Lost Treasure of the Emerald Eye by Geronimo Stilton
"Who Is Geronimo Stilton? That's me! I run a newspaper, but my true passion is writing tales of adventure. Here on Mouse Island, my books are all best-sellers! What's that? You've never read one? Well, my books are full of fun. They are whisker-licking good stories, and that's a promise! It all started when my sister, Thea, discovered a mysterious map. It showed a secret treasure on a faraway island. And before I could let out a squeak of protest, Thea dragged me into her treasure hunt! In no time at all, we'd set sail for the island. It was an adventure I'd never forget."
Three Times Lucky by Sheila Turnage
"Rising sixth grader Miss Moses LoBeau lives in the small town of Tupelo Landing, NC, where everyone's business is fair game and no secret is sacred. She washed ashore in a hurricane eleven years ago, and she's been making waves ever since. Although Mo hopes someday to find her 'upstream mother,' she's found a home with the Colonel and Miss Lana. She will protect those she loves with every bit of her strong will and tough attitude. So when a lawman comes to town asking about a murder, Mo and her best friend, Dale Earnhardt Johnson III, set out to uncover the truth in hopes of saving the only family Mo has ever known."
Book Scavenger by Jennifer Chambliss Bertman
"For twelve-year-old Emily, the best thing about moving to San Francisco is that it's the home city of her literary idol: Garrison Griswold, book publisher and creator of the online sensation Book Scavenger (a game where books are hidden in cities all over the country and clues to find them are revealed through puzzles). Upon her arrival, however, Emily learns that Griswold has been attacked and is now in a coma, and no one knows anything about the epic new game he had been poised to launch. Then Emily and her new friend James discover an odd book, which they come to believe is from Griswold himself, and might contain the only copy of his mysterious new game. Racing against time, Emily and James rush from clue to clue, desperate to figure out the secret at the heart of Griswold's new game―before those who attacked Griswold come after them too."
Ralph Waldo Emerson said, "Tis the good reader that makes the good book." I do my best to recommend books that will make your child an excellent reader. I hope this list was helpful. If you need more book suggestions, check out the posts below. Happy reading!!