Keep reading for 10 awesome mystery books for 5th graders!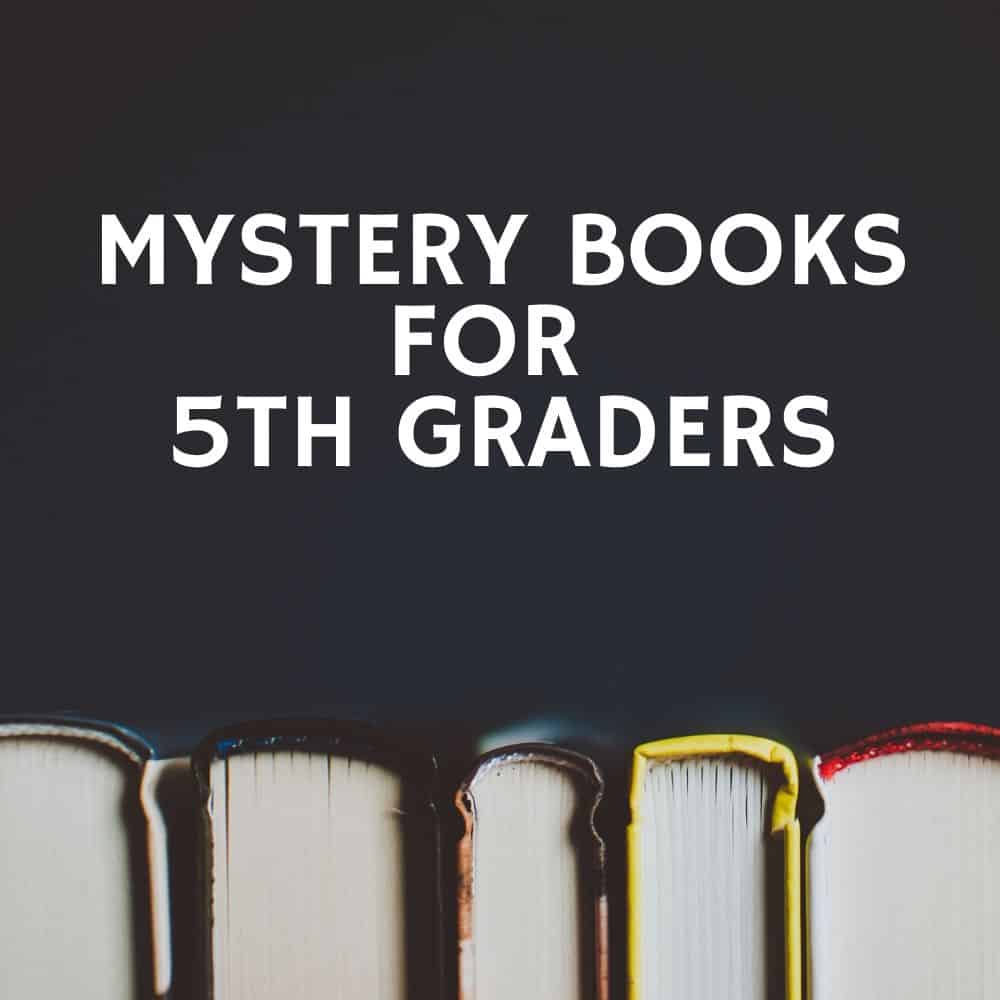 If you were a book worm as a child, you can probably remember the first book that you just HAD to get to the end so you could find out what happened. For me it was the Babysitter's Club Mystery books. Child of the '80s/'90s here. Yes, The Babysitter's Club has spin-off book series like the Mystery, Special, and Little Sister series. Just an FYI.
In my opinion mystery books are a great way to help reluctant readers because they keep kids engaged in the story as well on the page because they want to find out what happens next!
Mystery is a "genre of literature whose stories focus on a puzzling crime, situation, or circumstance that needs to be solved." This list of page-turning mystery books for 5th graders (10-11 year olds) has 10 titles that will keep kids asking for "one more chapter!"
Need books for other ages?
This post contains affiliate links. If you click and make a purchase, we earn a commission at NO extra cost to you. For more information, please read my full disclosure policy.
Descriptions come from Amazon; some are edited for length
Mystery books for 5th grade
The Mysterious Howling by Maryrose Wood
"Discovered in the forest of Ashton Place, the Incorrigibles are no ordinary children. Luckily, Miss Penelope Lumley is no ordinary governess. A recent graduate of the Swanburne Academy for Poor Bright Females, Penelope embraces the challenge of her new position. Though she is eager to instruct the children in Latin verbs and the proper use of globes, first she must eliminate their canine tendencies. But mysteries abound at Ashton Place: Who are these three wild creatures? Why does Old Timothy, the coachman, lurk around every corner? Will Penelope be able to civilize the Incorrigibles in time for Lady Constance's holiday ball?"
From the Mixed up Files of Mrs. Basil E. Frankweiler by E. L. Konigsburg
"When suburban Claudia Kincaid decides to run away, she knows she doesn't just want to run from somewhere, she wants to run to somewhere. To a place that is comfortable, beautiful, and, preferably, elegant. And so, after some careful planning, she and her younger brother, Jamie, escaped right into a mystery that made headlines!"
"Stanley Yelnats is under a curse. A curse that began with his no-good-dirty-rotten-pig-stealing-great-great-grandfather and has since followed generations of Yelnatses. Now Stanley has been unjustly sent to a boys' detention center, Camp Green Lake, where the boys build character by spending all day, every day digging holes exactly five feet wide and five feet deep. There is no lake at Camp Green Lake. But there are an awful lot of holes."
Chasing Vermeer by Blue Balliett
"When a book of unexplainable occurrences brings Petra and Calder together, strange things start to happen. Before they know it, the two find themselves at the center of an international art scandal, where no one is spared from suspicion. As Petra and Calder are drawn clue by clue into a mysterious labyrinth, they must draw on their powers of intuition, their problem solving skills, and their knowledge of Vermeer. Can they decipher a crime that has stumped even the FBI?"
"In the town of Spring Haven, four children have been selected to compete in the national candymaking contest of a lifetime. Who will make a candy more delicious than the Oozing Crunchorama or the Neon Yellow Lightning Chew? This sweet, charming, and cleverly crafted story, told from each contestant's perspective, is filled with mystery, friendship, and juicy revelations."
"The first day Georges (the S is silent) moves into a new Brooklyn apartment, he sees a sign taped to a door in the basement: SPY CLUB MEETING—TODAY! That's how he meets his twelve-year-old neigh­bor Safer. He and Georges quickly become allies and fellow spies. Their assignment? Tracking the mysterious Mr. X, who lives in the apartment upstairs. But as Safer's requests become more and more demanding, Georges starts to wonder: how far is too far to go for your only friend?"
London Eye Mystery by Siobhan Dowd
"Ted and Kat watched their cousin Salim board the London Eye, but after half an hour it landed and everyone trooped off—except Salim. Where could he have gone? How on earth could he have disappeared into thin air? Ted and his older sister, Kat, become sleuthing partners, since the police are having no luck. Despite their prickly relationship, they overcome their differences to follow a trail of clues across London in a desperate bid to find their cousin. And ultimately it comes down to Ted, whose brain works in its own very unique way, to find the key to the mystery."
Theodore Boone: Kid Lawyer by John Grisham

"In the small city of Strattenburg, there are many lawyers, and though he's only thirteen years old, Theo Boone thinks he's one of them. Theo knows every judge, policeman, court clerk and a lot about the law. He dreams of being a great trial lawyer, of a life in the courtroom. But Theo finds himself in court much sooner than expected. Because he knows so much (maybe too much) he is suddenly dragged into the middle of a sensational murder trial. A cold-blooded killer is about to go free, and only Theo knows the truth."
The Name of this Book Is Secret by Pseudonymous Bosch
"Warning: this description has not been authorized by Pseudonymous Bosch. As much as he'd love to sing the praises of his book (he is very vain), he wouldn't want you to hear about his brave 11-year old heroes, Cass and Max-Ernest. Or about how a mysterious box of vials, the Symphony of Smells, sends them on the trail of a magician who has vanished under strange (and stinky) circumstances. And he certainly wouldn't want you to know about the hair-raising adventures that follow and the nefarious villains they face. You see, not only is the name of this book secret, the story inside is, too. For it concerns a secret. A Big Secret."
Sammy Keyes and the Hotel Thief by Wendelin Van Draanen
"Sammy Keyes must be a magnet for trouble. I mean it's bad enough that she has to live illegally in a seniors-only building with her grandmother while her mother tries to make it as a move star. And worse that she witnessed a burglary in progress, and that the thief saw her. And worse still that nosy neighbor Mrs. Graybill is onto her, and that the thief is after her. But on top of all that, she also manages to make an enemy of the queen of mean at her new school and get suspended on the first day."
I love making book lists and helping parents pick out books for their kids. I hope you found this list helpful. Click below for even more book recommendations. Happy reading!