Keep reading for the best mystery books for 6th graders!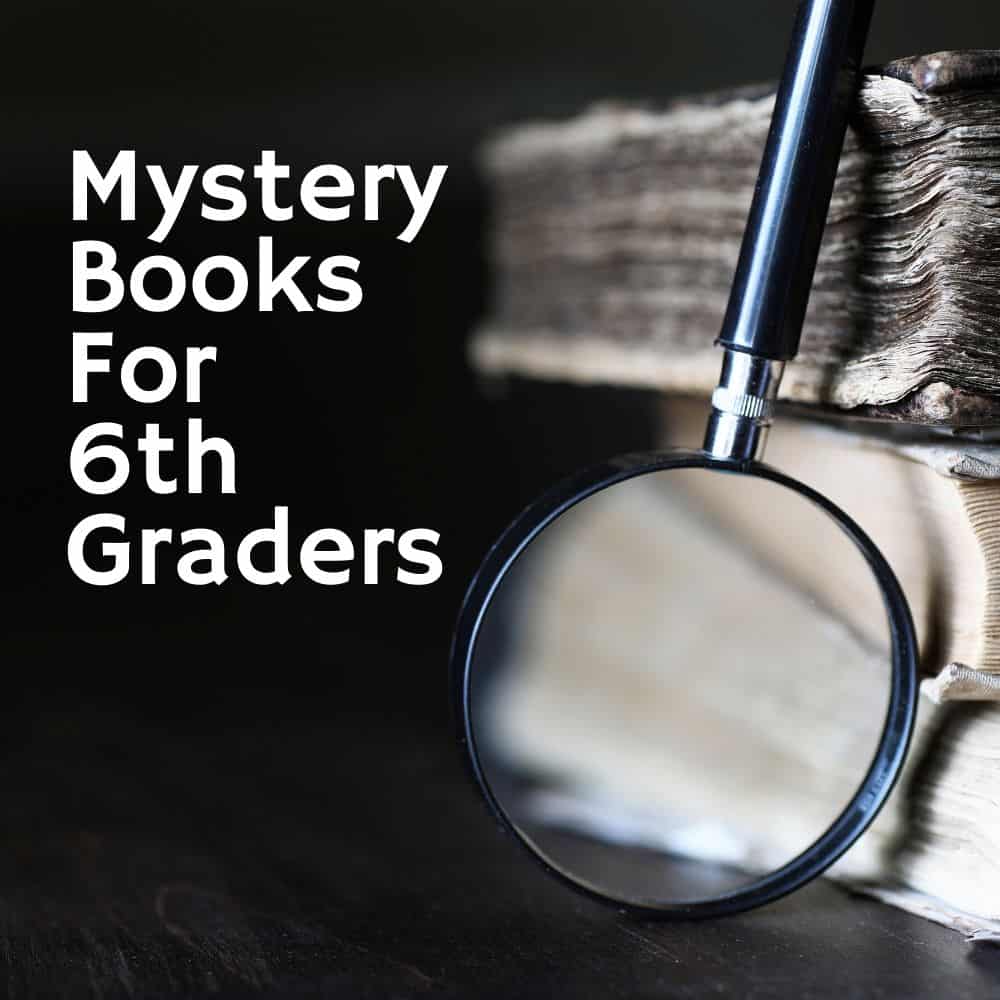 Does this sounds like a book you would want to read? "A realistic, yet suspenseful plot with a lot of twists? A story led by a crime solver following false leads? A story with foreshadowing evidence?" Then you are gonna love mystery books!
"The mystery genre is a type of fiction in which a detective, or other professional, solves a crime or series of crimes." In my opinion, mysteries don't have to just solve crimes, they can be a story where you are constantly trying to figure out exactly what the resolution of the story will be. Like, who opened the Chamber of Secrets in Harry Potter for example.
Kids love mysteries because they story is always moving forward in mystery books. There usually isn't a lot of exposition but their is plenty of conflict.
This post features 10 mystery books for 6th graders, 11-12 year olds, that are sure to delight and entice them! Let's get started!
Need book for younger readers?
This post contains affiliate links. If you click and make a purchase, we earn a commission at NO extra cost to you. For more information, please read my full disclosure policy.
Descriptions come from Amazon; some are edited for length
Mystery books for 6th graders
Harriet the Spy by Louise Fitzhugh
"Harriet M. Welsch is a spy. In her notebook, she writes down everything she knows about everyone, even her classmates and her best friends. Then Harriet loses track of her notebook, and it ends up in the wrong hands. Before she can stop them, her friends have read the always truthful, sometimes awful things she's written about each of them. Will Harriet find a way to put her life and her friendships back together?"
The Bad Beginning Paperback by Lemony Snicket
"'If you are interested in stories with happy endings, you would be better off reading some other book.' Violet, Klaus and Sunny Baudelaire are most unfortunate children. Orphaned after the sudden death of their parents in a house fire, they are left in the hands of their guardian, Count Olaf, who has diabolical plans for them."
The Invention of Hugo Cabret by Brian Selznick
"Orphan, clock keeper, and thief, Hugo lives in the walls of a busy Paris train station, where his survival depends on secrets and anonymity. But when his world suddenly interlocks with an eccentric, bookish girl and a bitter old man, Hugo's undercover life is put in jeopardy. A cryptic drawing, a treasured notebook, a stolen key, a mechanical man, and a hidden message from Hugo's dead father form the backbone of this intricate, tender, and spellbinding mystery."
When you Reach Me by Rebecca Stead
"Shortly after a fall-out with her best friend, sixth grader Miranda starts receiving mysterious notes, and she doesn't know what to do. The notes tell her that she must write a letter and that she can't share her mission with anyone. It would be easy to ignore the strange messages, except that whoever is leaving them has an uncanny ability to predict the future. If that is the case, then Miranda has a big problem because the notes tell her that someone is going to die, and she might be too late to stop it."
The Westing Game by Ellen Raskin
"A bizarre chain of events begins when sixteen unlikely people gather for the reading of Samuel W. Westing's will. And though no one knows why the eccentric, game-loving millionaire has chosen a virtual stranger (and possible murderer) to inherit his vast fortune, one things for sure: Sam Westing may be dead, but that won't stop him from playing one last game!"
"Everybody loves Mother Paula's pancakes. Everybody, that is, except the colony of cute but endangered owls that live on the building site of the new restaurant. Can the awkward new kid and his feral friend prank the pancake people out of town? Or is the owls' fate cemented in pancake batter?"
The Secret of the Old Clock by Carolyn Keene
"Read the original Nancy Drew mystery! The Secret of the Old Clock is the mystery that began it all for America's favorite teenaged sleuth. The accidental rescue of a little girl who lives with her two great-aunts leads to an adventurous search for a missing will."
Moon over Manifest by Clare Vanderpool
"Abilene Tucker feels abandoned. Her father has put her on a train, sending her off to live with an old friend for the summer while he works a railroad job. Armed only with a few possessions and her list of universals, Abilene jumps off the train in Manifest, Kansas, aiming to learn about the boy her father once was. It seems that Manifest's history is full of colorful and shadowy characters and long-held secrets. The more Abilene hears, the more determined she is to learn just what role her father played in that history. And as Manifest's secrets are laid bare one by one, Abilene begins to weave her own story into the fabric of the town."
Serafina and the Black Cloak by Robert Beatty
"A brave and unusual girl named Serafina lives secretly in the basement of the grand Biltmore Estate amidst the splendor of the Gilded Age. Serafina's pa, the estate's maintenance man, has warned her to keep herself hidden from the fancy folk who live on the floors above, but when children at the estate start disappearing, Serafina and her friend Braeden Vanderbilt must work together to solve a dark and dangerous mystery."
Murder is Bad Manners by Robin Stevens
"Daisy Wells and Hazel Wong are best friends at Deepdean School for Girls, and they both have a penchant for solving mysteries. In fact, outspoken Daisy is a self-described Sherlock Holmes, and she appoints wallflower Hazel as her own personal Watson when they form their own (secret!) detective agency. The only problem? They have nothing to investigate. But that changes once Hazel discovers the body of their science teacher, Miss Bell. And the body subsequently disappears! She and Daisy are certain a murder must have taken place, and they can think of more than one person with a motive. Determined to get to the bottom of the crime, Hazel and Daisy must hunt for evidence, spy on their suspects, and use all the cunning, scheming, and intuition they can muster. But will they succeed? And can their friendship stand the test?"
A wise, by short man, once said "a mind needs books as a sword needs a whetstone." And I hope the books on this list are just what you are looking for! Check below for even more books and happy reading!