Small house living isn't for everyone. Here are five things we love about our small house!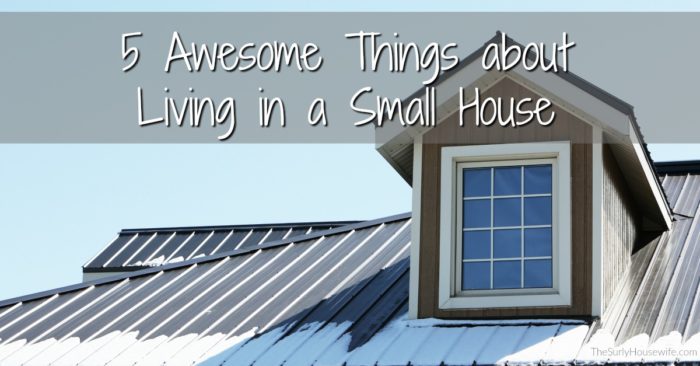 This post contains affiliate links. If you click and make a purchase, we earn a commission at NO extra cost to you. For more information, please read my full disclosure policy.
In today's housing market, it seems like bigger is always better. That mentality is frustrating for those of us who live and love our small houses. We love our 1100 square foot home with about 920 square feet for living space. However, there certainly are some downfalls.
You can always hear your kids. Always. And if you can't, it spells trouble. With limited storage space, finding ways to organize your home can be a challenge. Cooking in a small kitchen can make some recipes impossible or daunting. And personal space in a small house can seem non-existent. But focusing on the negative gets you nowhere. In fact, there are some awesome perks about living in a small house.
Small home living isn't for everyone, and some people may say "Where is the rest of the house?" when they come to visit. It's not intentional, of course, but it may be hard for them to understand you LOVE your small home. It's cozy and comforting and the place you call home. As a housewife, my job is take care of our home. And let me tell you, the size of my house helps me be great at my job. Or it at least makes my job easier 😉
5 Perks to Living in a Small House
I am by no means have the neatest, most organized, or cleanest house on earth. However, having a small home makes me more mindful of keeping our small space picked up and inviting. I love our small, cozy home. And if having an organized and neat home filled with family memories isn't a perk of small home living, I don't know what is!!