10 Homeschool supplies you can order from Amazon!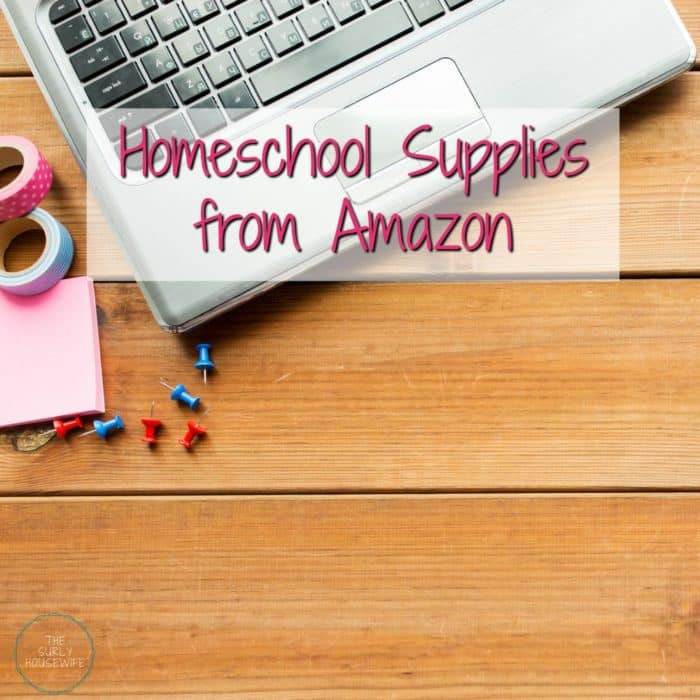 Back-to-school time is great opportunity for homeschoolers stock up on some supplies: notebooks, markers, folders. I don't know about you, but everytime I brave back-to-school shopping I either can't find what I need or they are sold out of what I wanted to buy! It's so frustrating. I would much rather replenish my school needs from Amazon. No crowds and I always get what I need.
This post contains affiliate links. If you click and make a purchase, we earn a commission at NO extra cost to you. For more information, please read my full disclosure policy.
Homeschool Supplies from Amazon
Traditional School Supplies
Pilot G2 pens are the absolute best pens in the whole world and you should never use another type of pen ever, ever, ever. We go through a ton of these pens and Amazon always has the best price for them!
Along with the best pens, you need the best pencils. Ticonderoga are excellent pencils and worth the higher price. You can get super cheap pencils at back to school time, but you get what you pay for. Your kids won't need to constantly sharpen their pencils and their writing won't be smudged.
I would be lost without my endless supply of post-it notes! I use them for everything: blogging, homeschooling, and household to-dos. I always make sure to get the super sticky notes and in various sizes.
I bought a paper cutter much like this one, back in my college days, and I use it now more than ever. Between kid art projects and paperwork from curriculum, it seems like something always needs to be cut.
Our printer is on the outs so we are in the market for a new one. Homeschool families always have something to print off! I am loving this HP printer, and the access to instant ink subscription. Because I have always said homeschool families need ink, ink, and more ink!
Nontraditional School Supplies
Guys, the kids are almost back in school. I repeat, this is not a drill, the kids are almost back in school!! We made it. Soon, the library, museums, and parks will be all ours again. Bwahahahaha!! Fall is almost here so make sure you get one of these water bottles for your fall field trips. This bottles are great for around the house and car trips also, if you aren't the nature type 😉
I know fidget spinners are all the rage, but this fidget cube is perfect if you have a child who is constantly on the move. My youngest daughter has a hard time sitting and listening to audiobooks or waiting for her turn for lessons. I think this actually helps fidgeting rather than being more of a distraction.
We never had a proper first aid kit until we went on our family vacation to Florida. Back-to-school time is an excellent opportunity to restock your first aid kit or buy a more complete one!
These icing gels may not seem like a school supply but they are perfect for baking projects and sensory play! They are a much richer color so you don't have to use as much like you would with food coloring. Plus they come in more colors!
I'm so glad I don't have to fight the crowds and find all the best deals for my back-to-school shopping. But I still need homeschool supplies and getting them from Amazon is such a good fit for my personality and my budget. I hope you found something you need on this list! What is on your homeschool shopping list? What is your must-have school supply?
Thanks for reading!