Keep reading for a variety of fairy tales, folktales, and myths for kids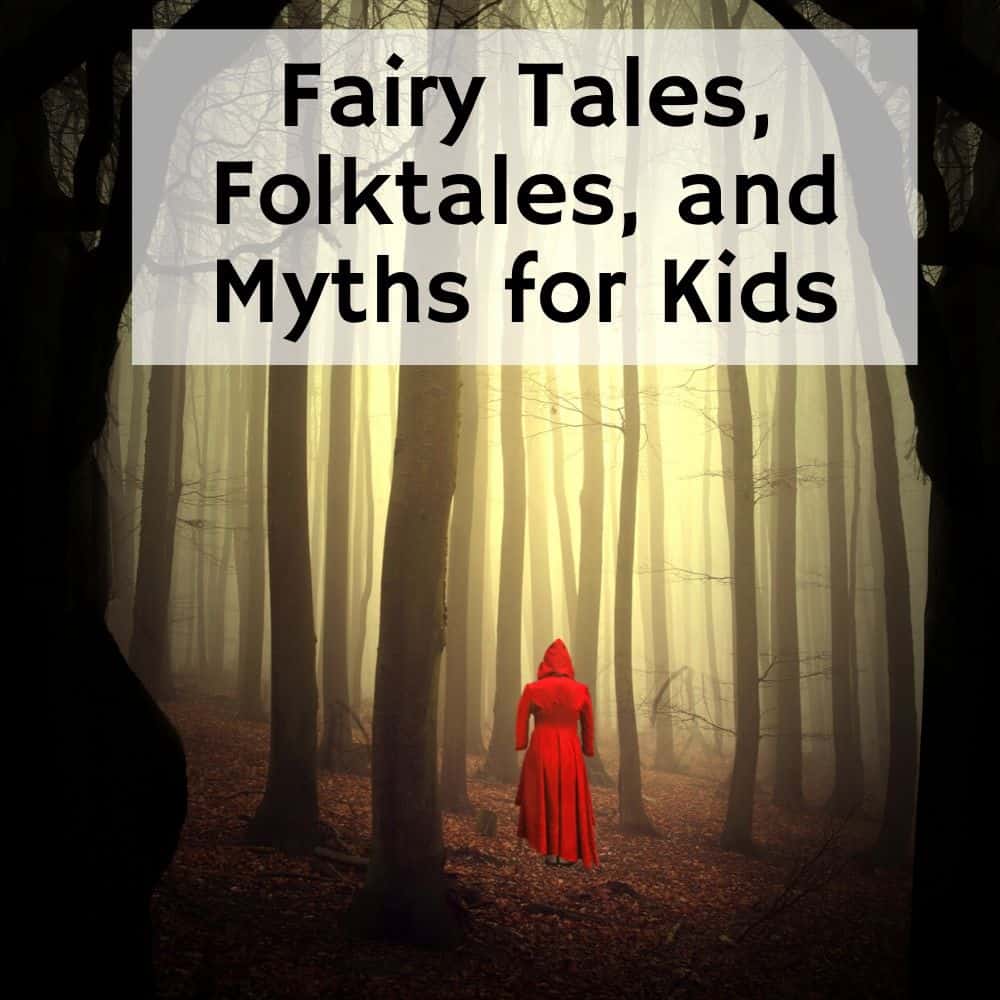 When we think of fairy tales, we tend to think of Cinderella and Rumpelstiltskin by The Brothers Grimm, but their tellings were much darker and scarier for children.
So what exactly makes a fairy tale a fairy tale vs a folktale or a myth?
Simply put, a fairy tale was written and can be credited to a author while folktales are stories that were orally passed down over the years with no accredited author.
Myths, on the other hand, are stories that explain how the world came to be or how the world works. These stories have survived for 100s of years, and the people who told these stories believed that they were true.
I should note that these are super simplistic definitions and literary scholars have debated these genres for years. But don't let that deter you. You can introduce fairy tales, folktales, and myths to your kids without it being super complicated.
Related Reads:
I have a list of 10 fairy tales, folktales, or myths that have been crafted or retold keeping kids in mind. Some are original fairy tales, while others are what are called fairy tale retellings, but I also included some books that are retellings of folktales and myths.
This post contains affiliate links. If you click and make a purchase, we earn a commission at NO extra cost to you. For more information, please read my full disclosure policy.
Descriptions come from Amazon; some are edited for length
Fairy Tales, Folktales, and Myths
Fairy Tales
Annotated Classic Fairy Tales by Maria Tater
"In this illuminating work, a leading expert in the field of folklore guides readers through 26 fairy tales, exploring their historical origins, their cultural complexities, and their psychological effects on children. 350 full-color photos, paintings & illustrations."
Sword in the Stone by T.H. White
"Before there was a famous king named Arthur, there was a curious boy named Wart and a kind old wizard named Merlyn. Transformed by Merlyn, Wart learns the value of history from a snake; of education from a badger; and of courage from a hawk, the lessons that help turn a boy into a man. Together, Wart and Merlyn take the reader through this timeless story of childhood and adventure."
The Tales of Beedle the Bard: The Illustrated Edition by J.K. Rowling
"The Tales of Beedle the Bard are magical fairy tales and this book contains five richly imaginative stories of adventure, cunning, heartache, and, of course, magic. They are to the wizarding community what the tales of the Brothers Grimm are to Muggle families."
Fairy Tale Retellings
"Once upon a time, Hazel and Jack were best friends. But that was before he stopped talking to her and disappeared into a forest with a mysterious woman made of ice. Now it's up to Hazel to go in after him. Inspired by Hans Christian Andersen's 'The Snow Queen,' Breadcrumbs is a stunningly original fairy tale of modern-day America, a dazzling ode to the power of fantasy, and a heartbreaking meditation on how growing up is as much a choice as it is something that happens to us."
Ella Enchanted by Gail Carson Levine
"At birth, Ella is inadvertently cursed by an imprudent fairy named Lucinda, who bestows on her the 'gift' of obedience. Anything anyone tells her to do, Ella must obey. When her beloved mother dies, leaving her in the care of a mostly absent father, and later, a loathsome stepmother and two treacherous stepsisters, Ella's life and well-being seem in grave peril. But her intelligence and saucy nature keep her in good stead as she sets out on a quest for freedom and self-discovery. She is trying to track down Lucinda to undo the curse, fending off ogres, befriending elves, and falling in love with a prince along the way. The most remarkable, delightful, and profound version of Cinderella you've ever read."
"Cinder, a gifted mechanic, is a cyborg. She's a second-class citizen with a mysterious past, reviled by her stepmother and blamed for her stepsister's illness. But when her life becomes intertwined with the handsome Prince Kai's, she suddenly finds herself at the center of an intergalactic struggle, and a forbidden attraction. Caught between duty and freedom, loyalty and betrayal, she must uncover secrets about her past in order to protect her world's future. With high-stakes action and a smart, resourceful heroine, Cinder is a Cinderella retelling that is at once classic and strikingly original."
The Little Prince by Antoine de Saint-Exupéry
"Moral allegory and spiritual autobiography, The Little Prince is the most translated book in the French language. With a timeless charm it tells the story of a little boy who leaves the safety of his own tiny planet to travel the universe, learning the vagaries of adult behaviour through a series of extraordinary encounters. His personal odyssey culminates in a voyage to Earth and further adventures."
Myths
The Lightning Thief (Percy Jackson and the Olympians, Book 1) by Rick Riordan
"Percy Jackson is a good kid, but he can't seem to focus on his schoolwork or control his temper. And lately, things are only getting worse. Percy could have sworn his pre-algebra teacher turned into a monster and tried to kill him. When Percy's mom finds out, she knows it's time that he knew the truth about where he came from, and that he go to the one place he'll be safe. She sends Percy to Camp Half Blood, a summer camp for demigods, where he learns that the father he never knew is Poseidon, God of the Sea. Soon a mystery unfolds and together with his friends, Percy sets out on a quest across the United States to reach the gates of the Underworld and prevent a catastrophic war between the gods."
The Dark is Rising Sequence by Susan Cooper
"Drawing from British and Welsh Mythology, Will Stanton's ordinary life is shattered with the dreadful revelation that the Dark—the source of all evil—is rising in its last and greatest bid to control the world. He finds that he is no ordinary boy, but the last-born of the Old Ones, immortals dedicated to keeping mankind free from the Dark. Soon Will is swept up in the great battle, along with his ageless master, three children, and a strange boy named Bran. These six fight fear and death in a quest through time and space interwoven with the most ancient myths of the islands of Britain—until, at last, Will and Bran find the weapon that will ultimately vanquish the Dark."
Folktales
Where the Mountain Meets the Moon by Grace Lin
"This stunning fantasy inspired by Chinese folklore tells the story of a young girl named Minli who lives in a ramshackle hut with her parents. In the evenings, her father regales her with old folktales of the Jade Dragon and the Old Man on the Moon, who knows the answers to all of life's questions. Inspired by these stories, Minli sets off on an extraordinary journey to find the Old Man on the Moon to ask him how she can change her family's fortune. She encounters an assorted cast of characters and magical creatures along the way, including a dragon who accompanies her on her quest for the ultimate answer."
I just LOVE retellings of classic folktales and fairy tales. I love seeing the creativity of mixing old stories with fresh ideas. I hope this helped you find a book you were looking for. Cheers!