Inside: Find out what exactly IS portal fantasy along with 10 book recommendations!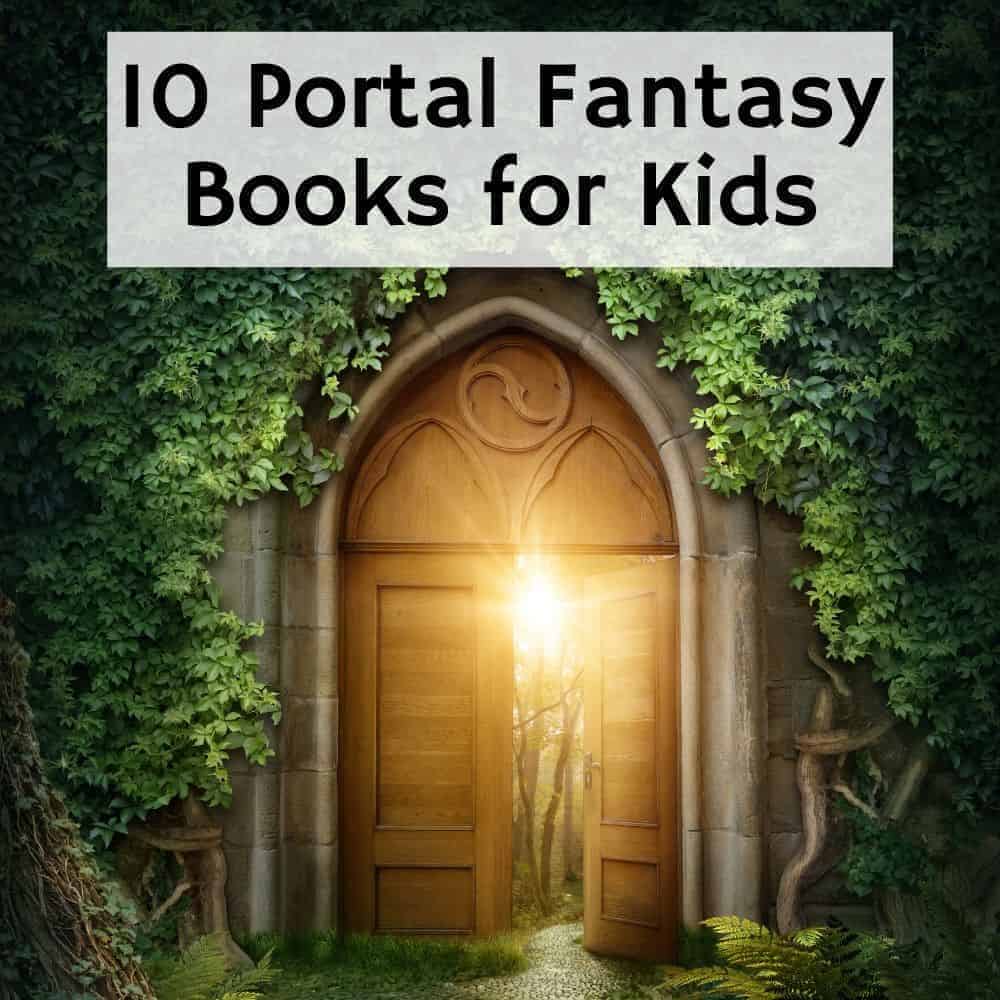 In the fall of 2018, I encountered the dreaded question that many parents face: what does my child read once they have finished the Harry Potter series. GAH!
My oldest daughter had finished the series and was looking for her next great read. Luckily, she hadn't finished A Series of Unfortunate Events books so she jumped right back into those.
While researching what other books she might love, I learned a lot about the fantasy genre: high fantasy, low fantasy, animal fantasy, magical realism, paranormal fantasy. I could go on and on. But one particular subgenre caught my eye: portal fantasy.
Portal fantasy are books where there is a doorway to magical world. There are two separate worlds and characters can pass back and forth between them using some sort of physical object: a door, a wardrobe, or a mirror. Sometimes the portal is between our real world and a fantasy world, but it also can include a portal between two fantasy worlds.
Now that we know exactly what portal fantasy is, keep reading for 10 portal fantasy books for kids!
This post contains affiliate links. If you click and make a purchase, we earn a commission at NO extra cost to you. For more information, please read my full disclosure policy.
Descriptions come from Amazon; some are edited for length
Portal Fantasy Books for Kids
The Phantom Tollbooth by Norton Juster
"For Milo, everything's a bore. When a tollbooth mysteriously appears in his room, he drives through only because he's got nothing better to do. But on the other side, things seem different. Milo visits the Island of Conclusions (you get there by jumping), learns about time from a ticking watchdog named Tock, and even embarks on a quest to rescue Rhyme and Reason. Somewhere along the way, Milo realizes something astonishing. Life is far from dull. In fact, it's exciting beyond his wildest dreams!"
"In pursuit of his lost shadow, a young boy named Peter Pan dashes into the bedroom of three children named Wendy, Michael, and John. After much blundering about, Wendy manages to reattach Peter's frenetic shadow, and in return, Peter propositions the three siblings to accompany him back to his home in a place he calls Neverland. A world of fantasy, flight, and fun, Neverland brings wonderment to Wendy and her brothers at every moment with Peter and his ageless band of Lost Boys, but with the magnificence that Neverland offers so too also lurks the evil Captain Hook."
The Neverending Story by Michael Ende
"When Bastian happens upon an old book called The Neverending Story, he's swept into the magical world of Fantastica–so much that he finds he has actually become a character in the story! And when he realizes that this mysteriously enchanted world is in great danger, he also discovers that he is the one chosen to save it. Can Bastian overcome the barrier between reality and his imagination in order to save Fantastica?"
The Lion, the Witch and the Wardrobe (The Chronicles of Narnia) by C. S. Lewis
"Four adventurous siblings—Peter, Susan, Edmund, and Lucy Pevensie—step through a wardrobe door and into the land of Narnia, a land frozen in eternal winter and enslaved by the power of the White Witch. But when almost all hope is lost, the return of the Great Lion, Aslan, signals a great change…and a great sacrifice."
Alice's Adventures in Wonderland by Lewis Carroll
"Lose yourself in Alice's story as she tumbles down the rabbit hole, swims through her own pool of tears, and finds herself in a rather curious place called Wonderland. There, she'll encounter the frantic White Rabbit, have a frustrating conversation with an eccentric caterpillar, and play croquet with the hot-headed Queen of Hearts."
The Wonderful Wizard of Oz by L. Frank Baum
"Follow the adventures of young Dorothy Gale and her dog, Toto, as their Kansas house is swept away by a cyclone and they find themselves in a strange land called Oz. Here she meets the Munchkins and joins the Scarecrow, Tin Woodman, and the Cowardly Lion on an unforgettable journey to the Emerald City, where lives the all-powerful Wizard of Oz."
"One cruel night, Meggie's father reads aloud from a book called Inkheart, and an evil ruler escapes the boundaries of fiction and lands in their living room. Suddenly, Meggie is smack in the middle of the kind of adventure she has only read about in books. Meggie must learn to harness the magic that has conjured this nightmare. For only she can change the course of the story that has changed her life forever."
A Wrinkle in Time by Madeleine L'Engle
"When Meg and Charles Wallace Murry, and their friend Calvin O'Keefe learn that Mr. Murry has been captured by the Dark Thing, they time travel to Camazotz, where they must face the leader IT in the ultimate battle between good and evil―a journey that threatens their lives and our universe."
Gregor the Overlander by Suzanne Collins
"When Gregor falls through a grate in the laundry room of his apartment building, he hurtles into the dark Underland, where spiders, rats, cockroaches coexist uneasily with humans. This world is on the brink of war, and Gregor's arrival is no accident. A prophecy foretells that Gregor has a role to play in the Underland's uncertain future. Gregor wants no part of it — until he realizes it's the only way to solve the mystery of his father's disappearance. Reluctantly, Gregor embarks on a dangerous adventure that will change both him and the Underland forever."
"What dangers are locked behind the cupboard doors? Henry isn't brave, but when he hears a thumping and scratching on the other side of his bedroom wall, he can't ignore it. He scrapes off the plaster and discovers mysterious doors—cupboards of all different shapes and sizes. Through one he sees a glowing room and a man strolling back and forth. Through another he sees only darkness and feels the cold sense that something isn't right. When his cousin Henrietta boldly travels into the worlds beyond the cupboards, it's up to Henry to follow her. Now that he's opened the doors, can he keep the evil inside from coming through?"
And there you have it! From cupboards to laundry rooms, in the fantasy genre pretty much anything can be used as a portal. Thanks for reading!