Keep reading for 10 young adult fantasy series for tweens and teens!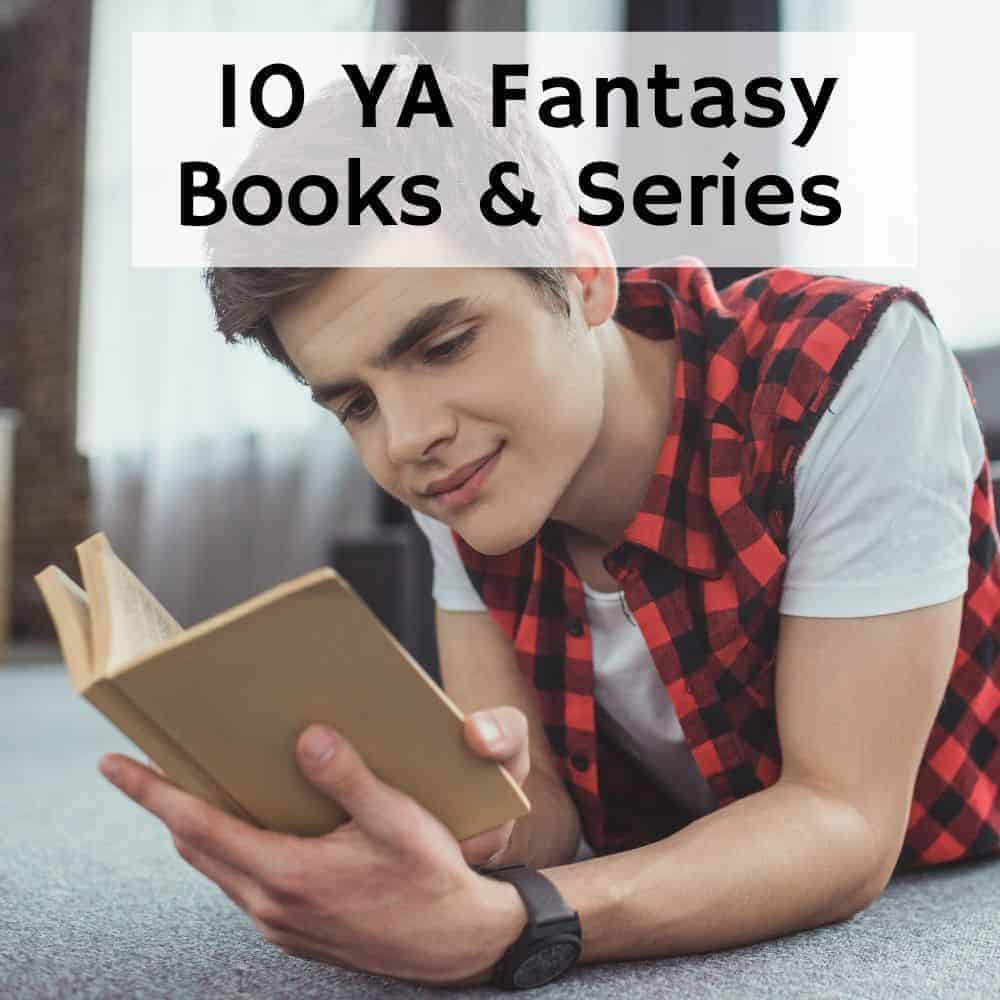 Once your child finds a genre of books that they love, parents move mountains to find them more. This is why series of books are so popular and loved by parents and kids. In his book 1000 Books to Read Before you Die, James Mustich says "To discover a new series is akin to moving into a new neighborhood: Initial trepidation is soon overcome as characters and setting conspire in elaborating a cozy familiarity." Such a magnificent way of viewing book series!
Luckily, the fantasy genre has SO MANY SERIES of books for kids to gain a "cozy familiarity" with. This post is going to cover more advanced fantasy series. Fantasy serious that may be longer in length as well as feature more complicated storylines. The subject matter within each of these series, however, is NOT too mature or inappropriate for tween readers.
I like to keep my lists to 10 books. It's informative without being overwhelming. This list includes a mix of high fantasy, sci-fi, and dystopian fiction.
Looking for more book series?! CLICK HERE FOR THE ULTIMATE LIST OF CHAPTER BOOK SERIES FOR KIDS!
This post contains affiliate links. If you click and make a purchase, we earn a commission at NO extra cost to you. For more information, please read my full disclosure policy.
Descriptions come from The Reedsy Blog; some are edited for length
YA Fantasy Series
The Inheritance Cycle by Christopher Paolini
"Fifteen-year-old Eragon believes that he is merely a poor farm boy, until his destiny as a Dragon Rider is revealed. Gifted with only an ancient sword, a loyal dragon, and sage advice from an old storyteller, Eragon is soon swept into a dangerous tapestry of magic, glory, and power. Now his choices could save, or destroy, the Empire."
Series Order:
Lord of the Rings Trilogy by J.R.R. Tolkien
"The Fellowship of the Ring, the first volume in The Lord of the Rings trilogy, tells of the fateful power of the One Ring. It begins a magnificent tale of adventure that will plunge the members of the Fellowship of the Ring into a perilous quest and set the stage for the ultimate clash between the powers of good and evil."
Series Order:
Percy Jackson and the Olympians by Rick Riordan
"Percy Jackson and the Olympians begins with The Lightning Thief, in which the eponymous Percy becomes aware of his true roots, namely that he is the son of Poseidon. Percy begins attending Camp Half Blood' for young demigods, and soon enough he and his friends (including a daughter of Athena and a satyr) must embark on a quest to prevent an all-out war among those deities they call Mom and Dad."
Series Order:
His Dark Materials by Philip Pullman
"Taking place across multiple universes and containing some pretty complex religious references (not to mention criticisms), His Dark Materials grounds itself in the journey of Lyra Belacqua, a 12-year-old girl with a knack for lying. Lyra and her dæmon (the external, animal manifestation of her "inner self") travel in search of kidnapped children, and a mysterious elemental matter called 'Dust.' These quests reveal mind-bending twists and turns that Pullman masterfully narrates over the course of this epic trilogy."
Series Order:
The Earthsea Cycle by Ursula K. Le Guin
"A young boy goes to a school of magic, where he learns to harness the powers inside him and fight shadowy creatures bent on destroying him. Based on this description you'll recognize Ged as one of Harry Potter's literary ancestors. But his homeland isn't the United Kingdom, it's the fictional archipelago of Earthsea. On this dense cluster of islands, inhabited by dragons and raised out of the water by a god, master fantasist Ursula K. Le Guin spins out character-driven tales, enriched by her knowledge of world mythology."
Series Order:
Time Quintet by Madeleine L'Engle
"Meg Murry, her little brother Charles Wallace, and their mother are having a midnight snack on a dark and stormy night when an unearthly stranger appears at their door. He claims to have been blown off course and goes on to tell them that there is such a thing as a "tesseract", which, if you didn't know, is a wrinkle in time. Meg's father had been experimenting with time travel when he suddenly disappeared. Will Meg, Charles Wallace, and their friend Calvin outwit the forces of evil as they search through space for their father?"
Chronicles of Prydain by Lloyd Alexander
"An epic bildungsroman spanning five books total (including The Black Cauldron, which Disney infamously animated in 1985), the Chronicles of Prydain follow young pig-keeper Taran as he attempts to prove himself and fight the evil Lord Arawn and his army of the undead."
Series Order:
"In Mossflower Woods, the food chain works a little differently. Instead of being prey, mice work together with cats and owls to defeat their ultimate enemies: snakes and rats (obviously). Our hero in Redwall is Matthias the mouse, whose courage and cunning help him in his quest to find the legendary sword of Martin the Warrior (also a mouse) and defeat Cluny the Scourge, a diabolical rat who wishes to take the land of Redwall for himself."
Series Order: 22
The Lunar Chronicles by Marissa Meyer
"Marissa Meyer's Lunar Chronicles series lends a modern voice not just to Cinderella, but also Red Riding Hood, Rapunzel, and Snow White. Oh, and a good portion of it takes place in outer space? From cyborgs and androids to intergalactic tyrants to lunar gangs that street-fight on the surface of the moon, every single book in this sci-fi/fairytale mashup packs a serious punch."
Series Order:
Hunger Games by Suzanne Collins
"Twelve districts. Twenty-four contestants. One survivor. This is the premise of The Hunger Games. Katniss Everdeen never wanted to get involved in the Games, but after her sister is randomly chosen, Katniss volunteers in her place entering a battle for her own life. Suzanne Collins' remarkable world-building both inside and outside the arena, combined with the cutting themes of extreme social inequality and human savagery, makes this a true standout amongst many similar works of recent years."
Series Order:
I hope you found a new series for that your child can escape in. Thanks for stopping by!!