Keep reading for 10 fantasy books for kids. Plus they are part of a series!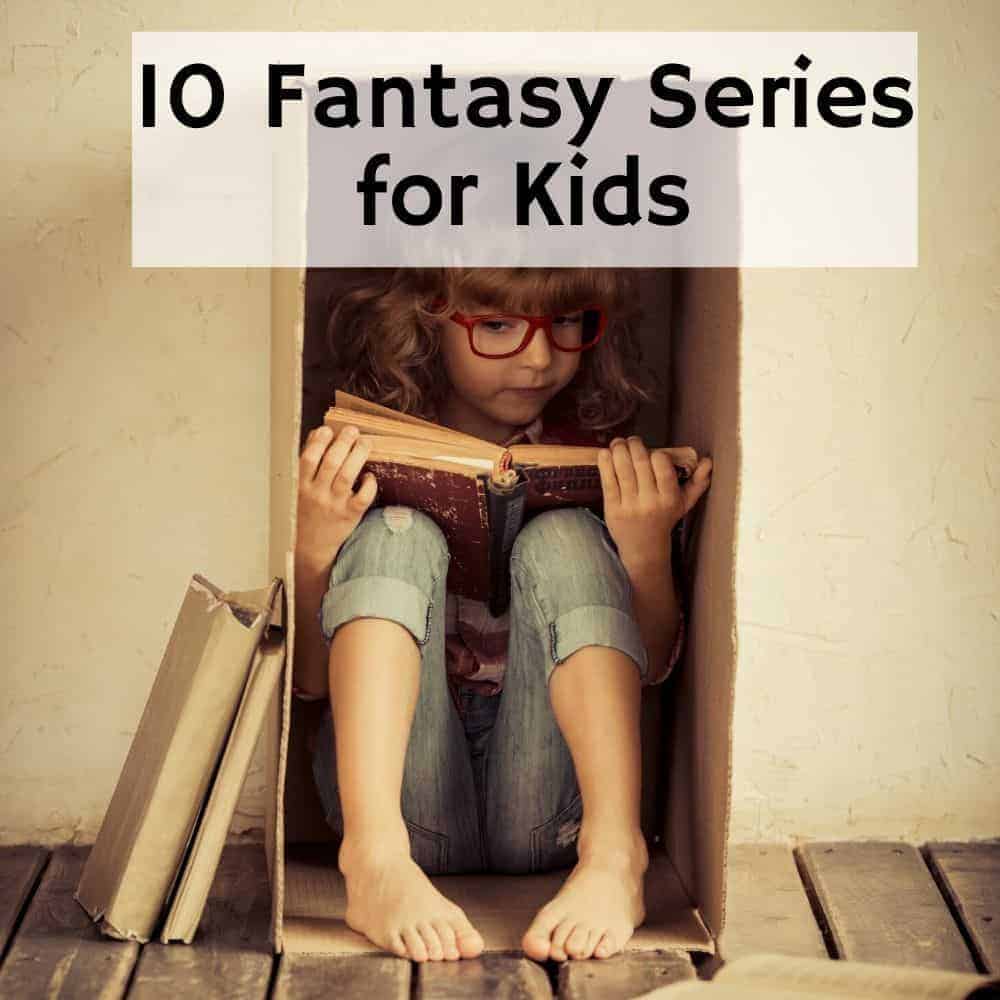 I really, really, really wish there was an answer to the million dollar question: my kid LOVED Harry Potter so what do they read next?! It's a hard question to answer because so many variables come into play.
Or maybe they aren't quite ready for Harry Potter but they love reading series of books.
Either way, if your child is a fan of fantasy books, this is a great list to start with. The books are all within the general fantasy genre AND they all are a book series. No time to waste! Let's get started.
Looking for more book series?! CLICK HERE FOR THE ULTIMATE LIST OF CHAPTER BOOK SERIES FOR KIDS!
This post contains affiliate links. If you click and make a purchase, we earn a commission at NO extra cost to you. For more information, please read my full disclosure policy.
Descriptions come from Amazon; some are edited for length
Fantasy Book Series for Kids
The Tales of Magic Series by Edward Eager
"From book 1: It all begins with a strange coin on a sun-warmed sidewalk. Jane finds the coin, and because she and her siblings are having the worst, most dreadfully boring summer ever, she idly wishes something exciting would happen. And something does: Her wish is granted. Or not quite. Only half of her wish comes true. It turns out the coin grants wishes—but only by half, so that you must wish for twice as much as you want. Wishing for two times some things is a cinch, but other doubled wishes only cause twice as much trouble."
Series Order:
How To Train Your Dragon Series by Cressida Cowell
"How to Train Your Dragon chronicles the adventures and misadventures of reluctant Viking hero Hiccup and his dragon, Toothless. Join them on all twelve of their exciting stories. This book was my children's favorite BEFORE they started reading Harry Potter."
Series Order:
Inkheart Trilogy by Cornelia Funke
"The Inkheart trilogy chronicles the adventures of teen Meggie Folchart and her father, a bookbinder named Mo. Meggie's life changes dramatically when she realizes that they have the unusual ability to bring characters from books into the real world when reading aloud. This series focuses on the magic of books, their characters and creatures, and the art of reading."
Series Order:
The Fablehaven Series by Brandon Mull
"From Book 1: "For centuries, mystical creatures of all description were gathered to a hidden refuge called Fablehaven to prevent their extinction. The sanctuary is one of the last strongholds of true magic. Enchanting? Absolutely. Exciting? You bet. Safe? Well, actually, quite the opposite. Kendra and her brother, Seth, have no idea their grandfather is the current caretaker of Fablehaven. Inside the gated woods, ancient laws keep order among greedy trolls, mischievous satyrs, plotting witches, spiteful imps, and jealous fairies. However, when the rules get broken, powerful forces of evil are unleashed, forcing Kendra and Seth to face the greatest challenge of their lives, to save their family, Fablehaven, and perhaps even the world."
Series order:
The Borrowers Book Series by Mary Norton
"The Borrowers is a series of children's fantasy novels by Mary Norton about tiny people who live in the homes of big people and 'borrow' things to survive while keeping their existence unknown."
Series Order:
Tales of the Frog Princess by E.D. Baker
"From book 1: Princess Emeralda a.k.a. Emma isn't exactly an ideal princess. Her laugh is more like a donkey's bray than tinkling bells, she trips over her own feet and she does not like Prince Jorge, whom her mother hopes she will marry. But if Emma ever thought to escape her troubles, she never expected it to happen by turning into a frog! When convinced to kiss a frog so he might return to being a prince, somehow the spell is reversed and Emma turns into a frog herself! Thus begins their adventure-a quest to return to human form."
Series Order:
The Spiderwick Chronicles by Tony DiTerlizzi
"Join twins Jared and Simon and their older sister, Mallory, as they discover the fantastical world of Spiderwick. After finding a mysterious, handmade field guide in the attic of the ramshackle old mansion they've just moved into, Jared, Simon, and, Mallory discover that there's a magical and dangerous world existing parallel to our own—the world of faerie. The children want to share their story, but the faeries will do everything possible to stop them."
Series Order:
The Underland Chronicles by Suzanne Collins
"It tells the story of a boy named Gregor and his adventures in the 'Underland', a subterranean world located under New York City. The Underland is inhabited by humans who traveled below hundreds of years ago, along with various giant versions of creatures like bats, cockroaches, and rats. According to the author, the series involves many topics relating to war, including biological warfare, genocide, and military intelligence"
Series Order:
Artemis Fowl Series by Eoin Colfer
"From book 1: Twelve-year-old criminal mastermind Artemis Fowl has discovered a world below ground of armed and dangerous–and extremely high-tech–fairies. He kidnaps one of them, Holly Short, and holds her for ransom in an effort to restore his family's fortune. But he may have underestimated the fairies' powers. Is he about to trigger a cross-species war?"
Series Order:
The Chronicles of Narnia by C.S. Lewis
"C. S. Lewis's The Chronicles of Narnia has captivated readers of all ages for over sixty years, enchanting them with fantastical talking creatures, epic battles between good and evil, and magical doorways into new lands."
Series Order:
There you have it. 10 fantasy book series for kids to read before OR after Harry Potter! My kids LOVE the How to Train Your Dragon series as well as The Frog Princess. Such fun books. Thanks for stopping by!