Inside: 10 unique science fiction books for kids with a wild imagination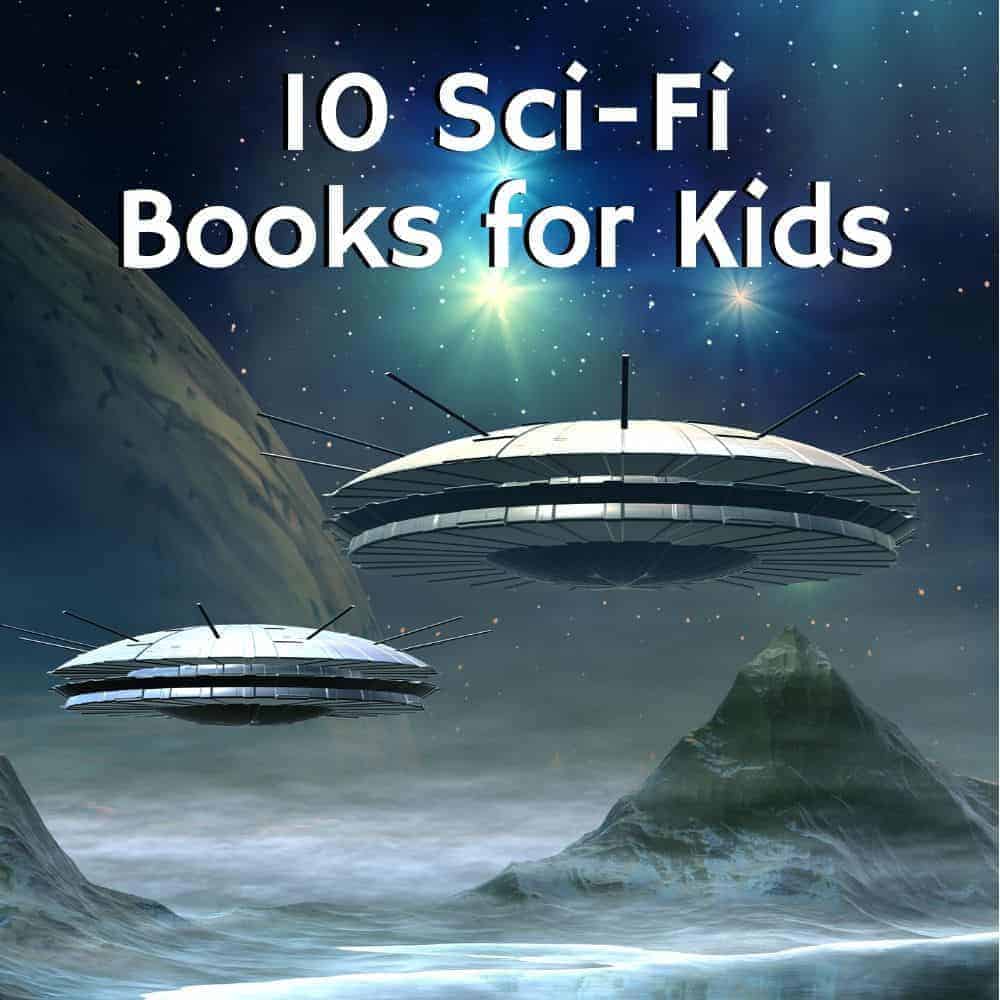 First of all, I need to apologize. If you came here looking for the correct definition of science fiction, you came to the wrong place. I'm a dork but I'm not a big enough dork to debate the merits of what makes science fiction science fiction
In fact, literary scholars often disagree on how to exactly define science fiction. Isaac Asimov defined science fiction "as that branch of literature which deals with the reaction of human beings to changes in science and technology."
However, the common theme of sci-fi is futuristic concepts. Anything is possible. It can be about space, time travel, parallel universes, aliens, or robots. This is how it differs from fantasy literature. Fantasy literature involves totally imagined places and creatures while science fiction has some basis in the real world.
Dystopian fiction is a good example of this and is one of the more popular sub-genres of science fiction. Dystopian fiction deals with the collapse of society, the opposite of a utopian society. Something has made our society and social structure collapse: government oppression, environmental changes, or technological advances. Basically, dystopian fiction tells stories of how people survive this new world.
Because of the complex nature of science fiction, most of the these books are going to be for more advanced and mature readers. Due to complicated language and mature subject matter, science fiction can be a hard area to find books for kids.
I did my best to find 10 age appropriate science fiction books that kids will enjoy. Don't be afraid to utilize audiobooks for this genre. Many times kids can follow the story if it is being read to them while it may be harder for the to read it on their own.
This post contains affiliate links. If you click and make a purchase, we earn a commission at NO extra cost to you. For more information, please read my full disclosure policy.
Descriptions come from Amazon; some are edited for length
Sci-Fi Books for Kids
A Wrinkle in Time by Madeleine L'Engle
"When Meg and Charles Wallace Murry, and their friend Calvin O'Keefe, learn that Mr. Murry has been captured by the Dark Thing, they time travel to Camazotz, where they must face the leader IT in the ultimate battle between good and evil―a journey that threatens their lives and our universe."
"Cinder, a gifted mechanic, is a cyborg. She's a second-class citizen with a mysterious past, reviled by her stepmother and blamed for her stepsister's illness. But when her life becomes intertwined with the handsome Prince Kai's, she suddenly finds herself at the center of an intergalactic struggle, and a forbidden attraction. Caught between duty and freedom, loyalty and betrayal, she must uncover secrets about her past in order to protect her world's future."
The House of the Scorpion by Nancy Farmer
"Matteo Alacrán was not born; he was harvested. His DNA came from El Patrón, lord of a country called Opium. Matt's first cell split and divided inside a petri dish. Then he was placed in the womb of a cow, where he continued the miraculous journey from embryo to fetus to baby. He is a boy now, but most consider him a monster–except for El Patrón. As Matt struggles to understand his existence, he is threatened by a sinister cast of characters, including El Patrón's power-hungry family. Escape is the only chance Matt has to survive. But escape from the Alacrán Estate is no guarantee of freedom, because Matt is marked by his difference in ways he doesn't even suspect."
Ender's Game by Orson Scott Card
"The survival of humanity depends on a military genius who can defeat the aliens. But who? Ender Wiggin, a tactical and strategic master. And a child. Recruited for military training by the world government, Ender's childhood ends the moment he enters his new home: Battle School. Among the elite recruits Ender proves himself to be a genius among geniuses. But is the pressure and loneliness taking its toll on Ender? Simulations are one thing. How will Ender perform in real combat conditions? After all, Battle School is just a game. Isn't it?"
The Hitchhiker's Guide to the Galaxy by Douglas Adams
"Seconds before Earth is demolished to make way for a galactic freeway, Arthur Dent is plucked off the planet by his friend Ford Prefect, a researcher for the revised edition of The Hitchhiker's Guide to the Galaxy who, for the last fifteen years, has been posing as an out-of-work actor. Together, this dynamic pair began a journey through space aided by a galaxy full of fellow travelers."
Dystopian Fiction
"The haunting story centers on twelve-year-old Jonas, who lives in a seemingly ideal, if colorless, world of conformity and contentment. Not until he is given his life assignment as the Receiver of Memory does he begin to understand the dark, complex secrets behind his fragile community."
City of Ember by Jeanne DuPrau
"The city of Ember was built as a last refuge for the human race. Two hundred years later, the great lamps that light the city are beginning to dim. When Lina finds part of an ancient message, she's sure it holds a secret that will save the city. Now, she and her friend Doon must race to figure out the clues to keep the lights on. If they succeed, they will have to convince everyone to follow them into danger. But if they fail? The lights will burn out and the darkness will close in forever."
"When Thomas wakes up in the lift, the only thing he can remember is his name. He's surrounded by strangers—boys whose memories are also gone. Outside the towering stone walls that surround them is a limitless, ever-changing maze. It's the only way out—and no one's ever made it through alive. Then a girl arrives. The first girl ever. And the message she delivers is terrifying: Remember. Survive. Run."
Hunger Games by Suzanne Collins
"In the ruins of a place once known as North America lies the nation of Panem, a shining Capitol surrounded by twelve outlying districts. Long ago the districts waged war on the Capitol and were defeated. As part of the surrender terms, each district agreed to send one boy and one girl to appear in an annual televised event called, The Hunger Games, a fight to the death on live TV. Sixteen-year-old Katniss Everdeen, who lives alone with her mother and younger sister, regards it as a death sentence when she is forced to represent her district in the Games. The terrain, rules, and level of audience participation may change but one thing is constant: kill or be killed."
Lord of the Flies by William Golding
"At the dawn of the next world war, a plane crashes on an uncharted island, stranding a group of schoolboys. At first, with no adult supervision, their freedom is something to celebrate; this far from civilization the boys can do anything they want. Anything. They attempt to forge their own society, failing, however, in the face of terror, sin and evil. And as order collapses, as strange howls echo in the night, as terror begins its reign, the hope of adventure seems as far from reality as the hope of being rescued."
If you are looking for some lighter and fun space type of science fiction books, check out the blog posts below!
If I had to pick a common theme of science fiction, it would be survival. How do the characters survive the harshness of space or the brutality of their enemies. Their methods of survival might not seem possible based on Earth's laws, but they are still fascinating to read. Thanks for stopping by!