Keep reading to find out what low fantasy is as well as 10 books for kids!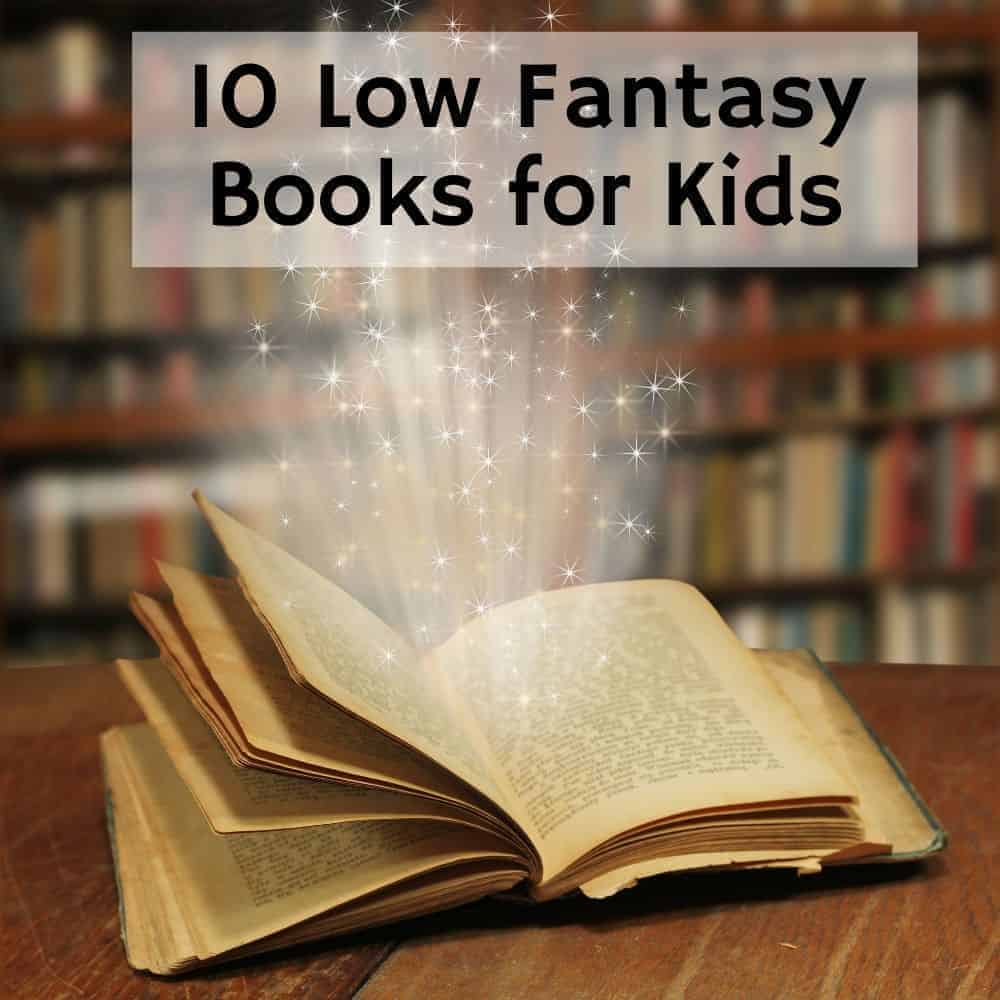 Growing up, I never really read fantasy books. In fact, I think the only fantasy book I ever read was The Indian in the Cupboard, but I never even knew it was a fantasy book!
The Indian in the Cupboard is in the genre of low fantasy. Low fantasy is a niche-specific term which means the story takes place in the real world but their are magical elements to it. Books like James and the Giant Peach, The Indian in the Cupboard, and Harry Potter are described as low fantasy.
In fact, Harry Potter lives in the world of low AND high fantasy. Wizards still have their powers in the real world (low fantasy) while the magical world is high fantasy as it is a totally made up world.
But today we are talking about low fantasy, and I have put together a list of 10 books (including Harry Potter) that feature the genre of low fantasy.
This post contains affiliate links. If you click and make a purchase, we earn a commission at NO extra cost to you. For more information, please read my full disclosure policy.
Descriptions come from Amazon; some are edited for length
Low Fantasy Books
The Harry Potter series by J. K. Rowling
The real world and magical world collide in the Harry Potter series. A normal orphan named Harry learns he is not only a wizard but a world-famous wizard! on his 11th birthday. Follow Harry as he navigates the line between the magical world and the world he grew up in.
Mary Poppins by Dr. P. L. Travers
"It all starts when Mary Poppins is blown by the east wind onto the doorstep of the Banks house. She becomes a most unusual nanny to Jane, Michael, and the twins. Who else but Mary Poppins can slide up banisters, pull an entire armchair out of an empty carpetbag, and make a dose of medicine taste like delicious lime-juice cordial? A day with Mary Poppins is a day of magic and make-believe come to life!"
"For centuries, mystical creatures of all description were gathered to a hidden refuge called Fablehaven to prevent their extinction. The sanctuary is one of the last strongholds of true magic. Enchanting? Absolutely. Exciting? You bet. Safe? Well, actually, quite the opposite. Kendra and her brother, Seth, have no idea their grandfather is the current caretaker of Fablehaven. Inside the gated woods, ancient laws keep order among greedy trolls, mischievous satyrs, plotting witches, spiteful imps, and jealous fairies. However, when the rules get broken, powerful forces of evil are unleashed, forcing Kendra and Seth to face the greatest challenge of their lives, to save their family, Fablehaven, and perhaps even the world."
Indian in the Cupboard by Lynne Reid Banks
"It's Omri's birthday, but all he gets from his best friend, is a little plastic Indian toy. Trying to hide his disappointment, Omri puts the Indian in a metal cupboard and locks the door with a mysterious skeleton key that once belonged to his great-grandmother. Little does Omri know that by turning the key, he will transform his ordinary plastic Indian into a real live man from an altogether different time and place! Will Omri be able to keep Little Bear without anyone finding out and taking his precious Indian from him?"
"It all begins with a strange coin on a sun-warmed sidewalk. Jane finds the coin, and because she and her siblings are having the worst, most dreadfully boring summer ever, she idly wishes something exciting would happen. And something does: Her wish is granted. Or not quite. Only half of her wish comes true. It turns out the coin grants wishes—but only by half, so that you must wish for twice as much as you want. Wishing for two times some things is a cinch, but other doubled wishes only cause twice as much trouble."
The Field Guide (The Spiderwick Chronicles Book 1) by Tony DiTerlizzi
"After finding a mysterious, handmade field guide in the attic of the ramshackle old mansion they've just moved into, Jared, Simon, and, Mallory discover that there's a magical and dangerous world existing parallel to our own—the world of faerie. The children want to share their story, but the faeries will do everything possible to stop them."
"The Borrowers are tiny people who live underneath the kitchen floor of an old English country manor. All their minuscule home furnishings are 'borrowed' from the 'human beans' who tromp around loudly above them. All is well until one of them is spotted upstairs by a human boy! Can the Clocks stay nested safely in their beloved hidden home, or will they be forced to flee?"
The Last of the Really Great Whangdoodles by Julie Andrews Edwards
"The Whangdoodle was once the wisest, the kindest, and the most extraordinary creature in the world. Then he disappeared and created a wonderful land for himself and all the other remarkable animals. It was an almost perfect place where the last of the really great Whangdoodles could rule his kingdom apart from and forgotten by people. But not completely forgotten. Professor Savant believed in the Whangdoodle. And when he told the three Potter children of his search for the spectacular creature, Lindy, Tom, and Ben were eager to reach Whangdoodleland. What will they discover when they get there?"
Tuck Everlasting by Natalie Babbit
"Doomed to (or blessed with) eternal life after drinking from a magic spring, the Tuck family wanders about trying to live as inconspicuously and comfortably as they can. When ten-year-old Winnie Foster stumbles on their secret, the Tucks take her home and explain why living forever at one age is less a blessing that it might seem. Complications arise when Winnie is followed by a stranger who wants to market the spring water for a fortune."
"From the bestselling author of Charlie and the Chocolate Factory and The BFG (also low fantasy books_ comes the story of girl with extraordinary abilities. Matilda is a sweet, exceptional young girl, but her parents think she's just a nuisance. She expects school to be different but there she has to face Miss Trunchbull, a kid-hating terror of a headmistress. When Matilda is attacked by the Trunchbull she suddenly discovers she has a remarkable power with which to fight back. It'll take a superhuman genius to give Miss Trunchbull what she deserves and Matilda may be just the one to do it!"
I hope this post gives you a quick look into the world of low fantasy books: the real world with magical elements. It is such a fun genre for kids to read as well for parents to read aloud. Thanks for stopping by!