Keep reading for the best fantasy books for 5th grade!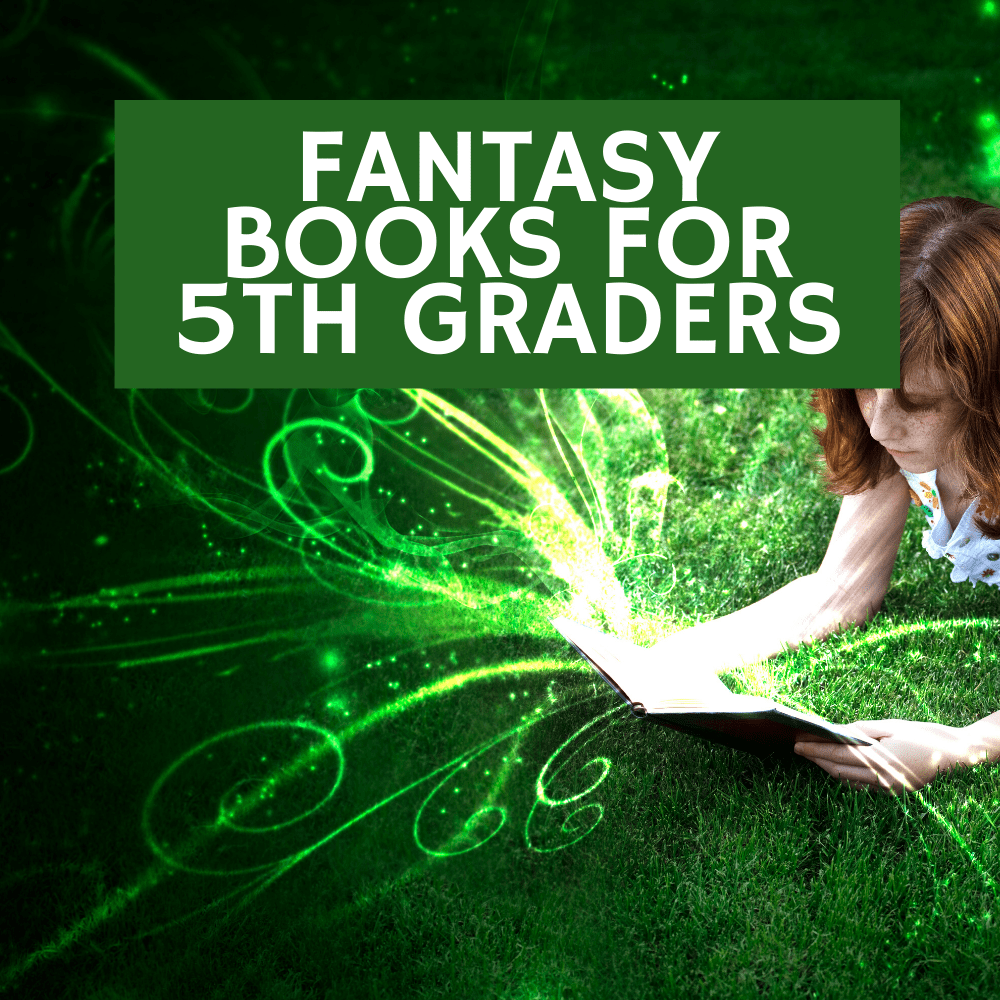 Masterclass defines fantasy fiction as: "a genre of literature that features magical and supernatural elements that do not exist in the real world. A juxtaposition of a real-world setting with fantastical elements, it is speculative in nature and not tied to reality or scientific fact."
I don't remember the first fantasy fiction book I read, but one of my first memories of chapter books did happen in fifth grade when we read "Where the Red Fern Grows" and entire generation was scarred for life. Only partially kidding 😉
Fifth grade is a wonderful time in a child's life when they are still young enough to be a kid but interesting and fun to adults. It's really my favorite age. And this post focuses specifically on fantasy books for 5th graders. Let's get started!
Looking for books for 4th or 6th graders?!
This post contains affiliate links. If you click and make a purchase, we earn a commission at NO extra cost to you. For more information, please read my full disclosure policy.
Descriptions come from Amazon; some are edited for length
Fantasy Books for 5th Grade
High Fantasy Series
High fantasy are stories set in a totally fictional place and time. If it takes place in a time and place you have never heard of, it's high fantasy. High fantasy is so popular many of them are series of books, including the first two books on our list.
How to Train your Dragon by Cressida Cowell
"On the Viking island of Berk, a boy named Hiccup must follow an ancient tradition: to capture and tame a dragon, or face exile. When he happens upon a small creature (whom he names Toothless), the two strike up an unlikely bond and become the heroes his clan never expected. Inspiring 11 sequels, How to Train Your Dragon is a perfect blend of adventure, friendship, and silly humor."
Tuesdays at the Castle by Jessica Day George
"Tuesdays at Castle Glower are Princess Celie's favorite days. That's because on Tuesdays the Castle adds a new room, a turret, or sometimes even an entire wing. No one ever knows what the Castle will do next, and no one (other than Celie, that is) takes the time to map out the new additions. But when King and Queen Glower are ambushed and their fate is unknown, it's up to Celie, with her secret knowledge of the castle's never-ending twists and turns, to protect their home and save their kingdom."
If you ned more high fantasy books and book series, check out the posts below!
Low Fantasy
Low fantasy, or magical realism, are stories sent in the real world but it has magical elements. Harry Potter is the best example of this! Along with these two other fantastic books.
"Matilda is a sweet, exceptional young girl, but her parents think she's just a nuisance. She expects school to be different but there she has to face Miss Trunchbull, a kid-hating terror of a headmistress. When Matilda is attacked by the Trunchbull she suddenly discovers she has a remarkable power with which to fight back. It'll take a superhuman genius to give Miss Trunchbull what she deserves and Matilda may be just the one to do it!"
"The Borrowers, the Clock family: Homily, Pod, and their fourteen-year-old daughter, Arrietty, are tiny people who live underneath the kitchen floor of an old English country manor. All their minuscule home furnishings, from postage stamp paintings to champagne cork chairs, are 'borrowed' from the 'human beans' who tromp around loudly above them. All is well until Pod is spotted upstairs by a human boy! Can the Clocks stay nested safely in their beloved hidden home, or will they be forced to flee?"
Check out more low fantasy books at the link below.
Portal Fantasy
Portal fantasy includes some sort of door between our normal world and the magical world. It can be a physical door or a wardrobe or a tornado that takes you to the magical world!
The Phantom Tollbooth by Norton Juster
"For Milo, everything's a bore. When a tollbooth mysteriously appears in his room, he drives through only because he's got nothing better to do. But on the other side, things seem different. Milo visits the Island of Conclusions (you get there by jumping), learns about time from a ticking watchdog named Tock, and even embarks on a quest to rescue Rhyme and Reason. Somewhere along the way, Milo realizes something astonishing. Life is far from dull. In fact, it's exciting beyond his wildest dreams!"
The Wonderful Wizard of Oz by L. Frank Baum
"The Wonderful Wizard of Oz is an American children's novel originally published in 1900. The story chronicles the adventures of a young farm girl named Dorothy in the magical Land of Oz, after she and her pet dog Toto are swept away from their Kansas home by a tornado. The book is one of the best-known stories in American literature."
Click below for more portal fantasy books!
Fairy Tales, Folktales, and Myths
Some of the first stories ever written were fantasy stories that told morals or how life on earth came to be. There are so many retellings and adaptations of the classic tales. Including the next two book suggestions!
The Lightning Thief by Rick Riordan
"Percy Jackson is a good kid, but he can't seem to focus on his schoolwork or control his temper. And lately, things are only getting worse. Percy could have sworn his pre-algebra teacher turned into a monster and tried to kill him. When Percy's mom finds out, she knows it's time that he knew the truth about where he came from, and that he go to the one place he'll be safe. She sends Percy to Camp Half Blood, a summer camp for demigods, where he learns that the father he never knew is Poseidon, God of the Sea. Soon a mystery unfolds and together with his friends, Percy sets out on a quest across the United States to reach the gates of the Underworld and prevent a catastrophic war between the gods."
Where the Mountain Meets the Moon by Grace Lin
"In the valley of Fruitless mountain, a young girl named Minli lives in a ramshackle hut with her parents. In the evenings, her father regales her with old folktales of the Jade Dragon and the Old Man on the Moon, who knows the answers to all of life's questions. Inspired by these stories, Minli sets off on an extraordinary journey to find the Old Man on the Moon to ask him how she can change her family's fortune. She encounters an assorted cast of characters and magical creatures along the way, including a dragon who accompanies her on her quest for the ultimate answer."
Click below for more fairy tales, folktales, and myths.
Science Fiction
Believe it or not, science fiction is a form of fantasy fiction. Dystopian fiction is a subgenre of science fiction. Still with me? Dystopian fiction deals with the end of the world or collapse of society. Think of them as depressing adventure books 😉
The Graveyard Book by Neil Gaiman
"Nobody Owens, known as Bod, is a normal boy. He would be completely 'normal' if he didn't live in a graveyard, being raised by ghosts, with a guardian who belongs to neither the world of the living nor the dead. There are adventures in the graveyard for a boy. But if Bod leaves the graveyard, he will be in danger from the man Jack, who has already killed Bod's family."
Click below for more science fiction books!
Xenofiction
Xenofiction is a story that is told from the point of veiw of an animal or other non-human creature. Some of the best of children's literature is xenofiction. Like the last book suggestion on my list!
Mrs. Frisby and the Rats of NIMH by Robert C. O'Brien
"Mrs. Frisby, a widowed mouse with four small children, is faced with a terrible problem. She must move her family to their summer quarters immediately, or face almost certain death. But her youngest son, Timothy, lies ill with pneumonia and must not be moved. Fortunately, she encounters the rats of NIMH, an extraordinary breed of highly intelligent creatures, who come up with a brilliant solution to her dilemma. And Mrs. Frisby in turn renders them a great service."
And there you have it! 10 fantasy book suggestions for 5th graders! I hope you found a wonderful book to read.
Happy reading!