Keep reading for 10 must-read fantasy books for 4th graders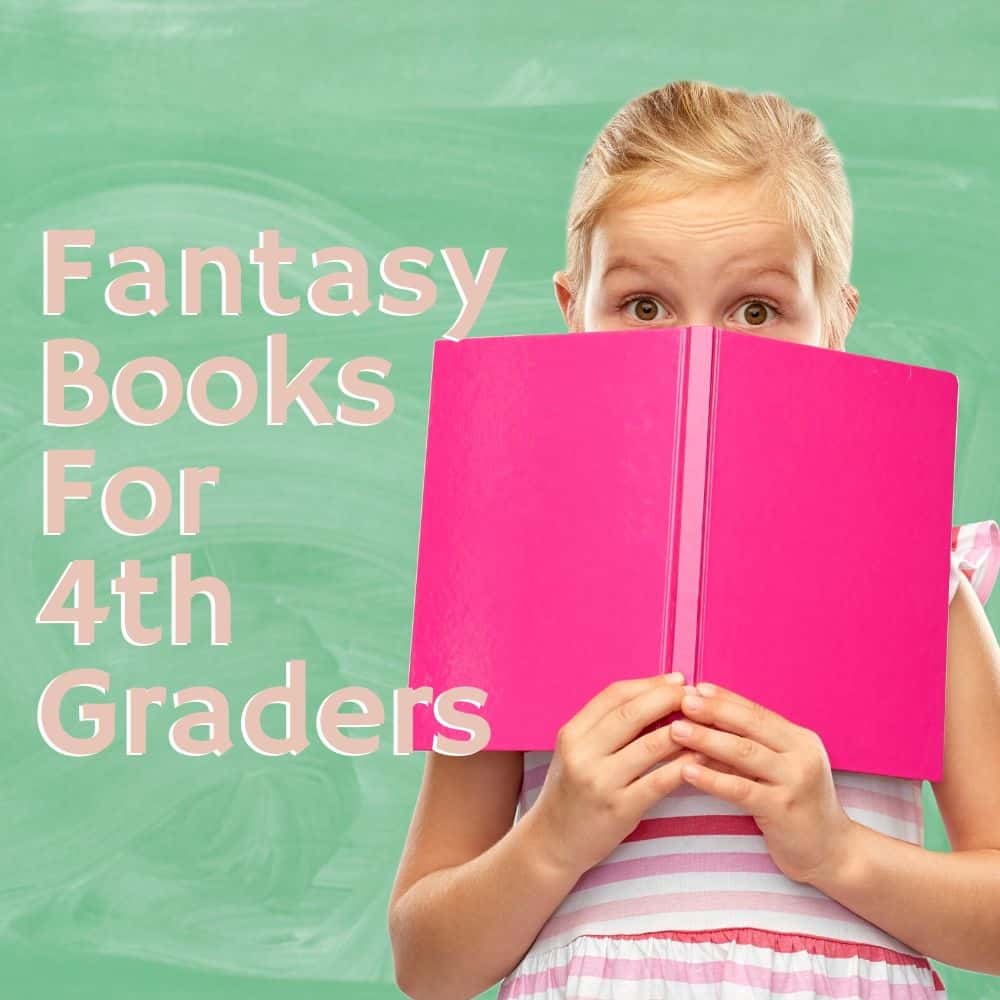 The thing I love most about fantasy books is how many kinds of fantasy books are out there: high fantasy, portal fantasy, xenofiction, epic fantasy. The list goes on and on!
So even if you think you don't like fantasy, there is probably a subgenre of fantasy that you WILL enjoy. Today I will walk you through some of the fantasy genres and provide some fantasy book recommendations for kids in 4th grade or around 10 years old.
Looking for books for older readers?!
This post contains affiliate links. If you click and make a purchase, we earn a commission at NO extra cost to you. For more information, please read my full disclosure policy.
Descriptions come from Amazon; some are edited for length
Fantasy Books for 4th Grade
High Fantasy
High fantasy is what one usually thinks of when thinking of fantasy books. High fantasy takes place in a totally fictional world from our own. It is a made-up world containing fictional creatures, and at times, fictional languages.
The Girl Who Drank the Moon by Kelly Barnhill
"Every year, the people of the Protectorate leave a baby as an offering to the witch who lives in the forest. They hope this sacrifice will keep her from terrorizing their town. But the witch in the Forest, Xan, is kind. Xan rescues the children and delivers them to welcoming families on the other side of the forest, nourishing the babies with starlight on the journey. One year, Xan accidentally feeds a baby moonlight instead of starlight, filling the ordinary child with extraordinary magic. Xan decides she must raise this girl, whom she calls Luna, as her own. As Luna's thirteenth birthday approaches, her magic begins to emerge, with dangerous consequences."
The Frog Princess by E.D. Baker
"Princess Emeralda a.k.a. Emma isn't exactly an ideal princess. Her laugh is more like a donkey's bray than tinkling bells, she trips over her own feet and she does not like Prince Jorge, whom her mother hopes she will marry. But if Emma ever thought to escape her troubles, she never expected it to happen by turning into a frog! When convinced to kiss a frog so he might return to being a prince, somehow the spell is reversed and Emma turns into a frog herself! Thus begins their adventure-a quest to return to human form."
Interested in more high fantasy books, click the link below!
Low Fantasy
On the opposite side of the spectrum is low fantasy. Low fantasy takes place in our earthly time and space BUT magical or supernatural forces are present. It can sometimes be called magical realism which is the real world with magical elements.
James and the Giant Peach by Roald Dahl
"Were the green, slowing crystals the little man gave James really magic? Maybe, but it was magic lost to James when he tripped and spilled the crystals by the old peach tree. Now it looked like he'd never escape his hideous ants. But what was happened to that peach at the tip of the tree? It was growing bigger and bigger . . . it was as big as a house? And when James crawled inside, he met a houseful of friends: giant Grasshopper, Ladybug, Centipede, and more. Then with one snip of the stem, the peach was rolling away – and marvelous things started happening."
The Indian in the Cupboard by Lynne Reid Banks
"It's Omri's birthday, but all he gets from his best friend, Patrick, is a little plastic Indian toy. Trying to hide his disappointment, Omri puts the Indian in a metal cupboard and locks the door with a mysterious skeleton key that once belonged to his great-grandmother. Little does Omri know that by turning the key, he will transform his ordinary plastic Indian into a real live man from an altogether different time and place! Omri and the tiny warrior called Little Bear could hardly be more different, yet soon the two forge a very special friendship. Will Omri be able to keep Little Bear without anyone finding out and taking his precious Indian from him?"
Check out more low fantasy books at the link below!
Portal Fantasy
Portal fantasy is one of my favorites! It's literally a portal to anther world or dimension. They are probably some of your favorite books that you never knew had a specific subgenre.
Alice's Adventures in Wonderland by Lewis Carroll
"After a tumble down the rabbit hole, Alice finds herself far away from home in the absurd world of Wonderland. As Alice explores, she encounters a cast of strange characters and fanciful beasts: the White Rabbit, March Hare, Mad Hatter, and a host of other extraordinary personalities."
Check out the post below for more portal fantasy books.
Fairy Tales, Folktales, and Myths
Fairy tales, folktales, and mythology are another subgenre of fantasy. The classic tales or retellings of good vs. evil and stories that tell the origin of the world are just some examples.
The Little Prince by Antoine de Saint-Exupéry
"With a timeless charm it tells the story of a little boy who leaves the safety of his own tiny planet to travel the universe, learning the vagaries of adult behavior through a series of extraordinary encounters. His personal odyssey culminates in a voyage to Earth and further adventures."
The Whipping Boy by Sid Fleischman
"A Prince and a Pauper. Prince Brat and his whipping boy inadvertently trade places after becoming involved with dangerous outlaws. The two boys have nothing in common and even less reason to like each other. But when they find themselves taken hostage after running away, they are left with no choice but to trust each other."
Click below for more fairy tales, folktales, and myths!
Science Fiction
You might think of science fiction as it's own genre, but it's actually a subgenre of fantasy. Science fiction stories are based on "imagined future scientific or technological advances frequently portraying space or time travel and life on other planets."
"Can a robot survive in the wilderness? When robot Roz opens her eyes for the first time, she discovers that she is all alone on a remote, wild island. She has no idea how she got there or what her purpose is, but she knows she needs to survive. After battling a violent storm and escaping a vicious bear attack, she realizes that her only hope for survival is to adapt to her surroundings and learn from the island's unwelcoming animal inhabitants. As Roz slowly befriends the animals, the island starts to feel like home until, one day the robot's mysterious past comes back to haunt her."
Interested in more sci-fi books? Click the image below.
Xenofiction
Xenofiction is another subgenre of fantasy fiction. What on earth is xenofiction do you ask?! It's a story told from an animal's point of view. That is your Surly Housewife trivia of the day!
"Mr. Ocax the owl has promised to protect the mice occupying an abandoned farmhouse as long as they ask permission before 'moving about.' Poppy, a timid deer mouse, is a loyal, obedient subject until she sees Mr. Ocax devour her mouse fiancé. Poppy embarks on a dangerous and eye-opening quest, which ends with her one-on-on battle with Ocax."
Fantasy Book Series
One of the things we love most about fantasy books, is the stories they tell. And often the stories can't be contained to just one book. Enter, the book series. Some of the most well known book series are actually fantasy books!
The Lion, The Witch, and the Wardrobe by C.S. Lewis
"Four adventurous siblings, Peter, Susan, Edmund, and Lucy Pevensie, step through a wardrobe door and into the land of Narnia, a land frozen in eternal winter and enslaved by the power of the White Witch. But when almost all hope is lost, the return of the Great Lion, Aslan, signals a great change . . . and a great sacrifice."
Click below for more fantasy book series!
There you have it! 10 fantasy books perfect for 4th graders. I hope you enjoyed the small mini lesson on fantasy fiction subgenres.
Happy reading!