Keep reading for the best list of children's books about New Jersey!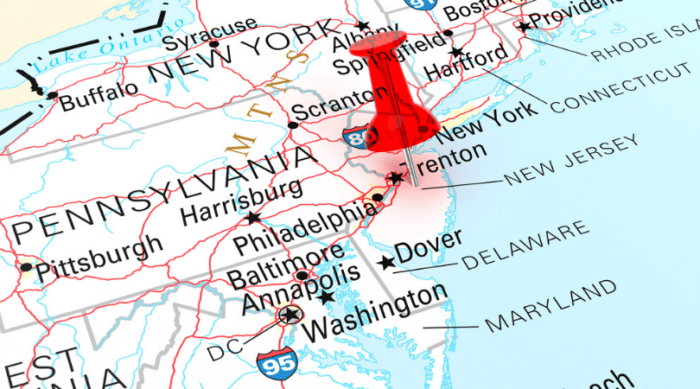 Ahhhhh, New Jersey. Home to the greatest show ever on television, The Sopranos. My husband likes to argue with me and say that another "New" state is home to tv greatest show, New Mexico and Breaking Bad. We don't argue about much, but this will be a battle will have until our dying day.
Television battles aside, the third state in the Union is up next for a unit study book list.
ICYMI, click HERE for all the other state book lists!
If you are starting to study New Jersey, I have a list of 20 books of various reading levels to get you started. From Thomas Edison to the Battle at Monmouth this list has something for all interests and age ranges that homeschooling families may have.
Studying and learning about the fifty states is more than memorizing facts about the state bird and square milage. So the books I include in my unit studies are, as Charlotte Mason coined, living books. Living books are books that make the subject you are studying come alive and are written by people who love the subject. Some books are about a family living in New Jersey, while others are about the state's history.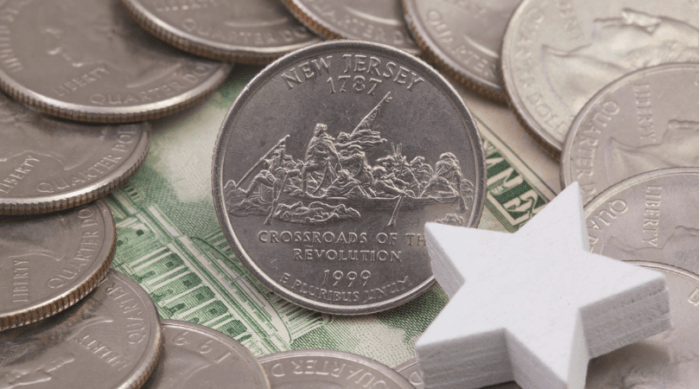 New Jersey History And Facts
New Jersey is nicknamed the Garden State.
New Jersey's motto is liberty and prosperity.
New Jersey became a state on December 18, 1787. It was the third state to enter the Union.
New Jersey was named for the island of Jersey in the English Channel.
Grover Cleveland, the 23rd President of the United States, was born in Caldwell, New Jersey on March 18, 1837.
Trenton is the capital city of New Jersey.
This post contains affiliate links. If you click and make a purchase, we earn a commission at NO extra cost to you. For more information, please read my full disclosure policy.
Descriptions come from Amazon; some are edited for length
Living Books about New Jersey
Picture Books about New Jersey History
The Ballot Box Battle by Emily Arnold McCully
"Caldecott medalist Emily Arnold McCully delivers the inspiring story of a young girl named Cordelia whose relationship with her neighbor, the great suffragist Elizabeth Cady Stanton, inspires her to a remarkable act of courage."
Heroes of the Surf by Elisa Carbone
"In May of 1882, a large steamship ran aground off the coast of New Jersey. Elisa Carbone imagines what it was like for two boys on that ship: waking up in the middle of the night, waves crashing over the side, the storm too big to lower the lifeboats. And then the flashing of light from shore–the surfmen, true "heroes of the surf," come to rescue them. The award-winning author's meticulous research combined with Nancy Carpenter's spectacular illustrations make this thrilling adventure on the high seas one not to be missed!"
They Called her Molly Pitcher by Anne Rockwell
"Molly Pitcher epitomized the feisty, self-reliant spirit of the colonists who would soon win their battle for independence. When her husband joined General Washington's army, Molly Hays went with him. All through the winter at Valley Forge, Molly watched and listened. Then in July, in the battle at Monmouth, she would show how much she had learned."
Timeless Thomas: How Thomas Edison Changed Our Lives by Gene Barretta
"Edison is most famous for inventing the incandescent lightbulb, but at his landmark laboratories in Menlo Park & West Orange, New Jersey, he also developed many other staples of modern technology. Despite many failures, Edison persevered. And good for that, because it would be very difficult to go through a day without using one of his life-changing inventions. In this enlightening book, Gene Barretta enters the laboratories of one of America's most important inventors."
Picture Books about New Jersey
G is for Garden State by Eileen Cameron
"G is for Garden State explores the places, people, and landmarks that make New Jersey a fascinating place to live in and to visit again and again. Readers will be delighted to discover the many wonders of the Garden State, from her famous sons and daughters to her beautiful sights, and her unique institutions."
This series of books called Discover America State By State are some of my favorites for introducing a state to kids. Each letter states a fact or a thing about that state. For example, for New Jersey letter A is for Arrowhead and the letter B is for Boardwalk and so on. Each letter comes with a four line rhyme about that respective letter's fact or subject. What I love most is on the side of the page it gives more in-depth description about each subject. It's a great jumping off point for what sparks an interest in your child!
The Legend of the Cape May Diamond by Trinka Hakes Noble
"Delving into the natural beauty of New Jersey's famous coastline, storyteller Trinka Hakes Noble has crafted a wondrous tale explaining the origin of the Cape May Diamond. For thousands of years, fragments of quartz rock have ridden the Delaware River. Polished and buffed as they tumble along, these rock particles dazzle like gemstones when tossed onto Cape May's sandy shore at the southernmost tip of New Jersey. Beloved by beachcombers, these "diamonds" are the daughters of the river, linking the state's past and present."
Kids Books Set In New Jersey
Brothers at Bat: The True Story of an Amazing All-Brother Baseball Team by Audrey Vernick
"The Acerra family had sixteen children, including twelve ball-playing boys. It was the 1930s, and many families had lots of kids. But only one had enough to field a baseball team . . . with three on the bench! The Acerras were the longest-playing all-brother team in baseball history. They loved the game, but more important, they cared for and supported each other and stayed together as a team. Nothing life threw their way could stop them."
Night of the Moonjellies by Mark Shasha
"Young Mark spends a busy, noisy day helping out at Gram's seaside hot dog stand. After the last customer is served and the grill is scrubbed to a silvery shine, Mark sails off with Gram for a promised surprise, and finds a nighttime sea full of shimmering moonjellies."
Aaron and Alexander by Don Brown
"The most famous duel in American history dramatized by leading nonfiction picture book illustrator, Don Brown. Aaron Burr and Alexander Hamilton were both fierce patriots during the Revolutionary War, but the politics of the young United States of America put them in constant conflict. Their extraordinary story of bitter fighting and resentment culminates in their famous duel. For young patriots who may not yet know the shocking and tragic story, Aaron and Alexander captures the spirit of these two great men who so valiantly served their country and ultimately allowed their pride and ego to cause their demise."
The Legend of the Jersey Devil by Trinka Hakes Noble
"The Pine Barrens region in New Jersey has long been a place of mystery, with its dark pine groves, black swamps, and dank bogs, oftentimes shrouded in mist and fog. Reputed to be haunted by spirits, it's an unsettling place to be sure. But of all the mysterious happenings and sights to be found in the Pine Barrens, there is none so intriguing as the Jersey Devil. Since its first reported sighting in 1735, local lore has it that a 'devil-like' creature with the head of a horse, the wings of a bat, and the hooves of a goat has menaced townspeople, frightened livestock, and caused all manner of trouble over the years. Is the Jersey Devil real? Award-winning author Trinka Hakes Noble weaves a spellbinding tale about the origins of the legend of the Jersey Devil. Atmospheric illustrations by artist Gerald Kelley bring the tale to spooky life."
Chapter Books Set In New Jersey
"Farley Drexel Hatcher, otherwise known as Fudge, thinks he's a superhero, but his older brother, Peter, knows Fudge is nothing but a big pain! Dealing with Fudge is hard enough, but now Peter's parents have decided to move to New Jersey for an entire year! Even worse, Peter's mom is going to have a new baby. And if this baby is anything like Fudge—help! How will Peter ever survive?"
The Boardwalk Mystery by Gertrude Chandler Warner
"The Aldens are visiting the New Jersey shore and enjoying the beach and the boardwalk attractions. A family friend has just bought an amusement pier, and the children are excited to help out. But there are rumors that the rides aren't safe, and someone has stolen a zombie from the haunted house! Can the Boxcar Children find out what's behind all the trouble?"
The Book of One Hundred Truths by Julie Schumacher
"It's hard for Thea to write four truths a day in the notebook her mother gave her for the summer. Especially when her grandparents' house on the Jersey Shore is even more packed with family than usual, and her cousin Jocelyn wont leave her alone. Jocelyn just might be the world's neatest and nosiest seven-year-old, and she wants to know what's in Thea's notebook. Now Thea has to babysit in the afternoons, and all Jocelyn wants to do is spy on people. Neither of them expect to see Aunt Ellen and Aunt Celia at the boardwalk in the middle of the day, or for their aunts to lie and insist they were at work. Could it be Thea's not the only one in the family keeping secrets this summer?"
I Survived: The Shark Attacks of 1916 by Lauren Tarshis
"Chet Roscow is finally feeling at home in Elm Hills, New Jersey. He has a job with his uncle Jerry at the local diner, three great friends, and the perfect summertime destination: cool, refreshing Matawan Creek. But Chet's summer is interrupted by shocking news. A great white shark has been attacking swimmers along the Jersey shore, not far from Elm Hills. Everyone in town is talking about it. So when Chet sees something in the creek, he's sure it's his imagination. . . until he comes face-to-face with a bloodthirsty shark!"
Penny From Heaven by Jennifer L. Holm
"School's out for summer, and Penny and her cousin Frankie have big plans to eat lots of butter pecan ice cream, swim at the local pool, and cheer on their favorite baseball team—the Brooklyn Dodgers! But sometimes things don't go according to plan. Penny's mom doesn't want her to swim because she's afraid Penny will get polio. Frankie is constantly getting into trouble, and Penny feels caught between the two sides of her family. But even if the summer doesn't exactly start as planned . . . things can work out in the most unexpected ways!"
The Hoboken Chicken Emergency by Daniel Pinkwater
"When Arthur Bobowicz is sent out to bring home the family's Thanksgiving turkey, he returns instead with Henrietta: a 266 pound chicken with a mind of her own. Feathers fly when this colossal clucker descends upon Hoboken, New Jersey. Thus begins the hilarious hen-tastic tall tale that has kept readers in stitches since Henrietta first pecked her way onto the scene in 1977."
Henry Reed, Inc. by Keith Robertson
"Henry Reed has arrived in Grover's Corner and the town will never be the same. While spending the summer with his aunt and uncle, Henry comes up with a sure-fire money-making project: Henry Reed, Inc., Research. Henry's neighbor, Midge Glass, has an even more sure-fire hit: Reed and Glass, Inc. Now with Henry's ingenious mind and Midge's practical reasoning, Reed and Class Inc. turns into a huge success, while creating more bewildering and outrageous schemes than the townfolk could have imagined."
Young Adult Literature Set in New Jersey
Cheaper by the Dozen by Frank B. Gilbreth
"What do you get when you put twelve lively kids together with a father—a famous efficiency expert—who believes families can run like factories, and a mother who is his partner in everything except discipline? You get a hilarious tale of growing up that has made generations of kids and adults alike laugh along with the Gilbreths in Cheaper by the Dozen."
This book is for older readers but my kids and I really enjoyed it! This was the chapter book we read for our New Jersey unit study and it was filled with funny stories and new vocabulary. I did skip a couple of chapters that would have gone right over their heads, but I still highly recommend the book.
Are you There God? It's Me Margaret. by Judy Blume
"Margaret Simon, almost twelve, likes long hair, tuna fish, the smell of rain, and things that are pink. She's just moved from New York City to Farbook, New Jersey, and is anxious to fit in with her new friends—Nancy, Gretchen, and Janie. When they form a secret club to talk about private subjects like boys, bras, and getting their first periods, Margaret is happy to belong. But none of them can believe Margaret doesn't have religion, and that she isn't going to the Y or the Jewish Community Center. What they don't know is Margaret has her own very special relationship with God. She can talk to God about everything—family, friends, even Moose Freed, her secret crush."
"Jonathan may be only thirteen years old, but with the Revolutionary War unfolding around him, he's more certain than ever that he wants to be a part of it—to fight for independence alongside his brother and cousin to defeat the British. But Jonathan's father, himself wounded from battle, refuses to let his son join the front lines. When Jonathan hears the tavern bell toll, calling all soldiers to arms, he rushes to enlist without telling his dad. Gun in hand, Jonathan falls in with a militia and marches onward to the fighting ground. It feels like he's been waiting his whole life for this moment.But no amount of daydreaming could prepare Jonathan for what he encounters. In just twenty-four hours, his life will be forever changed—by his fellow soldiers, unsuspecting enemies, and the frightening and complicated realities of war."
Books Set in New Jersey (for Mom!)
I love a good book recommendation and I love the idea of reading through the 50 states with my kids. So on each of my book lists I include a fiction and non fiction book for that respective state.
Fiction Book Set in New Jersey
The Brief and Wondrous Life Of Oscar Wao by Junot Diaz
"Oscar is a sweet but disastrously overweight ghetto nerd who—from the New Jersey home he shares with his old world mother and rebellious sister—dreams of becoming the Dominican J.R.R. Tolkien and, most of all, finding love. But Oscar may never get what he wants. Blame the fukú—a curse that has haunted Oscar's family for generations, following them on their epic journey from Santo Domingo to the USA. Encapsulating Dominican-American history, The Brief Wondrous Life of Oscar Wao opens our eyes to an astonishing vision of the contemporary American experience and explores the endless human capacity to persevere—and risk it all—in the name of love."
The Pine Barrens by John McPhee
"Most people think of New Jersey as a suburban-industrial corridor that runs between New York and Philadelphia. Yet in the low center of the state is a near wilderness, larger than most national parks, which has been known since the seventeenth century as the Pine Barrens. Developments of one kind or another have gradually moved in, so that now the central and integral forest is reduced to about a thousand square miles. Although New Jersey has the heaviest population density of any state, huge segments of the Pine Barrens remain uninhabited. The few people who dwell in the region, the "Pineys," are little known and often misunderstood. Here McPhee uses his uncanny skills as a journalist to explore the history of the region and describe the people―and their distinctive folklore―who call it home."
And there you have it! 20 books to begin a unit study about New Jersey. From the oceans to the Pine Barrens. From baseball to shark attacks, young readers have a lot they can learn about the garden state!
Don't forget to check out the book lists from the other states!