Keep reading for 20 of the best books about Missouri!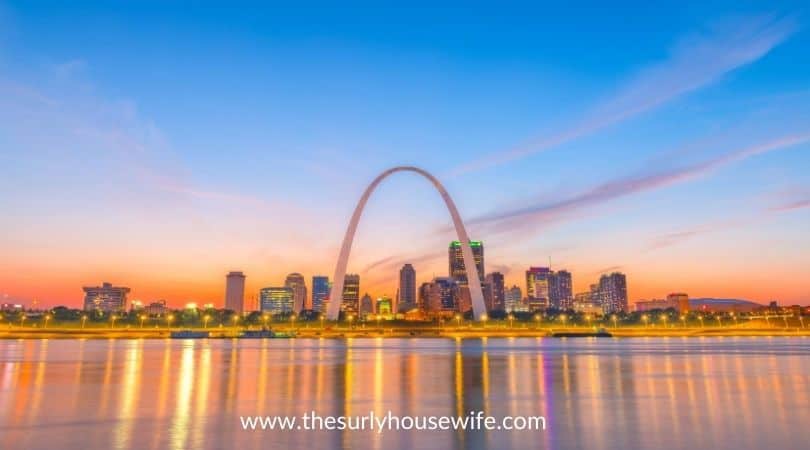 As much as I love books, I love tv just as much. And I love tv shows where the setting becomes synonymous and become part of the show themselves: i.e. New Mexico and Breaking Bad, New Jersey and The Sopranos, Georgia and The Walking Dead. In 2017 another state/tv show combo made the list: Missouri and Ozark.
Now watching any of these shows won't teach you specific trivia about the state, BUT you feel like you know more about the state because the show made the setting come alive and you felt like you were there. That feeling is what I love so much about using a literature-based curriculum and living books.
Charlotte Mason coined the term living books which are books that make the subject you are studying come alive and are written by people who love the subject. These are the types of books I like to include in all my unit studies.
The books on this list are all about the state of Missouri! They include picture books and chapter books set in Missouri as well as books about Missouri historical figures and books about Missouri history. Let's get started!
ICYMI, click HERE for all the other state book lists!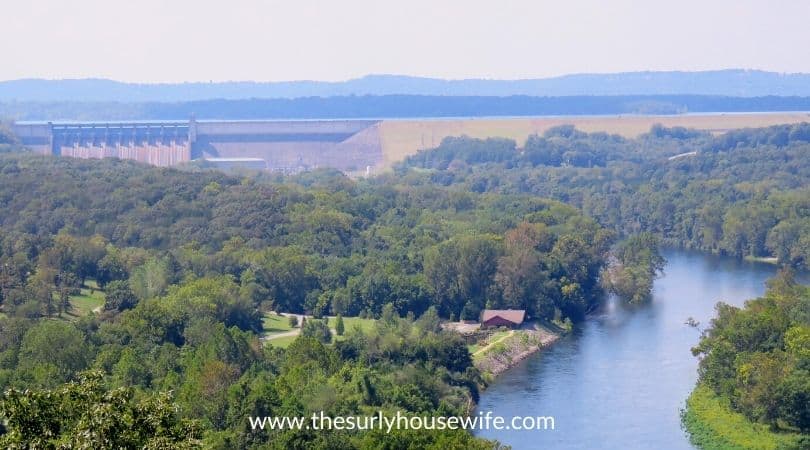 Missouri History And Facts
Missouri is nicknamed the Show Me State.
Motto – Let the welfare of the people be the supreme law.
Missouri entered the Union on August 10, 1821. It was the 24th state.
Missouri is named after the Missouri tribe meaning "people with big canoes."
Harry Truman, the 33rd President of the United states was born in Lamar, Missouri on May 8, 1884.
Jefferson City is the capital of Missouri.
This post contains affiliate links. If you click and make a purchase, we earn a commission at NO extra cost to you. For more information, please read my full disclosure policy.
Descriptions come from Amazon; some are edited for length
Living Books About Missouri
Children's Books About Missouri
S is for Show Me: A Missouri Alphabet by Judy Young
This series of books called Discover America State By State are some of my favorites for introducing a state to kids. Each letter states a fact, place, or resident from that state. For example, for Missouri letter A is for Arch and the letter B is for Big Spring and so on. Each letter comes with a four line rhyme about that respective letter's fact or subject. What I love most is on the side of the page it gives more in-depth description about each subject. It's a great jumping off point for what sparks an interest in your child!
Show Me the Number: A Missouri Number Book by Judy Young
"From Judy and Ross Young (the husband-and-wife author-illustrator team behind S is for Show Me: A Missouri Alphabet) comes another rousing state tribute in Show Me the Number: A Missouri Number Book. From cave-dwelling prehistoric animals to 'King of Ragtime' Scott Joplin to the sunken steamboat Arabia, Missouri's wonders are revealed. Readers of all ages will come to appreciate and understand why Missouri is truly the 'Show Me' state."
To the Top!: A Gateway Arch Story by Amanda E. Doyle
"Tag along with Ella, her impatient little brother Jake, and their Grandpa as they explore the outside, inside, and very, very top of the Gateway Arch, on the Mississippi riverfront in St. Louis, Missouri. While Jake just wants to get to the top as fast as possible, Ella is intent on impressing Grandpa with everything she has learned about the landmark and its history. Together, the family discovers fascinating artifacts (a bison, a great grizzly bear, a tall statue of Thomas Jefferson) while Grandpa spins tales of his own memories, as a young man, of watching the Arch being built. More than just an architectural feat, the Arch embodies the history, culture, and spirit of westward expansion, exploration, and individual dignity."
Books About Missouri History
Missouri History Picture Books
Steamboat School by Deborah Hopkinson
"When James first started school, his sister practically had to drag him there. The classroom was dark and dreary, and James knew everything outside was more exciting than anything he'd find inside. But his teacher taught him otherwise. 'We make our own light here,' Reverend Meachum told James. Until their school was shut down by a new law forbidding African American education in Missouri. Determined to continue teaching his students, Reverend John Berry Meachum decided to build a new school. A floating school in the Mississippi River, just outside the boundary of the unjust law."
The Secret Garden of George Washington Carver by Gene Barretta
"The inspirational story of George Washington Carver and his childhood secret garden is brought to life in this picture book biography. When George Washington Carver was just a young child, he had a secret: a garden of his own. Here, he rolled dirt between his fingers to check if plants needed more rain or sun. He protected roots through harsh winters, so plants could be reborn in the spring. He trimmed flowers, spread soil, studied life cycles. And it was in this very place that George's love of nature sprouted into something so much more—his future."
They're Off!: The Story of the Pony Express by Cheryl Harness
"In 1860, with North and South about to be divided by war, East and West were united through an extraordinary venture: the Pony Express. Over the course of ten days in April, eighty riders and five hundred horses delivered mail between California and Missouri, a mission that took three weeks by stagecoach. Although it existed for only a year and a half, the Pony Express remains a legendary chapter in American history and a symbol of the bold, adventurous character of the Old West."
That Is My Dream!: A picture book of Langston Hughes's "Dream Variation" by Langston Hughes
"'Dream Variation,' one of Langston Hughes's (a Missouri native) most celebrated poems, about the dream of a world free of discrimination and racial prejudice, is now a picture book stunningly illustrated by Daniel Miyares, the acclaimed creator of Float. Follow one African-American boy through the course of his day as the harsh reality of segregation and racial prejudice comes into vivid focus. But the boy dreams of a different life. One full of freedom, hope, and wild possibility, where he can fling his arms wide in the face of the sun."
How We Crossed the West: The Adventures of Lewis and Clark by Rosalyn Schanzer
"The book begins with Lewis's letter to Clark proposing a 'trip to explore those western rivers which may run all the way across North America to the western ocean' and Clark's reply 'to cheerfully join you in this rewarding endeavor.' From there, every stage of the journey is illustrated: from the building of the ships the crew would use, the choosing of the crew itself, and the farewell from St. Louis on May 14, 1804, to meetings with friendly and unfriendly Indian tribes, discovering a wealth of previously unknown plants and animals, bouts with fleas and fever, a miserable climb through the Bitterroot Mountains, and finally the much-longed-for view of the Pacific Ocean. The text is taken directly from the journals of Lewis and Clark, which makes it excellent primary source material. In addition, every page is filled with illustrations in a charming folk-art style that brings the scenes to life."
River Boy: The Story of Mark Twain by William Anderson 
"Along the banks of the great Mississippi River, a young boy named Samuel Clemens raced to the docks whenever he heard that familiar cry. He dreamed of exploring the world beyond his river town. Little did he know that one day he would become the famous writer Mark Twain, and write about his boyhood adventures along the bustling river waterfront in the classic stories The Adventures of Huckleberry Finn and The Adventures of Tom Sawyer. Historian William Anderson tells the colorful story of Sam's life as he grows from a mischievous boy into the enterprising author."
Chapter Book about Missouri History
Meet Me in St. Louis: A Trip to the 1904 World's Fair by Robert Jackson
"For seven months nearly twenty million visitors from around the globe flooded the fairgrounds of Forest Park. Many explored the twelve mammoth palaces (made of plaster and horsehair!), which showcased amazing exhibits. Others enjoyed watching the first Olympic Games in the United States, keeping cool all summer with a new treat that became an instant hit: the ice-cream cone. And everyone loved viewing all 1275 acres of fairgrounds from atop the 265-foot Ferris wheel. Robert Jackson describes the planning, building, events, and memory of a fair that enthralled millions with its magic. In fascinating detail, he captures the energy and imagination of turn-of-the-century America, when fairgoers begged friends and family to meet them in St. Louis."
I Survived: The Joplin Tornado, 2011 by Lauren Tarshis
"A destructive force is about to hit the city of Joplin… Eleven-year-old Dexter has always wanted to see a tornado. So when he gets the incredible opportunity to go storm chasing with the famous Dr. Norman Rays, he has to say yes! Dr. Rays is the host of Tornado Mysteries, the show that Dex and his older brother, Jeremy, watched every night until Jeremy joined the U.S. Navy SEALs and left Joplin. Dex certainly knows how deadly tornadoes can be, but this one isn't heading toward Joplin, and wouldn't it be great to have a brave and exciting story of his own to tell Jeremy when he comes home? But when the tornado shifts direction, Dexter's bravery is about to get seriously tested."
Chapter Books Set In Missouri
"After her brother, sister, and father die in a plane crash, Daralynn Oakland receives 237 dolls from well-wishers, resulting in her nickname: Dolly. But dolls are little comfort to a twelve-year-old girl whose world is rocked by the dramatic changes in her life, including her angry, grieving mother's new job as a hairstylist at the local funeral home. Dolly gets a job, too, where she accidentally invents a fashionable new haircut. But her real work begins when a crematorium comes to town, and someone has to save a dying business, solve a burning mystery, and resuscitate the broken hearts in Digginsville, Missouri, population 402."
The Actual & Truthful Adventures of Becky Thatcher by Jessica Lawson
"Tom Sawyer's and Huckleberry Finn's adventures are legendary, but what about the story you haven't heard? In 1860, eleven-year-old Becky Thatcher is the new girl in town, determined to have adventures like she promised her brother Jon before he died. With her Mama frozen in grief and her Daddy busy as town judge, Becky spends much of her time on her own, getting into mischief. Before long, she joins the boys at school in a bet to steal from the Widow Douglas, and Becky convinces her new best friend, Amy Lawrence, to join her. But the theft doesn't go as planned, and Widow Douglas ends up being unfairly accused of grave robbing as a result. So Becky concocts a plan to clear the Widow's name. If she pulls it off, she might just get her Mama to notice her again, as well as fulfill her promise to Jon in a most unexpected way. That is, if that tattletale Tom Sawyer will quit following her around."
The Year We Sailed the Sun by Theresa Nelson
"Orphaned Julia never expected to be sent away, especially not to the ill-named orphanage House of Mercy. But adventure awaits her in this historical journey, based on a true story. Spirited and strong, Julia faces a cruel life at the House of Mercy, blistering cold winters, and countless disappointments. But not even hopeful Julia can imagine what awaits her in Montana and with the help of a miracle or two, she sets the sun a-sailing."
A Friendship for Today by Pat McKissack
"The year is 1954, the place is Missouri, and twelve-year-old Rosemary Patterson is about to make history. She is one of the first African American students to enter the white school in her town. Headstrong, smart Rosemary welcomes the challenge, but starting this new school gets more daunting when her best friend is hospitalized for polio. Suddenly, Rosemary must face all the stares and whispers alone. But when the girl who has shown her the most cruelty becomes an unlikely confidante, Rosemary learns important truths about the power of friendship to overcome prejudice."
Whistle in the Dark by Susan Hill Long
"Clem wants a dog for his thirteenth birthday, but what he gets is a miner's cap. It is the 1920's in Leadanna, Missouri, and Clem must become a man, leaving school and joining Pap in the lead mines. Meanwhile, Lindy, whose face bears a scar from an accident that left her motherless, is forced to help her abusive father sell moonshine. As Clem searches for another way to support his family, the two become friends. Then disaster strikes: a death, a mining accident, and then a tornado. In the aftermath, Lindy takes advantage of her chance to flee Leadanna, and Clem is torn between following her and staying behind to help his family."
The Seven Wonders of Sassafras Springs by Betty Birney
"Life in Sassafras Springs has always been predictable, boring even, but one afternoon that changes when Eben McAllister's Pa challenges him to find Seven Wonders in Sassafras that rival the real Seven Wonders of the World. The reward? An adventure that Eben's been craving, a trip to Colorado. Eben doesn't think he'll have any luck. He can't think of one single thing that could be considered wondrous in Sassafras, but he's willing to try. Little does he know that the Wonders he'll discover among his neighbors, friends, relatives, and family will give him the adventure of a lifetime…without ever leaving his home."
Little Town in the Ozarks by Roger Macbride
"Little Town In The Ozarks continues the story of Rose, Laura Ingalls Wilder's daughter, as hard times on the farm force Rose and her family to move to the town of Mansfield. Life in town is so different from living on Rocky Ridge Farm that Rose wonders if she will ever learn to like the hustle and bustle of town life."
YA Books Set in Missouri
The Adventures of Tom Sawyer by Mark Twain
"An adventure story for children, The Adventures of Tom Sawyer is a fun-filled book that shows life along the Mississippi River in the 1840s. Written by Mark Twain, the book shows masterfully-done satire, childhood, and the importance of loyalty and courage- no matter the cost."
The Boneshaker by Kate Milford
"Thirteen-year-old Natalie Minks loves machines, particularly automata—self-operating mechanical devices, usually powered by clockwork. When Jake Limberleg and his traveling medicine show arrive in her small Missouri town with a mysterious vehicle under a tarp and an uncanny ability to make Natalie's half-built automaton move, she feels in her gut that something about this caravan of healers is a bit off. Her uneasiness leads her to investigate the intricate maze of the medicine show, where she discovers a horrible truth and realizes that only she has the power to set things right."
Books About Missouri (Reads for Mom!)
I love to read, and I love a good theme or challenge for a reading list. So my final two books on this book list are one adult fiction and one adult non-fiction.
Fiction Book Set in Missouri
Winter's Bone by Daniel Woodrell
"Ree Dolly's father has skipped bail on charges that he ran a crystal meth lab, and the Dollys will lose their house if he doesn't show up for his next court date. With two young brothers depending on her, 16-year-old Ree knows she has to bring her father back, dead or alive. Living in the harsh poverty of the Ozarks, Ree learns quickly that asking questions of the rough Dolly clan can be a fatal mistake. But, as an unsettling revelation lurks, Ree discovers unforeseen depths in herself and in a family network that protects its own at any cost."
Non-fiction Set in Missouri
Bettyville: A Memior by George Hodgman
"When George Hodgman leaves Manhattan for his hometown of Paris, Missouri, he finds himself—an unlikely caretaker and near-lethal cook—in a head-on collision with his aging mother, Betty, a woman of wit and will. Will George lure her into assisted living? When hell freezes over. He can't bring himself to force her from the home both treasure—the place where his father's voice lingers, the scene of shared jokes, skirmishes, and, behind the dusty antiques, a rarely acknowledged conflict: Betty, who speaks her mind but cannot quite reveal her heart, has never really accepted the fact that her son is gay. As these two unforgettable characters try to bring their different worlds together, Hodgman reveals the challenges of Betty's life and his own struggle for self-respect, moving readers from their small town—crumbling but still colorful—to the star-studded corridors of Vanity Fair."
And there you have it! 20 living books about Missouri. I hope this book list sparks an interest in your homeschooler. We read The Adventures of Tom Sawyer for our state unit study and it was one of our favorite books! My kids have listened to it several times after as well. Ron Swanson being the narrator didn't entice them to read it at all 😉
From Tom Sawyer to Lewis and Clark, and the pony express to the World's Fair, I hope you find some fun areas to explore and expand during your Missouri unit study.
Which one does your child love best? What kind of books would you like to see in the future? Drop a comment below to let me know!
Don't forget to check out the other states!