Keep reading for 20 amazing books about Oklahoma!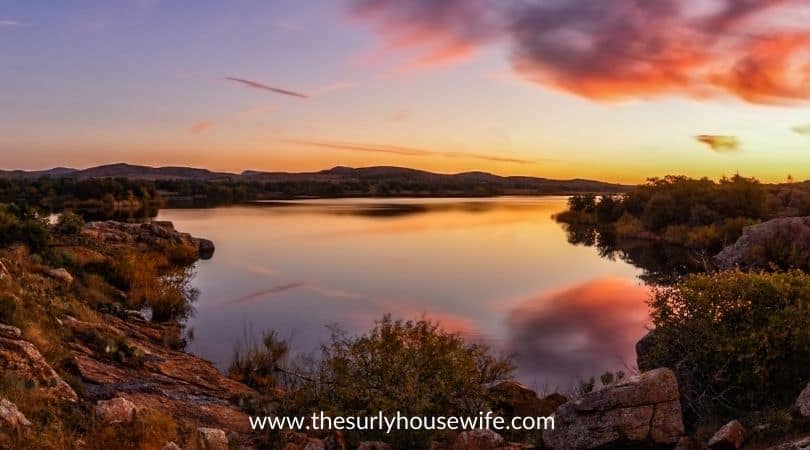 Oklahoma will always have a little piece of my heart because it is home to my children's first celebrity hero: Ree Drummond aka The Pioneer Woman.
Every Saturday morning when my kids were younger, we would eat breakfast and watch The Pioneer Woman on the Food Network. Ree, if you don't know, lives in Oklahoma and her ranch and surroundings are a huge part of her show.
Even though the show is about cooking and ranching, it made you feel like you were right in the state of Oklahoma with Ree and her family. I strive to do the same in our homeschool by selecting books that make the state come alive to the reader.
These are also known was living books. Living books are books that make the subject you are studying come alive and are written by people who love the subject. I love using these types of books in my homeschool because, much like The Pioneer Woman, they make the setting feel real to the reader.
This book list contains some nonfiction books about Oklahoma as well as chapter books set in Oklahoma and books about the Dust Bowl. Let's get started!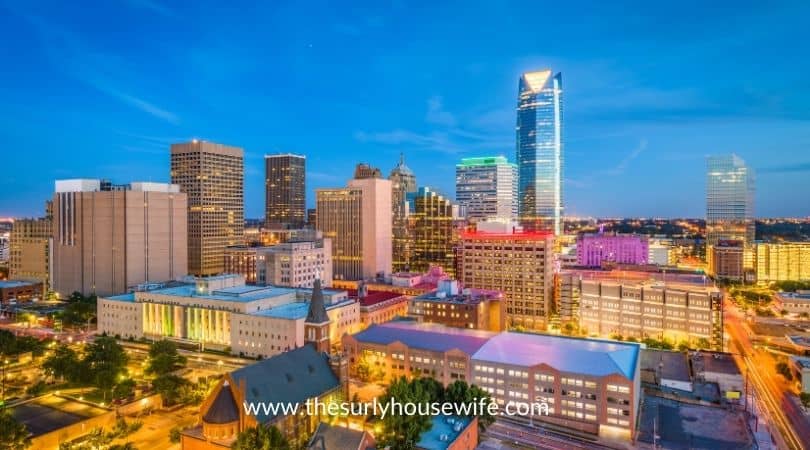 ICYMI! Here are the lists for the previous states.
Oklahoma History and Facts
Oklahoma is nicknamed the Sooner State.
Motto – Labor conquers all.
Oklahoma entered the Union on November 16, 1907. It was the 46th state.
Oklahoma comes from Choctaw words meaning "red people."
Oklahoma City is the capital of Oklahoma.
This post contains affiliate links. If you click and make a purchase, we earn a commission at NO extra cost to you. For more information, please read my full disclosure policy.
Descriptions come from Amazon; some are edited for length
Living Books about Oklahoma
Children's Books About Oklahoma
S is for Sooner: An Oklahoma Alphabet by Devin Scillian
"The wide-open spaces of Oklahoma are brought alive for readers with charming rhymes about rodeos, land runs, and yes, even the musical 'Oklahoma!' The people, places, and landmarks of the Sooner state are thoroughly explored through the popular two-tiered format for the Discover America State by State series, with simple rhymes for younger children and expository text for older children."
This series of books called Discover America State By State are some of my favorites for introducing a state to kids. Each letter states a fact about that state. For example, for Oklahoma letter A is for American Cherokee and the letter B is for Buffalo Soldier, and so on. Each letter comes with a four line rhyme about that respective letter's fact or subject. What I love most is on the side of the page it gives more in-depth description about each subject. It's a great jumping off point for what sparks an interest in your child!
Beautiful Land: A Story of the Oklahoma Land Rush by Nancy Antle
"Annie Mae and her family set out for Oklahoma where in 1889 there will be a race to claim land, yet Annie Mae feels they will not make it in time and fears her dreams of living on a beautiful piece of land of her own will be gone."
Picture Books Set in Oklahoma
I Have Heard of a Land by Joyce Carol Thomas
"In the late 1880s, signs went up all around America: land was free in the Oklahoma territory. And it was free to everyone: Whites, Blacks, men and women alike. All one needed to stake a claim was hope and courage, strength and perseverance. Thousands of pioneers, many of them African-Americans newly freed from slavery, headed west to carve out a new life in the Oklahoma soil. Drawing upon her own family history, National Book Award winner Joyce Carol Thomas has crafted an unforgettable anthem to these brave and determined people from America's past. I Have Heard of a Land is a glorious tribute to the African-American pioneer spirit."
Jingle Dancer by Cynthia Smith
"Jenna loves the tradition of jingle dancing that has been shared over generations in her family and intertribal community. She hopes to dance at the next powwow. But with the day quickly approaching, she has a problem. How will her dress sing if it has no jingles? Jingle Dancer is the affirming story of a contemporary Native American girl who turns to her family and community."
The Cloud Artist by Sherri Maret
"Born with the gift of painting with the clouds, Leona, a little Choctaw girl, uses the sky as her canvas to the delight of her people. When a traveling man learns of her gift and invites her to join the carnival, the Cloud Artist must make a decision about what kind of artist she wants to be. This picture book is part historical fiction, a lot of fantasy, and a little dab of tall tale."
The Survivor Tree by Gaye Sanders
"A family plants an American elm just as a new capital city is taking root. The little tree grows as Oklahoma City grows until 9:02 a.m. on April 19, 1995, the day America fell silent at the hands of one of its own. With branches tattered and filled with evidence from the bombing, the charred elm faces calls that it be cut down. Yet in the end, as the rubble of the Alfred P. Murrah Building is cleared, the solitary tree remains. The next spring when the first leaf appears proving the tree is still alive, word spreads like a prairie wildfire through the country and the world, and the tree becomes a universal symbol that no matter what happens, one can endure. The tree is also given a new name: The Survivor Tree."
Pappy's Handkerchief by Devin Scillian
"Young Moses and his family are barely scraping by. He helps his father in their fish stall selling each day's catch to passersby but times are hard in 1889 Baltimore. It's difficult to provide for a family of ten. But when they hear of free farmland out in Oklahoma, it sounds like the answer to their prayers. The family sells all they own and heads west to fulfill a lifelong dream. Their wagon journey, however, is plagued with troubles. Yet Moses and his family persevere. They arrive in time to take a place along the boundary line that marks the staging point for the Oklahoma Land Run. But after making it this far, will even more bad luck prevent them from realizing their dream of owning their own piece of America?"
Kids Books about Famous Sooners
Tallchief: America's Prima Ballerina by Maria Tallchief
"Growing up on the Osage Indian reservation, Maria Tallchief was a gifted pianist and dancer. According to Osage tradition, women are not permitted to dance, but Maria's parents recognized her gifts and allowed her to break the rule. Then when Maria reached the age of twelve, her father told her it was time to choose between her two loves. Maria chose ballet. It was a decision that would change not only the course of her life, but the face of classical ballet in America. The fascinating story of Maria Tallchief's rise to become America's prima ballerina will captivate young readers."
Will Rogers: Our American Legend by Frank Keating
"Oklahoma's own Will Rogers had a love for people and adventure. During his lifetime, he was a ranch hand, trick roper, vaudeville performer, film star, journalist, author, radio personality, aviation pioneer, and star of the Broadway stage and the big screen. Part Cherokee, Will became known as 'the Cherokee Kid.' From a young age, his folksy persona became his trademark. He was admired by the common man as much as he was by sitting presidents. This heavily-illustrated children's book tells the story of one of Oklahoma s favorite sons and how his wit and wisdom charted his course for a lifetime of adventure."
Jim Thorpe's Bright Path by Joseph Bruchac
"A biography of the legendary Native American Jim Thorpe focusing on his early childhood and how school and sports shaped his future. From the day he was born, Jim Thorpe's parents knew he was special. Jim's athletic skills were evident early on, as he played outdoors and hunted with his father and twin brother. When the boys were sent to Indian boarding school, Jim struggled in academics but excelled in sports. Jim moved from school to school over the years, overcoming family tragedies, until his athletic genius was recognized by Coach Pop Warner at the Carlisle Indian School."
Children's Books about The Dust Bowl
Picture Books
Leah's Pony by Elizabeth Friedrich
"Leah loves her pony. Together they ride through tall fields of corn and race across green pastures, chasing cattle under summer skies. But now the land is devastated by a terrible drought. Like many farmers, Leah's papa faces losing the family farm. Without corn to sell, he cannot repay his loan from the bank, which has put his farm and equipment up for auction. But when the auction day arrives, the crowd is surprised by the sight of Leah, who makes a bid for her father's tractor. She has raised the money by selling something very precious: her pony. Set in the Dust Bowl of the 1930s, Elizabeth Friedrich's deeply felt story, vividly portrayed through Michael Garland's stunning oil paintings, tells of one child and what she would sacrifice for love of her family."
Angels In The Dust by Margot Theis Raven
"Great Grandma Annie reminisces about life on her family's Oklahoma farm during the terrible drought of the 1930s when the region was known as the 'Dust Bowl.'"
"Jake and Maggy lived on a farm where they loved to sing and dance to the music from Mama's radio. Then terrible dust storms came and ruined the land. The family had no choice but to auction off the farm and make the long, hard journey west to California-away from the dust storms, where the land is still green. Along the way, Papa tries to find work, and Jake and Maggy try to help too. But what if Papa can't find a job? What if California isn't better after all?"
Photo Book
Years of Dust: The Story of the Dust Bowl by Albert Marrin
"In the 1930's, great rolling walls of dust swept across the Great Plains. The storms buried crops, blinded animals, and suffocated children. It was a catastrophe that would change the course of American history as people struggled to survive in this hostile environment, or took the the roads as Dust Bowl refugees. Here, in riveting, accessible prose, and illustrated with moving historical quotations and photographs, acclaimed historian Albert Marrin explains the causes behind the disaster and investigates the Dust Bowl's impact on the land and the people. Both a tale of natural destruction and a tribute to those who refused to give up, this is a beautiful exploration of an important time in our country's past."
Chapter Book
Out of the Dust by Karen Hesse
"A terrible accident has transformed Billie Jo's life, scarring her inside and out. Her mother is gone. Her father can't talk about it. And the one thing that might make her feel better, playing the piano, is impossible with her wounded hands. To make matters worse, dust storms are devastating the family farm and all the farms nearby. While others flee from the dust bowl, Billie Jo is left to find peace in the bleak landscape of Oklahoma. And in the surprising landscape of her own heart."
"In the tough days of the Depression, nothing is the same in Jessie's family after her little sister dies. Her father just seems to give up on life, leaving Jessie's mother to keep the family together. Then Jessie comes up with a plan. There's an abandoned dog on a nearby farm, a dog who won't trust anyone. If Jessie can tame Ring, maybe the two of them together can bring her father back."
Chapter Books Set in Oklahoma
Where the Red Fern Grows by Wilson Rawls
"Billy has long dreamt of owning not one, but two dogs. So when he's finally able to save up enough money for two pups to call his own, Old Dan and Little Ann, he's ecstatic. It's true that times are tough, but together they'll roam the hills of the Ozarks. Soon Billy and his hounds become the finest hunting team in the valley. Stories of their great achievements spread throughout the region. The combination of Old Dan's brawn, Little Ann's brains, and Billy's sheer will seems unbeatable. But tragedy awaits these determined hunters and Billy learns that hope can grow out of despair."
Stop the Train by Geraldine McCaughrean
"In 1893, Oklahoma's northwest is opened up to settlers by government decree, and Cissy Sissney and her family rush to join the tens of thousands of land runners intent on staking a new claim to their future. The Sissneys and two dozen other folk are the first settlers to arrive at the town of Florence, which is nothing but a double plot of sun-baked land. Night has scarcely fallen when the trouble begins. A slick, oily-haired man drifts from campfire to campfire, offering, on behalf of the Red Rock Railroad Company, to buy out claims for $50 dollars apiece. Several weeks later, after all settlers but one refuse to sell, the president of the railroad lowers the boom. There'll be no more trains stopping at Florence. And without the railroad the town can't survive. So it's up to Cissy and her friends, family, and neighbors to come up with ways (fair or foul) to stop the train before they are all forced to abandon their homes forever."
"The day he buried his pa, Nobe Chase lost everything: his father, his home, and his dog. Worst yet, he had to move into town to live with Sheriff Leonard, the man who'd shot his dog dead. From that moment, hate burns in Nobe's heart. Soon he learns how dangerous that can be when hate sparks a race riot in nearby Tulsa. When the violence spills over into his hometown, Nobe must decide what kind of man he is going to become: one driven by vengeance or honor."
Summer of the Monkeys by Wilson Rawls
"The last thing fourteen-year-old Jay Berry Lee expects to find while trekking through the Ozark Mountains of Oklahoma is a tree full of monkeys. But then Jay learns from his grandpa that the monkeys have escaped from a traveling circus, and there's a big reward for the person who finds and returns them. His family could really use the money, so Jay sets off, determined to catch them. But by the end of the summer, Jay will have learned a lot more than he bargained for and not just about monkeys."
Books Set in Oklahoma (for Mom!)
I love to read, and I love a good theme or challenge for a reading list. So my final two books on this book list are one adult fiction and one adult non-fiction.
Fiction Book Set in Oklahoma
"True Grit tells the story of Mattie Ross, who is just fourteen when the coward Tom Chaney shoots her father down in Fort Smith, Arkansas, and robs him of his life, his horse, and $150 cash. Filled with an unwavering urge to avenge her father's blood, Mattie finds and, after some tenacious finagling, enlists one-eyed Rooster Cogburn, the meanest available U.S. Marshal, as her partner in pursuit, and they head off into Indian Territory after the killer."
Non-fiction Book Set In Oklahoma
Killers of the Flower Moon by David Grann
"In the 1920s, the richest people per capita in the world were members of the Osage Nation in Oklahoma. After oil was discovered beneath their land, the Osage rode in chauffeured automobiles, built mansions, and sent their children to study in Europe. Then, one by one, the Osage began to be killed off. As more and more Osage were dying under mysterious circumstances, and many of those who dared to investigate the killings were themselves murdered. As the death toll rose, the newly created FBI took up the case, and the young director, J. Edgar Hoover, turned to a former Texas Ranger named Tom White to try to unravel the mystery. White put together an undercover team, including a Native American agent who infiltrated the region, and together with the Osage began to expose one of the most chilling conspiracies in American history."
And there you have it! 20 living books about Oklahoma. It is my hope that this book list provides you with JUST ONE book to share with your kids. We actually read both Wilson Rawls books for out state study: Where the Red Fern Grows and Summer of the Monkeys. I highly recommend both, but if you have sensitive kiddos Summer of the Monkeys is the better pick and it is a delightful read!
What kind of books does your child love best? What kind of books would you like to see in the future? Drop a comment below to let me know!