Keep reading for 20 of the best children's books about Michigan!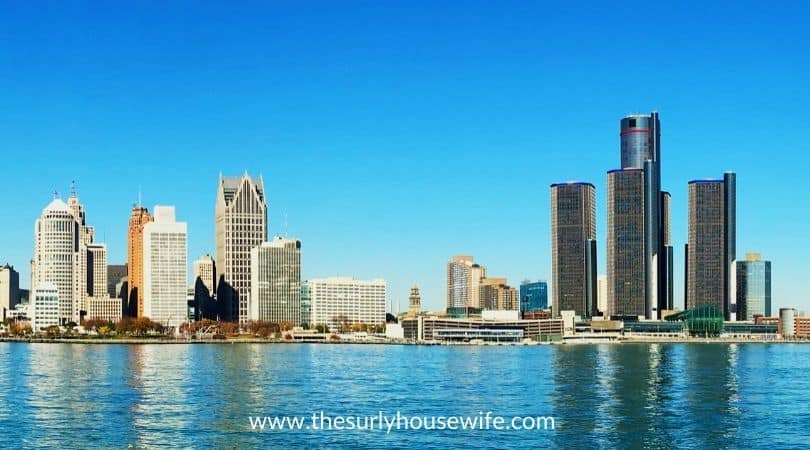 One of my favorite quotes about books ever, ever, ever!! comes from the book Bud, Not Buddy: "As soon as I got into the library I closed my eyes and took a deep breath. I got a whiff of the leather on all the old books, a smell that got real strong if you picked one of them up and stuck your nose real close to it when you turned the pages. Then there was the the smell of the cloth that covered the brand-new books, books that made a splitting sound when you opened them. Then I could sniff the the paper, that soft, powdery, drowsy smell that comes off the page in little puffs when you're reading something or looking at some pictures, kind of hypnotizing smell. I think it's the smell that makes so many folks fall asleep in the library."
Not only does this quote perfectly describe a library, it makes you feel like you are right there IN the library smelling the books right alongside Bud. That's what living books, my method for teaching the 50 states, can do for your homeschool. Charlotte Mason coined the term living books which means books that make the subject you are studying come alive and are written by people who love the subject.
This book list contains a little bit of everything: some non-fiction books about Michigan, books that take place in the state of Michigan as well as some books about historical figures from Michigan. Let's get to it!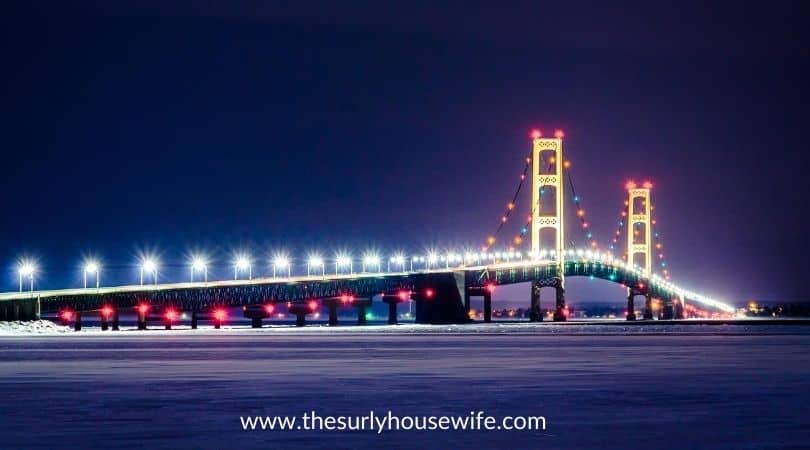 ICYMI, click HERE for all the other state book lists!
Michigan History and Facts
Michigan is nicknamed the Wolverine State.
Motto – If you seek a beautiful peninsula, look around you.
Michigan entered the Union on January 26, 1837. It was the 26th state.
The name Michigan comes from the Ojibwa word meaning "great water."
Gerald Ford, the 38th President of the United States, represented the State of Michigan before being appointed Vice President in 1973.
Lansing is the capital of Michigan.
This post contains affiliate links. If you click and make a purchase, we earn a commission at NO extra cost to you. For more information, please read my full disclosure policy.
Descriptions come from Amazon; some are edited for length
Living Books about Michigan
Children's Books About Michigan
M Is For Mitten: A Michigan Alphabet by Annie Appleford
"Where was the first mile of highway paved? Who was the 38th President of the United States? What is the nation's most remote National Park? What was the first bottled soda pop in this country? Find the answers to these questions and many more in M is for Mitten: A Michigan Alphabet. Kids can climb an Evergreen tree, hop on the back of a Robin, fly with him of the Mackinac Bridge through the Upper Peninsula for a visit to Isle Royale, before going to Detroit to drink Vernor's and then to Battle Creek to eat Kellogg's cereal. They can paddle in a birch bark canoe with Native Americans in and out of our many Harbors and then head to Lansing for a visit to the Capital."
This series of books called Discover America State By State are some of my favorites for introducing a state to kids. Each letter states a fact or a thing about that state. For example, for Michigan letter A is for Apple Blossom and the letter B is for Bridge, and so on. Each letter comes with a four line rhyme about that respective letter's fact or subject. What I love most is on the side of the page it gives more in-depth description about each subject. It's a great jumping off point for what sparks an interest in your child!
The Michigan Counting Book by Kathy-jo Wargin
"Students who have learned their ABC's will now have even more fun learning to count with this delightful addition to their library. Michigan flora and fauna take a starring role in this new title, taking students from 'one Karner Blue butterfly' to 'twelve jugs of maple syrup.' Teachers and parents alike will find themselves reading and counting over and over again while everyone learns fun Michigan facts."
Books about Michigan Historical Figures
Picture Books
Magic Trash: A Story of Tyree Guyton and His Art by J.H.Shapiro
"This picture book biography of Tyree Guyton, an urban environmental artist, shows how he transformed his decaying, crime-ridden neighborhood into the Heidelberg Project, an interactive sculpture park. The story spans from Tyree's childhood in 1950s Detroit to his early efforts to heal his community through art in the 1980s. Tyree's awards include Michigan Artist of the Year and International Artist."
Nature's Friend: The Gwen Frostic Story by Lindsey McDivitt
"The art and writing of Gwen Frostic are well known in her home state of Michigan and around the world, but this picture book biography tells the story behind Gwen's famous work. After a debilitating illness as a child, Gwen sought solace in art and nature. She learned to be persistent and independent, never taking no for an answer or letting her disabilities define her. After creating artwork for famous Detroiters and for display at the World's Fair and helping to build WWII bombers, Gwen moved her printmaking business to northern Michigan. She dedicated her work and her life to reminding people of the wonder and beauty in nature."
The Inventor's Secret: What Thomas Edison Told Henry Ford by Suzanne Slade
"Thomas Edison and Henry Ford started off as insatiably curious tinkerers. That curiosity led them to become inventors with very different results. As Edison invented hit after commercial hit, gaining fame and fortune, Henry struggled to make a single invention (an affordable car) work. Witnessing Thomas's glorious career from afar, a frustrated Henry wondered about the secret to his success. This little-known story is a fresh, kid-friendly way to show how Thomas Edison and Henry Ford grew up to be the most famous inventors in the world and best friends, too."
Only Passing Through: The Story of Sojourner Truth by Anne Rockwell
"Sojourner Truth traveled the country in the latter half of the 19th century, speaking out against slavery. She told of a slave girl who was sold three times by age 13, who was beaten for not understanding her master's orders, who watched her parents die of cold and hunger when they could no longer work for their keep. Sojourner's simple yet powerful words helped people to understand the hideous truth about slavery. The story she told was her own."
Short Chapter Book
Eat My Dust! Henry Ford's First Race by Monica Kulling
"It's 1901 and Henry Ford wants to build a car that everyone can own. But first he needs the money to produce it. How will he get it? He enters a car race, of course!"
Young Adult
Rhythm Ride: A Road Trip Through the Motown Sound by Andrea Davis Pinkney
"Berry Gordy began Motown in 1959 with an $800 loan from his family. He converted the garage of a residential house into a studio and recruited teenagers from the neighborhood-like Smokey Robinson, Mary Wells, Marvin Gaye, Stevie Wonder, and Diana Ross to sing for his new label. Meanwhile, the country was on the brink of a cultural revolution, and one of the most powerful agents of change in the following decade would be this group of young black performers from urban Detroit. From Berry Gordy and his remarkable vision to the Civil Rights movement, from the behind-the-scenes musicians, choreographers, and song writers to the most famous recording artists of the century, Andrea Davis Pinkney takes readers on a Rhythm Ride through the story of Motown."
Picture Books set in Michigan
Clever Beatrice: An Upper Peninsula Conte by Margaret Willey
"Can a very little girl beat a very large giant in feats of strength? That's what clever Beatrice bets on when she marches through the north woods to the home of the giant, hoping to win some of his gold to help her mother buy porridge. The giant heartily agrees to a contest, never imagining the wisp of a girl could out-muscle him. But what he hasn't counted on is how clever Beatrice is…and that brains beat brawn every time. This tall tale from Michigan's upper peninsula is told in delicious dialect, and introduces a heroine who's as irrepressible as Eloise."
An Orange for Frankie by Patricia Polacco
"The Stowell family is abuzz with holiday excitement, and Frankie, the youngest boy, is the most excited of all. But there's a cloud over the joyous season: Tomorrow is Christmas Eve, and Pa hasn't returned yet from his trip to Lansing. He promised to bring back the oranges for the mantelpiece. Every year there are nine of them nestled among the evergreens, one for each of the children. But this year, heavy snows might mean no oranges . . . and, worse, no Pa!"
Mackinac Bridge: The Five Mile Poem by Gloria Whela
"Set in the late 1950s, this is the moving story of a young boy whose father operates a ferryboat between Michigan's Upper and Lower peninsulas. As young Mark witnesses the building of the new Mackinac Bridge, he is torn between family loyalty and eager anticipation. He can't help being awestruck by the majesty of the five-mile-long bridge that will connect the two peninsulas and change the lives of so many. But the Mighty Mac will also put Mark's father out of business. As his father struggles with the flow of progress, Mark dreams of future bridges he will build. Details of the complex construction of the bridge will fascinate children as they learn an important part of America's history and come to understand the meaning of change."
The Legend of Sleeping Bear by Kathy-Jo Wargin

"Fleeing from a forest fire, a mother bear urges her two cubs into the watery shelter of a vast body of water. Though it will be difficult, she knows if they can swim across to the opposite shore, they will be safe. With calls of encouragement and steadfast love, Mother Bear guides her cubs across the great lake, Lake Michigan. And the story of what happens once Mother Bear reaches the far shore becomes the legend behind the natural wonder known as Sleeping Bear Dune."
Chapter Books Set in Michigan
Bud, Not Buddy by Christopher Paul Curtis
"It's 1936, in Flint, Michigan. Times are hard, and 10-year-old Bud is a motherless boy on the run. His momma never told him who his father was, but she left a clue: flyers of Herman E. Calloway and his famous band, the Dusky Devastators of the Depression! Bud's got an idea that those flyers will lead him to his father. Once he decides to hit the road and find this mystery man, nothing can stop him; not hunger, not fear, not vampires, not even Herman E. Calloway himself."
The Danger Box by Blue Balliett
"A boy in a small town who has a different way of seeing.
A curious girl who doesn't belong.
A mysterious notebook.
A missing father.
A fire.
A stranger.
A death.
These are some of the things you'll find within The Danger Box, the new mystery from bestselling author Blue Balliett.
Open with care."
Bluffton: My Summers with Buster by Matt Phelan
"In 1908, a visiting troupe of vaudeville performers is about the most exciting thing to come to Muskegon, Michigan, since baseball. They're summering in nearby Bluffton, so Henry has a few months to ogle the elephant and the zebra, the tightrope walkers, and, best of all, a slapstick actor his own age named Buster Keaton. Henry longs to learn to take a fall like Buster, 'the human mop,' but Buster just wants to play ball with Henry and his friends. With his signature nostalgic touch, Scott O'Dell Award–winning graphic novelist Matt Phelan illuminates a bygone era with lustrous color, dynamic lines, and flawless dramatic pacing."
Willow Run by Patricia Reilly Giff
"Meggie Dillon's life has been turned upside down by World War II. Meggie's father has announced that they must help the war effort and move to Willow Run, Michigan, where he'll work nights in a factory building important war planes that will help fight the enemy in Europe. Willow Run will be the greatest adventure ever, Meggie thinks. There she meets Patches and Harlan, other kids like her from far-off places whose parents have come here to do their part in the war. And there she faces questions about courage, and what it takes to go into battle, like Eddie, and to keep hope alive on the home front."
The Birchbark House by Louise Erdrich
"Set in the Lake Superior region in the mid-1800s, The Birchbark House is a vital novel providing fascinating details of a year in the life of young Omakayas, a girl of the Ojibwa. As each season in a year of Omakayas' life is lovingly portrayed, the satisfying rhythm of her days is shattered when a stranger visits the lodge one night, bringing with him an invisible enemy that will change things forever."
Once on This Island by Gloria Whelan
"When war erupts between England and America, it brings change and uncertainty, even to Michigan's remote Mackinac Island. For young Mary O'Shea, the hardest change is the departure of her father, who leaves Mackinac to join the American Army. With her sister and brother, Mary must tend the farm, deal with the hardships of British occupation, and hope for the safe return of their father."
YA Set in Michigan
"McCutcheon Daniels' life is full of bone-cracking violence. As a star fighter in the gritty underground Mixed Martial Arts circuit in the poorest section of Detroit, McCutcheon fights under the tutelage of his volatile and violent father, not so much for himself but to survive as protector of his beloved five-year old sister, Gemma. We get to know McCutcheon as he battles opponents who are literally trying to kill him and he struggles to find a way to protect her and himself. Along the way, he decides to trust a teacher who has taken an interest in him and discovers the truth about his mother who seemingly disappeared on his thirteenth birthday."
"Brian is living every baseball kid's dream: he is a batboy for his hometown Major League team. Brian believes that it's the perfect thing to bring him and his big-leaguer dad closer together. And if that weren't enough, this is the season that Hank Bishop, Brian's baseball hero, returns to the Tigers for the comeback of a lifetime. The summer couldn't get much better! Until Hank Bishop starts to show his true colors, and Brian learns that sometimes life throws you a curveball."
Books Set in Michigan (for Mom!)
I love to read, and I love a good theme or challenge for a reading list. So my final two books on this book list are one adult fiction and one adult non-fiction.
Fiction Book Set in Michigan
Middlesex by Jeffrey Eugenides
"Middlesex tells the breathtaking story of Calliope Stephanides, and three generations of the Greek-American Stephanides family, who travel from a tiny village overlooking Mount Olympus in Asia Minor to Prohibition-era Detroit, witnessing its glory days as the Motor City and the race riots of 1967 before moving out to the tree-lined streets of suburban Grosse Pointe, Michigan. To understand why Calliope is not like other girls, she has to uncover a guilty family secret, and the astonishing genetic history that turns Callie into Cal, one of the most audacious and wondrous narrators in contemporary fiction."
Non-fiction Book Set In Michigan
Detroit City Is the Place to Be: The Afterlife of an American Metropolis by Mark Binelli
"Once America's capitalist dream town, Detroit is our country's greatest urban failure, having fallen the longest and the farthest and, finally, into the largest municipal bankruptcy in U.S. history. But the city's worst crisis yet (and that's saying something) has managed to do the unthinkable: turn the end of days into a laboratory for the future. Urban planners, land speculators, neopastoral agriculturalists, and utopian environmentalists all have been drawn to Detroit's baroquely decaying, nothing-left-to-lose frontier. With an eye for both the darkly absurd and the radically new, Detroit-area native Mark Binelli has chronicled this convergence. Sharp and impassioned, Detroit City Is the Place to Be is alive with the sense of possibility that comes when a city hits rock bottom."
And there you have it! 20 living books about Michigan. It is my hope that this book list provides you with JUST ONE book to share with your kids.
From Edison to Henry Ford, and from Detroit to the sleeping bear dunes, I hope you find some fun things to learn about Michigan!
Don't forget to check out the other state book lists!