Keep reading for 20 of the best books about Maryland to use in your homeschool!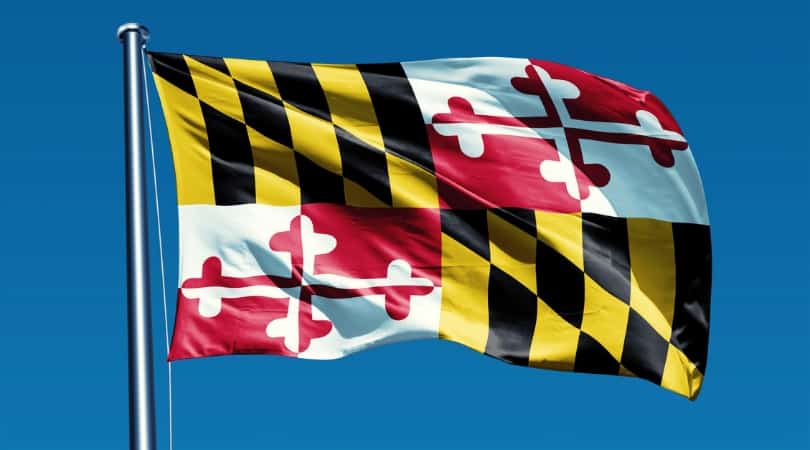 One of my favorite stories about the state of Maryland is how it came upon it's nickname: the Old Line State. The nickname was bestowed by General George Washington because the Maryland Line served courageously in many battles. Particularly the Battle of Long Island when 400 soldiers in the First Maryland Regiment fought a British force of 2,000 which allowed the Continental Army to retreat, a pivotal moment in the Revolutionary War.
Because of Maryland's varied waterways, the Chesapeake Bay, Baltimore's Inner Harbor, and many navigable rivers, and its mountainous landscapes, it is has been called "America in miniature." This small state has a lot to offer in history and geography.
However, studying and learning about Maryland is more than memorizing its state capital and population density. My approach to homeschooling involves what as Charlotte Mason coined, living books. Living books are books that make the subject you are studying come alive and are written by people who love the subject.
While this book list might not contain nonfiction books filled with facts and figures about Maryland, they DO make the state of Maryland come alive to the reader. Some books are about a family living in Maryland, while others are about famous events in the state's history, and some are about famous or historical people from Maryland.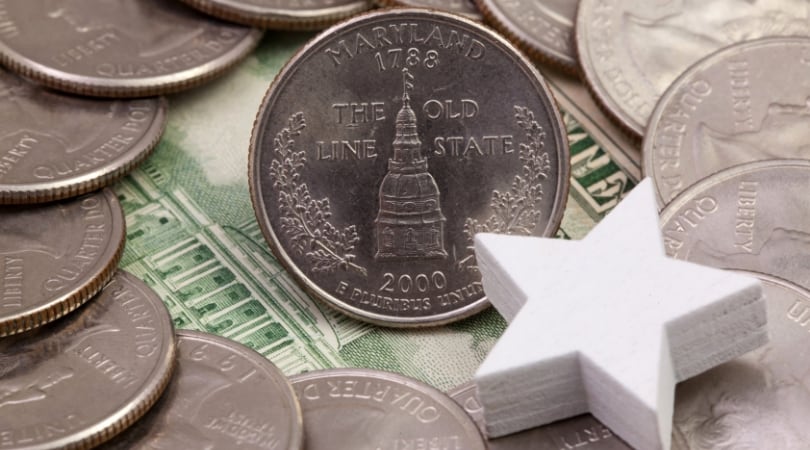 ICYMI, click HERE for all the other state book lists!
Maryland History and Facts
Maryland is nicknamed the Old Line State.
Motto – Strong deeds, gentle words.
Maryland became a state on April 28, 1788. It was the seventh state.
The state of Maryland was named to honor Queen Henrietta Marie, the wife of England's King Charles I.
Annapolis is the capital city of Maryland.
This post contains affiliate links. If you click and make a purchase, we earn a commission at NO extra cost to you. For more information, please read my full disclosure policy.
Descriptions come from Amazon; some are edited for length
Living Books about Maryland
Children's Books Set in Maryland
Maryland Picture Books
Meet Chadwick and His Chesapeake Bay Friends by Priscilla Cummings
"One of Maryland's more famous landmarks is Chesapeake Bay. Learn about all creatures and the environment of Chesapeake Bay in this adorable picture book. Preschoolers and early readers will enjoy the rhyming story and colorful pictures in this introduction to Chadwick the Chesapeake Bay blue crab and his many friends: Bernie the Sea Gull, Toulouse the Canada Goose, Matilda Egret, Hector Spector the Jellyfish, Orville Oyster, and others."
Aunt Flossie's Hats (and Crab Cakes Later) by Elizabeth Fitzgerald Howard
"Every Sunday afternoon Sarah and Susan visit Aunt Flossie and take a walk down memory lane. Aunt Flossie loves hats and each one of her hats represents a story. A story about family history, a story about Baltimore, or a special memory. The girls love hearing all the stories, and every Sunday they finish their day eating crab cakes, which Maryland is famous for!"
Calvert the Raven in the Battle of Baltimore by Jonathon Scott Fuqua
"History is boring. Or at least that's what Daniel thinks! His teacher is not pleased when he expresses that opinion in a school-assigned paper. When Daniel meets a magical raven named Calvert, he flies with Calvert back to 1814 and witnesses the Battle of Baltimore. Daniel finds his home city under siege by a British army on the verge of defeating the United States of America in the War of 1812."
Ketzel, the Cat Who Composed by Leslea Newman
"Moshe Cotel was a composer who lived in a noisy building on a noisy street in a noisy city. But Moshe didn't mind. Everything he heard was music to his ears. One day, while out for a walk, he heard a small, sad sound that he'd never heard before. It was a tiny kitten! 'Come on, little Ketzel,' Moshe said, 'I will take you home and we will make beautiful music together. And they did—in a most surprising way. Inspired by a true story based in Maryland, Lesléa Newman and Amy June Bates craft an engaging tale of a creative man and the beloved cat who brings unexpected sweet notes his way."
Dozer's Run: A True Story of a Dog and His Race by Debbie Levy
"Dozer the Goldendoodle has a wonderful life! He and his best friend, Chica, belong to a loving family. They have warm beds to sleep in, enough food to eat, and plenty of room in their yard to play and investigate. What more could a good dog want? As it turns out, Dozer wants an adventure. And when a runner runs past his yard, followed by another, and another, and another, Dozer decides to follow and see what is happening. In May 2011, unbeknownst to his owner, Dozer slipped out of his yard in Highland, Maryland, enticed by the sight of people running past. The runners were participating in the Maryland Half Marathon. Dozer joined the 2,000 runners in the race, inspiring everyone along the 13-mile race course. This true story of a playful dog that actually runs a half marathon entertains as well as inspires."
Chapter Books set in Maryland
Jacob Have I Loved by Katherine Paterson
"Growing up on a tiny Chesapeake Bay island in the early 1940s, angry Louise reveals how twin sister Caroline robbed her of everything. Renowned author Katherine Paterson chooses a little-known area off the Maryland shore as her setting for a fresh telling of the ancient story of an elder twin's lost birthright."
Misty of Chincoteague by Marguerite Henry
"On the island of Chincoteague off the coasts of Virginia and Maryland lives a centuries-old band of wild ponies. Among them is the most mysterious of all, Phantom, a rarely seen mare that eludes all efforts to capture her—that is, until a young boy and girl lay eyes on her and determine that they can't live without her. The frenzied roundup that follows on the next 'Pony Penning Day' does indeed bring Phantom into their lives, in a way they never would have suspected. Phantom would forever be a creature of the wild. But her gentle, loyal colt Misty is another story altogether…"
"It's a few days before Christmas when ten-year-old Jake's mom breaks her leg, ending up in the hospital. For as long as Jake can remember, it's been just him and his mom. So with no one else to look after him, the hospital contacts the gruff granddad that Jake only knows through awkward twice-a-year phone calls. When Granddad shows up, he's nothing like Jake expected. And he brings a dog with him—a nightmare dog, Jake thinks at first. But as Jake gets to know his grandfather and a makeshift family of friends and neighbors comes together around him and his mom, he realizes that this might not be such a bad Christmas after all."
Children's Books about Maryland
Picture Books about Maryland History
B is for Blue Crab: A Maryland Alphabet by Shirley C. Menendez
"Located just below the Mason-Dixon line, Maryland is flavored with both northern and southern culture and tradition. Defined by the largest estuary in the United States (The Chesapeake Bay), Maryland's historic sites/sights include capital city Annapolis and the U.S. Naval Academy, Muddy Creek Falls, and the running of the Preakness Stakes in Baltimore. Noteworthy residents include Harriet Tubman and Francis Scott Key."
This series of books called Discover America State By State are some of my favorites for introducing a state to kids. Each letter states a fact or a thing about that state. For example, for Maryland letter A is Annapolis and letter B is blue crab, B is for Blue Crab and so on. Each letter comes with a four line rhyme about that respective letter's fact or subject. What I love most is on the side of the page it gives more in-depth description about each subject. It's a great jumping off point for what sparks an interest in your child!
By the Dawn's Early Light: The Story of the Star Spangled Banner by Steven Kroll
The story of how the national anthem of the United States during the War of 1812 came to be. Francis Scott Key sought the release of an American prisoner of war on a British ship in September 1814. He was held captive against his will on a British vessel as Fort McHenry (near Baltimore, Maryland) was bombarded. A large American flag flew all night in defiance of British guns and inspired Key to write The Star-Spangled Banner. It also includes maps, a bibliography, and oil paint illustrations about an important event in American history.
The Flag Maker by Susan Campbell Bartoletti
"Want to know how/why that famous flag was flying over Fort McHenry that day? The Flag Maker tells the story of the flag. Seen through the eyes of young Caroline Pickersgill, the daughter of an important flag maker and the granddaughter of a flag maker for General George Washington's Continental Army. It is also a story about how a symbol motivates action and emotion, brings people together, and inspires courage and hope."
Goliath: Hero of the Great Baltimore Fire by Claudia Friddell
"Masterful artwork from acclaimed illustrator Troy Howell brings this true story to life. In 1904 the city of Baltimore was almost destroyed by fire. Hundreds of firemen, policemen, soldiers, and citizens battled the blaze for three days. Goliath is a fire horse assigned to Engine Company 15. He is massive in size and mighty in heart. To the men of Engine Company 15, Goliath is the ultimate fire horse. He is the lead horse for the team assigned to pulling the mammoth Hale Water Tower No. 1. When the fire alarm sounds, calling them to action, Goliath leads his team into the blaze. His lifesaving actions will lead him into the pages of history."
The Town that Fooled the British: A War of 1812 Story by Lisa Papp
"St. Michaels, Maryland, is a town of shipbuilders whose reputation for crafting powerful schooners carries far beyond the shores of young America. And once the War of 1812 starts, that's not necessarily a good thing. For the British have targeted the town as part of their campaign to defeat America in its fight to maintain its independence. And now, in August of 1813 the British fleet is sailing up the Chesapeake River to St. Michaels. The town's militia is assembled but no one expects they can win the fight against the powerful British cannons. Citizens are being evacuated and the town is in turmoil. All young Henry Middle wants to do is find his father amid the chaos of the coming attack. The lanterns he carries will be of use to the militia. As Henry works to conquer his rising fear, he realizes he may hold the answer to outsmarting the British in his very hands.
Illustrated Chapter Book about Maryland
A Savage Thunder: Antietam and the Bloody Road to Freedom by Jim Murphy
"In September 1862, two great armies faced off across Antietam Creek, near Sharpsburg, Maryland. They know the fate of the United States and the future of millions of slaves were at stake. Gritty and utterly engaging, this is a powerful portrayal of a day on which 22,717 people were killed or wounded—the single bloodiest day in American history. Renowned nonfiction writer Jim Murphy provides an in-depth look at the battle that prompted Abraham Lincoln to issue the Emancipation Proclamation. Murphy uses photographs, maps, and first-person accounts to sweep young readers into the chaos and confusion of battle. "
Children's Books about Famous People From Maryland
Picture Books about Historic Maryland People
Before She was Harriet by Lesa Cline-Ransome
"Who was Harriet Tubman before she was Harriet? We know her today as Harriet Tubman, but in her lifetime she was called by many names. As General Tubman she was a Union spy. As Moses she led hundreds to freedom on the Underground Railroad. As Minty she was a slave whose spirit could not be broken. As Araminta she was a young girl whose father showed her the stars and the first steps on the path to freedom. An evocative poem and stunning watercolors come together to honor a woman of humble origins whose courage and compassion make her a larger than life hero."
Ticktock Banneker's Clock by Shana Keller
"Throughout his life, Benjamin Banneker was known and admired for his work in science, mathematics, and astronomy, just to name a few pursuits. But even when he was born in Maryland in 1731, he was already an extraordinary person for that time period. He was born free at a time in America when most African Americans were slaves. Though he only briefly attended school and was largely self-taught, at a young age Benjamin displayed a keen aptitude for mathematics and science. Inspired by a pocket watch he had seen, at the age of 22 he built a strike clock based on his own drawings and using a pocket-knife. This picture book biography focuses on one episode in a remarkable life."
Keep On!: The Story of Matthew Henson, Co-Discoverer of the North Pole by Deborah Hopkinson
"Matthew Henson was born in a Maryland cabin just after the Civil War. Slavery had been abolished, but few opportunities were available for black people. Like many children, young Henson exhibited a yearning for adventure. And at age 13 he embarked on a five-year voyage sailing the seven seas. Henson's greatest accomplishment began when Robert Peary invited him to join an expedition to the North Pole. After a perilous journey on April 1, Peary, Henson, and four Inuit men began the final 133-mile push to the Pole. Author Deborah Hopkinson pays tribute to a great but under-recognized figure from America's history."
How to Train with a T. Rex and Win 8 Gold Medals by Michael Phelps
"Maryland native Michael Phelps made history in 2016 by becoming the most decorated Olympian of all time. 22 Olympic medals, 18 of them gold. This lovely children's book focuses on his training leading up to the 2008 Olympics in Bejing where Phelps was DETERMINED to win 8 gold medals. Showcasing the value of hard work, goal setting, and not giving up, this colorful book is as educational as it is cute."
The Highest Tribute: Thurgood Marshall's Life, Leadership, and Legacy by Kekla Magoon
"Growing up in Baltimore, Thurgood Marshall could see that things weren't fair. The laws said that Black and white people couldn't use the same schools, parks, or water fountains. When Thurgood had to read the Constitution as punishment for a prank at school, his eyes were opened. It was clear to him that Jim Crow laws were wrong, and he was willing to do whatever it took to change them. His determination to make sure all Americans were treated equally led him to law school and then the NAACP, where he argued cases like Brown v. Board of Education in front of the Supreme Court. But to become a Justice on the highest court in the land, Thurgood had to make space for himself every step of the way."
Bread for Words: A Frederick Douglass Story by Shana Keller
"Frederick Douglass knew where he was born but not when. He knew his grandmother but not his father. And as a young child, there were other questions, such as Why am I a slave? Answers to those questions might have eluded him but Douglass did know for certain that learning to read and to write would be the first step in his quest for freedom and his fight for equality. Told from first-person perspective, this picture-book biography draws from the real-life experiences of a young Frederick Douglass and his attempts to learn how to read and write. Author Shana Keller (Ticktock Banneker's Clock) personalizes the text for young readers, using some of Douglass's own words. The lyrical title comes from how Douglass 'paid' other children to teach him."
Books Set in Maryland (for Mom!)
I love to read, and I love a good theme or challenge for a reading list. So my final two books on this book list are one adult fiction and one adult non-fiction.
Fiction Book Set in Maryland
Dinner at the Homesick Restaurant: A Novel by Anne Tyler
"Memories bind family's together. The Tulls of Baltimore are no exception. Abandoned by her salesman husband, Pearl is left to bring up her three children alone – Cody, a flawed devil, Ezra, a flawed saint, and Jenny, errant and passionate. Now as Pearl lies dying, stiffly encased in her pride and solitude, the past is unlocked and with it, secrets."
Non-fiction Book Set In Maryland
Homicide: A Year on the Killing Streets by David Simon
From the creator of HBO's The Wire, read David Simon's account of a year inside the Baltimore homicide unit, which would became the basis for the hit television show. It focuses on three detectives working in city torn by racial tensions and plagued by drugs and crime.
And there you have it! 20 living books about Maryland. It is my hope that this book list provides you with JUST ONE book to share with your kids. For our homeschool unit we read Jacob Have I Loved, and while it wasn't the absolute favorite we have read, we still quote the book. Which I love because my goal as a homeschool mom is to create a homeschool culture around books and reading aloud.
From flags to crabs, and from Chesapeake Bay to Fort McHenry, I hope you find some fun things to learn about Maryland!
What kind of books does your child love best? What kind of books would you like to see in the future? Drop a comment below to let me know!
Don't forget to check out all the other state books!!
WANT TO SAVE THIS FOR LATER? SAVE THIS BOOK LIST TO YOUR FAVORITE PINTEREST BOARD!!