Inside: 20 amazing children's books about Minnesota!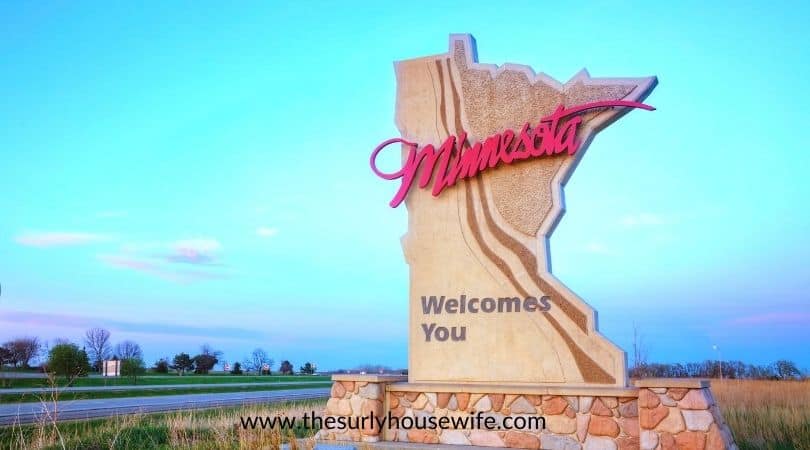 My parents are originally from Minnesota so even though I grew up in Iowa, Minnesota seemed like a second home to me. The Land of 10,000 Lakes, the Minnesota Twins, the Mall of America, and the source of the mighty Mississippi River.
Whether you are starting a 50 states study or want to learn more about Minnesota, this book list is for you! Because studying and learning about the fifty states is more than memorizing facts, figures, and trivia, my book lists include as Charlotte Mason coined, living books. Living books are books that make the subject you are studying come alive and are written by people who love the subject.
This Minnesota book lists has 20 books of various reading levels to get you started. From baseball, to the north woods, this list has something for all interests and age ranges that homeschooling families may have. Let's get started!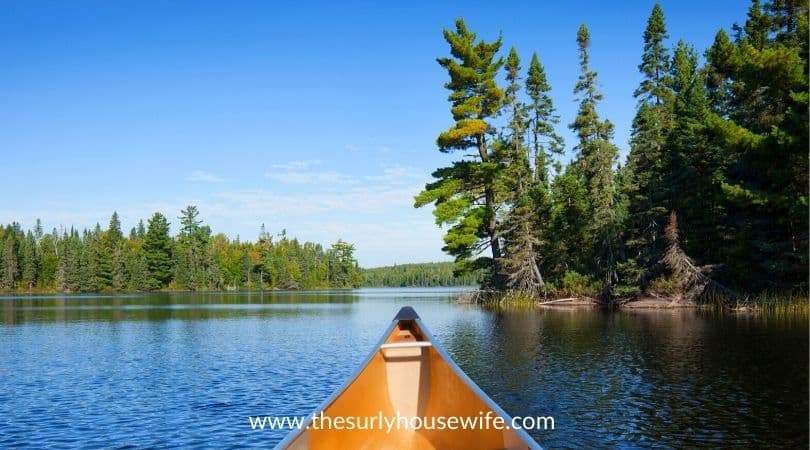 ICYMI, click HERE for all the other state book lists!
Minnesota History and Facts
Minnesota is nicknamed the Gopher State.
Motto – Star of the North
Minnesota entered the Union on May 11, 1858. It was the 32nd state.
Minnesota is named from the Sioux word meaning "sky-tinted water."
The 38th Vice President of the United States, Hubert Humphrey, was a Senator from Minnesota.
St. Paul is the capital of Minnesota.
This post contains affiliate links. If you click and make a purchase, we earn a commission at NO extra cost to you. For more information, please read my full disclosure policy.
Descriptions come from Amazon; some are edited for length
Living Books about Minnesota
Picture Books About Minnesota
V is for Viking: A Minnesota Alphabet by Kathy-Jo Wargin
"From its primeval Itasca State Park to the sophistication of its Twin Cities, the state of Minnesota is a study of contrasts and long-held traditions. Birthplace to many famous personalities and inventions, including Garrison Keillor and the Bundt Pan, V is for Viking presents the state whose name means sky-tinted waters."
This series of books called Discover America State By State are some of my favorites for introducing a state to kids. Each letter states a fact or a thing about that state. For example, for Minnesota letter A is for Agates and the letter B is for Bundt pan, and so on. Each letter comes with a four line rhyme about that respective letter's fact or subject. What I love most is on the side of the page it gives more in-depth description about each subject. It's a great jumping off point for what sparks an interest in your child!
D is for Dala Horse: A Nordic Countries Alphabet by Kathy-Jo Wargin
"Located in Northern Europe and the North Atlantic, the Nordic Countries/Territories are comprised of Sweden, Norway, Finland, Denmark, Iceland, Greenland, the Faroe Islands, and Aland. And while they may share a region and some traditions, each has its own distinct geography, history, and heritage. Explore Greenland where, contrary to its name, more than 80 percent of the land is covered by an ice cap. Stop off in Copenhagen, the capital city of Denmar. Visit Sweden's lively Jokkmokk Winter Market, or sample the tasty fare of a Swedish smorgasbord. Explore Minnesota's Nordic roots with D is for Dala Horse!"
Plant a Pocket of Prairie by Phyllis Root
"Take young readers on a trip to one of Minnesota's important ecosystems: the prairie with Plant a Pocket of Prairie. Once covering almost 40 percent of the United States, native prairie is today one of the most endangered ecosystems in the world. Plant a Pocket of Prairie teaches children how changes in one part of the system affect every other part: when prairie plants are destroyed, the animals who eat those plants and live on or around them are harmed as well. Root shows what happens when we work to restore the prairies, encouraging readers to 'plant a pocket of prairie' in their own backyards. An easy explanation of the history of the prairie, its endangered status, and how to go about growing prairie plants follows, as well as brief descriptions of all the plants and animals mentioned in the story."
Children's Book Set in Minnesota
"On Cattermole's 100 Best Children's Books of the 20th Century list and a 1936 Newbery Honor Book, this children's classic is sure to please children of all ages. What do you do when a moose takes over your town? Three young boys try to save a moose through the cold Minnesota winter."
Bowwow Powwow by Brenda J. Child
Windy Girl is blessed with a vivid imagination. From Uncle she gathers stories of long-ago traditions, about dances and sharing and gratitude. When Uncle and Windy Girl and her dog Itchy Boy attend a powwow, Windy watches the dancers in their jingle dresses and listens to the singers. She eats tasty food and joins family and friends around the campfire. Later, Windy falls asleep under the stars. Now Uncle's stories inspire other visions in her head: a bowwow powwow, where all the dancers are dogs. In these magical scenes, Windy sees veterans in a Grand Entry, and a visiting drum group, and traditional dancers, grass dancers, and jingle-dress dancers. All with telltale ears and paws and tails. All celebrating in song and dance. All attesting to the wonder of the powwow."
"Andy Oyler is the shortest player on the Minneapolis Millers baseball team, not to mention in the whole league. And no matter how hard he tries, he can't seem to get a hit. But one fateful spring day in 1903, a sudden change in the weather leads to a change in Andy Oyler's luck, and Andy discovers that the shortest player can become the game's biggest hero."
"Do you know who was the largest baby ever born in the state of Maine? What about who dug the Great Lakes? Or who gouged out the Grand Canyon? Why, it was Paul Bunyan, of course, America's finest, fastest, funniest lumberman and favorite folktale hero!"
North Woods Girl by Aimée M Bissonette
"'When Grandma tucks her pants into her oversized boots and grabs her walking stick, I run to catch up,' reports a young girl charmed by her visits to Grandma's north woods home. Their walks take them through the seasons, to a pond with a downed tree just right for sitting, to a garden lush with tomatoes ready for canning, through a snowy nighttime woods where the only sounds are the squeak of boots on snow and the hooting of a distant owl. Whatever the month, there are plenty of woodland critters to observe: squirrels or rabbits or deer, geese or goldeneyes or mergansers. The forest of North Woods Girl is an active, populated place, brought to life by Claudia McGehee's colorful scratchboard artistry."
A Different Pond is an unforgettable story about a simple event, a long-ago fishing trip. Graphic novelist Thi Bui and acclaimed poet Bao Phi deliver a powerful, honest glimpse into a relationship between father and son and between cultures, old and new. As a young boy, Bao and his father awoke early, hours before his father's long workday began, to fish on the shores of a small pond in Minneapolis. Unlike many other anglers, Bao and his father fished for food, not recreation. A successful catch meant a fed family. Between hope-filled casts, Bao's father told him about a different pond in their homeland of Vietnam."
Rhoda's Rock Hunt by Molly Beth Griffin
"Rhoda is on a long, long hike with her aunt and uncle, each of them carrying backpacks of gear as they walk through the north woods. While Auntie June and Uncle Jonah watch for wildlife and set up their campsites, Rhoda is on the hunt for one thing: ROCKS. She finds them in all shapes and patterns, from hearts and hats to stripes and sparkles. And every last treasure goes into her pack, making it heavier and heavier as they hike through forests and along streams. Then, on the last day, they come to the Big Lake. And its beach is covered in rocks. Rhoda can't believe her luck. After hours of play and even more rock discoveries, it's time to head for home. By now Rhoda's pack is too heavy to lift. Will she give up her rocks and return to the cabin? Or will she stay on the beach forever with her beloved collection? Her clever solution makes the most of her treasures and offers delights for other hikers."
Marven of the Great North Woods by Kathryn Lasky
"When the influenza epidemic strikes Duluth, Minnesota, in 1918, Marven's parents send their son far away from the danger of the disease, toa logging camp in the great north woods. A true story of a small Jewish boy and a bearish French-Canadian lumberjack and how they became friends under the most unusual circumstances."
Minn of the Mississippi by Holling Clancy Holling
"The history of the Mississippi River Valley is told in text and pictures through the adventures of Minn, a snapping turtle, as she travels downstream."
Chapter Books Set In Minnesota
Betsy-Tacy by Maud Hart Lovelace
"There are lots of children on Hill Street, but no little girls Betsy's age. So when a new family moves into the house across the street, Betsy hopes they will have a little girl she can play with. Sure enough, they do, a little girl named Tacy. And from the moment they meet at Betsy's fifth birthday party, Betsy and Tacy becoms such good friends that everyone starts to think of them as one person—Betsy-Tacy. Betsy and Tacy have lots of fun together. They make a playhouse from a piano box, have a sand store, and dress up and go calling. And one day, they come home to a wonderful surprise—a new friend named Tib."
Turn Left at the Cow by Lisa Bullard
"Thirteen-year-old Trav has always wondered about his dead-before-he-was-born dad. But when he heads from California to his grandmother's house in rural Minnesota, hoping to learn about his past, he gets more than he bargained for. It turns out his dad was involved in a bank robbery right before he mysteriously disappeared, and the loot from the take is still missing. Along with Kenny and Iz, the kids next door, Trav embarks on a search for the cash. But the trio's adventure quickly turns dangerous when it becomes clear that someone else is looking for the money. Someone who won't give up without a fight!"
Home of the Brave by Katherine Applegate
"Kek comes from Africa. In America he sees snow for the first time, and feels its sting. He's never walked on ice, and he falls. He wonders if the people in this new place will be like the winter: cold and unkind. In Africa, Kek lived with his mother, father, and brother. But only he and his mother have survived, and now she's missing. Kek is on his own. Slowly, he makes friends: a girl who is in foster care; an old woman who owns a rundown farm, and a cow whose name means 'family' in Kek's native language. As Kek awaits word of his mother's fate, he weathers the tough Minnesota winter by finding warmth in his new friendships, strength in his memories, and belief in his new country."
Summer of the Wolves by Polly Carlson-Voiles
"Julie of the Wolves meets Hatchet in this middle grade novel that follows twelve-year-old Nika and her seven-year-old brother, Randall, as they leave their California foster home to spend a summer with their long-lost uncle. There she finds an orphaned wolf pup in a cave, whose mother has been shot. This compelling first novel explores themes of searching for family and finding a balance between caring for (and leaving alone) wild animals."
Julia Gillian (and the Art of Knowing) by Alison McGhee
"Ten-year-old Julia Gillian knows everything about her quirky neighbors, her Minneapolis neighborhood, even the inscrutable 'claw machine' in the back of the corner hardware store. The one thing Julia Gillian doesn't know is how the book she's reading is going to end. It doesn't seem as if it's going to have a happy ending, and that scares her. But Julia learns a little something about fear: sometimes you just have to work through it. And though bad things do happen sometimes, having good friends and family around you makes life a bit less scary. And much more fun."
How Angel Peterson Got His Name by Gary Paulsen
"When you grow up in a small town in the north woods, you have to make your own excitement. High spirits, idiocy, and showing off for the girls inspire Gary Paulsen and his friends to attempt: shooting waterfalls in a barrel, skateboarding; breaking the world record for speed on skis by being towed behind a souped-up car, and then . . . hitting gravel; jumping three barrels like motorcycle daredevil Evel Knievel, except they only have bikes; wrestling . . . a bear? Extreme sports lead to extreme fun in new tales from Gary's boyhood."
On the Banks of Plum Creek by Laura Ingalls Wilder
"The adventures of Laura Ingalls and her family continue as they leave their little house on the prairie and travel in their covered wagon to Minnesota. They settle into a house made of sod on the banks of beautiful Plum Creek. Soon Pa builds them a sturdier house, with real glass windows and a hinged door. Laura and Mary go to school, help with the chores around the house, and fish in the creek. Pa's fiddle lulls them all to sleep at the end of the day. But then disaster strikes. On top of a terrible blizzard, a grasshopper infestation devours their wheat crop. Now the family must work harder than ever to overcome these challenges."
"For John Borne's family, hunting has nothing to do with sport or manliness. It's a matter of survival. Every fall John and his grandfather go off into the woods to shoot the deer that puts meat on the table over the long Minnesota winter. But this year John's grandfather is dying, and John must hunt alone. John tracks a doe for two days, but as he closes in on his prey, he realizes he cannot shoot her. For John, the hunt is no longer about killing, but about life."
Books Set in Minnesota (for Mom!)
I love to read, and I love a good theme or challenge for a reading list. So my final two books on this book list are one adult fiction and one adult non-fiction.
Fiction Book Set in Minnesota
Kitchens of the Great Midwest by J. Ryan Stradal
"When Lars Thorvald's wife, Cynthia, falls in love with wine (and a dashing sommelier) he's left to raise their baby, Eva, on his own. He's determined to pass on his love of food to his daughter, starting with puréed pork shoulder. As Eva grows, she finds her solace and salvation in the flavors of her native Minnesota. From Scandinavian lutefisk to hydroponic chocolate habaneros, each ingredient represents one part of Eva's journey as she becomes the star chef behind a legendary and secretive pop-up supper club, culminating in an opulent and emotional feast that's a testament to her spirit and resilience."
Non-Fiction Book Set in Minnesota
The Latehomecomer: A Hmong Family Memoir by Kao Kalia Yang
"The 'unforgettable' true story of a family's journey from the jungles of Laos to a Thailand refugee camp, and finally, to America. Kao Kalia Yang was born in 1980 a Hmong refugee camp in Thailand. Her people had fought alongside the Americans in the Vietnam War, but in the tumult that followed, they spent years without a real home. Though her grandmother was reluctant to journey even farther from her birthplace than they already had, the family convinced her that America was their best option. Landing first in California, they eventually settled in St. Paul, Minnesota. Like so many other immigrants, the adults worked long hours, sacrificing in order to give their children opportunities to succeed and reflect well on their community. But the Hmong faced unique challenges, coming from a rain forest as a little-known ethnic group that did not have a written language of its own."
And there you have it! 20 books to begin a unit study about Minnesota. From Lake Itasca to the banks of Plum Creek, I hope this book list sparks an interest in your homeschooler.
Don't forget to check out the other states!