Keep reading for the best list of children's books about North Carolina!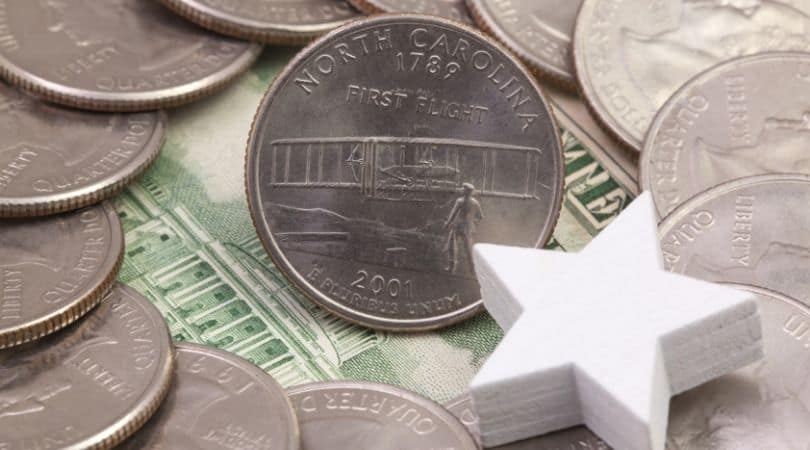 I might not remember what I had for breakfast yesterday, but I remember that my husband and I saw a stray white pit bull mix while trucking through North Carolina.
North Carolina is a stunning state! Home to the Smoky Mountains, charming cities, the Biltmore, and 300 miles of coastline. It has a lot to offer to tourists and history buffs alike!
However, learning about North Carolina is more than memorizing cities and the history of agriculture in the state. My approach to studying the 50 states involves what as Charlotte Mason coined, living books. Living books are books that make the subject you are studying come alive and are written by people who love the subject.
This book list contains non-fiction books about North Carolina, picture books and chapter books set in North Carolina, as well as some awesome books about the Wright brothers. Let's get to it!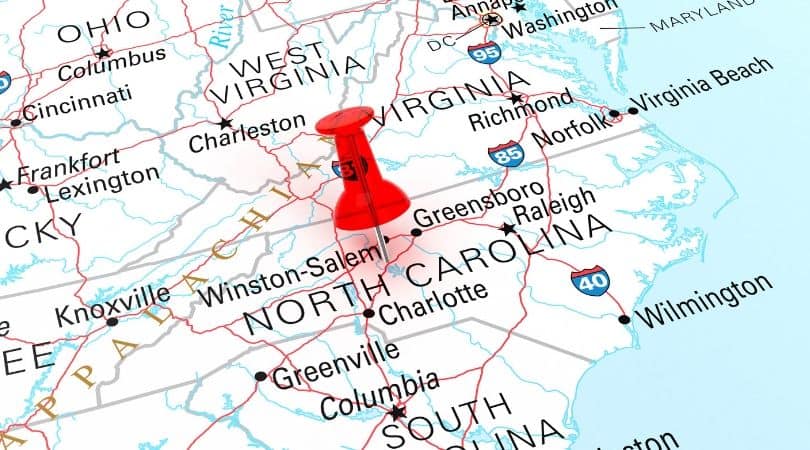 ICYMI, click HERE for all the other state book lists!
North Carolina History and Facts
North Carolina is nicknamed the Tar Heel State referring North Carolina's long history as a producer of tar, pitch, rosin and turpentine from the state's pine forests.
Motto – To be rather than to seem.
North Carolina entered the Union on November 21, 1789. It was the 12th state.
North Carolina is named in honor of Charles I of England.
James Polk, the 13th President, was born in Pineville, North Carolina on November 2, 1795. Andrew Johnson, the 16th President, was born on December 29, 1808 in Raleigh, North Carolina
Raleigh is the capital of North Carolina.
This post contains affiliate links. If you click and make a purchase, we earn a commission at NO extra cost to you. For more information, please read my full disclosure policy.
Descriptions come from Amazon; some are edited for length
Living Books about North Carolina
North Carolina Picture Books
T is for Tar Heel: A North Carolina Alphabet by Carol Crane
"From the Appalachian Mountains to the Outer Banks, readers will be delighted to discover the beautiful state of North Carolina in T is for Tar Heel. Explore the Biltmore mansion, with its 255 rooms, which took nineteenth century millionaire George Washington Vanderbilt six years to have built. Learn about the history and lore of NASCAR racing under "Z is for Zoom!"
This series of books called Discover America State By State are some of my favorites for introducing a state to kids. Each letter states a fact or a thing about that state. For example, for North Carolina letter A is for Appalachian Mountains and the letter B is for Brown Mountain Lights and so on. Each letter comes with a four line rhyme about that respective letter's fact or subject. What I love most is on the side of the page it gives more in-depth description about each subject. It's a great jumping off point for what sparks an interest in your child!
Wright Numbers: A North Carolina Number Book by Carol Crane
"Count your way through the fir-covered mountains of western North Carolina, past rolling foothills, to the giant sand dunes of the eastern coast in Wright Numbers. Young reader's imagination will take flight as they discover North Carolina through numbers — everything from what makes the strawberry unique to what in the world is a Gee Haw Whimmy Diddle."
North Carolina's Amazing Coast: Natural Wonders from Alligators to Zoeas by David Bryant
"Fun and learning come together in North Carolina's Amazing Coast, an inviting collection of one hundred short, self-contained features about the flora, fauna, and natural history of North Caroling. The fascinating place where land meets sea. Each page includes a full-color illustration and breezy, fact-filled commentary on coastal wildlife."
An Island Scrapbook: Dawn to Dusk on a Barrier Island by Virginia Wright-Frierson
"The first gold discovery in the United States occurred in 1799 when young Conrad Reed went fishing in Little Meadow Creek in Cabarrus County, North Carolina. The 17-pound nugget he found was used by his family as a doorstop until they figured out what the strange rock was. This chance discovery set off the first gold rush in the nation's history. For more than a century, men extracted gold from the rolling hills and valleys of the North Carolina piedmont, as well as from the high peaks and rugged mountains of the western part of the state."
The Year of the Perfect Christmas Tree by Gloria Houston
"The Armistice has been declared, but still there is no sign of Ruthie's father in their little Appalachian town. So, in accordance with the traditions of Pine Grove, it falls to Ruthie and her mother to bring home the perfect Christmas tree to donate to the town. Ruthie had accompanied her father to the rocky cliff where he marked a tree in the spring, so she and her mother set out to find it again, and haul it home. Their trip becomes the basis of a new town legend."
Roanoke: The Lost Colony by Heidi E. Y. Stemple
"In 1587 John White was chosen by Sir Walter Raleigh to lead a new colony at Roanoke off the Atlantic coast. After bringing many men, women, and children to the new land, White went back to England to gather supplies for the long winter. But when he finally returned to the fort almost three years later, he found that all of the colonists had vanished. The only signs of life left were the letters CRO carved into a tree and the word CROATOAN carved into one of the fort's posts. Did the Spanish army capture the colonists? Did the colonists get in a battle with the native people or join them? Did they try to follow John White to England and get lost at sea? Become a detective, study the clues, and see if you can help solve this chilling mystery from history!"
The Ride: The Legend of Betsy Dowdy by Kitty Griffin
"One brave girl, one strong pony, one desperate ride to deliver a crucial message that would change the course of American history. Betsy is the girl power answer to Paul Revere. Repeated for over two hundred years as an oral tradition, the legend of Betsy Dowdy is a classic American tale of a girl who simply believed she could be free. Inspired by the danger and daring of this ordinary North Carolinian girl, THE RIDE is a story about stepping up to help the cause you believe in, doing even what little you can, and building the United States of America."
Salt in His Shoes: Michael Jordan in Pursuit of a Dream by Deloris Jordan
"Michael Jordan. The mere mention of the name conjures up visions of basketball played at its absolute best. But as a child, Michael almost gave up on his hoop dreams, all because he feared he'd never grow tall enough to play the game that would one day make him famous. That's when his mother and father stepped in and shared the invaluable lesson of what really goes into the making of a champion: patience, determination, and hard work. Michael Jordan's mother and sister team up for this heartwarming and inspirational picture book about faith and hope and how any family working together can help a child make his or her dreams come true."
Rescue on the Outer Banks by Candice Ransom
"On October 11, 1896, 10-year-old Sam Deal and his horse, Ginger, watch as the brave surfmen of Pea Island struggle to save the lives of nine people stranded on a shipwreck. Sam has dreamt of becoming a surfman just like the all-African-American crew, and this is his chance. Can he and Ginger help the crew rescue the victims, or will they be lost forever?"
Freedom on the Menu: The Greensboro Sit-Ins by Carole Boston Weatherford
"There were signs all throughout town telling eight-year-old Connie where she could and could not go. But when Connie sees four young men take a stand for equal rights at a Woolworth's lunch counter in Greensboro, North Carolina, she realizes that things may soon change. This event sparks a movement throughout her town and region. And while Connie is too young to march or give a speech, she helps her brother and sister make signs for the cause. Changes are coming to Connie's town, but Connie just wants to sit at the lunch counter and eat a banana split like everyone else."
Sit-In: How Four Friends Stood Up by Sitting Down by Andrea Davis Pinkney
"This picture book is a celebration of the 50th anniversary of the momentous Woolworth's lunch counter sit-in, when four college students staged a peaceful protest that became a defining moment in the struggle for racial equality and the growing civil rights movement. Andrea Davis Pinkney uses poetic, powerful prose to tell the story of these four young men, who followed Dr. Martin Luther King Jr.'s words of peaceful protest and dared to sit at the "whites only" Woolworth's lunch counter."
Poetry for Kids: Carl Sandburg by Carl Sandburg
"In Poetry for Kids: Carl Sandburg you'll find many classics, some of which you may remember from your childhood, including "Young Bullfrogs," "Shenandoah", "Jazz Fantasia", "Fog", and 31 more of Sandburg's favorite and most accessible works. Accompanying the words are beautifully illustrated scenes by award-winning illustrator Robert Crawford. This gentle introduction includes commentary, definitions of key words, and an introduction to the poet's life, plus a final synopsis of the author's interpretation of the pieces."
Chapter books Set in North Carolina
Three Times Lucky by Sheila Turnage
"Rising sixth grader Miss Moses LoBeau lives in the small town of Tupelo Landing, NC, where everyone's business is fair game and no secret is sacred. She washed ashore in a hurricane eleven years ago, and she's been making waves ever since. Mo's found a home with the Colonel, a café owner, and Miss Lana, the fabulous café hostess. She will protect those she loves with every bit of her strong will and tough attitude. So when a lawman comes to town asking about a murder, Mo and her best friend, Dale Earnhardt Johnson III, set out to uncover the truth in hopes of saving the only family Mo has ever known."
How to Steal a Dog: A Novel by Barbara O'Connor
"Georgina Hayes is desperate. Ever since her father left and they were evicted from their apartment, her family has been living in their car. With her mama juggling two jobs and trying to make enough money to find a place to live, Georgina is stuck looking after her younger brother, Toby. And she has her heart set on improving their situation. When Georgina spots a missing-dog poster with a reward of five hundred dollars, the solution to all her problems suddenly seems within reach. All she has to do is 'borrow' the right dog and its owners are sure to offer a reward. What happens next is the last thing she expected."
Serafina and the Black Cloak by Robert Beatty
"A brave and unusual girl named Serafina lives secretly in the basement of the grand Biltmore Estate amidst the splendor of the Gilded Age. Serafina's Pa, the estate's maintenance man, has warned her to keep herself hidden from the fancy folk who live on the floors above, but when children at the estate start disappearing, Serafina and her friend Braeden Vanderbilt must work together to solve a dark and dangerous mystery."
Stella by Starlight by Sharon M. Draper
"Stella lives in the segregated South, in Bumblebee, North Carolina, to be exact about it. Some stores she can go into. Some stores she can't. Some folks are right pleasant. Others are a lot less so. To Stella, it sort of evens out, and heck, the Klan hasn't bothered them for years. But one late night, later than she should ever be up, Stella and her little brother see something they're never supposed to see, something that is the first flicker of change to come, unwelcome change by any stretch of the imagination. As Stella's community, her world, is upended, she decides to fight fire with fire. And she learns that ashes don't necessarily signify an end."
Surviving the Applewhites by Stephanie Tolan
"Jake Semple is notorious. Rumor has it he burned down his old school and got kicked out of every school in his home state. Only one place will take him now, and that's a homeschool run by the Applewhites, a chaotic and hilarious family of artists. Jake thinks surviving this one will be a breeze . . . but is he really as tough or as bad as he seems?"
"Eleven-year-old Charlie Reese has been making the same secret wish every day since fourth grade. She even has a list of all the ways there are to make the wish, such as cutting off the pointed end of a slice of pie and wishing on it as she takes the last bite. But when she is sent to the Blue Ridge Mountains of North Carolina to live with family she barely knows, it seems unlikely that her wish will ever come true. That is until she meets Wishbone, a skinny stray dog who captures her heart, and Howard, a neighbor boy who proves surprising in lots of ways. Suddenly Charlie is in serious danger of discovering that what she thought she wanted may not be what she needs at all. A middle-grade novel about a girl who, with the help of a true-blue friend, a big-hearted aunt and uncle, and the dog of her dreams, unexpectedly learns the true meaning of family in the least likely of places."
Children's Books about the Wright Brothers
The Wright Brothers: How They Invented the Airplane by Russell Freedman
"This engaging narrative account of Orville and Wilbur Wright, two men with little formal schooling but a knack for solving problems, follows their interest from a young age in the developing field of aeronautics. Chronicling their lives from their early mechanical work on toys and bicycles through the development of several flyers, The Wright Brothers follows the siblings through their achievements."
First Flight: The Story of Tom Tate and the Wright Brothers by George Shea
"When Tom Tate hears that Wilbur and Orville Wright are building a flying machine, he can't wait to try it. Tom's dad thinks it's dangerous. Some people think the Wrights are crazy. Can Tom help the brothers get their dream off the ground?"
Books Set in North Carolina (for Mom!)
I love to read, and I love a good theme or challenge for a reading list. So my final two books on this book list are one adult fiction and one adult non-fiction.
Fiction Book Set in North Carolina
Where the Crawdads Sing by Delia Owens
"For years, rumors of the "Marsh Girl" have haunted Barkley Cove, a quiet town on the North Carolina coast. So in late 1969, when handsome Chase Andrews is found dead, the locals immediately suspect Kya Clark, the so-called Marsh Girl. But Kya is not what they say. Sensitive and intelligent, she has survived for years alone in the marsh that she calls home, finding friends in the gulls and lessons in the sand. Then the time comes when she yearns to be touched and loved. When two young men from town become intrigued by her wild beauty, Kya opens herself to a new life–until the unthinkable happens."
Non-fiction Book Set In North Carolina
The Last Castle: The Epic Story of Love, Loss, and American Royalty in the Nation's Largest Home by Denise Kiernan
"A New York Times bestseller with an "engaging narrative and array of detail" (The Wall Street Journal), the "intimate and sweeping" (Raleigh News & Observer) untold, true story behind the Biltmore Estate—the largest, grandest private residence in North America, which has seen more than 120 years of history pass by its front door."
And there you have it! 20 living books about North Carolina. It is my hope that this book list provides you with JUST ONE book to share with your kids.
From the Biltmore to the Outer Banks, and from the Wright Brothers to Greensboro, I hope you find some fun things to learn about North Carolina!
Don't forget to check out the other states!