Keeping Reading for 20 Books About Virginia for Younger Readers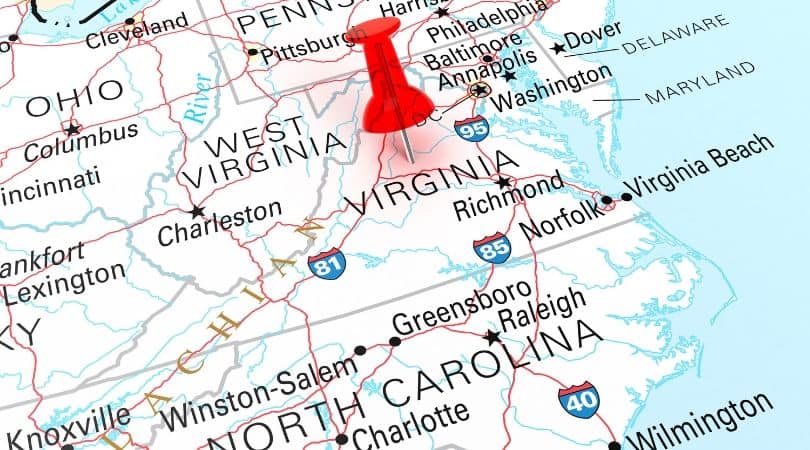 I might as well call this series: "Children's books about states so I can talk about tv shows that take place in that state." The later seasons of The Walking Dead take place in Virginia and there is the wonderful scene where Eugene is wearing a t-shirt that says "Virginia is for lovers." There. I got the tv reference out of the way.
Speak of which, Virginia is for lovers originated over 50 years ago as an ad campaign for the Virginia tourism board. Advertisers originally came up with "Virginia is for Beach Lovers" or "Virginia is for History Lovers" which was then shortened to Virginia is for Lovers.
Virginia certainly a history lovers dream! The home of 7 Presidents, the home of important Revolutionary and Civil War battles, and the home of colonial Williamsburg.
Learning about the state of Virginia is more than memorizing the 7 Presidents who were born there and learning about George Washington. My approach to studying the 50 states involves what as Charlotte Mason coined, living books. Living books are books that make the subject you are studying come alive and are written by people who love the subject.
This book list contains a little bit of everything: some non-fiction books about Virginia, books that take place in and around historical events, as well as picture and chapter books set in the state of Virginia. Let's get to it!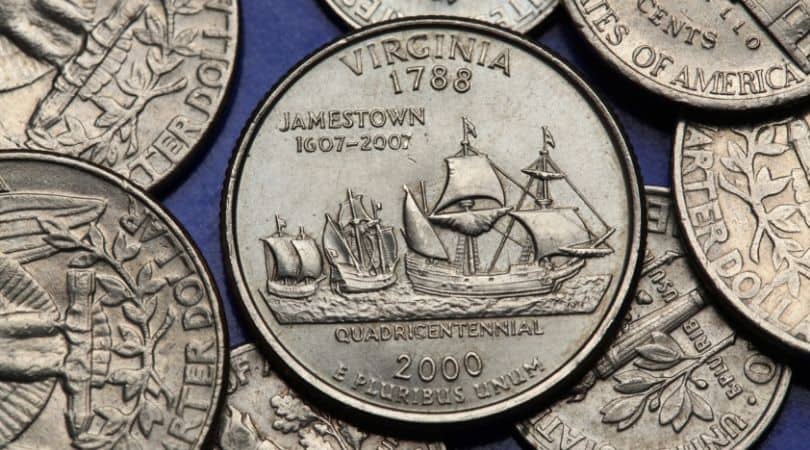 ICYMI! Here are the lists for the previous states.
Virginia History and Facts
Virginia is nicknamed the Old Dominion State.
Motto – Thus always to tyrants
Virginia entered the union on June 25, 1788. It was the tenth state.
Virginia was named by by founder Sir Walter Raleigh for Queen Elizabeth I, who was know as the virgin Queen.
Seven U.S. Presidents were born in Virginia: George Washington, Thomas Jefferson, James Madison, William Henry Harrison, Zachary Taylor, John Tyler, and Woodrow Wilson.
Richmond is the capital of Virginia.
This post contains affiliate links. If you click and make a purchase, we earn a commission at NO extra cost to you. For more information, please read my full disclosure policy.
Living Books about Virginia
Children's Books About Virginia
O is for Old Dominion: A Virginia Alphabet (Discover America State by State)
"From Arlington National Cemetery to magnificent Monticello, Virginia has always had a prominent place in American history. Jamestown, Williamsburg, and even the Pentagon are just a few of the many places highlighted in O is for Old Dominion. Readers will also be introduced to such history makers as George Washington, Patrick Henry, and Booker T. Washington. "
This series of books called Discover America State By State are some of my favorites for introducing a state to kids. Each letter states a fact or a thing about that state. For example, for Virginia letter A is for Arlington and the letter B is for Booker T. Washington, and so on. Each letter comes with a four line rhyme about that respective letter's fact or subject. What I love most is on the side of the page it gives more in-depth description about each subject. It's a great jumping off point for what sparks an interest in your child!
Picture Books about Virginia History
You Wouldn't Want to Be an American Colonist! by Jacqueline Morle
"Chronicles the Roanoke and Jamestown English settlements in Virginia, describing the difficult life and relations with the neighboring Algonquian tribe."
James Towne: Struggle for Survival by Marcia Sewall
"This moving account of James Towne's difficult early years is told from the viewpoint of one of its settlers and enhanced by original quotations. "
Chapter Books about Virginia History
Blood on the River: James Town, 1607 by Elisa Carbone
"When Samuel Collier becomes the page of Captain John Smith and boards the Susan Constant, bound for the New World, he can't believe his good fortune. He's heard that gold washes ashore with every tide. But the New World is nothing like he imagined. The lush Virginia shore where they establish the colony of James Town is both beautiful and forbidding, and it's hard to know who's a friend or foe. As he learns the language of the Algonquian Indians and observes Captain Smith's wise diplomacy, Samuel begins to see that he can be whomever he wants to be in this new land."
Give Me Liberty by L. M. Elliott
"An exciting novel for tweens that captures the dawn of the American Revolution. Life is tough for thirteen-year-old Nathaniel Dunn, an indentured servant in colonial Virginia. Then in a twist of luck, he meets Basil, a kind schoolmaster, who introduces Nathaniel to music, books, and philosophies. The year is 1775, and as colonists voice their rage over England's taxation, Patrick Henry's words "give me liberty, or give me death" become the sounding call for action. Nathaniel must face the puzzling choices a dawning nation lays before him."
Children's Books Set in Virginia
Picture books Set in Virginia
The Relatives Came by Cynthia Rylant
"In a rainbow-colored station wagon that smelled like a real car, the relatives came. When they arrived, they hugged and hugged from the kitchen to the front room. All summer they tended the garden and ate up all the strawberries and melons. They plucked banjos and strummed guitars.
When they finally had to leave, they were sad, but not for long. They all knew they would be together next summer."
The Promise Quilt by Candice F. Ransom
"Addie's father promised that she would learn to read and write her name. But when he doesn't return from the Civil War, it seems as if Addie's dreams might be lost with him. The war has been hard on the whole country, but it has devastated the South. It is a struggle for Addie's mother to find food for her children. So Addie's mother uses her skill to craft a beautiful quilt which, with the help of a friend in the North who can auction it for them, will pay for the new school supplies. But not before Addie must decide to sacrifice something she treasures for something she so longs for."
Miz Berlin Walks by Jane Yolen
"Every evening Miz Berlin walks down the long block, past Mary Louise's house, talking to herself. One day Mary Louise catches up to Miz Berlin and walks with her. She is spellbound by the stories the old woman tells. Now every evening, Mary Louise walks with Miz Berlin, then runs on home, stuffed full of her own stories to tell."
Chapter books Set in Virginia
"Meet Felicity Merriman, a spirited nine-year-old girl who lives in Williamsburg, Virginia, in 1774, just before the Revolutionary War. She's impatient with 'sitting down kinds of things,' like stitchery or writing. She'd rather ride horses! That's why Felicity is so excited to hear about a new horse in town. she falls in love with the copper-colored mare and names her Penny. But Penny is owned by a cruel man who beats his animals. When Penny's life is in danger, Felicity knows she must help."
Belle Prater's Boy by Ruth White
"Everyone in Coal Station, Virginia, has a theory about what happened to Belle Prater, who on a warm Sunday morning on October 1953 left her bed and vanished from the face of the earth. But twelve-year-old Gypsy wants the facts, and when Aunt Belle's son moves next door, she has her chance. He isn't as forthcoming as Gypsy hopes and Gypsy is puzzled by his calm acceptance of his mother's disappearance. When he finally reveals that he's been keeping a secret about his mother, Gypsy begins to understand that there are different ways of finding the strength to face the truth, no matter how painful it is."
Ghost Girl: A Blue Ridge Mountain Story by Delia Ray
"Eleven-year-old April Sloane has never set foot in a school before, and now that President Hoover and his wife are building a one-room schoolhouse in the hollow of the Blue Ridge Mountains where April lives, she is eager to attend it. But these are the Depression years, and Mama wants April to stay home and do the chores around their dilapidated farm. With her grandmother's intercession, April is grudgingly allowed to go. The kind teacher encourages her apt pupil, who finds a new world opening up to her. But at home, April cannot repair the relationship with her mother."
The Twin in the Tavern by Barbara Brooks Wallace
"Outside, the wind is howling. Inside the empty house, Taddy is shivering beneath a ragged blanket. He has been alone ever since his aunt and uncle died suddenly from a terrible fever. As his uncle was taking his final breath, he warned of danger in nearby Alexandria. Now Taddy is hiding, afraid of the unknown. When two rough-sounding men sneak in to steal the furniture, they force Taddy into their horse-drawn cart. The next thing he knows, he's in a tavern in Alexandria, working long hours for crumbs. He wants to run away, but he has nowhere to go-and something frightening waits for him out in the city."
Bridge to Terabithia by Katherine Paterson
"Jess Aarons has been practicing all summer so he can be the fastest runner in the fifth grade. And he almost is, until the new girl in school, Leslie Burke, outpaces him. The two become fast friends and spend most days in the woods behind Leslie's house, where they invent an enchanted land called Terabithia."
Young Adult Literature Set in Virginia
Shades of Gray by Carolyn Reede
"The Civil War may be over, but for twelve-year-old Will Page, the pain and bitterness haven't ended. How could they have, when the Yankees were responsible for the deaths of everyone in his entire immediate family? And now Will has to leave his comfortable home in the Shenandoah Valley and live with relatives he has never met on their farm in the war-torn Virginia Piedmont. But the worst of it is that Will's uncle Jed had refused to fight for the Confederacy. At first, Will regards his uncle as a traitor, but as they work side by side, Will begins to respect the man. And when he sees his uncle stand up for what he believes in, Will realizes that he must rethink his definition of honor and courage."
Picture Books About Famous Virginians
George Washington and the General's Dog by Frank Murphy
"Boom! Bang! Guns fire! Cannons roar! This Step 3 History Reader is about George Washington fighting in the American Revolution. He sees a dog lost on the battlefield. Whose dog is it? How will it find its master? Early readers will be surprised to find out what happens in this little-known true story about America's first president."
Where Was Patrick Henry on the 29th of May? by Jean Fritz
"Patrick Henry wasn't particularly well spoken. As a lawyer, he mumbled through some of his early cases. But when the issue was freedom, Patrick Henry was transformed into a natural orator. Jean Fritz makes history come alive as she chronicles the life of a man who moved a nation."
Fifty Cents and a Dream: Young Booker T. Washington by Jabari Asim
"Born into slavery, young Booker T. Washington could only dream of learning to read and write. After emancipation, Booker began a five-hundred-mile journey to Hampton Institute, taking his first steps towards a college degree. When he arrived, he had just fifty cents in his pocket and a dream about to come true. The young slave who once waited outside of the schoolhouse would one day become a legendary educator of freedmen."
Thomas Jefferson: Life, Liberty and the Pursuit of Everything by Maira Kalman
"Thomas Jefferson is perhaps best known for writing the Declaration of Independence—but there's so much more to discover. This energetic man was interested in everything. He played violin, spoke seven languages and was a scientist, naturalist, botanist, mathematician and architect. He designed his magnificent home, Monticello, was our first foodie, and advocated a mostly vegetarian diet. And oh yes, as our third president, he doubled the size of the United States and sent Lewis and Clark to explore it. He also started the Library of Congress and said, "I cannot live without books." But monumental figures can have monumental flaws, and Jefferson was no exception. Although he called slavery an "abomination," he owned about 150 slaves. Maira Kalman shares a president's remarkable, complicated life with young readers, making history come alive with her captivating text and stunning illustrations."
Books Set in Virginia (for Mom!)
I love to read, and I love a good theme or challenge for a reading list. So my final two books on this book list are one adult fiction and one adult non-fiction.
Fiction Book Set in Virginia
Prodigal Summer by Barbara Kingsolver
"Barbara Kingsolver's fifth novel weaves together three stories of human love within a larger tapestry of lives amid the mountains and farms of southern Appalachia. Over the course of one humid summer, this novel's intriguing protagonists face disparate predicaments but find connections to one another and to the flora and fauna with which they necessarily share a place."
Non-fiction Book Set In Virginia
The Hemingses of Monticello: An American Family by Annette Gordon-Reed
"This epic work tells the story of the Hemingses, whose close blood ties to our third president had been systematically expunged from American history until very recently. Now, historian and legal scholar Annette Gordon-Reed traces the Hemings family from its origins in Virginia in the 1700s to the family's dispersal after Jefferson's death in 1826."
And there you have it! 20 living books about Virginia. It is my hope that this book list provides you with JUST ONE book to share with your kids.
From Roanoke to Williamsburg, and from George Washington to the Civil War, I hope you find some fun things to learn about Virginia!