Keep reading for 20 of the best children's books about Maine!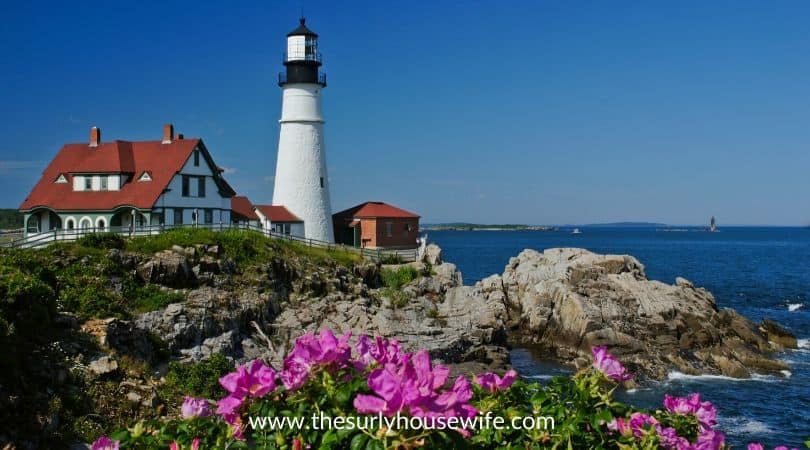 There isn't a shortage of quotes about Maine's beauty, but I think my favorite quote that sums up Maine as a whole is "Maine has three seasons: June, July, and Winter." This quote comes from the wonderful book Cheaper by the Dozen. And although it takes place all over New England, this quote really stuck out to me.
Maine is known for it's beauty, solitude, pine trees, and coastline. In fact, Maine has 3500 miles of tidal shoreline! That's more than California because of Maine's craggy coastline with it's many peninsulas, coves, and islands.
However, learning about Maine is more than learning about how to measure coastline and state animals. My approach to studying the 50 states involves what as Charlotte Mason coined, living books. Living books are books that make the subject you are studying come alive and are written by people who love the subject.
This book list contains non-fiction books about Maine as well as picture books and chapter books set in Maine which all make the state come alive to the reader. Let's get to it!
ICYMI, click HERE for all the other state book lists!
Maine History and Facts
Maine is nicknamed the Pine Tree State.
Motto – I direct.
Maine entered the Union on March 15, 1820. It was the 23rd state.
The name Maine is a reference to the state being a mainland, different from its many surrounding islands.
Hannibal Hamlin, the 15th Vice President of the United States, was born in Maine as well as the Governor of Maine and served as a Senator and Representative for the state of Maine.
Augusta is the capital of Maine.
This post contains affiliate links. If you click and make a purchase, we earn a commission at NO extra cost to you. For more information, please read my full disclosure policy.
Descriptions come from Amazon; some are edited for length
Living Books about Maine
Picture Books About Maine
L is for Lobster: A Maine Alphabet by Cynthia Furlong Reynolds
"From the Penobscots, Passaquamoddies, Puritans, and pilgrims, to the proud people 'Down East, L is for Lobster is the alphabet book for all Mainers. The rhymes and text woven through A to Z teach children about the many wonders of this great vacationland. Open the pages and explore the Quoddy lighthouse, learn about Old Town Canoe Company, or search the beaches for ocean treasures."
This series of books called Discover America State By State are some of my favorites for introducing a state to kids. Each letter states a fact, place, or resident from that state. For example, for Maine letter A is for Augusta and the letter B is for Beans and so on. Each letter comes with a four line rhyme about that respective letter's fact or subject. What I love most is on the side of the page it gives more in-depth description about each subject. It's a great jumping off point for what sparks an interest in your child!
Fishing for Numbers: A Maine Number Book by Cynthia Furlong Reynolds
"Count Our Way Across the USA with Maine where we can listen to the call of the loon, hike through the Eastern white pine forests, or enjoy a clambake at the beach while watching whales splash in the ocean. Fishing for Numbers is packed with enough Maine facts, lore, and history to keep readers fishing for hours. Readers will learn why Maine is known for their shipbuilders, how fast a puffin can fly, and which is the only domestic cat native to North America."
Twelve Kinds of Ice by Ellen Bryan Obed
"With the first ice, 'a skim on a sheep pail so thin, it breaks when touched,' one family's winter begins in earnest. Next comes ice like panes of glass. And eventually, skating ice! Take a literary skate over field ice and streams, through sleeping orchards and beyond. The first ice, the second ice, the third ice . . . perfect ice . . . the last ice . . . Twelve kinds of ice are carved into twenty nostalgic vignettes, illustrated in elegantly scratched detail by the award-winning Barbara McClintock."
Miss Rumphius by Barbara Cooney
"Alice made a promise to make the world a more beautiful place, then a seed of an idea is planted and blossoms into a beautiful plan. Alice Rumphius, who longed to travel the world, live in a house by the sea, and do something to make the world more beautiful. The countless lupines that bloom along the coast of Maine are the legacy of the real Miss Rumphius, the Lupine Lady, who scattered lupine seeds everywhere she went."
Keep the Lights Burning, Abbie by Connie Roop
"Abbie was afraid. She had never had to keep the lights burning by herself. But many lives depended on the lighthouse, and Papa was depending on Abbie. This is the exciting true story of Abbie Burgess, who in 1856 single-handedly kept the lighthouse lamps lit during a tremendous storm off the coast of Maine."
Children's Books Set In Maine
One Morning in Maine by Robert McCloskey
"Today is a special day for Sal because she gets to go to Buck's Harbour with her dad. But when she wakes up to brush her teeth with her baby sister, she discovers something shocking…. Her tooth is loose! And that's just the start of a huge day!"
Time of Wonder by Robert McCloskey
"'Out on the islands that poke their rocky shores above the waters of Penobscot Bay, you can watch the time of the world go by, from minute to minute, hour to hour, from day to day.' So begins this classic story of one summer on a Maine island. The spell of rain, the gulls and a foggy morning, the excitement of sailing, the quiet of the night, the sudden terror of a hurricane, and, in the end, the peace of the island as the family packs up to leave are shown in poetic language and vibrant, evocative pictures."
Circus Ship by Chris Van Dusen
"When a circus ship runs aground off the coast of Maine, the poor animals are left on their own to swim the chilly waters. Staggering onto a nearby island, they soon win over the wary townspeople with their kind, courageous ways. So well do the critters blend in that when the greedy circus owner returns to claim them, villagers of all species conspire to outsmart the bloated blowhard. With buoyant rhymes and brilliantly caricatured illustrations evoking the early nineteenth century, Chris Van Dusen presents a hugely entertaining tale about the bonds of community."
"The youngest and quietest of 12 children, Matthias grew closest to Tibbets Island, learning its secrets through the years. And though in later years he sailed to faraway places, he always returned to the island he loved."
The Stranded Whale by Jane Yolen
"Sally and her brothers are walking home from school along the dunes in their Maine town when they come upon an enormous whale. He's stranded on the beach. Her brother runs for help, and many people rally to respond, but the tide is going out quickly and the whale is just so big. Still, Sally is able to sit near the whale's massive eye and tell him he's beautiful and strong, and that she will miss him no matter what happens. Master storyteller Jane Yolen and illustrator Melanie Cataldo have created an authentic portrait of vulnerability that is at once spare, moving, and honest."
Chapter books Set in Maine
The Sign of the Beaver by Elizabeth George Speare
"Although he faces responsibility bravely, thirteen-year-old Matt is more than a little apprehensive when his father leaves him alone to guard their new cabin in the wilderness. When a renegade white stranger steals his gun, Matt realizes he has no way to shoot game or to protect himself. When Matt meets Attean, a boy in the Beaver clan, he begins to better understand their way of life and their growing problem in adapting to the white man and the changing frontier."
Lost on a Mountain in Maine by Donn Fendler
"Based on the true account of a boy's harrowing journey through the vast wilderness of the Katahdin Mountains. Twelve-year-old Donn Fendler steps away from his Boy Scout troop for only a minute, but in the foggy mountains of Maine, a minute is all it takes. After hours of trying to find his way back, a nervous and tired Donn falls down an embankment, making it impossible for him to be found. One sleepless night goes by, followed by a second . . . and before Donn knows it, almost two weeks have passed, leaving him starving, scared, and delirious. With rainstorms, black bears, and his fear of being lost forever, Donn's journey is a physically, mentally, and emotionally charged story told from the point of view of the boy who lived it."
A Handful of Stars by Cynthia Lord
"When Lily's blind dog, Lucky, slips his collar and runs away across the wide-open blueberry barrens of eastern Maine, it's Salma Santiago who manages to catch him. Salma, the daughter of migrant workers, is in the small town with her family for the blueberry-picking season. After their initial chance meeting, Salma and Lily bond over painting bee boxes for Lily's grandfather, and Salma's friendship transforms Lily's summer. But when Salma decides to run in the upcoming Blueberry Queen pageant, they'll have to face some tough truths about friendship and belonging. Should an outsider like Salma really participate in the pageant and possibly win?"
Rebecca of Sunnybrook Farm by Kate Douglas Smith Wiggin
"Despite her impoverished background, Rebecca is an imaginative and charming child, often composing little poems and songs to express her feelings or to amuse her younger brothers and sisters. Rebecca's joy for life inspires her aunts, but she faces many trials in her young life, gaining wisdom and understanding."
The Young Man and the Sea by Rodman Philbrick
"Twelve-year-old Skiff Beaman's mom just died, and his fisherman dad is too depressed to drag himself off the couch and go to work. So these days Skiff has to take care of everything himself. But when his dad's boat sinks, Skiff discovers it will cost thousands to buy a new engine. Skiff's lobster traps won't earn him enough, but there are bigger fish in the sea: bluefin tuna. If he can catch one of those monster fish, Skiff just might save the boat and his family."
"Peter Hatcher can't catch a break. His little brother, Fudge (the five-year-old human hurricane) has big plans to marry Peter's sworn enemy, Sheila Tubman. That alone would be enough to ruin Peter's summer, but now his parents have decided to rent a summer home next door to Sheila's house. Peter will be trapped with Fudge and Sheila for three whole weeks!"
"Following one family's momentous move from the city to rural Maine, an unexpected bond develops between twelve-year-old Reena and one very ornery cow. When Reena, her little brother, Luke, and their parents first move to Maine, Reena doesn't know what to expect. She's ready for beaches, blueberries, and all the lobster she can eat. Instead, her parents 'volunteer' Reena and Luke to work for an eccentric neighbor named Mrs. Falala, who has a pig named Paulie, a cat named China, a snake named Edna—and that stubborn cow, Zora."
Listening for Lucca by Suzanne LaFleur
"'I'm obsessed with abandoned things.' Siena's obsession began a year and a half ago, around the time her two-year-old brother Lucca stopped talking. Now Mom and Dad are moving the family from Brooklyn to Maine hoping that it will mean a whole new start for Lucca and Siena. She soon realizes that their wonderful old house on the beach holds secrets. When Siena writes in her diary with an old pen she found in her closet, the pen writes its own story, of Sarah and Joshua, a brother and sister who lived in the same house during World War II. As the two stories unfold, amazing parallels begin to appear, and Siena senses that Sarah and Joshua's story might contain the key to unlocking Lucca's voice."
Navigating Early by Clare Vanderpool
"When Jack Baker's father sends him from his home in Kansas to attend a boys' boarding school in Maine, Jack doesn't know what to expect. Certainly not Early Auden, the strangest of boys. Early keeps to himself, reads the number pi as a story, and refuses to accept truths others take for granted. Jack, feeling lonely and out of place, connects with Early, and the two become friends. During a break from school, the boys set out for the Appalachian Trail on a quest for a great black bear. As Jack and Early travel deeper into the mountains, they meet peculiar and dangerous characters, and they make some shocking discoveries. But their adventure is only just beginning. Will Jack's and Early's friendship last the journey? Can the boys make it home alive?"
Lizzy and the Good Luck Girl by Susan Lubner
"Living in the small town of East Thumb, Maine, upstairs from her family's diner, twelve-year-old Lizzy Sherman searches for signs to guide her and perhaps guarantee her a bump-free path through life. She pays attention to the clouds in the sky, the ice cubes in her water, the heart-shaped puddle of the juice her friend spilled. If only she can figure out what the signs are trying to tell her, she'll know what to do next. When Lizzy and her best friend go searching for a stray cat and find a runaway girl instead, they want to help. And when Lizzy notices a tiny four-leaf clover tattooed on the girl's hand, she knows it's a sign. Lizzy hides the girl inside her bedroom closet, convinced the girl will be able to protect Lizzy's family from tragedy. But signs can be tricky, and what the girl has to offer may be more valuable that luck."
Books Set in Maine (for Mom!)
I love to read, and I love a good theme or challenge for a reading list. So my final two books on this book list are one adult fiction and one adult non-fiction.
Fiction Book Set in Maine
"Welcome to Empire Falls, a blue-collar town full of abandoned mills whose citizens surround themselves with the comforts and feuds provided by lifelong friends and neighbors and who find humor and hope in the most unlikely places, in this Pulitzer Prize-winning novel by Richard Russo."
Non-fiction Book Set In Maine
The Maine Woods by Henry David Thoreau
"Published posthumously in 1864 and based on Henry David Thoreau's lengthy experiences in the forests of Maine on three separate occasions in 1846, 1853, and 1857, 'The Maine Woods' is a captivating portrait of the largely unexplored region in the mid-1800s. Rich with the naturalistic detail that is common with Thoreau's writing, readers will delight in the exquisiteness with which Thoreau relates his experiences in nature."
And there you have it! 20 living books about Maine. It is my hope that this book list provides you with JUST ONE book to share with your kids.
From lobster to the puffin, and from the Bangor to Augusta, I hope you find some fun things to learn about Maine!
Don't forget to check out the other book lists!