Keep Reading For 20 Books about Pennsylvania for a Homeschool Unit Study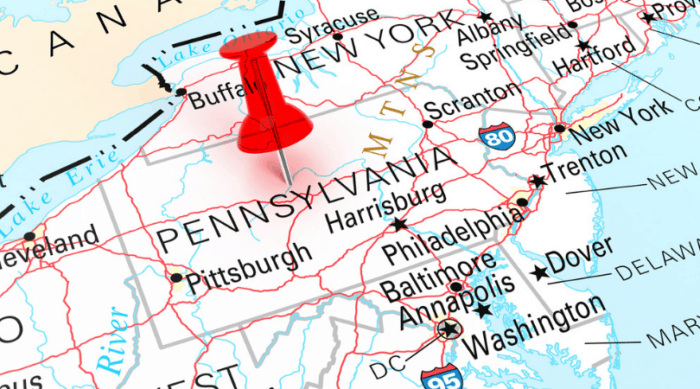 The best part of being in Pennsylvania is that it means you aren't in Ohio anymore. Nothing against the fine state of Ohio but when you are trucking across the United States in a big rig, Ohio gets a bit, how do you say it? Boring!
In the fall of 2004, I was able to ride along with my husband as he drove his semi across the eastern US. It was an amazing time and some of our best memories as a newly married couple. We spent a lot of time crossing Pennsylvania, and while being steeped in American history, it is also an absolutely gorgeous state.
Studying and learning about Pennsylvania, or any state, is more than memorizing its state rock and main agricultural crop. My approach to studying the 50 states involves what as Charlotte Mason coined, living books. Living books are books that make the subject you are studying come alive and are written by people who love the subject.
If you are starting to study Pennsylvania, I have a list of 20 books of various reading levels to get you started. From Benjamin Franklin to the Battle of Gettysburg this list has something for all interests and age ranges that homeschooling families may have.
Pennsylvania History and Facts
Pennsylvania is nicknamed the Keystone State because it was a middle colony of the original 13 colonies, and because it has held a key position in the economic, social, and political development of the United States.
The Pennsylvania state motto is virtue, liberty, and independence
Pennsylvania became a state on December 12, 1787. It was the second state.
Harrisburg is the capital of Pennsylvania.
Pennsylvania was named in honor of Adm. Sir William Penn, father of William Penn. It means "Penn's Woodland."
James Buchanan, the 12th President of the United States, was born in Cove Gap, Pennsylvania on November 2, 1795.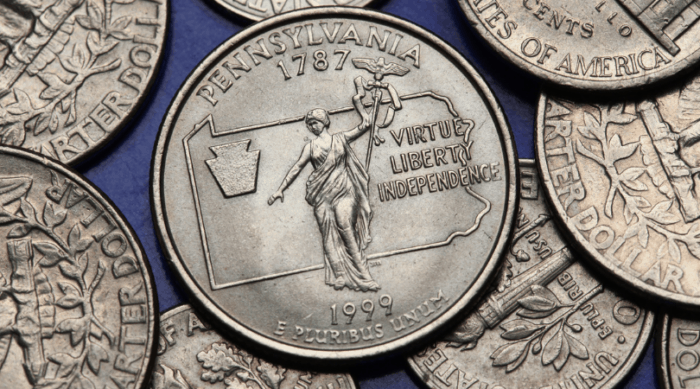 This post contains affiliate links. If you click and make a purchase, we earn a commission at NO extra cost to you. For more information, please read my full disclosure policy.
Living Books about Pennsylvania
Kids Books About Pennsylvania
K is for Keystone: A Pennsylvania Alphabet by Kristen Kane
"Frank Lloyd Wright's Falling Water, Gettysburg, Ben Franklin's inventions, the Liberty Bell — there is so much to learn about Pennsylvania's history and geography. K is for Keystone is a wonderful introduction to many of Pennsylvania's unique features for readers young and old."
This series of books called Discover America State By State are some of my favorites for introducing a state to kids. Each letter states a fact or a thing about that state. For example, for Pennsylvania letter A is for Amish and so on. Each letter comes with a four line rhyme about that respective letter's fact or subject. What I love most is on the side of the page it gives more in-depth description about each subject. It's a great jumping off point for what sparks an interest in your child!
One for All: A Pennsylvania Number Book by Trinka Hakes Noble
"Trinka Hakes Noble invites young readers to join her as she counts her way through the history and traditions of the great state of Pennsylvania. Using state symbols, landmark events, and famous people, numbers come to life in simple rhymes, accompanied by detailed expository text."
Books About Pennsylvanian History
Saving the Liberty Bell by Megan McDonald
"Some tall tales are actually true. This is a grand one, told with rightful pride by a boy who was there in the city of Philadelphia in 1777 and was lucky enough to play a role in the American Revolution. John Jacob Mickley, eleven years old, and his father were in the city when the Great Bell began ringing from atop the State House to warn the citizens: "Redcoats! The Redcoats are coming! Megan McDonald has aptly caught John Jacob's excited retelling of the story, and Marsha Gray Carrington has relished every wild and wooly moment of it in her pictures — both funny and carefully researched."
Just a Few Words, Mr. Lincoln: The Story of the Gettysburg Address by Jean Fritz
"Abraham Lincoln was one busy man. He had a country to run. And a war to win. And a family to care for. But when it came time to honor all the soldiers who had died in the great battle of Gettysburg, President Lincoln still took time to say a few words. Two hundred and seventy-one to be exact. Here is a true story about a great man and his famous speech."
Picture books About Pennsylvanian Historical Figures
Now & Ben: The Modern Inventions of Benjamin Franklin by Gene Barretta
"From bifocals and daylight savings time to post offices and lightning rods, the incredible inventions and ingenuity of Benjamin Franklin are presented in this informative celebration of one of the nation's most beloved figures."
The Boy Who Drew Birds: A Story of John James Audubon by Jacqueline Davies
"John James Audubon was a boy who loved the out-of-doors more than the in. He was a boy who believed in studying birds in nature, not just from books. And, in the fall of 1804, he was a boy determined to learn if the small birds nesting near his Pennsylvania home really would return the following spring.
This book reveals how the youthful Audubon pioneered a technique essential to our understanding of birds. Capturing the early passion of America's greatest painter of birds, this story will leave young readers listening intently for the call of birds large and small near their own homes."
What's the Big Idea, Ben Franklin? by Jean Fritz
"No matter how busy he was, Ben Franklin always found time to try out new ideas. Such as a remote-control lock (so he could stay in bed and lock his door), a rocking chair (which powered a fan), and a windmill (to turn his meat roaster). Aside from being a man of ideas, he was an ambassador to England, a printer, an almanac maker, a politician, and even a vegetarian (for a time)."
Betsy Ross and the American Flag by Kay Melchisedech Olson
"Looks at the life of Betsy Ross from her Quaker childhood to her days as an independent businesswoman. Also examines the legend of the Betsy Ross flag. Written in graphic-novel format."
"Ever wonder where inventors get their ideas? As it turns out, the great inventor Benjamin Franklin got his best ideas from a mouse named Amos! Funny, interesting and wise, this classic tale has been a favorite for generations. Once you've met Amos and read his account, you'll never think of Ben Franklin-or American history-quite the same way."
Picture books Set in Pennsylvania
A Very Marley Christmas by John Grogan
"With all the excitement of Christmas approaching, it's no surprise that Marley, the lovable pup with a nose for trouble, wants to get in on the action. Anticipating his very first snowfall and Santa's arrival, Marley jumps in to help his family every way he can. But Marley, being Marley, always ends up on the wrong side of right. It's not long before he tears down the twinkle lights, attacks a chain of paper snowflakes, and mistakes the Christmas tree for…well…his very own indoor bathroom."
Raising Yoder's Barn by Jane Yolen
"In a stunning picture book, eight-year-old Matthew tells what happens when a devastating fire destroys the barn on his family's farm and all the Amish neighbors help to rebuild it in one day."
The Bears on Hemlock Mountain by Alice Dalgliesh
"'There are no bears on Hemlock Mountain, No bears, no bears at all…'
Or so young Jonathan is told by the grown-ups as he sets out alone over Hemlock Mountain. But as Jonathan discovers on that cold winter night, grown-ups don't always know…
And there are bears on Hemlock Mountain!"
Chapter Books Set In Pennsylvania
The Cabin Faced West by Jean Fritz
"Ann Hamilton's family has moved to the western frontier of Pennsylvania, and she misses her old home in Gettysburg. There are no girls her age on Hamilton Hill, and life is hard. But when the Hamiltons survive a terrible storm and receive a surprise visit from George Washington, Ann realizes that pioneer life is exciting and special."
Dear America: The Winter of Red Snow by Kristiana Gregory
"Eleven-year-old Abigail Jane Stewart's fictionalized diary about her life, family, friends, and neighbors, and the sides they have to choose in Valley Forge, Pennsylvania, during the height of the Revolutionary War, renders a vivid portrayal of one of the most memorable and crucial winters in American history."
Knots in My Yo-Yo String: The Autobiography of a Kid by Jerry Spinelli
"Newbery medalist Jerry Spinelli has penned his early autobiography with all the warmth, humor, and drama of his best-selling fiction. From first memories through high school, including first kiss, first punch, first trip to the principal's office, and first humiliating sports experience, this is not merely an account of a highly unusual childhood. Rather, like Spinelli's fiction, its appeal lies in the accessibility and universality of his life. Entertaining and fast-paced, this is a highly readable memoir."
Young Adult Fiction Set in Pennsylvania
Fever 1793 by Laurie Halse Anderson
"During the summer of 1793, Mattie Cook lives above the family coffee shop with her widowed mother and grandfather. Mattie spends her days avoiding chores and making plans to turn the family business into the finest Philadelphia has ever seen. But then the fever breaks out. Disease sweeps the streets, destroying everything in its path and turning Mattie's world upside down. At her feverish mother's insistence, Mattie flees the city with her grandfather. But she soon discovers that the sickness is everywhere, and Mattie must learn quickly how to survive in a city turned frantic with disease."
Macaroni Boy by Katherine Ayres
"During the Great Depression, a boy who faces bullying stumbles upon a mystery and comes of age in this novel that integrates fact and opinion and has a rich 1930's vocabulary."
Life As We Knew It by Susan Pfeffer
"High school sophomore Miranda's disbelief turns to fear in a split second when an asteroid knocks the moon closer to Earth, like "one marble hits another." The result is catastrophic. How can her family prepare for the future when worldwide tsunamis are wiping out the coasts, earthquakes are rocking the continents, and volcanic ash is blocking out the sun? As August turns dark and wintery in northeastern Pennsylvania, Miranda, her two brothers, and their mother retreat to the unexpected safe haven of their sunroom, where they subsist on stockpiled food and limited water in the warmth of a wood-burning stove."
Books Set in Pennsylvania (For Mom!)
I love to read, and I love a good theme or challenge for a reading list. So my final two books on this Pennsylvania book list are one adult fiction and one adult non-fiction!
Fiction Book Set In Pennsylvania
The Lovely Bones by Alice Sebold
"'My name was Salmon, like the fish; first name, Susie. I was fourteen when I was murdered on December 6, 1973.' So begins the story of Susie Salmon, who is adjusting to her new home in heaven, a place that is not at all what she expected, even as she is watching life on earth continue without her — her friends trading rumors about her disappearance, her killer trying to cover his tracks, her grief-stricken family unraveling. Out of unspeakable tragedy and loss, THE LOVELY BONES succeeds, miraculously, in building a tale filled with hope, humor, suspense, even joy."
Non-Fiction Book Set In Pennsylvania
An American Childhood by Annie Dillard
"A book that instantly captured the hearts of readers across the country, An American Childhood is Pulitzer Prize-winning author Annie Dillard's poignant, vivid memoir of growing up in Pittsburgh in the 1950s."
I hope this book list sparks an interest in your homeschooler. It could be Benjamin Franklin, the Revolutionary War, or the Liberty Bell! Pennsylvania has so many fun areas to explore and expand on. Which one does your child love best? What kind of books would you like to see in the future? Drop a comment below to let me know!
Don't forget to check out the other states!