Keep reading for 20 of the best children's books about Wisconsin!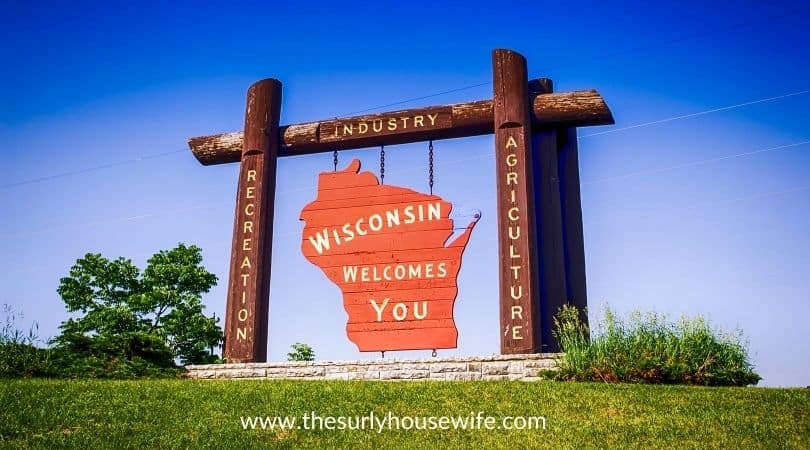 This book list is probably my favorite of all the 50 states because it covers my favorite/home state of Wisconsin! I may have only lived here since 2005 but Wisconsin will always feel like home to me.
Wisconsin is a gorgeous state with its rolling hills and beautiful lake fronts. Minnesota may be the Land of 10,00 lakes but Wisconsin has over 15,000 lakes!
However, studying and learning about Wisconsin is more than learning about its amazing natural resources. My approach to homeschooling involves what as Charlotte Mason coined, living books. Living books are books that make the subject you are studying come alive and are written by people who love the subject.
While this book list might not contain nonfiction books filled with facts and figures about Wisconsin, they DO make the state of come alive to the reader. This book list contains picture and chapter books set in Wisconsin as well as books on one of Wisconsin's most famous residents, Laura Ingalls Wilder. Let's get started!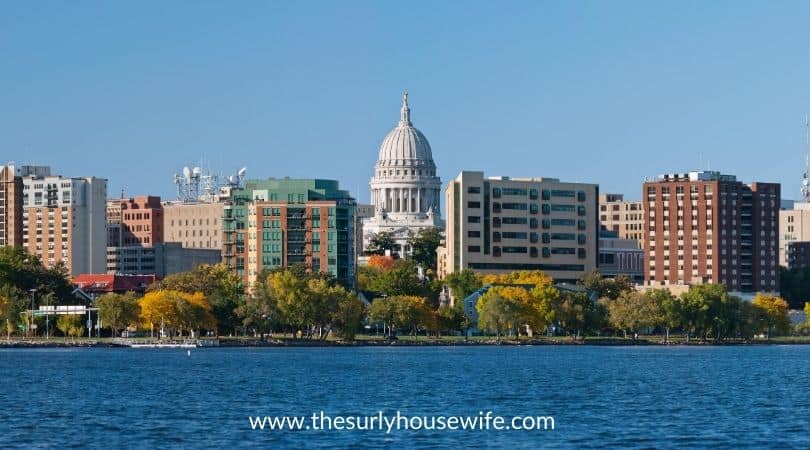 ICYMI, click HERE for all the other state book lists!
Wisconsin History and Facts
Wisconsin is nicknamed the Badger State.
Motto – Forward
Wisconsin entered the Union on May 29, 1848. It was the 30th state.
Wisconsin is based on a Chippewa word meaning "grassy place."
Madison is the capital of Wisconsin.
This post contains affiliate links. If you click and make a purchase, we earn a commission at NO extra cost to you. For more information, please read my full disclosure policy.
Descriptions come from Amazon; some are edited for length
Living Books about Wisconsin
Nonfiction Wisconsin Picture Books
B is for Badger: A Wisconsin Alphabet by Kathy-Joy Wargin
"The intriguing facts and faces, history and places of Wisconsin are revealed to readers young and old in B is for Badger: A Wisconsin Alphabet. From its leaders in fine arts and architecture (Georgia O'Keefe and Frank Lloyd Wright) to its pioneers in nature conservation (John Muir and Aldo Leopold), Wisconsin has been an influence on major movements in education, industry, and use of natural resources. Brought to life with lyric rhymes and expressive, original artwork, B is for Badger showcases for natives and visitors alike the splendors of Wisconsin."
This series of books called Discover America State By State are some of my favorites for introducing a state to kids. Each letter states a fact or a thing about that state. For example, for Wisconsin letter A is for American Water Spaniel, B is for Badgers and so on. Each letter comes with a four line rhyme about that respective letter's fact or subject. What I love most is on the side of the page it gives more in-depth description about each subject. It's a great jumping off point for what sparks an interest in your child!
The Legend of Wisconsin by Kathy-Jo Wargin
"The great Gitchee Manitou has sent Nanabush the Giant Hare to the new north country to give the first animals their names and special markings. But trickster that he is, Nanabush prefers to play silly games. When Ahmik the Giant Beaver lures Nanabush into a chase across the newly formed land and water, their game etches out a beautiful wonderland of islands and ponds and lakes. Readers young and old will enjoy the legend behind the creation of the state of Wisk-on-sin."
The Legend of Old Abe: A Civil War Eagle by Kathy-jo Wargin
"During the Civil War, it was not uncommon for Army units to have mascots to lift spirits and build loyalty among the soldiers. One of the most famous mascots was Old Abe, a remarkable eagle from Wisconsin. Named in honor of President Lincoln, the eagle became the mascot of the Eighth Regiment of the Wisconsin Volunteer Infantry. Old Abe was beloved by foot soldiers and officers alike. He made them laugh with his antics: stealing chickens, shaking hands, and creating warmth amidst the harsh conditions of war. Soaring over the battlefields, he rallied his comrades through numerous skirmishes and engagements. When his exploits became larger than life and extolled throughout the country, even the Confederates knew he was a force to be reckoned with and made the bird a target!"
The Shape of the World: A Portrait of Frank Lloyd Wright by K.L. Going
"A little boy who loves to find shapes in nature grows up to be one of America's greatest architects in this inspiring biography of Frank Lloyd Wright. When Frank Lloyd Wright was a baby, his mother dreamed that he would become a great architect. She gave him blocks to play with and he learned that shapes are made up of many other shapes. As he grew up, he loved finding shapes in nature. Wright went on to study architecture and create buildings that were one with the natural world around them. He became known as one of the greatest American architects of all time."
Kids Books Set in Wisconsin
"Inspired in part by his own childhood, this gorgeous picture book from Jim LaMarche, tells the story of one stubborn boy's unexpectedly wonderful summer on the river. Nicky is convinced that his summer with his grandmother in the Wisconsin woods is going to be the worst summer ever. She cooks food that he doesn't like, there's an art studio where her living room should be, and he's expected to do chores, including fishing, the most boring chore ever. But one afternoon, while Nicky is trying to catch their dinner, a raft drifts down the river towards him. The raft has a calming magic about it, affecting both Nicky and the wildlife of the river and woods. Through the raft and the adventures it brings him on, Nicky finds new common ground with his grandmother, a fellow river rat, who encourages him to explore his newfound talent for art."
Time for Cranberries by Lisl H. Detlefsen
"When the vines hang heavy with berries that the autumn winds have turned deep red, it's time for cranberries, and Sam is finally old enough to help with the harvest! This charming, lyrical picture book follows Sam and his family as they raise the water in the bog, pick the cranberries, and gather the fruit for processing. It's a story of modern family farming in action, showing readers where their food comes from but mostly delighting them along the way."
The Giant Ball of String by Arthur Geisert
"When a rival town steals their prized ball of string, the ingenious pigs of Rumpus Ridge don't get mad, they get even!"
Through Georgia's Eyes by Rachel Victoria Rodriguez
"Georgia O'Keeffe saw the world differently from most people. As a child she roamed the prairie with a sketch pad in her hand, struggling to capture on paper what she saw all around her. At art school she learned to speak in paint on canvas. But Georgia felt confined by city life. She longed for vast expanses of space, and she found it in the red hills and silent deserts of New Mexico. Lyrical and vivid, this is a portrait of an exceptional artist, a woman whose eyes were open to the wideness and wonder of the world."
Chapter Books set in Wisconsin
"In 1918 Wisconsin, 11-year-old Sterling North has an almost perfect life. He keeps skunks in the backyard, goes everywhere with his enormous Saint Bernard, and is building a canoe in the living room. The only trouble is life gets a little lonely for him and his father since his mother died. While scouting around the woods one afternoon, he discovers an abandoned, month-old raccoon. Afraid the kit will die on its own, he takes it home to join his menagerie. Soon Sterling and the mischievous raccoon Rascal are sharing one adventure after another, swimming, fishing, and camping. Theirs is an unforgettable friendship – until everything suddenly changes one warm spring day."
Caddie Woodlawn by Carol Brink
"Caddie Woodlawn is a real adventurer. She'd rather hunt than sew and plow than bake, and tries to beat her brother's dares every chance she gets. Caddie is friends with Indians, who scare most of the neighbors. Neighbors who, like her mother and sisters, don't understand her at all. Caddie is brave, and her story is special because it's based on the life and memories of Carol Ryrie Brink's grandmother, the real Caddie Woodlawn. Her spirit and sense of fun have made this book a classic that readers have taken to their hearts for more than seventy years."
Thimble Summer by Elizabeth Enright
"A few hours after nine-year-old Garnet Linden finds a silver thimble in the dried-up riverbed, the rains come and end the long drought on the farm. The rains bring safety for the crops and the livestock, and money for Garnet's father. Garnet can't help feeling that the thimble is a magic talisman, for the summer proves to be interesting and exciting in so many different ways. As far as Garnet is concerned, the thimble is responsible for each good thing that happens during this magic summer, her thimble summer."
The Year of Billy Miller by Kevin Henkes
"When Billy Miller has a mishap at the statue of the Jolly Green Giant at the end of summer vacation, he ends up with a big lump on his head. What a way to start second grade, with a lump on your head! As the year goes by, though, Billy figures out how to navigate elementary school, how to appreciate his little sister, and how to be a more grown up and responsible member of the family and a help to his busy working mom and stay-at-home dad."
Ida B: . . . and Her Plans to Maximize Fun, Avoid Disaster, and (Possibly) Save the World by Katherine Hannigan
"Who is Ida B. Applewood? She is a fourth grader like no other, living a life like no other, with a voice like no other, and her story will resonate long after you have put this book down. How does Ida B cope when outside forces, life, really, attempt to derail her and her family and her future? She enters her Black Period, and it is not pretty. But then, with the help of a patient teacher, a loyal cat and dog, her beloved apple trees, and parents who believe in the same things she does (even if they sometimes act as though they don't), the resilience that is the very essence of Ida B triumph…and Ida B. Applewood takes the hand that is extended and starts to grow up."
One Came Home by Amy Timberlake
"In the town of Placid, Wisconsin, in 1871, Georgie Burkhardt is known for two things: her uncanny aim with a rifle and her habit of speaking her mind plainly. But when Georgie blurts out something she shouldn't, her older sister Agatha flees, running off with a pack of 'pigeoners' trailing the passenger pigeon migration. And when the sheriff returns to town with an unidentifiable body (wearing Agatha's blue-green ball gown) everyone assumes the worst. Except Georgie. Refusing to believe the facts that are laid down (and coffined) before her, Georgie sets out on a journey to find her sister. She will track every last clue and shred of evidence to bring Agatha home. Yet even with resolute determination and her trusty Springfield single-shot, Georgie is not prepared for what she faces on the western frontier."
The Westing Game by Ellen Raskin
"A bizarre chain of events begins when sixteen unlikely people gather for the reading of Samuel W. Westing's will. And though no one knows why the eccentric, game-loving millionaire has chosen a virtual stranger (and a possible murderer) to inherit his vast fortune, on things for sure: Sam Westing may be dead, but that won't stop him from playing one last game!"
YA Books Set in Wisconsin
"When Hope and her aunt move to small-town Wisconsin to take over the local diner, Hope's not sure what to expect. But what they find is that the owner, G.T., isn't quite ready to give up yet. In fact, he's decided to run for mayor against a corrupt candidate. And as Hope starts to make her place at the diner, she also finds herself caught up in G.T.'s campaign and his visions for the future. After all, as G.T. points out, everyone can use a little hope to help get through the tough times, even Hope herself."
Dairy Queen by Catherine Gilbert Murdock
"When you don't talk, there's a lot of stuff that ends up not getting said. Stuff like why her best friend, Amber, isn't so friendly anymore. Or why her little brother, Curtis, never opens his mouth. Why her mom has two jobs and a big secret. Why her college-football-star brothers won't even call home. Why her dad would go ballistic if she tried out for the high school football team herself. And why Brian is so, so out of her league. When you don't talk, there's a lot of stuff that ends up not getting said. Welcome to the summer that 15-year-old D.J. Schwenk of Red Bend, Wisconsin, learns to talk, and ends up having an awful lot of stuff to say."
Children's Books about Laura Ingalls Wilder
Picture Books about Laura Ingalls Wilder
Winter Days in the Big Woods by Laura Ingalls Wilder
"Winter has come to the Big Woods! Laura and Mary help Ma with chores around the house. When the frost comes, they draw pictures in their windows. With this illustrated adaptation from the beloved Little House series, the youngest readers can share in the joy of Laura Ingalls Wilder's beloved classics."
Pioneer Girl: The Story of Laura Ingalls Wilder by William Anderson
"Readers around the world know and love Laura, the little girl born in the Big Woods of Wisconsin and raised in covered wagons and on wide open prairies. Now Little House fans can learn more about the remarkable story of the pioneer girl who would one day immortalize her adventures in the beloved Little House books in this, the first picture book biography book of Laura Ingalls Wilder. With simple, glowing text and beautiful paintings, Pioneer Girl is a very special portrait of a writer whose classic books and pioneer adventures have made her one of the most popular literary figures in America."
Chapter Book About Laura Ingalls Wilder
Little House in the Big Woods by Laura Ingalls Wilder
"Little House in the Big Woods takes place in 1871 and introduces us to four-year-old Laura, who lives in a log cabin on the edge of the Big Woods of Wisconsin. She shares the cabin with her Pa, her Ma, her sisters Mary and Carrie, and their lovable dog, Jack. Pioneer life isn't easy for the Ingalls family, since they must grow or catch all their own food as they get ready for the cold winter. But they make the best of every tough situation. They celebrate Christmas with homemade toys and treats, do their spring planting, bring in the harvest in the fall, and make their first trip into town. And every night, safe and warm in their little house, the sound of Pa's fiddle lulls Laura and her sisters into sleep. Based on the real-life adventures of Laura Ingalls Wilder, Little House in the Big Woods is the first book in the award-winning Little House series, which has captivated generations of readers."
Books Set in Wisconsin (for Mom!)
I love to read, and I love a good theme or challenge for a reading list. So my final two books on this book list are one adult fiction and one adult non-fiction.
Fiction Book Set in Wisconsin
Crossing to Safety by Wallace Stegner
"Crossing to Safety has, since its publication in 1987, established itself as one of the greatest and most cherished American novels of the twentieth century. Tracing the lives, loves, and aspirations of two couples who move between Vermont and Wisconsin, it is a work of quiet majesty, deep compassion, and powerful insight into the alchemy of friendship and marriage."
Non-fiction Book Set In Wisconsin
The Driftless Reader edited by Curt Meine and Keefe Keeley
"Ancient glaciers passed by the Driftless Area and waterways vein its interior, forming an enchanting, enigmatic landscape of sharp ridgetops and deep valleys. Across time, this rugged topography has been home to an astonishing variety of people: Sauk, Dakota, and Ho-Chunk villagers, Norwegian farmers and Mexican mercado owners, Dominican nuns and Buddhist monks, river raftsmen and Shakespearean actors, Cornish miners and African American barn builders, organic entrepreneurs and Hmong truck gardeners. The Driftless Reader gathers writings that highlight the unique natural and cultural history, landscape, and literature of this region that encompasses southwestern Wisconsin and adjacent Minnesota, Iowa, and Illinois. The more than eighty selected texts include writings by Black Hawk, Mark Twain, Laura Ingalls Wilder, Frank Lloyd Wright, Aldo Leopold, David Rhodes, and many other Native people, explorers, scientists, historians, farmers, songwriters, journalists, and poets."
And there you have it! 20 living books about Wisconsin. It is my hope that this book list provides you with JUST ONE book to share with your kids. For our homeschool unit we read Rascal, and it is one of top children's books of all time. And not just because it took place just 20 miles from our hometown. It's just that good!
From the big woods to Milwaukee and from Georgia O'Keeffe to Frank Lloyd Wright, I hope you find some fun things to learn about Wisconsin!
Don't forget to check out the other states!