Keep reading for the best children's books about Illinois AND Chicago!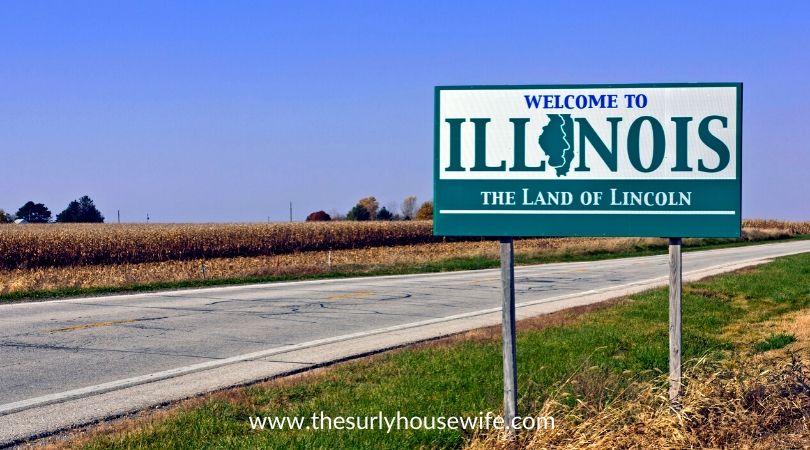 Illinois is a state that is simultaneously known for two things: The Land of Lincoln and Chicago. It's a land of rolling prairies and soaring skyscrapers!
Chicago is one of the biggest draws of the state as it is the third largest city in America and more than half of the state lives in and around the city.
However, studying and learning about Illinois, or any state, is more than memorizing its major cities and popular density. My approach to homeschooling involves what as Charlotte Mason coined, living books. Living books are books that make the subject you are studying come alive and are written by people who love the subject.
This book list is divided into three sections: Illinois, Chicago, and books about one of the most famous residents of Illinois, Abraham Lincoln. All the lists contain picture books and chapter books about it's respective location as well as books set in that location. Let's get started!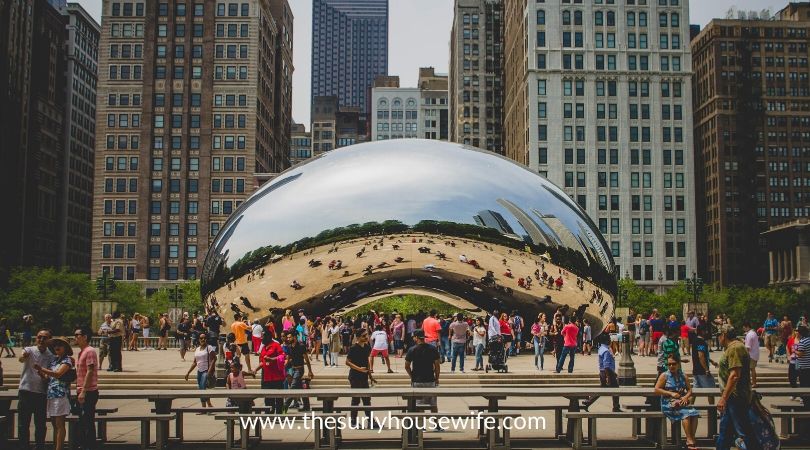 ICYMI, click HERE for all the other state book lists!
Illinois History and Facts
Illinois is nicknamed the Prairie State.
Motto – State Sovereignty, National Union
Illinois entered the Union on December 3, 1818. It was the 21st state.
Illinois is named for the Algonquin word for "Warriors."
Ronald Reagan, the 40th President of the United States, was born on February 6, 1911 in Tampico, Illinois.
Springfield is the capital of Illinois.
This post contains affiliate links. If you click and make a purchase, we earn a commission at NO extra cost to you. For more information, please read my full disclosure policy.
Descriptions come from Amazon; some are edited for length
Living Books about Illinois
Children's Books About Illinois
L Is for Lincoln: An Illinois Alphabet by Kathy-jo Wargin
"The home of one of America's most revered Presidents is also home to American icons such as the Ferris wheel, Montgomery Ward stores, and John Deere tractors. Students and parents will enjoy the clever poems, rich illustrations and revealing text of L is for Lincoln: An Illinois Alphabet."
This series of books called Discover America State By State are some of my favorites for introducing a state to kids. Each letter states a fact or a thing about that state. For example, for Illinois letter A is for Arrowheads and the letter B is for Bluestem Grass, and so on. Each letter comes with a four line rhyme about that respective letter's fact or subject. What I love most is on the side of the page it gives more in-depth description about each subject. It's a great jumping off point for what sparks an interest in your child!
Prairie Numbers: An Illinois Numbers book by Kathy-jo Wargin
"Where were zippers first made, and how did they get their name? How were fossils and stalactites formed, and where can you find some spectacular specimens? What was the original name of the Chicago Bears? By the end of their tour through the pages of Prairie Numbers, children will know those answers and much, much more. Counting their way through the state of Illinois, children discover the great city of Chicago, with its famous art and science museums, the Shedd Aquarium and the 110-storey Sears Tower. They will also find lakes, ponds, farmlands and prairies full of wildlife and flowers. Prairie Numbers tells children more about Illinois than they ever could imagine, and it entertains them every step of the way!"
Journey to Cahokia: A Boy's Visit to the Great Mound City by Albert Lorenz
"Based on new research and archival images, a coming-of-age tale of a young Native American named Little Hawk shows how his family and other members of their tribe made a trading journey from his small village to the great mound city of Cahokia in the midwestern United States, long before the appearance of the Europeans."
Picture Books Set in Illinois
Saving Strawberry Farm by Deborah Hopkinson
"In the hot, mean summer of 1933, a penny is enough to buy caramels or red hots or peppermint sticks or licorice strings. Is it enough to buy Miss Elsie's Strawberry Farm? There's only one way to find out. Davey takes a deep breath and shouts, 'One penny for Strawberry Farm!' Set during the Great Depression, Saving Strawberry Farm brings Davey's Midwestern town to life as friends and neighbors plan to save the farm the only way they can, with a secret penny auction!"
"Set on a farm in rural Illinois in 1952, two brothers, age nine and ten, turn their everyday, simple lives into challenging adventures thanks to their active imaginations."
Chapter Books Set in Illinois
A Long Way from Chicago by Richard Peck
"Join Joey and his sister Mary Alice as they spend nine unforgettable summers with the worst influence imaginable-their grandmother!"
Project Mulberry by Linda Sue Park
"Julia Song and her friend Patrick would love to win a blue ribbon, maybe even two, at the state fair. They've always done projects together, and they work well as a team. This time, though, they're having trouble coming up with just the right project. Then Julia's mother offers a suggestion: They can raise silkworms, as she did when she was a girl in Korea. Julia isn't so sure. The club where kids do their projects is all about traditional American stuff, and raising silkworms just doesn't fit in. Moreover, the author, Ms. Park, seems determined to make Julia's life as complicated as possible, no matter how hard Julia tries to talk her out of it."
Extra Credit by Andrew Clements
"It isn't that Abby Carson can't do her schoolwork. She just doesn't like doing it. And consequently, Abby will have to repeat sixth grade! Unless she meets some specific conditions, including taking on an extra credit project: find a pen pal in a distant country. But when Abby's first letter arrives at a small school in Afghanistan, complications arise. The elders agree that any letters going back to America must be written well, but the only qualified English-speaking student is a boy. And in this village, it's not proper for a boy to correspond with a girl. So, Sadeed's sister will dictate and sign the letters for him. But what about the villagers who believe that girls should not be anywhere near a school? And what about those who believe that any contact with Americans is unhealthy? Between the prairies of Illinois and the mountains of central Asia, and across cultural and religious divides, a small group of children begin to speak and listen to each other. They make important discoveries about their communities, about their world, and most of all, about themselves."
Across Five Aprils by Irene Hunt
"In 1861, America is on the cusp of war, and young Jethro Creighton is just nine-years-old. His brother, Tom, and his cousin, Eb, are both of fighting age. As Jethro's family is pulled into the conflict between the North and the South, loyalties are divided, dreams are threatened, and their bonds are put to the test in this heart-wrenching, coming of age story."
Living Books About Chicago
Picture Books Set in Chicago
W is for Windy City: A Chicago City Alphabet by Steven L. Layne
"Lake Shore Drive, the Magnificent Mile, Navy Pier, just the mention of these iconic sights conjures up a skyline known the world over as the Windy City. Welcome to Chicago! And there's no better guidebook to the city than W is for Windy City: A Chicago Alphabet. Following the alphabet, the city's character and familiar landmarks are fully captured in poem and expository text. A is for Art Institute or Adler Planetarium. Young readers can marvel at the treasures on display at the renowned Art Institute, go window shopping along Michigan Avenue's mile-long Magnificent Mile, or take in an afternoon game at Wrigley Field with the Chicago Cubs. W is for Windy City brings this famous city to life."
Willie and the All-Stars by Floyd Cooper
"Willie, an African-American boy growing up in Chicago, dreams of playing baseball in the Major Leagues, like his idols. But it's 1942, and Jackie Robinson is years away from breaking the color barrier. One day Willie sits with the old men in the neighborhood as they spin tall baseball tales. Willie knows the game like the back of his hand, but he has never heard of Josh Gibson or Cool Papa Bell. 'That's because they're Negro Leaguers. Being a Major Leaguer is about a lot more than how good a fella is. It's also about the color of his skin. And yours is the wrong color,' his grandma tells him. Willie is crushed. Until, that is, Ezra hands him two tickets to an exhibition all-star game between Major Leaguers and Negro Leaguers, and Willie sees firsthand how determination can change everything."
Mr. Ferris and His Wheel by Kathryn Davis
"Capturing an engineer's creative vision and mind for detail, this fully illustrated picture book biography sheds light on how the American inventor George Ferris defied gravity and seemingly impossible odds to invent the world's most iconic amusement park attraction, the Ferris wheel. Transport readers to the 1893 World's Fair, where George Ferris and his big, wonderful wheel lifted passengers to the skies for the first time."
The House that Jane Built: A Story About Jane Addams by Tanya Lee Stone
"This is the story of Jane Addams, the first American woman to receive the Nobel Peace Prize, who transformed a poor neighborhood in Chicago by opening up her house as a community center."
Chapter Books Set in Chicago
Stella Díaz Has Something to Say by Angela Dominguez
"Stella Diaz loves marine animals, especially her betta fish, Pancho. But Stella Diaz is not a betta fish. Betta fish like to be alone, while Stella loves spending time with her mom and brother and her best friend Jenny. Trouble is, Jenny is in another class this year, and Stella feels very lonely. When a new boy arrives in Stella's class, she really wants to be his friend, but sometimes Stella accidentally speaks Spanish instead of English and pronounces words wrong, which makes her turn roja. Plus, she has to speak in front of her whole class for a big presentation at school! But she better get over her fears soon, because Stella Díaz has something to say!"
I Survived the Great Chicago Fire, 1871 by Lauren Tarshis
"The Great Fire of 1871 was one of most colossal disasters in American history. Overnight, the flourishing city of Chicago was transformed into a smoldering wasteland. The damage was so profound that few people believed the city could ever rise again. By weaving personal accounts of actual survivors together with the carefully researched history of Chicago and the disaster, Jim Murphy constructs a riveting narrative that recreates the event with drama and immediacy. And finally, he reveals how, even in a time of deepest despair, the human spirit triumphed, as the people of Chicago found the courage and strength to build their city once again."
Chasing Vermeer by Blue Balliett
"When a book of unexplainable occurrences brings Petra and Calder together, strange things start to happen: Seemingly unrelated events connect; an eccentric old woman seeks their company; an invaluable Vermeer painting disappears. Before they know it, the two find themselves at the center of an international art scandal, where no one is spared from suspicion. As Petra and Calder are drawn clue by clue into a mysterious labyrinth, they must draw on their powers of intuition, their problem solving skills, and their knowledge of Vermeer. Can they decipher a crime that has stumped even the FBI?"
Finding Langston by Lesa Cline-Ransome
"When eleven-year-old Langston's father moves them from their home in Alabama to Chicago's Bronzeville district, it feels like he's giving up everything he loves. It's 1946. Langston's mother has just died, and now they're leaving the rest of his family and friends. He misses everything: Grandma's Sunday suppers, the red dirt roads, and the magnolia trees his mother loved. In the city, they live in a small apartment surrounded by noise and chaos. It doesn't feel like a new start, or a better life. At home he's lonely, his father always busy at work; at school he's bullied for being a country boy. But Langston's new home has one fantastic thing. Unlike the whites-only library in Alabama, the Chicago Public Library welcomes everyone. There, hiding out after school, Langston discovers another Langston: a poet whom he learns inspired his mother enough to name her only son after him. A lyrical debut novel about one boy's experiences during the Great Migration."
Children's Books About Abraham Lincoln
Abraham Lincoln by Ingri and Edgar Parin D'Aulaire
"In honor of the 75th anniversary of the 1940 Caldecott Medal award this edition reintroduces readers young and old to America's most beloved President/ This delightful biography traces Lincoln's life from his birth in the Kentucky wilderness, to his shop-keeping days in New Salem, becoming a lawyer in Springfield, and his eventual election as President. Woven throughout are his legendary adventures, his humor and wit, and stories you won't read anywhere else."
Abe Lincoln's Hat by Martha Brenner
"This Step 3 History Reader shares some fascinating anecdotes about Abraham Lincoln, one of our greatest presidents. Abe started out in life as an absent-minded frontier lawyer. How did he nudge his memory? He stuck letters, court notes, contracts, and even his checkbook in his trademark top hat. When he took off his hat, it was all there!"
Lincoln: A Photobiography by Russell Freedman
"Abraham Lincoln stood out in a crowd as much for his wit and rollicking humor as for his height. This Newberry Medal-winning biography of our Civil War president is warm, appealing, and illustrated with dozens of carefully chosen photographs and prints. Russell Freedman begins with a lively account of Abraham Lincoln's boyhood, his career as a country lawyer, and his courtship and marriage to Mary Todd. Then the author focuses on the presidential years (1861 to 1865), skillfully explaining the many complex issues Lincoln grappled with as he led a deeply divided nation through the Civil War. The book's final chapter is a moving account of that tragic evening in Ford's Theatre on April 14, 1865. Concludes with a sampling of Lincoln writings and a detailed list of Lincoln historical sites."
Books Set in Illinois (for Mom!)
I love to read, and I love a good theme or challenge for a reading list. So my final two books on this book list are one adult fiction and one adult non-fiction.
Fiction Book Set in Illinois
The Devil in the White City: Murder, Magic, and Madness at the Fair That Changed America by Erik Larson
"Erik Larson intertwines the true tale of the 1893 World's Fair and the cunning serial killer who used the fair to lure his victims to their death. Combining meticulous research with nail-biting storytelling, Erik Larson has crafted a narrative with all the wonder of newly discovered history and the thrills of the best fiction."
Non-fiction Book Set In Illinois
Dandelion Wine by Ray Bradbury
"The summer of '28 was a vintage season for a growing boy. A summer of green apple trees, mowed lawns, and new sneakers. Of half-burnt firecrackers, of gathering dandelions, of Grandma's belly-busting dinner. It was a summer of sorrows and marvels and gold-fuzzed bees. A magical, timeless summer in the life of a twelve-year-old boy named Douglas Spaulding—remembered forever by the incomparable Ray Bradbury."
And there you have it! 20 living books about Illinois. It is my hope that this book list provides you with JUST ONE book to share with your kids. For our state study we read A Long Way from Chicago and it is jus delightful!
From the rural prairies to the city of Chicago, and from Lincoln to the great fire, I hope you find some fun things to learn about Illinois!
What kind of books does your child love best? What kind of books would you like to see in the future? Drop a comment below to let me know!
Don't forget to check out the other states!