Keep reading for 20 books about South Carolina and its history!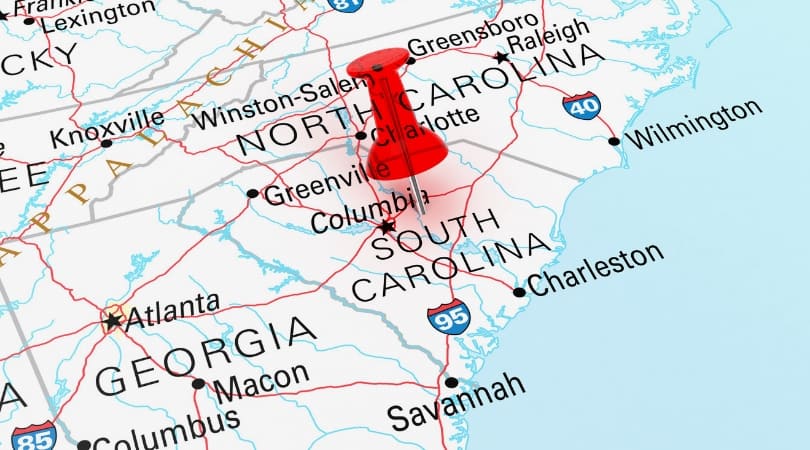 South Carolina's nickname, the Palmetto State, comes from the state tree, the sabel Palmetto. Did you know that during the Revolutionary War these trees were used to build forts because their soft wood could absorb cannonball impacts?
South Carolina's geography can be divided into 3 regions. From east to west: the Atlantic coastal plain (otherwise known as Low Country), the Piedmont, and the Blue Ridge Mountains. The Atlantic Coastal Plain covers the two-thirds of the state, and the coastline features sandy beaches such as Myrtle Beach. South Carolina contains mountains, islands, rivers, swamps, fertile hills, and forested Pine Barrens.
However, studying and learning about South Carolina is more than memorizing its state capital and population density. My approach to homeschooling involves what as Charlotte Mason coined, living books. Living books are books that make the subject you are studying come alive and are written by people who love the subject.
This book list contains some nonfiction books about aspects of South Carolina history as well as chapter books set in South Carolina. All of these books DO make the state of South Carolina come alive to the reader.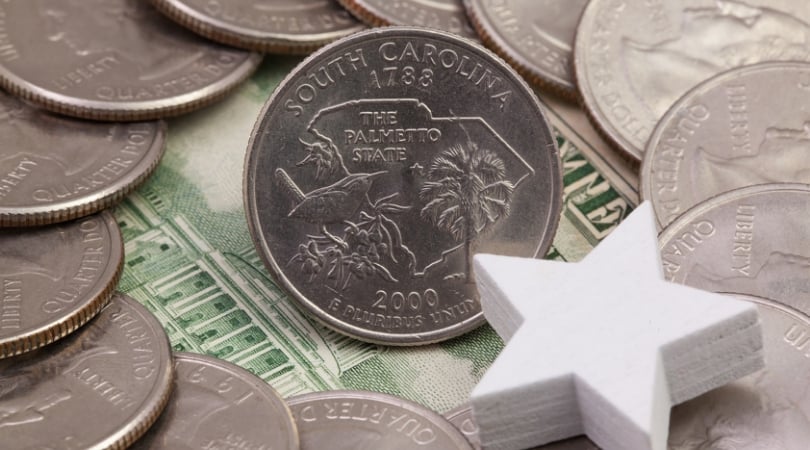 ICYMI! Here are the lists for the other states.
South Carolina History and Facts
South Carolina is nicknamed the Palmetto State referring to the state tree the sabel Palmetto.
Motto – While I breathe, I hope.
South Carolina became a sate on May 23, 1788. It was the eighth state.
South Carolina was named for King Charles I of England, whose name in Latin is Carolus.
Andrew Jackson, the 6th President of the United States, was born in South Carolina on Mary 15, 1767.
Columbia is the capital city of South Carolina.
This post contains affiliate links. If you click and make a purchase, we earn a commission at NO extra cost to you. For more information, please read my full disclosure policy.
Living Books about South Carolina
Children's Books About South Carolina
South Carolina Picture Books
P Is For Palmetto: A South Carolina Alphabet by Carol Crane
"P is for Palmetto is a collection of evocative pages of watercolor that covers this beautiful southeastern state from A to Z. South Carolinians, young and old, will treasure P is for Palmetto and educators will find its two-tiered teaching format extremely useful."
This series of books called Discover America State By State are some of my favorites for introducing a state to kids. Each letter states a fact or a thing about that state. For example, for South Carolina letter A is for Angel oak tree and the letter B is for sweetgrass Baskets, and so on. Each letter comes with a four line rhyme about that respective letter's fact or subject. What I love most is on the side of the page it gives more in-depth description about each subject. It's a great jumping off point for what sparks an interest in your child!
Net Numbers: A South Carolina Number Book by Carol Crane
"Hours of entertainment await you as you learn about everything from Frogmore Stew and Clemson Blue Cheese, to Four Holes Swamp and Catawba Pottery. Whether spotted salamanders, 1000-year-old trees or sandy beaches, there is plenty in South Carolina to discover by the numbers."
Turtle Tracks by Sally Harman Plowden
The loggerhead sea turtle is the state reptile of South Carolina. In Turtle Tracks, "a girl joins a group of people who have come to watch newly hatched sea turtles make their way across the beach to the ocean. A college student working on loggerhead turtle protection helps the hatchlings along, answers the observers' questions, and explains what is known of loggerhead behavior. The graceful text creates a good balance of information about turtles with the evocation of a child's experience at the beach, while the handsomely crafted artwork–ink drawings with watercolor washes–sensitively illustrates the story."
Carolina's Story: Sea Turtles Get Sick Too! by Donna Rathmell
"The photographic journal of Carolina, a critically ill loggerhead sea turtle, as she is nursed back to health at the Sea Turtle Hospital of the South Carolina Aquarium."
Circle Unbroken by Margot Theis Raven
"A grandmother teaches her granddaughter to sew a traditional sweetgrass basket, (one of the most beautiful pieces of art made in South Carolina) by telling a story that goes back generations to her grandfather's village in faraway Africa. There, as a boy, he learned to make baskets so tightly woven they could hold the rain. Even after being stolen away to a slave ship bound for America, he remembers what he learned and passes these memories on to his children – as they do theirs."
Ron's Big Mission by Rose Blue
"Nine-year-old Ron loves going to the Lake City Public Library to look through all the books on airplanes and flight. Today, Ron is ready to take out books by himself. But in the segregated world of South Carolina in the 1950s, Ron's obtaining his own library card is not just a small rite of passage—it is a young man's first courageous mission. Here is an inspiring story, based on Ron McNair's life, of how a little boy, future scientist, and Challenger astronaut desegregated his library through peaceful resistance."
Kids Books about South Carolina History
Palmetto – Symbol of Courage by Kate Salley Palmer
"Recounts how the palmetto tree became a South Carolina state symbol following the Battle of Fort Moultrie fought off the South Carolina coast in 1776."
Francis Marion and the Legend of the Swamp Fox by Kate Salley Palmer
"Francis Marion, a native of South Carolina, was one of the heroes of the American Revolution. He practiced a type of guerrilla warfare in the Coastal Plains. Marion, nicknamed the Swamp Fox, was a stealthy commander who led a group of mostly farmers, Native Americans and African Americans. They fought bravely in the swamps, often attacking at night and capturing British supplies, weapons and supplies. His group's actions helped in the ultimate defeat of the British at Yorktown. The book tells the story of Marion and the almost mythical Swamp Fox."
Hey, Charleston!: The True Story of the Jenkins Orphanage Band by Anne Rockwell
"What happened when a former slave took beat-up old instruments and gave them to a bunch of orphans? Thousands of futures got a little brighter and a great American art form was born."
The Story of the H. L. Hunley and Queenie's Coin by Fran Hawk
"During the Civil War, Union forces blocked the port of Charleston so the Confederate army needed a way to attack the Yankee ships. George Dixon is part of the group of men given the task of creating and building a submarine. The H.L. Hunley ultimately sets out on its mission to sink Yankee ships, but fails to return. Its whereabouts and fate of the crew remain unknown for more than 100 years. The Story of the H.L. Hunley and Queenie's Coin recounts the story through its creation and mission, to its ultimate recovery and final voyage home."
Champions on the Bench by Carole Boston Weatherford
"In 1955, the Cannon Street YMCA chartered the only African American Little League in South Carolina. That same year, sixty-one all-white teams pulled out of the South Carolina Little League State Tournament so they would not have to play the Cannon Street YMCA All-Stars. This story, inspired by the true events of that time, follows one young ballplayer, Cleveland, through that fateful season."
Chapter Books Set in South Carolina
The Small Adventure of Popeye and Elvis by Barbara O'Connor
"Nothing ever happens in Fayette, South Carolina. That's what Popeye thinks, anyway. His whole life, everything has just been boring, boring, boring. But things start to look up when the Jewells take a wrong turn and get stuck in the mud, trapping Elvis and his five rowdy siblings in Fayette for who knows how long. Then things get even better when something curious comes floating down the creek―a series of boats with secret messages―and Popeye and Elvis set out on a small adventure. Who could possibly be sending the notes and what do they mean?"
"One thing Darby has never dreamed of being is a newspaper girl who writes down the truth for all to read. In no time, and with more than a little assistance from her friend, Darby and her column in the Bennettsville Times are famous in town and beyond. But is Marlboro County, South Carolina, circa 1926, ready for the truth its youngest reporter has to tell?"
Young Adult Literature Set in South Carolina
Beautiful Creatures by Kami Garcia and Margaret Stohl
"Lena Duchannes is unlike anyone the small Southern town of Gatlin has ever seen, and she's struggling to conceal her power and a curse that has haunted her family for generations. But even within the overgrown gardens, murky swamps, and crumbling graveyards of the forgotten South, a secret cannot stay hidden forever.
Ethan Wate, who has been counting the months until he can escape from Gatlin, is haunted by dreams of a beautiful girl he has never met. When Lena moves into the town's oldest and most infamous plantation, Ethan is inexplicably drawn to her and determined to uncover the connection between them.
In a town with no surprises, one secret could change everything."
"The year is 1851. Miles is a slave. At an early age, he was assigned to work in the great house on the Tillery Plantation. Each day he helps to provide the creature comforts of a well-run mansion. Until he is caught looking at the open pages of a book. As a punishment, twelve-year-old Miles is sent to the breaking ground. There he experiences what it really means to be a slave. With the help of a mysterious man named Elijah, Miles learns to read and forms a pact to escape. Watching and waiting, Miles takes risk after risk to gain freedom for himself in a story that will inspire readers of all ages."
Children's Books by South Carolina Authors
How I Became a Pirate by Melinda Long
"'Pirates have green teeth—when they have any teeth at all. I know about pirates, because one day, when I was at the beach building a sand castle and minding my own business, a pirate ship sailed into view.'
So proclaims Jeremy Jacob, a boy who joins Captain Braid Beard and his crew in this witty look at the finer points of pirate life. Jeremy learns how to say 'scurvy dog,' sing sea chanteys, and throw food . . . but he also learns that there are no books or good night kisses on board: 'Pirates don't tuck.' A swashbuckling adventure with fantastically silly, richly textured illustrations that suit the story to a T."
Thank You, Earth: A Love Letter to Our Planet by April Pulley Sayre
"April Pulley Sayre, award-winning photographer and acclaimed author of more than sixty-five books, introduces concepts of science, nature, and language arts through stunning photographs and a poetic text structured as a simple thank-you note."
Amelia Bedelia by Peggy Parish
"No child can resist Amelia [Bedelia] and her literal trips through the minefield of the English language—and no adult can fail to notice that she's usually right when she's wrong."
Books Set in South Carolina (for Mom!)
I love to read, and I love a good theme or challenge for a reading list. So my final two books on this book list are one adult fiction and one adult non-fiction.
Fiction Book Set in South Carolina
Bastard out of Carolina by Dorothy Allison
"Greenville County, South Carolina, is a wild, lush place that is home to the Boatwright family – a tight-knit clan of rough-hewn, hard- drinking men who shoot up each other's trucks, and indomitable women who get married young and age too quickly. At the heart of this story is Ruth Anne Boatwright, known simply as Bone, a bastard child who observes the world around her with a mercilessly keen perspective. When her stepfather, Daddy Glen, becomes increasingly more vicious toward her, Bone finds herself caught in a family triangle that tests the loyalty of her mother, and leads to a final, harrowing encounter from which there can be no turning back."
Non-fiction Book Set In South Carolina
On a Street Called Easy, in a Cottage Called Joye by Gregory White Smith and Steven W. Naifeh
"The comical memoirs of a three-year struggle to restore an old house that had leaks, falling plaster, no heating or air-conditioning systems, and nineteenth-century plumbing, recounts the authors' adventures with new neighbors, merchants, and friends in a small South Carolina town."
And there you have it! 20 living books about South Carolina. It is my hope that this book list provides you with JUST ONE book to share with your kids. For our homeschool unit we read The Small Adventures of Popeye and Elvis, and it was one of my favorites!
From loggerhead turtles to sweetgrass baskets, and from the Revolutionary War to the Civil War, I hope you find some fun things to learn about South Carolina!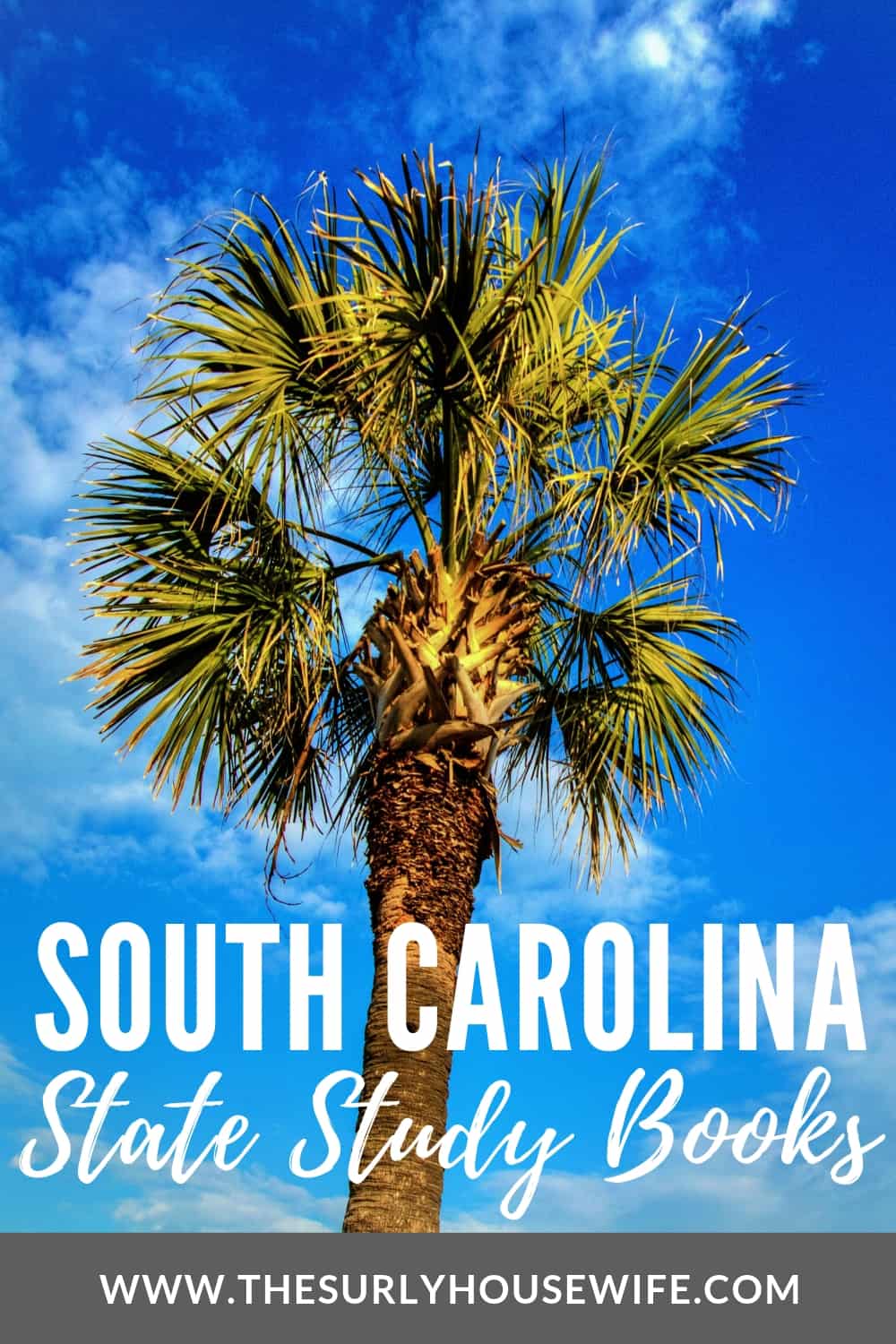 WANT TO SAVE THIS FOR LATER? SAVE THIS BOOK LIST TO YOUR FAVORITE PINTEREST BOARD!!