Keep reading for 20 books about South Carolina and its history!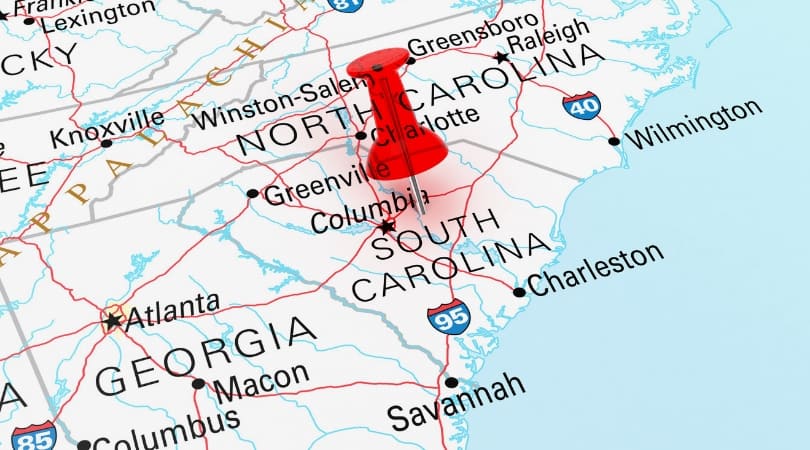 South Carolina's nickname, the Palmetto State, comes from the state tree, the sabel Palmetto. Did you know that during the Revolutionary War these trees were used to build forts because their soft wood could absorb cannonball impacts?
South Carolina's geography can be divided into 3 regions. From east to west: the Atlantic coastal plain (otherwise known as Low Country), the Piedmont, and the Blue Ridge Mountains. The Atlantic Coastal Plain covers the two-thirds of the state, and the coastline features sandy beaches such as Myrtle Beach. South Carolina contains mountains, islands, rivers, swamps, fertile hills, and forested Pine Barrens.
However, studying and learning about South Carolina is more than memorizing its state capital and population density. My approach to homeschooling involves what as Charlotte Mason coined, living books. Living books are books that make the subject you are studying come alive and are written by people who love the subject.
This book list contains some nonfiction books about aspects of South Carolina history as well as chapter books set in South Carolina. All of these books DO make the state of South Carolina come alive to the reader.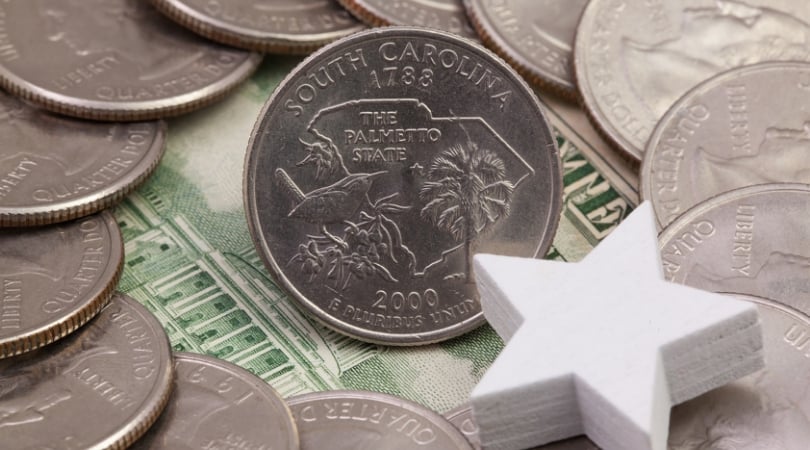 ICYMI, click HERE for all the other state book lists!
South Carolina History and Facts
South Carolina is nicknamed the Palmetto State referring to the state tree the sabel Palmetto.
Motto – While I breathe, I hope.
South Carolina became a sate on May 23, 1788. It was the eighth state.
South Carolina was named for King Charles I of England, whose name in Latin is Carolus.
Andrew Jackson, the 6th President of the United States, was born in South Carolina on Mary 15, 1767.
Columbia is the capital city of South Carolina.
This post contains affiliate links. If you click and make a purchase, we earn a commission at NO extra cost to you. For more information, please read my full disclosure policy.
Living Books about South Carolina
South Carolina Picture Books
P Is For Palmetto: A South Carolina Alphabet by Carol Crane
"P is for Palmetto is a collection of evocative pages of watercolor that covers this beautiful southeastern state from A to Z. South Carolinians, young and old, will treasure P is for Palmetto and educators will find its two-tiered teaching format extremely useful."
This series of books called Discover America State By State are some of my favorites for introducing a state to kids. Each letter states a fact or a thing about that state. For example, for South Carolina letter A is for Angel oak tree and the letter B is for sweetgrass Baskets, and so on. Each letter comes with a four line rhyme about that respective letter's fact or subject. What I love most is on the side of the page it gives more in-depth description about each subject. It's a great jumping off point for what sparks an interest in your child!
Follow the Moon Home: A Tale of One Idea, Twenty Kids, and a Hundred Sea Turtles by Philippe Cousteau
"A triumphant story of environmental activism, community, and friendship: Acclaimed activist Philippe Cousteau and renowned author Deborah Hopkinson team up to offer a story of the powerful difference young people can make in the world. Meet Viv, who has a new home and a new school by the sea and follow her as she finds her way in a new place and helps bring together a whole community to save the sea turtles of the South Carolina coast."
Carolina's Story: Sea Turtles Get Sick Too! by Donna Rathmell
"The photographic journal of Carolina, a critically ill loggerhead sea turtle, as she is nursed back to health at the Sea Turtle Hospital of the South Carolina Aquarium."
Circle Unbroken by Margot Theis Raven
"A grandmother teaches her granddaughter to sew a traditional sweetgrass basket, (one of the most beautiful pieces of art made in South Carolina) by telling a story that goes back generations to her grandfather's village in faraway Africa. There, as a boy, he learned to make baskets so tightly woven they could hold the rain. Even after being stolen away to a slave ship bound for America, he remembers what he learned and passes these memories on to his children – as they do theirs."
Ron's Big Mission by Rose Blue
"Nine-year-old Ron loves going to the Lake City Public Library to look through all the books on airplanes and flight. Today, Ron is ready to take out books by himself. But in the segregated world of South Carolina in the 1950s, Ron's obtaining his own library card is not just a small rite of passage—it is a young man's first courageous mission. Here is an inspiring story, based on Ron McNair's life, of how a little boy, future scientist, and Challenger astronaut desegregated his library through peaceful resistance."
The Pink House by Kate Salley Palmer
"The Pink House is an illustrated story of a family's annual vacation to Edisto Beach, SC. The story is told by one of the cousins, and is a warm account of one day when all the cousins, aunts, uncles, and even Grandma, come to the 'Pink House' where they swim, go fishing with Uncle Jim, hunt for petrified shark's teeth with Aunt Margaret, sing songs with Aunt Kate, read books, eat the fish and crabs caught in the surf, play games, and then go to bed to await what surprises are washed up by the surf the next day."
This Is the Rope: A Story from the Great Migration by Jacqueline Woodson
"During the time of the Great Migration, millions of African American families relocated from the South, seeking better opportunities. The story of one family's journey north during the Great Migration starts with a little girl in South Carolina who finds a rope under a tree one summer. She has no idea the rope will become part of her family's history. But for three generations, that rope is passed down, used for everything from jump rope games to tying suitcases onto a car for the big move north to New York City, and even for a family reunion where that first little girl is now a grandmother."
Kids Books about South Carolina History
Palmetto – Symbol of Courage by Kate Salley Palmer
"Recounts how the palmetto tree became a South Carolina state symbol following the Battle of Fort Moultrie fought off the South Carolina coast in 1776."
Francis Marion and the Legend of the Swamp Fox by Kate Salley Palmer
"Francis Marion, a native of South Carolina, was one of the heroes of the American Revolution. He practiced a type of guerrilla warfare in the Coastal Plains. Marion, nicknamed the Swamp Fox, was a stealthy commander who led a group of mostly farmers, Native Americans and African Americans. They fought bravely in the swamps, often attacking at night and capturing British supplies, weapons and supplies. His group's actions helped in the ultimate defeat of the British at Yorktown. The book tells the story of Marion and the almost mythical Swamp Fox."
The Freedom Ship of Robert Smalls by Louise Meriwether
Robert Smalls, born a slave in 1839 in Beaufort, South Carolina, gained fame as an African American hero of the American Civil War. The Freedom Ship of Robert Smalls tells the inspirational story of Small's life as a slave, his boyhood dream of freedom, and his bold and daring plan as a young man to commandeer a Confederate gunboat from Charleston Harbor and escape with fifteen fellow slaves and family members. Smalls joined the Union Navy and rose to the rank of captain and became the first African American to command a U.S. service ship. After the war Smalls returned to Beaufort, bought the home of his former master, and began a long career in state and national politics."
Hey, Charleston!: The True Story of the Jenkins Orphanage Band by Anne Rockwell
"What happened when a former slave took beat-up old instruments and gave them to a bunch of orphans? Thousands of futures got a little brighter and a great American art form was born."
Dave the Potter: Artist, Poet, Slave by Laban Carrick Hill
"Dave was an extraordinary artist, poet, and potter living in South Carolina in the 1800s. He combined his superb artistry with deeply observant poetry, carved onto his pots, transcending the limitations he faced as a slave. In this inspiring and lyrical portrayal, National Book Award nominee Laban Carrick Hill's elegantly simple text and award-winning artist Bryan Collier's resplendent, earth-toned illustrations tell Dave's story, a story rich in history, hope, and long-lasting beauty."
The Story of the H. L. Hunley and Queenie's Coin by Fran Hawk
"During the Civil War, Union forces blocked the port of Charleston so the Confederate army needed a way to attack the Yankee ships. George Dixon is part of the group of men given the task of creating and building a submarine. The H.L. Hunley ultimately sets out on its mission to sink Yankee ships, but fails to return. Its whereabouts and fate of the crew remain unknown for more than 100 years. The Story of the H.L. Hunley and Queenie's Coin recounts the story through its creation and mission, to its ultimate recovery and final voyage home."
Let Them Play by Margot Theis Raven
"Recounts the true story of spirit and determination from America's early civil rights history and the Cannon Street All-Stars from Charleston, South Carolina who were not allowed to play in the Little League World Series baseball game in 1955."
Chapter Books Set in South Carolina
The Small Adventure of Popeye and Elvis by Barbara O'Connor
"Nothing ever happens in Fayette, South Carolina. That's what Popeye thinks, anyway. His whole life, everything has just been boring, boring, boring. But things start to look up when the Jewells take a wrong turn and get stuck in the mud, trapping Elvis and his five rowdy siblings in Fayette for who knows how long. Then things get even better when something curious comes floating down the creek―a series of boats with secret messages―and Popeye and Elvis set out on a small adventure. Who could possibly be sending the notes and what do they mean?"
"Darby Carmichael thinks her best friend is probably the smartest person she knows, even though, as Mama says, Evette's school uses worn-out books and crumbly chalk. Whenever they can, Darby and Evette shoot off into the woods beyond the farm to play at being fancy ladies and schoolteachers. One thing Darby has never dreamed of being, not until Evette suggests it, is a newspaper girl who writes down the truth for all to read. In no time, and with more than a little assistance from Evette, Darby and her column in the Bennettsville Times are famous in town and beyond. But is Marlboro County, South Carolina, circa 1926, ready for the truth its youngest reporter has to tell?"
On the Road to Mr. Mineo's by Barbara O'Connor
"Summer days drift by slowly in Meadville, South Carolina. That is, until Sherman the one-legged pigeon flies into town and causes a ruckus. First Stella, who's been begging for a dog, spots him on top of a garage roof and decides she wants him for a pet. Then there's Ethel and Amos, an old couple who sees the pigeon in their barn keeping company with a little brown dog that barks all night. The pigeon lands smack in the middle of Mutt Raynard's head, but he's the town liar, so no one believes him. And when Stella's brother Levi and his scabby-kneed, germ-infested friends notice the pigeon, they join the chase, too. Meanwhile, across town, Mr. Mineo has one less homing pigeon than he used to . . ."
The Girl from Felony Bay by J. E. Thompson
"The last year has been a rough one for Abbey Force. Her father has been in a coma since his accident, in which he was framed for a terrible crime he didn't commit. And their home, Reward Plantation, had to be sold to pay off his debt to society. So Abbey is stuck living with her Uncle Charlie, who isn't exactly an ideal role model. But things just got more interesting. The new family who moved in to Reward Plantation has a daughter named Bee, and she's just as curious as Abbey is about the No Trespassing signs and holes being dug out of Felony Bay. It seems like someone has been poking around a mystery that dates all the way back to the Civil War—and it just might be the same someone who framed Abbey's father."
The Keeping Room by Anna Myers
"When Colonel Joseph Kershaw leaves Camden, South Carolina, to lead the American rebels in their struggle against the British, he leaves his son Joey behind as the man of the house. But what can a 13-year-old do when General Cornwallis comes into town and makes the Kershaws' home his headquarters, and begins hanging American prisoners in the family garden? Joey is determined to get revenge. Even if he has to risk everything."
Brown Girl Dreaming by Jacqueline Woodson
"Raised in South Carolina and New York, Woodson always felt halfway home in each place. In vivid poems, she shares what it was like to grow up as an African American in the 1960s and 1970s, living with the remnants of Jim Crow and her growing awareness of the Civil Rights movement. Touching and powerful, each poem is both accessible and emotionally charged, each line a glimpse into a child's soul as she searches for her place in the world. Woodson's eloquent poetry also reflects the joy of finding her voice through writing stories, despite the fact that she struggled with reading as a child. Her love of stories inspired her and stayed with her, creating the first sparks of the gifted writer she was to become."
Note that this book is written in verse. Unless you are familiar with reading poetry, I highly, highly, HIGHLY recommend getting the audio version of this book. It is read by the author and makes the comprehension of the poems so much easier. And don't be quick to judge. My kids don't enjoy poetry but enjoy books written in verse.
Books Set in South Carolina (for Mom!)
I love to read, and I love a good theme or challenge for a reading list. So my final two books on this book list are one adult fiction and one adult non-fiction.
Fiction Book Set in South Carolina
Bastard out of Carolina by Dorothy Allison
"Greenville County, South Carolina, is a wild, lush place that is home to the Boatwright family – a tight-knit clan of rough-hewn, hard- drinking men who shoot up each other's trucks, and indomitable women who get married young and age too quickly. At the heart of this story is Ruth Anne Boatwright, known simply as Bone, a bastard child who observes the world around her with a mercilessly keen perspective. When her stepfather, Daddy Glen, becomes increasingly more vicious toward her, Bone finds herself caught in a family triangle that tests the loyalty of her mother, and leads to a final, harrowing encounter from which there can be no turning back."
Non-fiction Book Set In South Carolina
On a Street Called Easy, in a Cottage Called Joye by Gregory White Smith and Steven W. Naifeh
"The comical memoirs of a three-year struggle to restore an old house that had leaks, falling plaster, no heating or air-conditioning systems, and nineteenth-century plumbing, recounts the authors' adventures with new neighbors, merchants, and friends in a small South Carolina town."
And there you have it! 20 living books about South Carolina. It is my hope that this book list provides you with JUST ONE book to share with your kids. For our homeschool unit we read The Small Adventures of Popeye and Elvis, and it was one of my favorites!
From loggerhead turtles to sweetgrass baskets, and from the Revolutionary War to the Civil War, I hope you find some fun things to learn about South Carolina!
Don't forget to check out the other state book lists!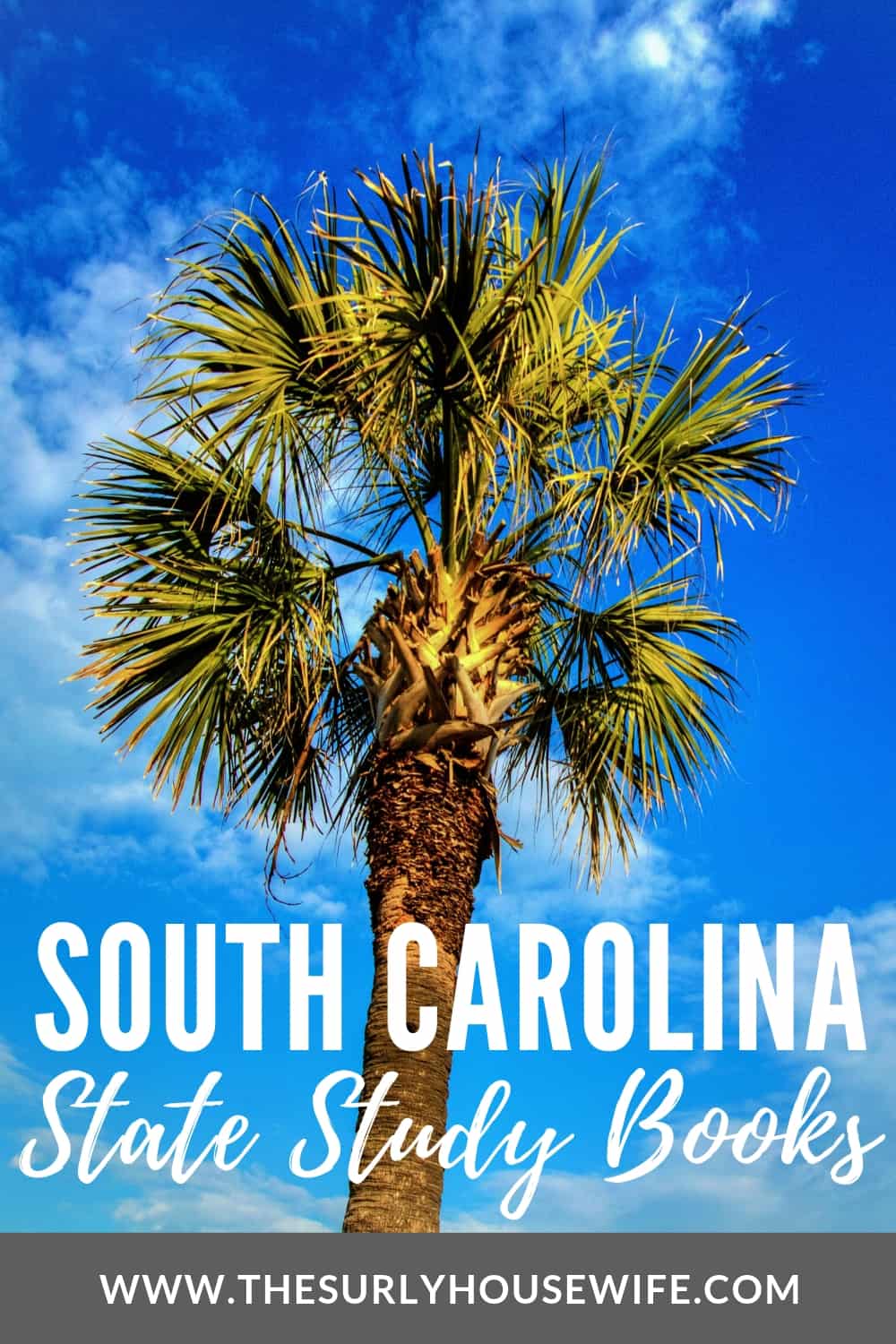 WANT TO SAVE THIS FOR LATER? SAVE THIS BOOK LIST TO YOUR FAVORITE PINTEREST BOARD!!