Keeping Reading for Children's Books about New York and New York City!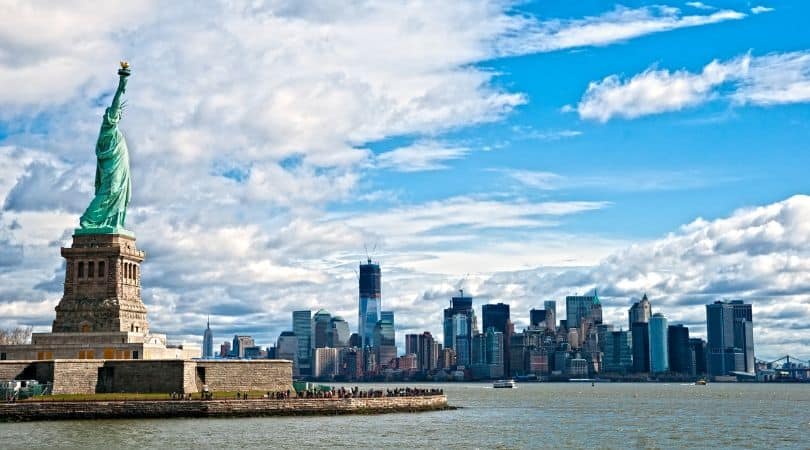 "New York it's a helluva town." Or in this case, it's a helluva state! New York City has enormous significance on the global and national stage so when people say New York, they think New York City.
But New York as an entire state has a lot to offer: the Erie Canal, Niagara Falls, and the Adirondacks. Upstate New York is filled with gorgeous landscapes and industrial cities. Tourism is big in New York with natural and urban sites to satisfy any tourists.
However, studying and learning about New York, or any state, is more than memorizing its industry and agriculture. My approach to homeschooling involves what as Charlotte Mason coined, living books. Living books are books that make the subject you are studying come alive and are written by people who love the subject.
This book list is divided into 2 sections: New York and New York City. Both lists contain picture books and chapter books about and set in either Upstate (what New Yorkers call everything north of NYC) or New York City All of these books DO make New York come alive to the reader.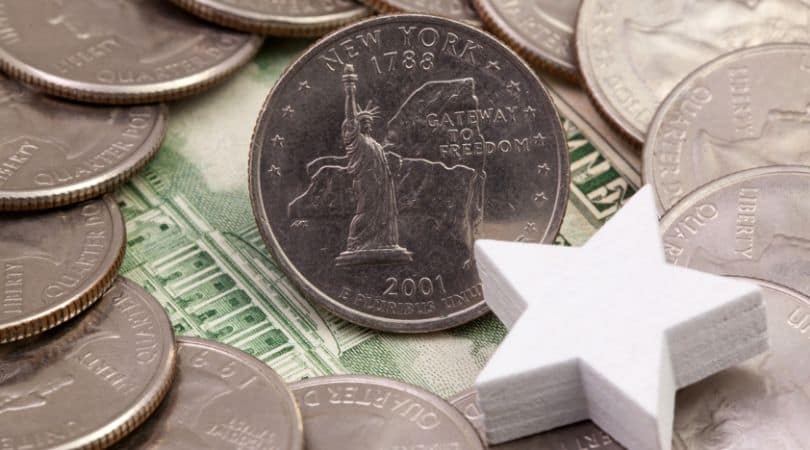 ICYMI! Here are the lists for the other states.
New York History and Facts
New York is nicknamed the Empire State referring to the state's national and global signficance.
Motto – Ever upward.
New York became a sate on July 26, 1788. It was the 11th state.
New York was named in honor of England's Duke of York.
Five U.S. Presidents were born in New York: Martin Van Buren, Millard Fillmore, Theodore Roosevelt, Franklin D. Roosevelt, and Donald Trump.
Albany is the capital city of New York.
This post contains affiliate links. If you click and make a purchase, we earn a commission at NO extra cost to you. For more information, please read my full disclosure policy.
Living Books about New York
Children's Books About New York
Picture Books About New York State
E Is For Empire: A New York Alphabet by Ann Burg
"E is for Empire is an alphabet book that introduces children and adults to New York State's history, culture, and landscape in a unique two-tiered approach. A quick rhyme offers children facts about New York from A to Z. Alongside each rhyme, older readers gain a deeper understanding of the topic by reading the longer expository text."
This series of books called Discover America State By State are some of my favorites for introducing a state to kids. Each letter states a fact or a thing about that state. For example, for New York letter A is for Adirondacks and the letter B is for Brooklyn Bridge, and so on. Each letter comes with a four line rhyme about that respective letter's fact or subject. What I love most is on the side of the page it gives more in-depth description about each subject. It's a great jumping off point for what sparks an interest in your child!
Times Square: A New York State Number Book by Ann Burg
"A perfect companion to our 'E is for Empire: A New York State Alphabet', 'Times Square: A New York State Number Book' teaches children about numbers, using state landmarks, historical events, and famous faces; from finger lakes to the stitches on a baseball, readers of all ages will know the number they represent and their ties to New York."
Picture Books Set in New York State
"The Erie Canal comes to life in this classic children's book, illustrated by award winning artist Peter Spier, to the words of the familiar folk song, 'Low Bridge, Everybody down (or Fifteen Years on the Erie Canal)'"
Mr. Lincoln's Whiskers by Karen B. Winnick
"Abraham Lincoln was the first president of the United States to wear a beard. What gave him the idea to grow a beard was a letter he received from an eleven-year-old girl from Westfield, New York, named Grace Bedell. 'Dear Sir, …if you will let your whiskers grow I will try to get [my brothers] to vote for you. You would look a great deal better for your face is so thin. All the ladies like whiskers and they would tease their husbands to vote for you.' Here is the true story of the determined girl from Westfield whose letter helped create the image of Lincoln that we have today."
Mirette and Bellini Cross Niagara Falls by Emily Arnold McCully
"With the help of a young immigrant boy they meet on their crossing to America, two famous tightrope walkers manage to survive the treachery of a rival showman. By the creator of the Caldecott Medal book, Mirette on the High Wire."
Chapter Books Set in New York State
Farmer Boy by Laura Ingalls Wilder
"The second book in the treasured Little House series, Farmer Boy is Laura Ingalls Wilder's beloved story of how her husband, Almanzo, grew up. While Laura Ingalls grows up on the prairie, Almanzo Wilder is living on a big farm in New York State. Here Almanzo and his brother and sisters help with the summer planting and fall harvest. In winter there is wood to be chopped and great slabs of ice to be cut from the river and stored. Time for fun comes when the jolly tin peddler visits, or best of all, when the fair comes to town. Almanzo wishes for just one thing—his very own horse—and he must prove that he is ready for such a big responsibility."
I adore this book. And so did my kids!! They didn't really get into the Little House books but they LOVED Farmer Boy. And this next book is a HUGE favorite of theirs.
My Side of the Mountain by Jean Craighead George
"Terribly unhappy in his family's crowded New York City apartment, Sam Gribley runs away to the solitude-and danger-of the mountains, where he finds a side of himself he never knew."
Living Books About New York City
Picture Books Set in New York City
When Jessie Came Across the Sea by Amy Hest
"Jessie lives with her grandmother in a poor village in the valleys of eastern Europe. When, to everyone's surprise, young Jessie is chosen by the village rabbi to travel to America, and to leave her grandmother behind, they both feel their hearts will break. Amy Hest brings her sure and inspired touch to the story of our immigrant heritage as she follows Jessie across the ocean to a new life in America. "
"In this fascinating and fun take on nonfiction for kids, Dave Eggers and Shawn Harris investigate a seemingly small trait of America's most emblematic statue. What they find is about more than history, more than art. What they find in the Statue of Liberty's right foot is the powerful message of acceptance that is essential of an entire country's creation."
You Can't Take a Balloon into the Metropolitan Museum by Jacqueline Preiss Weitzman
"While she's in the Metropolitan Museum with her grandmother, a little girl leaves her prized yellow balloon tied to a railing outside. But its string becomes untied, and the balloon embarks on an uproarious journey through New York City. With an ever-increasing cast of wacky urban characters in tow, it soars past a host of landmarks. Eighteen famous paintings and sculptures are reproduced in this delightful, wordless book that explores the magical relationship between art and life."
"Ringgold recounts the dream adventure of eight-year-old Cassie Louise Lightfoot, who flies above her apartment-building rooftop looking down on 1939 Harlem. Part autobiographical, part fictional, this allegorical tale sparkles with symbolic and historical references central to African-American culture. "
The Little Red Lighthouse and the Great Gray Bridge by Hildegarde H. Swift
"On the Manhattan bank of the Hudson River, a small lighthouse–made of steel and painted bright red–proudly protects boats with his faithful beam. One day a great expanse of gray steel, which also shines a bright light into the fog and darkness, is built over it. The little red lighthouse feels insignificant and useless in comparison but soon learns that . . . small can be mighty!"
Sky Boys: How They Built the Empire State Building by Deborah Hopkinson
"A riveting brick-by-brick account of how one of the most amazing accomplishments in American architecture came to be. Join a young boy as he watches the Empire State Building being constructed from scratch, then travels to the top to look down on all of New York City in 1931."
Chapter Books Set in New York City
"Stuart Little is a shy, philosophical little mouse with a big heart and a taste for adventure. In spite of his diminutive stature, Stuart sets forth into the world with some mighty big plans: to ride a Fifth Avenue bus, to win a sailboat race in Central Park, and to teach school for a day. But Stuart's greatest adventure begins when he decides to find his best friend, Margalo. Climbing into his tiny car, Stuart hits the open road, sure he's heading in the right direction, only to find himself in for a big surprise. Filled with warmth, wit, and wonder, Stuart Little is a timeless tale that speaks to the heroic spirit in all of us, no matter what our size."
The Cricket in Times Square by George Selden
"Tucker is a streetwise city mouse. He thought he'd seen it all. But he's never met a cricket before, which really isn't surprising, because, along with his friend Harry Cat, Tucker lives in the very heart of New York City―the Times Square subway station. Chester Cricket never intended to leave his Connecticut meadow. He'd be there still if he hadn't followed the entrancing aroma of liverwurst right into someone's picnic basket. Now, like any tourist in the city, he wants to look around. And he could not have found two better guides―and friends―than Tucker and Harry. The trio have many adventures―from taking in the sights and sounds of Broadway to escaping a smoky fire."
From the Mixed-Up Files of Mrs. Basil E. Frankweiler by E.L. Konigsburg
"When suburban Claudia Kincaid decides to run away, she knows she doesn't just want to run from somewhere, she wants to run to somewhere—to a place that is comfortable, beautiful, and, preferably, elegant. And so, after some careful planning, she and her younger brother, Jamie, escaped — right into a mystery that made headlines!"
The Vanderbeekers of 141st Street by Karina Yan Glaser
"The Vanderbeekers have always lived in the brownstone on 141st Street. It's practically another member of the family. So when their reclusive, curmudgeonly landlord decides not to renew their lease, the five siblings have eleven days to do whatever it takes to stay in their beloved home and convince the dreaded Beiderman just how wonderful they are. And all is fair in love and war when it comes to keeping their home."
The Saturdays by Elizabeth Enright
"Meet the Melendys! The four Melendy children live with their father and Cuffy, their beloved housekeeper, in a worn but comfortable brownstone in New York City. Tired of wasting Saturdays doing nothing but wishing for larger allowances, the four Melendys jump at Randy's idea to start the Independent Saturday Afternoon Adventure Club (I.S.A.A.C.). If they pool their resources and take turns spending the whole amount, they can each have at least one memorable Saturday afternoon of their own. Before long, I.S.A.A.C. is in operation and every Saturday is definitely one to remember."
Books Set in New York (for Mom!)
I love to read, and I love a good theme or challenge for a reading list. So my final two books on this book list are one adult fiction and one adult non-fiction.
Fiction Book Set in New York
The Great Gatsby by F. Scott Fitzgerald
"The Great Gatsby, F. Scott Fitzgerald's third book, stands as the supreme achievement of his career. First published in 1925, this quintessential novel of the Jazz Age has been acclaimed by generations of readers. The story of the mysteriously wealthy Jay Gatsby and his love for the beautiful Daisy Buchanan, of lavish parties on Long Island at a time when The New York Times noted "gin was the national drink and sex the national obsession," it is an exquisitely crafted tale of America in the 1920s."
Non-fiction Book Set In New York
"Just Kids begins as a love story and ends as an elegy. It serves as a salute to New York City during the late sixties and seventies and to its rich and poor, its hustlers and hellions. A true fable, it is a portrait of two young artists' ascent, a prelude to fame."
And there you have it! 20 living books about New York. It is my hope that this book list provides you with JUST ONE book to share with your kids.
From Times Square to the Erie Canal, and from Upstate to New York City, I hope you find some fun things to learn about New York!