Keep reading for 20 of the best books about South Dakota!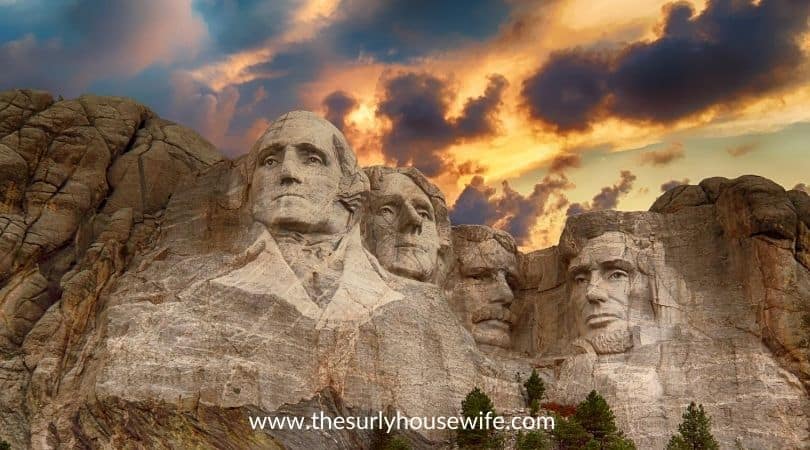 Did you know that in 1868 the Dakota Territory included both North and South Dakota? It was halved on the same day in 1889, after political controversies, becoming the 39th and 40th state respectively.
This made it challenging figuring out which books belonged in South Dakota and which ones belonged to North Dakota. But at the end of the day, with living books, it doesn't really matter!
Living books are books that make the subject you are studying come alive and are written by people who love the subject. Because the Dakotas are relatively similar in landscape, geography, and history you can get the feel of the Dakotas even if the book does explicitly state which state the book is set it.
I did my best to make sure that each book list includes books from that particular state. The South Dakota book list includes picture books and chapter books set in South Dakota, books about Mount Rushmore, as well as several books from the Native American tribes that lived in the Dakota Territory. Let's get started!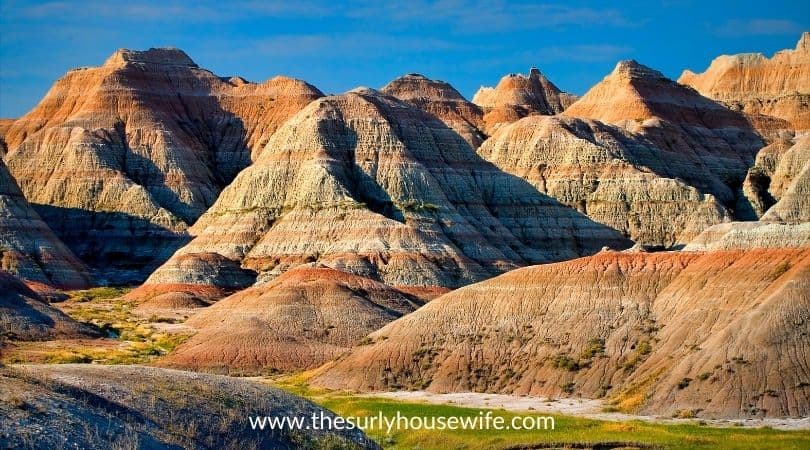 ICYMI, click HERE for all the other state book lists!
South Dakota History and Facts
South Dakota is nicknamed the Mount Rushmore State.
Motto – Under God the people rule.
South Dakota entered the Union on November 2, 1889. It was the 40th state.
South Dakota is named from a Sioux word meaning "Friend" or "ally."
Pierre is the capital of South Dakota
This post contains affiliate links. If you click and make a purchase, we earn a commission at NO extra cost to you. For more information, please read my full disclosure policy.
Descriptions come from Amazon; some are edited for length
Living Books about South Dakota
Children's Books about South Dakota
M is for Mount Rushmore: A South Dakota Alphabet by William Anderson
"South Dakota is home to an endless supply of American history and Americana. Did you know the world's largest drug store calls Wall, SD home? Or how about the triceratops was one of the state's earliest settlers? What about the prairie the Ingalls family called home, De Smet? Also in South Dakota! The answers to all of these and many more are is the latest Sleeping Bear Press A to Z state exploration: M is for Mount Rushmore: A South Dakota Alphabet. The state's charm and significance in American folklore goes beyond those four presidents' wonderful mugs and it's all captured here in poem and expository text for citizens and tourists of all ages."
This series of books called Discover America State By State are some of my favorites for introducing a state to kids. Each letter states a fact or a thing about that state. For example, for South Dakota letter A is for Artists, B is for Badlands and Black Hills and so on. Each letter comes with a four line rhyme about that respective letter's fact or subject. What I love most is on the side of the page it gives more in-depth description about each subject. It's a great jumping off point for what sparks an interest in your child!
A Dinosaur Named Sue: The Find of the Century by Fay Robinson
"When Susan Hendrickson set out to explore the rocky terrain of South Dakota, she had no idea of the awesome discovery that awaited her. Susan had never found more than a few dinosaur teeth and small bones. But on a routine archaeological dig one hot day in 1990, she came upon something that would astound the world; a 90% complete Tyrannosaurus rex skeleton: the most complete T. rex ever discovered! The T. rex was named "Sue" in honor of her founder. The Field Museum of Chicago bid more than 8 million dollars at a Sotheby's auction to make their museum Sue's home. Today, as scientists at the museum painstakingly work to restore Sue's bones, they are learning and discovering new information about T. rex and the times in which it lived."
The Journey of York: The Unsung Hero of the Lewis and Clark Expedition by Hasan Davis
"Thomas Jefferson's Corps of Discovery included Captains Lewis and Clark and a crew of 28 men to chart a route from St. Louis to the Pacific Ocean. All the crew but one volunteered for the mission. York, the enslaved man taken on the journey, did not choose to go. York's contributions to the expedition, however, were invaluable. The captains came to rely on York's judgement, determination, and peacemaking role with the American Indian nations they encountered. This is his story."
Picture Books Set in South Dakota
Levi's Lost Calf by Amanda Radke
"Young Levi rides out one morning to bring the cattle home from the pasture. After a head count, Levi is surprised that one calf is missing. Little Red, his favorite heifer calf, is nowhere to be found. Determined to prove his independence (and locate Little Red) Levi rides out with his horse, Pepper, and Gus, his trusty dog, in tow. The three sleuths search high and low around the ranch in search for the calf. Little Red stays hidden as readers are introduced to a bevy of barnyard animals throughout the search. A kid-friendly recipe is added to compliment the adventure and bring the cowboy spirit home to the reader."
"Through a combination of spare, poetic text and expansive illustrations, readers can learn of life on the prairie as the settlers knew it. Seen through the eyes of a woman who lived there a century ago."
The Christmas Coat: Memories of My Sioux Childhood by Virginia Driving Hawk Sneve
"Virginia's old coat is too small. The cold South Dakota wind blows across the Rosebud Indian Reservation, making her shiver as she walks to school. Virginia dreams of a new coat arriving in the Theast boxes, parcels of clothing from churches in The East. But, she knows she may not have a chance for a coat this year. Her father is the village Episcopal priest, so her family chooses last, and as Mama always says, 'The others need it more than we do.' Generosity and unexpected joy remind Virginia of the importance of community within this story from the author's childhood."
Children's Books About Mount Rushmore
Hanging Off Jefferson's Nose: Growing Up on Mount Rushmore by Tina Nichols Coury
"Lincoln Borglum was a young boy when his father, the great sculptor Gutzon Borglum, suggested to a group of South Dakota businessmen that he should carve the faces of four presidents into a side of a mountain as an attraction for tourists. But Mount Rushmore would never be finished by Gutzon. It would be his son who would complete the fourteen-year task and present America with one of its most iconic symbols."
The Mount Rushmore Calamity by Jeff Brown
"The whole Lambchop family is off to see Mount Rushmore. But when Flat Stanley and his brother, Arthur, team up with a scrappy cowgirl named Calamity Jasper, their vacation turns into the Wild West experience of a lifetime."
"A compelling narrative and realistic paintings describe how Mount Rushmore, a patriotic shrine and tourist attraction, was conceived, designed, and created by the dedicated artist and son of immigrants, Gutzon Borglum."
Kid's Books about Native Americans
Picture Books
Walking on Earth and Touching the Sky: Poetry and Prose by Lakota Youth at Red Cloud Indian School by Timothy P. McLaughlin
"This is an exceptional poetry collection written by Lakota students in the fifth, sixth, seventh, and eighth grades at Red Cloud Indian School on the Pine Ridge Indian Reservation in South Dakota. The historic school was founded in 1888 at the request of Chief Red Cloud of the Oglala Lakota. The poems enable readers to learn about the unique lives and heritage of students growing up in such distinctive circumstances and straddling cultures. The collection was compiled by a teacher at the school, working with school administrators, and contains never-before-published artworks by award-winning artist S. D. Nelson."
"A young hunter draws his bow against a buffalo cow drinking from a stream. Before he can loose his arrow, there is no buffalo. Instead, there stands a beautiful young woman, whom he knows he must marry. The hunter's people shun the Buffalo Woman, and so she returns, with their son, Calf Boy, to her people. The hunter's heart compels him to follow. But he has been warned: The Buffalo Nation is angry at the Straight-up-People. And if he cannot find his wife and son among the many buffalo, they will be lost to him forever."
A Boy Called Slow by Joseph Bruchac
"Anxious to be given a name as strong and brave as that of his father, a proud Lakota Sioux grows into manhood, acting with careful deliberation, determination, and bravery, which eventually earned him his proud new name: Sitting Bull."
Crazy Horse's Vision by Joseph Bruchac
"Against a backdrop of striking illustrations by noted Sioux artist S.D. Nelson, Joseph Bruchac focuses on key events from Crazy Horse's childhood in this drastic tale of the legendary Lakota warrior. When Curly (his boyhood name) witnesses a fierce battle between white settlers and the Lakota Indians, he flees to the hills on a vision quest. An author's note following the story completes this fascination summary of the life and death of the brave fierce warrior."
Chapter Book
In the Footsteps of Crazy Horse by Joseph Marshall
"Jimmy McClean is a Lakota boy though you wouldn't guess it by his name: his father is part white and part Lakota, and his mother is Lakota. When he embarks on a journey with his grandfather, Nyles High Eagle, he learns more and more about his Lakota heritage. In particular, the story of Crazy Horse, one of the most important figures in Lakota and American history. Drawing references and inspiration from the oral stories of the Lakota tradition, celebrated author Joseph Marshall III juxtaposes the contemporary story of Jimmy with an insider's perspective on the life of Tasunke Witko, better known as Crazy Horse. Through his grandfather's tales about the famous warrior, Jimmy learns more about his Lakota heritage and, ultimately, himself."
Chapter Books Set in South Dakota
The Works of Laura Ingalls Wilder
"The nine books in the timeless Little House series tell the story of Laura's real childhood as an American pioneer, and are cherished by readers of all generations. They offer a unique glimpse into life on the American frontier, and tell the heartwarming, unforgettable story of a loving family."
The following four books all take place in South Dakota: By the Shores of Silver Lake, The Long Winter, Little Town on the Prairie, and The First Four Years.
Runs With Courage by Joan M. Wolf
"Ten-year-old Four Winds is a young Lakota girl caught up in the changes brought about by her people's forced move to the reservation. Set in the Dakota Territory, it is the year 1880. Four Winds has been taken away from her family and brought to a boarding school run by whites. It is here she is taught English and learns how to assimilate into white culture. But soon she discovers that the teachers at this school are not interested in assimilation but rather in erasing her culture. On the reservation, Four Winds had to fight against starvation. Now she must fight to hold on to who she is."
Go Big or Go Home by Will Hobbs
"Brady Steele's love for all things extreme is given a boost when a fireball crashes through the roof of his house. It turns out that Brady's space rock is one of the rarest meteorites ever found. In fact, a professor from a nearby museum wants to study it in search of extraterrestrial bacteria, hoping to discover the first proof of life beyond Earth. During a wild week of extreme bicycling, fishing, and caving, Brady discovers he's able to do strange and wonderful feats that shouldn't be possible. At the same time, he's developing some frightening symptoms. Could he be infected with long-dormant microbes from space? Is his meteorite a prize . . . or a menace?"
Prairie Winter by Bonnie Geisert
"The Cresbard school means a lot to sixth grader Rachel Johnson. For a twelve year-old living on a remote prairie farm with no phone, school means connection. And that connection is about to be severed. The most dangerous winter that Rachel has ever known is about to descend on Cresbard, marooning her on the farm and keeping her from the school she so desperately loves. Then, in a surprising turn of events, Rachel's dad agrees to fly his three oldest daughters to town so they can continue the school year. Rachel will be boarding in a hotel with no parents, no rules, and no chores. Her choice of desserts every night, two-stepping with Darren Baxter at the school dance. Will Rachel ever be able to return to farm life after this?"
Grasshopper Summer by Ann Turner
"In 1874, eleven-year-old Sam White and his family are moving from Kentucky to the Dakota Territory. These hardy pioneers know it will be hard work, but they don't expect the devastating plague that comes like an unstoppable force to sweep away all their hopes for the future. They will cope. But they will never forget this grasshopper summer."
Young Adult Literature set in South Dakota
The Jumping-off Place by Marian Hurd McNeely
"In the early 1900s, four orphaned siblings, the eldest being seventeen, set out to fulfill their uncle's dream of homesteading in Tripp County, South Dakota, and although they face drought, discomfort, and sabotaging squatters, new friends and inner strength help them carry on."
Books Set in South Dakota (for Mom!)
I love to read, and I love a good theme or challenge for a reading list. So my final two books on this book list are one adult fiction and one adult non-fiction.
Fiction Book Set in South Dakota
The Personal History of Rachel DuPree by Ann Weisgarber
"Praised by Alice Walker and many other bestselling writers, The Personal History of Rachel DuPree is an award-winning debut novel with incredible heart about life on the prairie as it's rarely been seen. Reminiscent of The Color Purple, as well as the frontier novels of Laura Ingalls Wilder and Willa Cather, it opens a window on the little-known history of African American homesteaders and gives voice to an extraordinary heroine who embodies the spirit that built America."
Non-fiction Book Set In South Dakota
"Mary Brave Bird grew up fatherless in a one-room cabin, without running water or electricity, on the Rosebud Indian Reservation in South Dakota. Rebelling against the aimless drinking, punishing missionary school, narrow strictures for women, and violence and hopeless of reservation life, she joined the new movement of tribal pride sweeping Native American communities in the sixties and seventies. It is a unique document, unparalleled in American Indian literature, a story of death, of determination against all odds, of the cruelties perpetuated against American Indians, and of the Native American struggle for rights. Brave Bird recounts her difficult upbringing and the path of her fascinating life."
And there you have it! 20 living books about South Dakota. It is my hope that this book list provides you with JUST ONE book to share with your kids.
From the Black Hills to the Badlands and from Sitting Bull to Crazy Horse, I hope you find some fun things to learn about South Dakota!
Don't miss the other state book lists!